Go Red for Women
2-20-2009
---
For the 6th consecutive year, the American Heart Association hosted a Go Red for Women Luncheon and Health Expo. This year's theme was Red, Rock and Roll.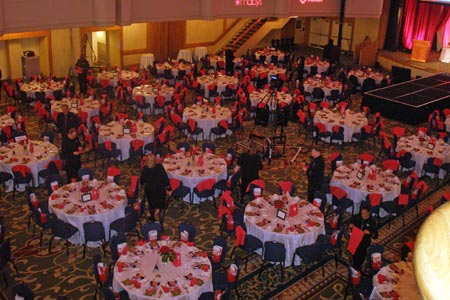 Held at the Cleveland Renaissance Hotel the event was filled with a sea of red as more than 500 women attended to learn more about women and heart issues, show support to the cause, hear some excellent speakers and, of course, enjoy a lovely lunch with friends.
The morning started with breakout sessions with demos on topics such as cooking and exercising. In addition there were health screenings and an expo of healthy woman centered items and companies.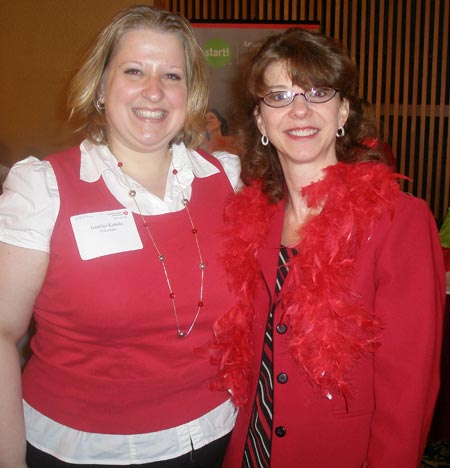 Go Red for Women volunteers
Jennifer Kubala and Amy Jo Sutterluety



Monica Robins of WKYC emceed the event.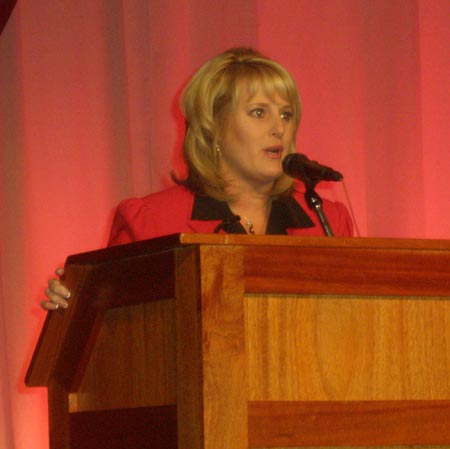 Monica Robbins of WKYC



The keynote speaker was the very inspirational Diana Nyad, who has set numerous swimming records and has gone on to be a sports commentator. Diana opened her own business even though her career could have ended when a simple ignored cold turned into heart disease at a young age.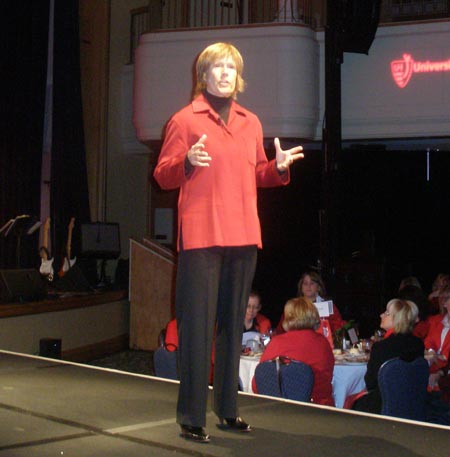 Keynote Speaker Diana Nyad



Local women who have overcome heart disease told their stories. One such woman was Katie Sutton who, at age 31 in 2002, experienced cardiac arrest. After another cardiac arrest in 2008, Katie was diagnosed with LQTS - Long QT Syndrome, very rare, but very deadly.
Dee Bout, Kristen Bates, Connie Powell, Katie Sutton,
Kim Nicoletti and Kathy Tiboldi
It has been determined that her identical sister, Kristen Bates also has LQTS.
It is generally thought that had Katie not been diagnosed properly (partially thanks to her nurse husband, Rick) she would have suffered another attack, quite possibly fatal. Her sister would eventually have suffered the same fate.
The day was filled with stories of hope and cures. The band, Red Line, performed throughout the afternoon and the event culminated with a fashion show by fashion designer John Mendrea.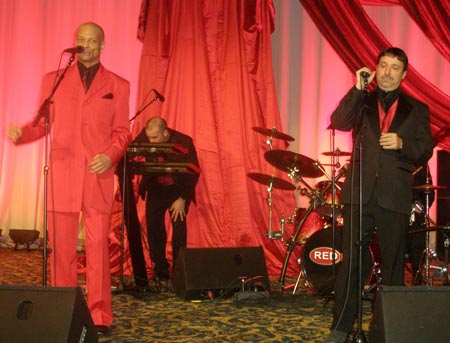 Over $500,000 was raised including bids on terrific silent auction items. This money will go a long way to the fuel the research needed to prevent or cure this No. 1 killer of women.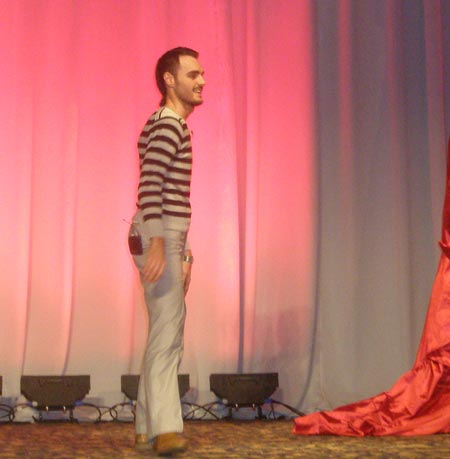 Designer John Mendrea
See pictures of the Fashion Show and vote on your favorite design
For more information about Go Red For Women and other American Heart Association efforts, contact the Cleveland-area American Heart Association at 216-791-7500 or go online at www.americanheart.org and click on "Local branch" on the homepage.
---
Photos of Cleveland Women at the Go Red Event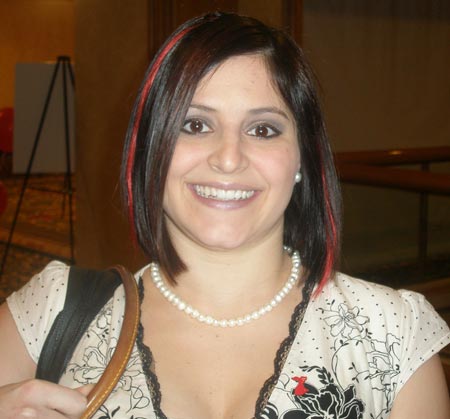 Olympic Champion Dominique Moceanu


---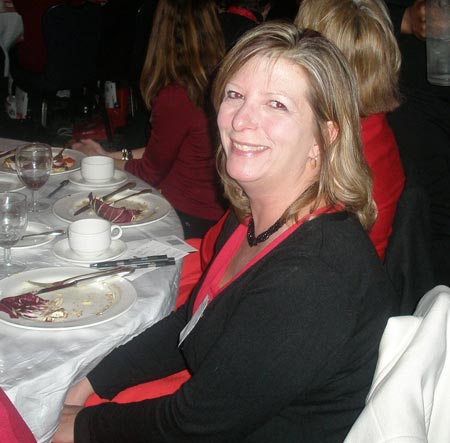 Sandy Belaj of Fifth Third Bank


---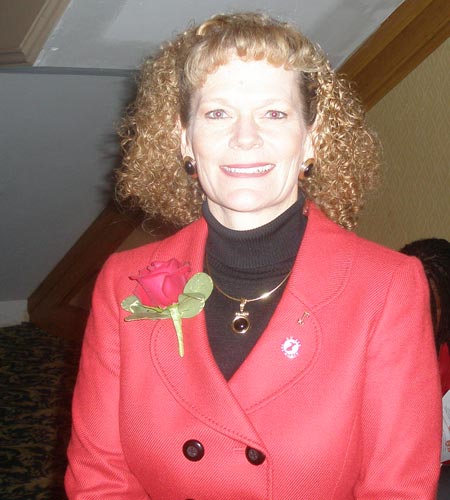 KeyBank Cleveland District President Elizabeth Oliver


---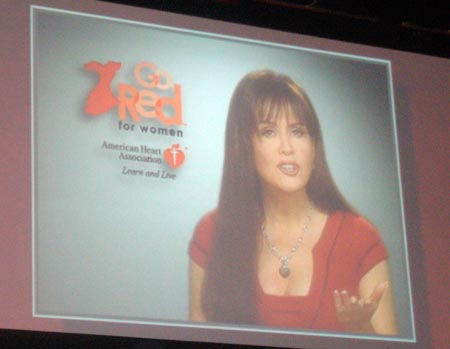 Video message from Marie Osmond


---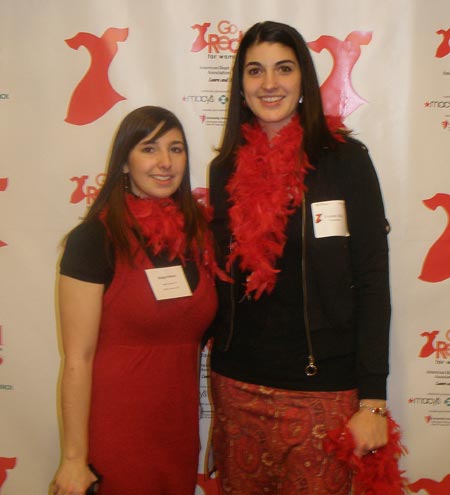 Bridget Rehner and Victoria Dibe


---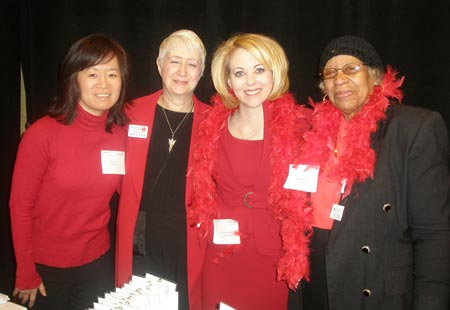 Mia Yee, Mary Jo Butler, Stacy Beck and Doris Ivey


---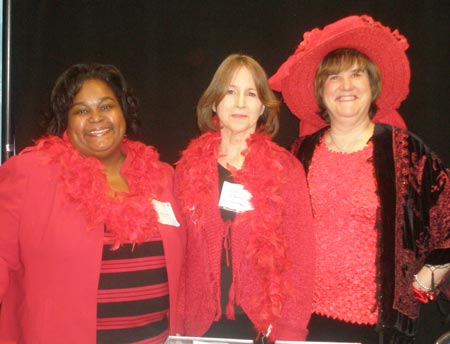 Carolyn Sanford, Ellen Ilkanic and Karen Longert


---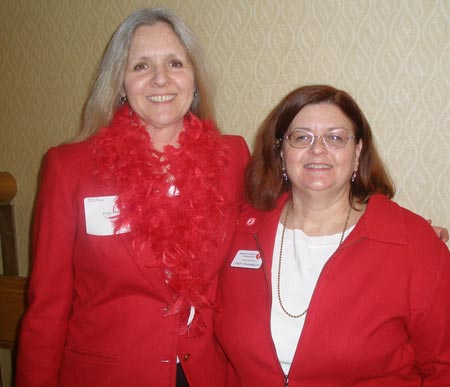 Patti Heart and Cindy Shanbley


---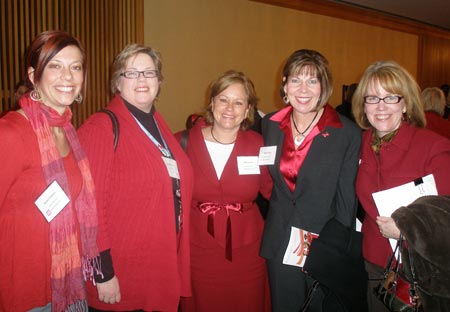 Rachel Downey, Christina Ayers, Beth Loestock, Margie Flynn and Barb Brown


---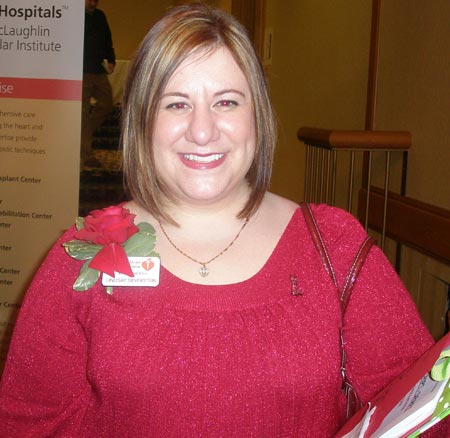 Lindsay Leverson Silverstein
Director of the Go Red For Women Event


---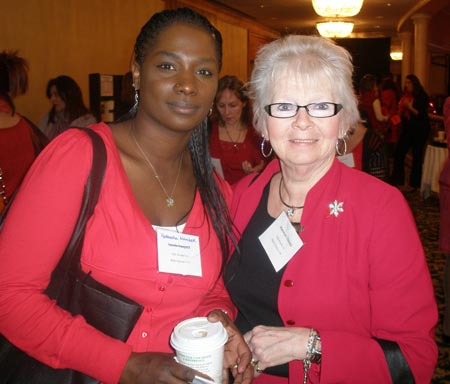 Kateasha Attaher and Maureen Oswald


---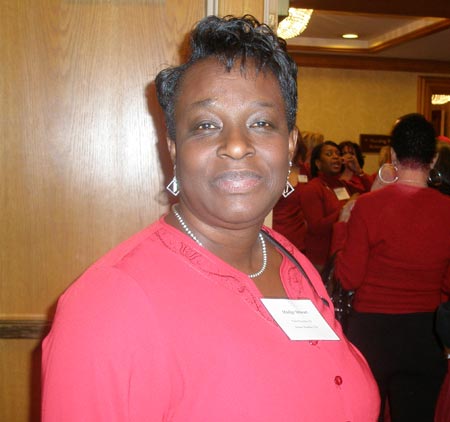 Madge Stewart


---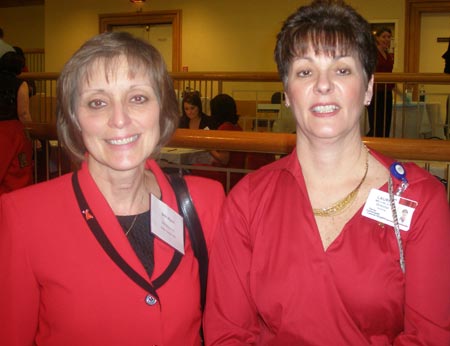 Beth Myers and Laura Melvin RN


---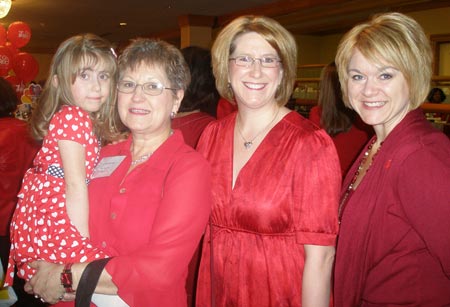 Ashleigh Zelenskas (4) Barbara Kornuc (grandmother) Stefanie Zelesnkas (mother) and Nancy Book (friend)


---


Alexandra Johnston, Tessa Turnbaugh, Gina Ferris from CWRU Alpha Phi Sorority


---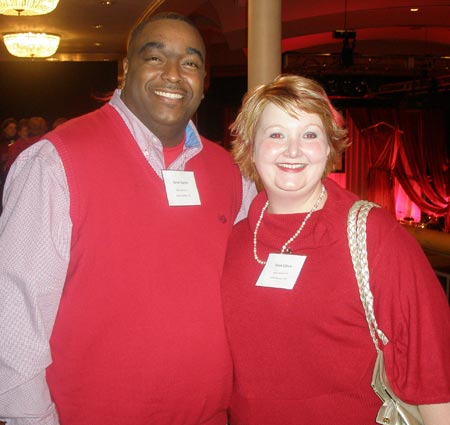 Steven Haynie and Tonya Gibson of Cleveland Heights Library


---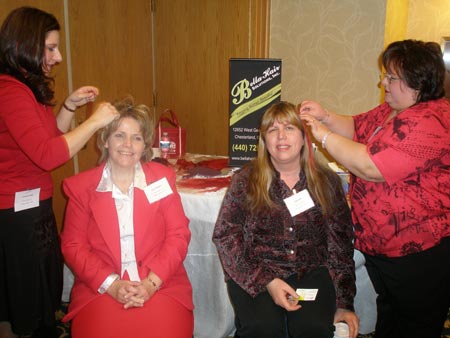 Bella Hair added red to attendee's hair


---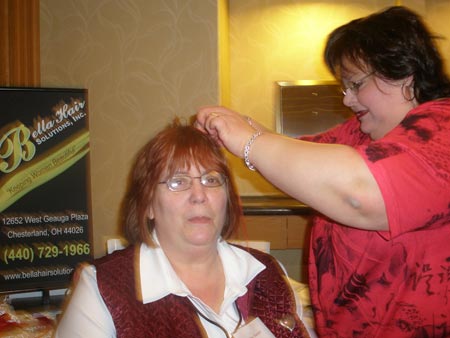 Carmela Hill adds red to Debbie Hanson's hair


---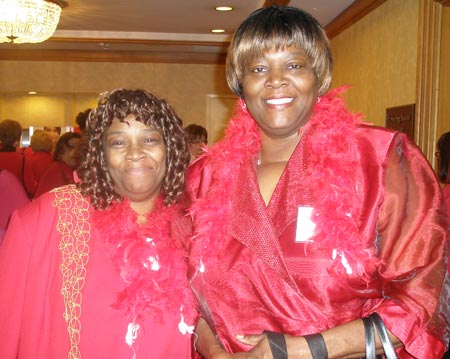 Bishop Margaret Wells and Angela Wilson


---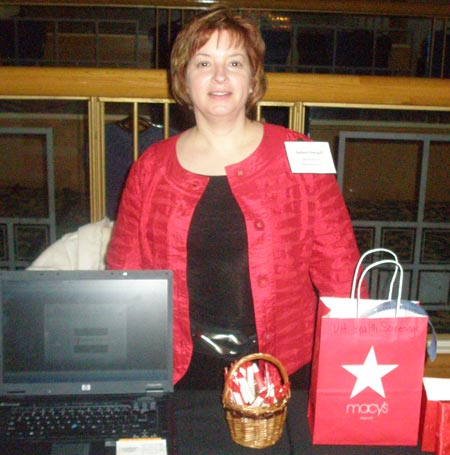 Barbara Demagall of University Hospitals


---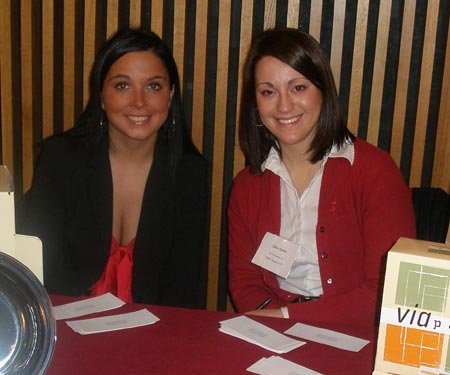 Panera Bread table


---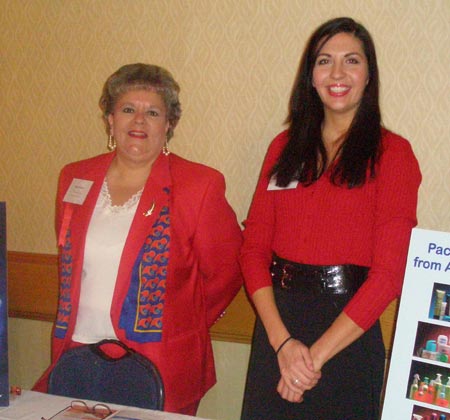 Kaufman Packaging Table


---


Giada De Laurentiis dress


---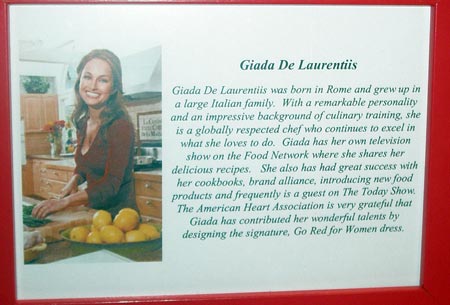 ---


Go Red for Women


---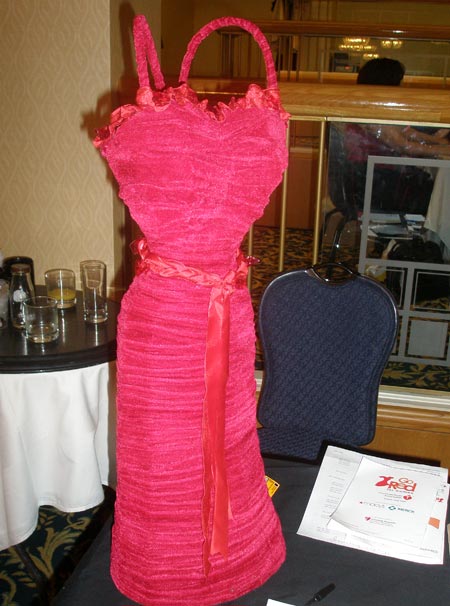 ---
See pictures of the Fashion Show
and vote on your favorite design
---
Top of Page
Back to Women and Heart Disease
Back to Out & About for Cleveland Women