Beauty Tips
5 Ways to Take 10 Years Off Your Face
Undeniably, faces change as they mature. The little problem areas that once could be touched up with a bit of concealer or foundation begin to get larger and more frequent, and the skin's natural color starts to shift.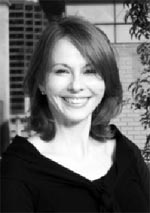 Skin in its fifties has a totally different set of needs than skin in its twenties, and beauty choices that look fresh on a twenty-five year old can end up looking severe on a woman of fifty-five. Francine offers the following simple tips to women looking to add some refreshing youth to their face:
Tame your impulse to over-use foundation.
As women age they need less and less foundation, not more and more. Many makeup users, worried about their skin's changing texture and tones as they mature, start heaping on more and more foundation. This tends to give a mask-like effect, accentuating every fine line on the face. The result is artificial and heavy - the exact opposite of youthful.
Apply and blend foundation only where you have any uneven skin tone and only where you need it (usually around nose, under eyes, or any red or splotchy area). Or, simply wear a lightweight tinted moisturizer with SPF protection for a natural healthy look.
Find "Light Reflective" and "Soft Focus" Pigments.
These concoctions first started to appear a few years ago, and they really do work beautifully. They are available in a variety of creams, lotions, etc. and give the face an instant lift by reflecting light and minimizing the look of fine lines and wrinkles.
Look for products with a "soft focus effect", which is smoothing and subtle, and stay away from anything with too much sparkle or glitter.
Toss out your brown lipstick.
Brown is too harsh; you want fresh and soft. Stay with medium to light shades of roses and pinks (try pinky roses, or even copper roses) but leave the extreme colors to the teens and twentysomethings. Soft reds can look stunning but stay away from flat, matte intense reds that, again, create unflattering contrast on your face.
And, while on the subject, a quick Lip Pencil 101: lip pencils are great to add subtle definition but make sure they work with your natural lip tone and closely match the lip color itself.
Abstain from facial bronzer.
Many skin tones take on a yellow undertone as they mature, and applying bronzer (or self tanner) to the face only intensifies this. Instead of enhancing your skin tones you've just given yourself the infamous Jaundice Makeover.
Stick with creamy natural pinks and rosy blushes for a healthy "just came back from yoga class" glow to your skin. Nothing looks fresher or younger, plus, you didn't have to do thirty reps of the Downward Facing Dog pose.
Get a face-lift, don't get surgery.
There has been a recent surge in nonsurgical and noninvasive ways to perk up your skin and even out your complexion.
One procedure that is increasing daily in popularity is LED Treatments. Available in many spas and department stores (as well as dermatologists' offices), this quick and painless treatment uses specific wavelengths of light to stimulate collagen production and encourage healthy skin.
When applying cosmetics to fight the clock, it's most important to think "soft, natural, warm." It can be easy to fall into over-using cosmetics or emphasizing the wrong colors, so take a good look at your skincare and make-up regimen.
Beauty may be in the eye of the beholder, but a youthful glow is always in. Toss out the browns and bronzers, pick up a few new skincare habits, and step into the new season with a fresh face that looks years younger.
About Francine Porter:
Francine Porter is a national skincare expert and her advice has been featured in outlets ranging from Good Morning America to CNN. She is the founder and CEO of Osmotics Cosmeceuticals, and is widely recognized for pioneering some of the industry's most influential products. Allure magazine called her creation, Blue Copper 5, one the decade's most important beauty products and was awarded the highly coveted "Editor's Choice" Award.
Francine has led the cosmeceutical movement since its inception and continues to advise editors and lead public discussion on key dermatologic ingredients, practices, and products.

---
Top of Page
Back to Your Look for Cleveland Women & Girls