All-female team launches historic mission over Afghanistanl

BAGRAM AIRFIELD, Afghanistan -- A team of female Airmen made history here March 30 when the F-15E Strike Eagles of "Dudette 07" blazed down the runway to provide close air support for coalition and Afghan ground forces.

The two-ship formation consisted of all females, two pilots and two weapons system officers, but more importantly, it marked the first combat mission flown from Bagram to be planned, maintained and flown entirely by females.

This mission represents the first combat sortie on record to involve only female Airmen from the pilots and weapons officers to the mission planners and maintainers, according to Lt. Col. Kenneth Tilley, 455th Air Expeditionary Wing historian.

Although the call sign for the mission may have been lighthearted, the sortie was all business calling for the pilots to travel to the Kunar Valley just west of the Pakistan border in support of a large Army operation that was underway.

"I have flown with female pilots before, but this was the first time I have flown in an all female flight," said 455th AEW executive officer and southern California native, Maj. Christine Mau. "This wasn't a possibility when I started flying 11-years ago."

While planning of the mission required support from women at all levels such as Capt. Kristen Wehle, the F-15 liaison officer at the combined air operations center, those involved evoked memories of legendary Women's Army Corps pilots and others for inspiration.

"Women's History means a celebration of the equality we have today in the military. It makes me think back and find inspiration from heroes like Col. Jeannie Flynn," said Capt. Jennifer Morton, 389th Expeditionary Fighter Squadron weapons officer.

In 1993, then 2nd Lt. Jeannie Flynn became the first female F-15E pilot. Although the Air Force permitted female pilots to enter pilot training in 1976, Lieutenant Flynn went on to become the first female fighter pilot to graduate from the U.S. Air Force Weapons School.

"Since 1993 we have had Air Force female pilots in combat positions, and because of that today I feel as a woman I can have whatever job I want," said Captain Morton a Huntington Beach, Calif. native deployed from Seymour Johnson Air Force Base, N.C.

While Dudette 07 was set up to as an all female mission in honor of Women's History Month, Major Mau pointed out inspiration for today's Airmen aspiring to great heights can come from many different places.

"I think I get a great deal of inspiration from my grandmother [who was a mother seven kids], but many of my role models today are males," she said.

In addition, the pilots never forget the contributions of the maintainers on the ground, maintainers like Airmen 1st Class Casiana Curry, who enlisted Sept. 11, 2009, and enables the continued support of the warfighters on the ground.

"The four women officers represents only a portion of the women who supported this mission making it the first all female from tasking to completion combat sortie to date," said Dayton, Ohio native and Dudette 07 operations supervisor Capt. Leigh Larkin.

"I thought it was kind of cool and something that I have never seen before. The women throughout time have paved the way for us today and they made it possible for us to be equal as well as respected as individuals," said 455th Expeditionary Aircraft Maintenance Squadron crew chief, Staff Sgt. Tamara Rhone. "Females are a rare breed on the flight line. It is my hope that more females step up and join the maintenance career field."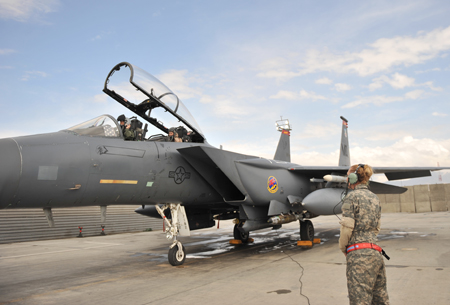 Staff Sgt. Tamara Rhone, 455th Expeditionary Aircraft Maintenance Squadron crew chief, waits for Maj. Christine Mau, 455th Air Expeditionary Wing executive officer and an F-15E Strike Eagle pilot, and Capt. Jennifer Morton, 389th Expeditionary Fighter Squadron weapons system officer, dons their helmet before take-off at Bagram Airfield, Afghanistan, March 29, 2011. Members from the 389th EFS help make this combat mission to be flown, planned, and maintained entirely by females. (U.S. Air Force photo by Senior Airman Sheila deVera)



">Although it has only been 18 years since the repeal of the combat exclusion law, the women of today's Air Force are filling vital roles in the success of combat missions throughout the world.

"In reality, we get somewhat uncomfortable when people make a "big deal" out of an all female crew. We are all here because we love what we do and we want to support the mission just the same as any male aircrew member. We are all fighter aircrew, and that is how we identify ourselves, not as male or female, said 389th EFS F-15 pilot and Longmont, Colo. native Maj. Tracy Schmidt. "If you ask any male in our squadron what they thought about us as female aircrew, they would also say, 'Uh I never really considered that, they are just one of us.'"

During those 18 years since Lieutenant Flynn took off on that first flight, times have changed, but female Airmen never forget the sacrifices for their equality or that they serve as role models for the next generation of Airmen.

"On the other hand, while this is normal everyday life to us, we forget sometimes that we are still a very small minority in this community, and we do appreciate the fact that other women in the world are still proud to see women doing this kind of thing. I've talked to quite a few older women who said they would have loved to fly jets but never had the opportunity when they were younger, and I also know that there are plenty of young girls out there who may not know that this is an option for them," said Major Schmidt. "While I generally try to avoid being highlighted as a female, I am happy to be a role model or inspiration or whatever you want to call it for other women, when opportunities like this present themselves."

by Tech. Sgt. Michael Voss, 455th Air Expeditionary Wing Public Affairs



---

---
---
Top of Page
Submit your own Woman of Influence
Back to Tributes