Welcome to ClevelandWomen.Com
for Women of all Ages
in Cleveland, Northeast Ohio & Beyond.
---
Great Christmas Gift Idea - Special Holiday offer
For a limited time, you can now order Cleveland Cooks Volume 2 or Volume 3 at the special holiday price for only $10 (regularly $15) + $2 S&H.

Super Special! Get both Volumes 2 and 3 at a special price and save on Shipping.
---
ClevelandWomen.Com Picture of the Week
Harlan Diamond, Leon Bibb and the Singing Angels show the large check donated to charities at the annual Philanthropia event at Landerhaven this week.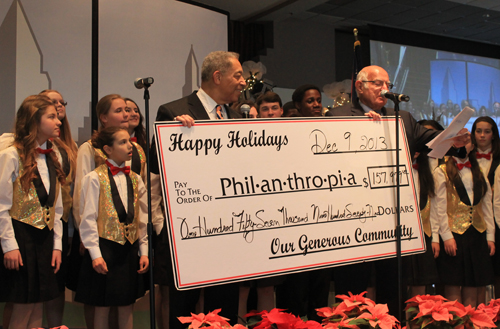 ---
---
What am I here for?
Amy asks the quintessential existential question.
(or does she?)
What are we here for?

Ah, the quintessential existential question. Calling for grey-matter thoughts. It leads to even more questions. Deep-thought questions. Things we try to understand and sometimes grasp only dimly.

But none of those things trouble me right now.

I am standing in the kitchen. What am I here for? Beats me. It was a very important something, I am sure, but what?
---
ClevelandWomen.Com Quote of the Week
Women will never be equal to men until they can walk down the street with a bald head and a beer gut, and still think they are sexy."
Author Unknown


---
ClevelandWomen.Com Funny Picture of the Week
A caring husband sees that his wife is busy in the kitchen and offers to help.

"My dear, what can I do to help you?"

She says: "Take this bag of potatoes, peel half of them, and put them in the big pot with water."

Men's brains just work differently.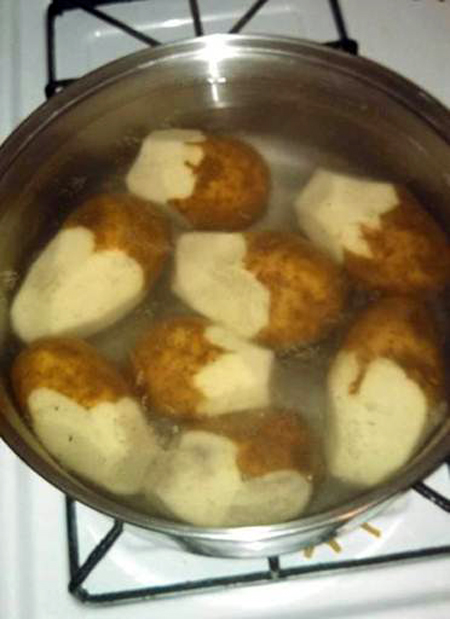 ---
ClevelandWomen.Com Joke of the Week
The same husband and wife as in the half-peeled potato story above are planning their day.

The wife asks her husband, "Could you please go shopping for me and buy one carton of milk and if they have avocados, get 6.

A short time later the husband comes back with 6 cartons of milk.

The wife asks him, "Why did you buy 6 cartons of milk?"

He replied, "They had avocados."

As we said, Men's brains just work differently.
---
---
The end of the Peach Trail
Keeping Up With Maury
I know everything in every generation is subject to change. So it comes as no surprise that all the well known apples have disappeared from the market place. In most of these cases, the changes have been good.

Instead of the once dominant red delicious apple, we have become great fans of the Frugi, Jonagold, the Granny Smith, Galas, the Pink Lady, and the newest craze the Honey Crisp. The only problem is that apples that sold at 50 to 99 cents a pound are now being offered at prices that are twice as high - or more.

However, that is not what I'm going to write about today.

The peach scene has been troubling me for a number of years. It has been so difficult to get a good tasting peach. One that you know at once that you have eaten a real peach.

Read the rest of Keeping Up With Maury


---
Apple and Walnut Salad with Maple Vinaigrette Recipe
Apple and Walnut salad is a riff on the classic Waldorf salad. Waldorf Salad was invented at the Waldorf Hotel in New York in the late 1800's. It is a simple but tasty mix of apples, celery, and walnuts in a mayonnaise dressing. Our version keeps the star ingredients - apples, celery, and walnuts - and tosses them in a light vinaigrette for a modern twist. The vinaigrette is sweetened with maple syrup. Dried cranberries or raisins are added for a tangy sweet bite.

Fast, Fabulous, Fresh Foods - Class 24
Apple and Walnut Salad with Maple Vinaigrette Recipe


---
Glow at the Garden
Cleveland Botanical Garden's Glow at the Garden

Take a train ride through the garden, feast your eyes on over 100 gingerbread houses (you can even decorate your own to take home!), enjoy live seasonal music performances, dozens of trees delightfully decorated by garden clubs, and the twinkling lights. Plus, there are a few new surprises in store for you.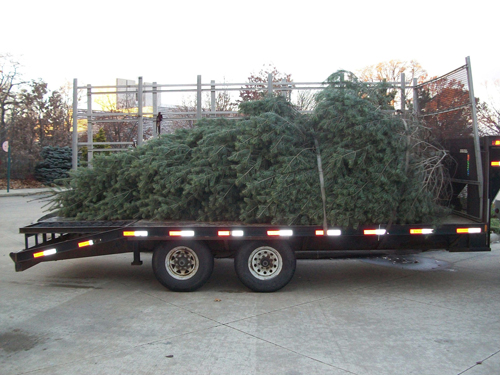 Bringing in the 24' concolor fir tree for the lobby
---
ClevelandWomen.Com Special offer of the Week
---
---


Have you seen the Amazon Deal of the Day? Everyday, a new very special deal will be offered. Look below for the daily special.


---


Women make up more than 1/2 of the population but sometimes it seems that the Internet has ignored this fact.

Or the sheer enormity of the Internet does not make it easy to find information, resources and items of interest for women and girls in the Cleveland area.

Not anymore! ClevelandWomen.Com is geared toward providing information, resources and fun to the female population of Northeast Ohio - Cleveland Women - and those who care about them. In fact, we hope that the men in your life will visit and maybe learn what makes you tick.

Don't miss our profiles of interesting Cleveland Women - Maybe it's someone you know! (Or tell us about someone we should know)

Take advantage of discounts and specials selected just for you.

Ask questions and receive answers from our many experts from all walks of life.

Share your thoughts, memories, ideas with other Cleveland Women.

Take advantage of the information provided for your age group and situation.

Most importantly, come back often and



Have Fun!

---
---
Top of Page