Welcome to ClevelandWomen.Com
for Women of all Ages
in Cleveland, Northeast Ohio & Beyond.
---
Remembering The Perfect Peach
by Maury Feren
Today I am going to talk about the wonderful memories of all the perfect peaches I met in my search for good taste.

I've purchased peaches (local) from 3 different farm stands all priced differently all claiming to be Amish but only one lot made the top. My problem is I know what a local peach should taste like. My early history goes back to Blackmore Farms in Painesville, Ohio where I was subjected to the most exquisite peaches I have ever tasted. ....

Read Maury's Thoughts on Remembering The Perfect Peach


---
Amish Produce Stands
by Maury Feren
What is there about the produce that is sold by the Amish people that gives it that special taste?

It's got to be from lots of good things. First of all they rotate their crops. The land they use for growing is given a rest every year according to the item they grew that year....

Read Maury's Thoughts on Amish Produce Stands


---
Opera in the Italian Cultural Garden
In 1930, the Italian Cultural Garden opened as a "symbol of Italian culture." Almost 70 years ago the Italian Garden hosted the San Carlo Opera in the lower level amphitheater. In 2008, the Italian Cultural Garden Foundation revived this tradition by presenting Opera in the Garden.

A record crowd of over 2,000 attended the July 26, 2015 performance by the artists from the Opera Circle Cleveland Company. This included Tenor Mikhail Urusov who has performed at the Bolshoi Theatre in Moscow, Russia.

If you missed the 2015 Opera you can see photos and videos of every song. Be sure to watch the videos full screen.

Here's a sample of Nessun dorma.

Opera in the Italian Cultural Garden


---
Domestic Violence
Domestic violence is a pattern of repeated physical, sexual and emotional violence and behaviors that one person in a relationship uses to exercise power and control over the other. Cleveland and Northeast Ohio have many resources for victims of domestic violence.

Main Domestic Violence Page including:
What is domestic violence?
Why do partners abuse?
Are you in an abusive relationship?
Domestic Violence Emergency Help
Domestic Violence and Children

Domestic Violence and Immigrants

Housing Protections for Victims of Domestic Violence

Civil Protection Orders for Victims of Domestic Violence


---
Organic Or Conventional Food?
by Maury Feren
I'm facing a dilemma. Here is the problem. I have been a conventional consumer since day one when I first began to consume large amounts of fruit and vegetables. In that interim there has been a big trend to organic foods nationwide. However, in recent years I would turn to some specific choices in organic foods because of studies that have come forth....

Read Maury's Thoughts on Organic Foods


---
Serbian drinking song by 4 Cleveland Women
4 Serbian American ladies from the band Sarena performed a song explaining why they have to drink all night. They were at the annual golf outing dinner to support the Serbian Cultural Garden in Cleveland, Ohio.

See more of the Cleveland Serbian community


---
99 Red Balloons in German Garden
The Cleveland Cultural Gardens are unique in the world and one of Cleveland's treasures. The first Garden in the chain (now at 30) was started in 1916 making 2015 the 99th year of the Gardens.

To celebrate, members of the Cleveland Cultural Garden Federation (CCGF) hosted a free lunchtime concert and fun event in the German Cultural Garden at 1036 East Blvd.

Why the German Garden?

The Goethe-Schiller monument in the German Garden is the largest of any statue in the Gardens and made a great backdrop for a fun event capitalizing on the 1993 German pop song called 99 Luftballons (99 Red Balloons).

The Cleveland Donauschwasbe Blaskapelle (brass band) performed and free German food was available. In a one-of-a-kind photo opportunity, attendees posed holding 99 red balloons (courtesy of Pink Gorilla) while the band played the popular song. Out of respect for the environment, the balloons were not released as originally planned.



There were brief remarks from the Honorary German Consul Diane Thimmig, Cleveland Councilman Tony Brancatelli, Cleveland Cultural Gardens Federation president Sheila Crawford, German Garden delegate Hans Kopp telling about the monument and more.

The 70th annual One World Day on August 23, 2015 will be the official kickoff of the Centennial Year of the Gardens.

The German food was provided courtesy of Five Star Meats, Orlando Bakery, Hofbrau House, Phuel Café, RJ Lipton and Coke.

Lots of photos and videos soon


---
Is There a Curse on Cursive?
by Amy Kenneley
Today, I can still create a passable penmanship when necessary. Many folks, especially family members, can distinguish my handwriting from someone else's. I can also decipher most other folks' handwriting as well. Up to this current generation, most of us had that skill down pretty good.

As specific subject, however, I could see how the cursive method slid down the essentials ladder of things to learn…until it slid right off many school agendas completely. A basic printing is taught, but where is the time devoted to actual cursive? Mostly gone.

Read the rest of Amy's thoughst on Cursive writing


---
For Croatians the most important meal is lunch (rucak)
Branka Malinar of Cleveland's Croatian community explained some of the food and eating habits of Croatia and Croatian people. She said for Croatians the most important meal of the day is lunch (rucak). Christmas meal might include Turkey with mlinci (flat, sour dumplings). She spoke at the Dubrovnik Garden as part of the latest Food Adventure of ClevelandPeople.Com.


---
Khamia, A'Shontay and Talia
3 ladies from a group called K.A.T. (short for Khamia, A'Shontay and Talia) sang the Michelle Williams song 'When Jesus say yes, nobody can say no' just before the 2015 Cleveland African-American Umoja Parade. Umoja is the Swahili word for "unity".


---
What's cuter than little kids in bunny suits?
Cute kids in bunny suits from Rising Star Acrobatics led by Connie Zhang performed with a classic acrobatic dancer at the 6th annual Cleveland Asian Festival (CAF) in Cleveland's AsiaTown.


---
Violence and Domestic Abuse
by Maury Feren
Maury is 99 yeras old and says it is so hard to understand why women "are willing to accept abuses such as beatings and verbal attacks as an acceptable tool for a man to be in control. How can that happen? What is the reasoning behind it? Is there any way that we can make an indentation and put some type of end to it. Aren't we the public aware of the change in our society?"

Read the rest of Maury's thoughts about Violence


---
The women of the 1916 Easter Uprising
Marilyn Madigan, President of the Ladies Ancient Order of Hibernians (Cleveland) told about the men and women who fought in Easter Week at the Pride of Erin in Cleveland Ohio at an Easter 1916 Commemoration on the 99th anniversary of the declaration of Irish independence and the armed rebellion to oppose English tyranny.

The event was organized by Ladies Ancient Order of Hibernians and Irish Northern Aid.

The presentation highlighted the women in the struggle - the Daughters of Erin - the women of 1916.




---
Murphy Irish Dancers win World Championship
The Murphy Irish Senior Dancers spent Easter Week in Montreal, Canada competing with more than five thousand Irish dancers from all over the world. And they won! They are the World Champions!

A panel of seven judges - also from around the world - scored the dancers 475 out of 500 available points. They outscored their closest competitor by over 100 points. It is estimated that more than 20,000 people were spectators and had the opportunity to witness the competition.

Cleveland Woman Sheila Murphy Crawford is herself an award winning Irish Dancer and now shares her talent and passion with her students. Murphy Irish Arts Center is in its 37th year and in that time a lot of trophies, awards and ribbons were earned, but a World Championship, as one can imagine, is very special.

A win like this does not come easy. Competition is stiff and the dancers need to practice constantly. Few athletes practice as much, and in this Superbowl of Irish Dancing it paid off for the Murphy Irish Senior Dancers.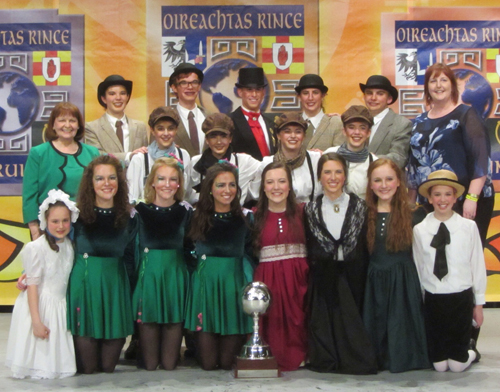 World Champion Murphy Irish Dancers
More from the Murphy Irish Dancers win in Montreal
---
Special Deals and Shopping for Cleveland Women and Girls
We now have two great sources for you to find the best online pricing values. One is Cleveland specific and features products about Cleveland and by and for Clevelanders.

The other is 20 or so companies that are the best of the best in on-line shopping products, value and service. Names you will know like Amazon, Walmart, 1800Flowers, Hanes, Microsoft, Drugstore.Com and Pets Warehouse. But also some lesser known best of breed stores such as Old Time Candy, Lauren Hutton makeup, ShopIrish, DermaDoctor, Shutterfly and more.

On-line store for Cleveland Women and Girls

Take a look. You can always get back to the Store by clicking on the Shopping & Specials link on the left hand side of the page.

Happy Shopping!
---
ClevelandWomen.Com Facts of the Week
48% of law school graduates and 45% of law firm associates are female.


---


Have you seen the Amazon Deal of the Day? Everyday, a new very special deal will be offered. Look below for the daily special.


---


Women make up more than 1/2 of the population but sometimes it seems that the Internet has ignored this fact.

Or the sheer enormity of the Internet does not make it easy to find information, resources and items of interest for women and girls in the Cleveland area.

Not anymore! ClevelandWomen.Com is geared toward providing information, resources and fun to the female population of Northeast Ohio - Cleveland Women - and those who care about them. In fact, we hope that the men in your life will visit and maybe learn what makes you tick.

Don't miss our profiles of interesting Cleveland Women - Maybe it's someone you know! (Or tell us about someone we should know)

Take advantage of discounts and specials selected just for you.

Ask questions and receive answers from our many experts from all walks of life.

Share your thoughts, memories, ideas with other Cleveland Women.

Take advantage of the information provided for your age group and situation.

Most importantly, come back often and



Have Fun!

---
---
Top of Page