Calendar of Events
for Cleveland Women and Girls
Submit your event
---
Many Events are cancelled because of the coronavirus. Please come back when things clear up. Thanks.
December 3, 2021-February 27, 2022
The Rink at Wade Oval
University Circle
$2 Admission, $3 Skate Rentals (adults). $1 Admission, $2 Skate Rentals (students). Take winter out for a spin on the fresh ice at The Rink at Wade Oval!

Fridays: 3 p.m. to 9 p.m.
Saturdays: Noon to 7 p.m.
Sundays: Noon to 5 p.m.
Open daily December 20 - 31 - Mondays - Fridays: Noon to 7 p.m. and Sunday: Noon to 5 p.m.

Closed on Christmas Day & New Year's Day. Open MLK Day & Presidents Day Noon-5:00 p.m.

Visitors to The Rink may show their admission wristbands at the Cleveland Botanical Garden, Cleveland History Center, and Cleveland Museum of Natural History for $2 off same-day admission. Rink wristbands may also be shown at the Cleveland Museum of Art Café for a 10% discount.

More Information
---
January 15, 2022
Doan Brook Watershed Partnership Winter Tree ID Hike
Lower Shaker Lake
1-3 PM
Looking to enhance your knowledge of local trees? Many people can identify common trees by their distinctive leaves - oak, maple, and elm - but identifying these and other trees is possible even after the leaves have fallen. Join Dr. Ted Auch and Doan Brook Watershed Partnership for an educational walk around Lower Shaker Lake focused on winter-weather identification techniques for common native and naturalized trees and shrubs. Additionally, you will learn why different species of trees grow where they do and how trees relate to storm water and pollution control.

We will meet at the western end of Lower Shaker Lake on the bridge over the spillway. Street parking is available on Brook Road (enter off of South Park or North Park Blvd.). Be sure to dress for the weather! A hike fee of $10 per person will be collected on the day of the event. Cash or check.

Register online at https://doanbrookpartnership.org/2022-winter-tree-id-hike/ or call us at 216-325-7781.
---
January 22 and 23, 2022
Today's Bride Cleveland Wedding Show
I-X Center
12 - 6 PM and 10 AM - 5 PM
The Today's Bride I-X Center Cleveland Wedding Show is a Northeast Ohio bride's dream! This event is the third biggest bridal show in the nation, and the LARGEST in Ohio! It's so big, it takes up an entire weekend – January 22nd & 23rd, 2022!

But don't let that intimidate you. You'll have a blast planning your wedding with your wedding party, mom, or fiancé. Shop everything you need to create your dream wedding from 150+ of Northeast Ohio's best wedding businesses. You can also take advantage of special discounts, deals, prizes, and giveaways. View our galleries up close and get inspired by the latest trends in reception tables, décor, cakes, photography, and fashion. Then watch as the latest designs in bridal, bridesmaid, groom, groomsmen, mother-of, and flower girl attire walk the runway at our live fashion shows!

You're only a bride once, so take advantage of the perks. Join us on January 22nd & 23rd at the Today's Bride I-X Center Bridal Show for Ohio's most popular and most talked about wedding show!

More Information
---
March 17, 2022
St. Patrick's Day Parade
1 PM
Superior Ave.
The Parade will begin on Superior Ave. at E. 18th St. and will end at the intersection of Rockwell Ave. and Ontario St.
---
August 27, 2022
One World Day
11 AM - 6PM
Cleveland Cultural Gardens
The 76th annual One World Day in the Cleveland Cultural Gardens.

More on One World Day
---
---

---
Top of Page
Back to ClevelandWomen.Com Home Page


Sign up for our free eNewsletter sent about once every month with special offers, discounts, contests and more specifically for Cleveland area Women and Girls.






Follow us on Twitter







---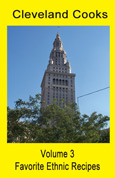 Cleveland Cooks Vol 3
The best Ethnic Recipes from Cleveland