Calendar of Events
for Cleveland Women and Girls
Submit your event
---
Most Events are cancelled because of the coronavirus. Please come back when things clear up. Thanks.
March 14, 2020
UH Women's Health Expo
9 AM - 1 PM
La Malfa, 5783 Heisley Rd. Mentor 44060
The event is free but space is limited and pre-registration is required. Please call 440-701-6059 to register. Complementary valet parking will be available.

More Information
---
March 17, 2020
St. Patrick's Day Parade
1 PM
Superior Ave.
The Parade will begin on Superior Ave. at E. 18th St. and will end at the intersection of Rockwell Ave. and Ontario St.
---
April 21, 2020
Cleveland International Hall of Fame
5:30 PM
Grand Ballroom of the Marriott at Key Center
The Cleveland International Hall of Fame will induct the 2020 Class. The 2020 Class was selected with the input of the previously inducted members from almost 150 nominees and will be inducted in a gala dinner program.

More on the Cleveland International Hall of Fame
---
May 27, 2020
Cleveland Cultural Gardens Centennial Plaza Ribbon Cutting
5:30 PM
Cleveland Cultural Gardens Plaza on MLK
The Cleveland Cultural Gardens Federation will cut the ribbon on the new million dollar Centennial Peace Plaza. Be a part of history.

More on the Ribbon Cutting
---
August 30, 2020
One World Day
11 AM - 6PM
Cleveland Cultural Gardens
The 75th annual One World Day in the Cleveland Cultural Gardens.

More on One World Day
---
---

---
Top of Page
Back to ClevelandWomen.Com Home Page


Sign up for our free eNewsletter sent about once every month with special offers, discounts, contests and more specifically for Cleveland area Women and Girls.






Follow us on Twitter







---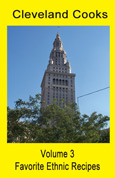 Cleveland Cooks Vol 3
The best Ethnic Recipes from Cleveland