Fashion Week Cleveland 2009
---
Who knew fashion could be this powerful? Fashion Week Cleveland 2009, armed with the creations of a wide array of talented designers, will bring together a dizzying array of organizations within the city during the first week of May.

These include the top notch Kent State University Design School, Cleveland Public Library, Greater Cleveland Sports Commission, National Aeronautics and Space Administration, Office of Mayor Frank G. Jackson, Office of Senator Sherrod Brown, Opera Cleveland, Rock and Roll Hall of Fame and Museum, and the Western Reserve Historical Society.
What is it about Fashion Week Cleveland (FWC) that compels such a diverse group of organizations to participate in the event? The answer has a great deal to do with FWC's main focus as the "educational fashion week", a driving force that has made FWC one of the top industry events in the United States. This annual convention does not limit itself to runway shows; it also incorporates exhibits, films, lectures, and workshops at cultural and educational institutions.
FWC serves to inform consumers and industry leaders of the cultural importance and economic contributions of the fashion industry. That is why leading industry publication Women's Wear Daily calls us "…a regional phenomenon that's become the nation's third largest fashion week after New York and Los Angeles".

The vast selection of learning opportunities include a talk and book signing by Eco-Chick author and style editor/columnist Starr Vartan, a screening of the film documentary "Head Over Heels" at the Cleveland Public Library, an exhibit hosted by Hard Rock Café featuring rock and roll costumes, a seminar covering the form and function of space suits at the National Aeronautics and Space Administration's Glenn Research Center, a history of fashion lecture, film, and exhibit at the Western Reserve Historical Society's Costume Wing, and a program covering garment preservation at the Intermuseum Conservation Association.
There are several inspirational runway shows to be enjoyed during FWC. unclothed: A Mixed Media Runway Event is a nationally acclaimed wearable art show. It is an underground, edgy event with special effects and one-of-a-kind creations. Celebrity Style Cleveland - retail showcase features celebrities wearing the hottest trends in retail. The Cleveland Fashion Show - black tie gala is FWC's grand finale featuring top American designers.
"Cleveland is a city of collegiate, cultural, and medical institutions. Our fashion week is a reflection of the city it represents. Something that is uniquely Cleveland… reserved, educational, and intelligent. This deepening of Fashion Week Cleveland's strategic vision has made us a national event that is absolutely unique and truly innovative", says Founder and Executive Director Donald C. Shingler.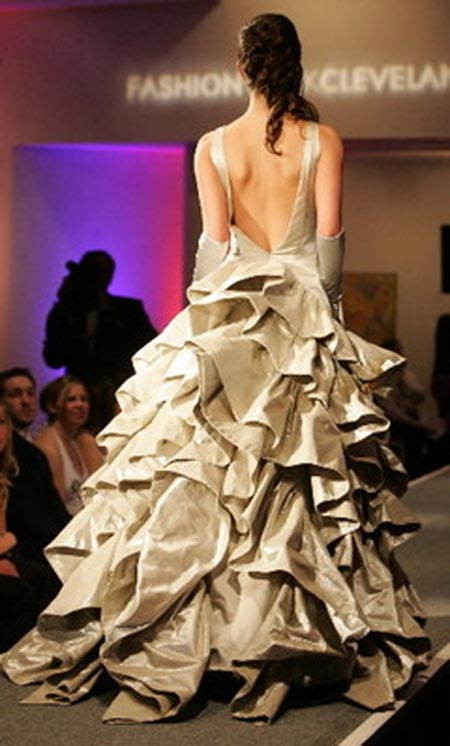 Mr. Shingler, a cosmetic dentist and longtime Cleveland native, founded the weeklong event in 2003 and each spring highlights the region's budding fashion community. FWC hopes to double its number of programs next year.
FWC includes seminars, parties, lectures and films educating the public about the intricacies of fashion, with events in different cultural institutions across the city. The festivities end with a runway show on the final day of the week, when local and emerging designers highlight their creations.
"Fashion isn't just haute couture," asserted Shingler. "There are elements of fashion in sports, in business, in cultural institutions. So, if you broaden what the term means, you can begin by including events at different institutions and other venues around the city."
For example, in conjunction with Fashion Week Cleveland, the Western Reserve Historical Society will present a free historical presentation covering women's fashion of the 1920s on Saturday, May 9 from 12:00 noon to 1:00 pm.
The 1920s was a decade of rapid change when an emphasis on youth and adventure overcame the traditional social and moral restrictions placed on women. Using garments and accessories from the Western Reserve Historical Society's world-renowned fashion collection, Textile Curator Megan Spagnolo will present The Daring Decade, a program that addresses the role of fashion in the lives of women in the 1920s.
Vintage examples designed by Chanel, Schiaparelli, Lanvin, and Cartier will be on display to show how women's desire for physical and social freedom made a functional and chic impression on fashion.
It is nearly impossible to separate the stylish automobiles and fashions of this period. The Crawford Auto-Aviation Museum will feature automobiles of the 1920s, including the Jordan Playboy and Tomboy. These stylish Jordan automobiles were made for women and manufactured in Cleveland, Ohio.
See more about Fashion Week Cleveland.


---
Top of Page
Back to Out & About for Cleveland Women
Back to Fashion for Cleveland Women