Welcome to ClevelandWomen.Com
for Women of all Ages
in Cleveland, Northeast Ohio & Beyond.
---
RIP Doris O'Donnell - Pioneer Front-Page Girl
There was a time, before the Internet, when reporters actually went looking for a story; talked to sources; did research and met deadlines. It wasn't even that long ago.

In 1936, when she was only 15, she covered the Republican National Convention for her school paper and off she went covering stories such as the Sam Shepherd case, Beverly Potts, Glenville riots, Dennis Kucinich and more.

Doris retired in 1996 after 64 years in the business. Sadly she passed away in September at the age of 94.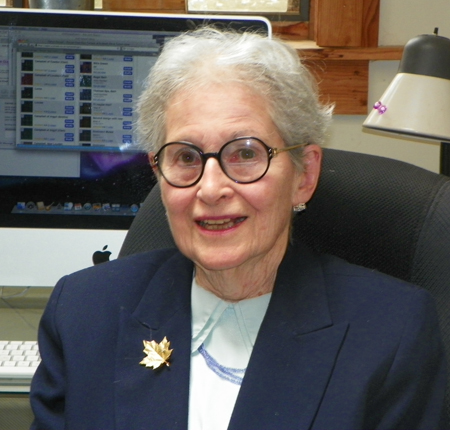 Doris O'Donnell in 2011
Read the official profile of Doris O'Donnell
---
Traditional Korean Ladies Dress
Susan is Secretary of the Korean American Association of Greater Cleveland. She wore and spoke about a traditional Korean Ladies Dress and explained how the colors mean things - such as marital status.

She spoke at Cleveland Food Adventurers event at the Korea House Restaurant in Cleveland. This was part of the Adventure to Korea as part of the ClevelandPeople.Com Food Adventurers passport club. People who enjoy trying different foods and learning about different cultures participate in the Food Adventurer's group.




---
Feminist Arab Poet
You may have never heard of the late Syrian poet Nizar Qabbani. We hadn't either until a bust of Qabbani was dedicated in the Syrian Cultural Garden in Cleveland last week.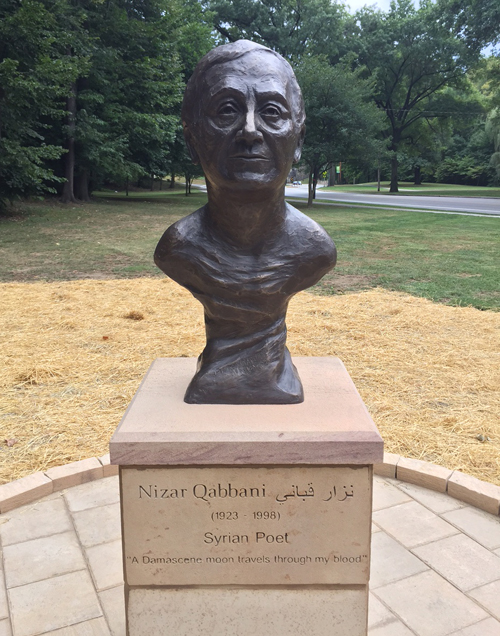 Bust of Nizar Qabbani in Syrian Cultural Garden



When Qabbani was 15, his sister, who was 25 at the time, committed suicide because she refused to marry a man she did not love.

During her funeral he decided to fight the social conditions he saw as causing her death. When asked whether he was a revolutionary, the poet answered: "Love in the Arab world is like a prisoner, and I want to set (it) free. I want to free the Arab soul, sense and body with my poetry. The relationships between men and women in our society are not healthy."

He is known as one of the most feminist and progressive intellectuals of his time.

Watch as Qabbani's poems are passionately recited.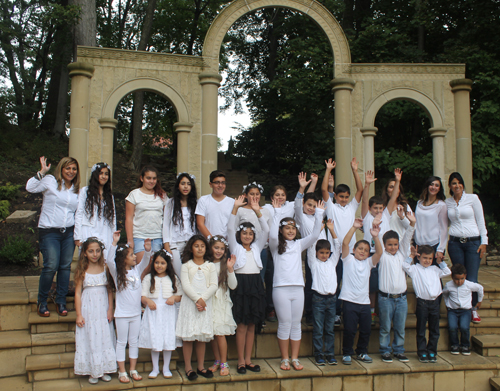 Syrian American children in the Cleveland Syrian Cultural Garden
---
Dancing Wheels 35th anniversary season
The Dancing Wheels Company will present a world premiere concert commemorating the 35th anniversary of America's first and foremost Physically Integrated Dance Company and the 25th anniversary of the Americans with Disabilities Act (ADA); the iconic law that changed the face of equality for persons with disabilities throughout the Unites States.

The "Lasting Legacy" concert will give homage to this historic law by reflecting on the five core themes of the ADA: employment, education, transportation, communication and public access.

7:30 p.m. Saturday, October 10, 2015
Allen Theatre Playhouse Square
1407 Euclid Avenue, Cleveland, Ohio 44114

Learn more about Dancing Wheels and the Concert


---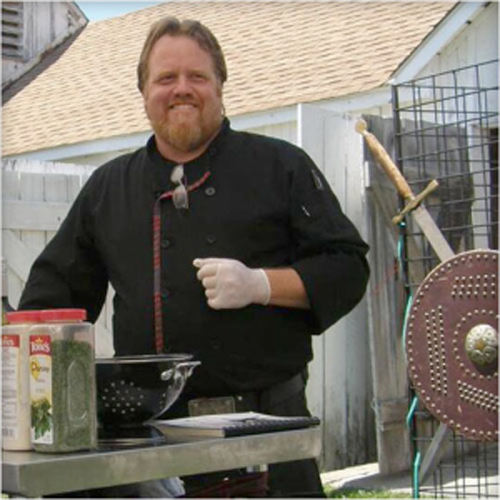 Celtic Caterer Chef Eric W. McBride
Watch and learn from the Celtic Chef
---
Mexican Government awards highest honor, The Ohtli Award, to Cleveland Woman
Dr. María José Pujana, MD of Westlake, Ohio is one of the recipients of the 2015 "Ohtli Award." She was recognized for her years of work and success in helping the Hispanic/Latino and Mexican communities throughout the Northeast Ohio region.

This Award is one of the highest and very limited distinctions given by the Government of Mexico to distinguished individuals of Mexican or Hispanic/Latino origin.

The Ohtli Award, which consists of a medal, a silver rosette, and a diploma, was conceived to recognize and honor Mexican, Mexican-American or Hispanic/Latino leaders whose efforts have contributed significantly to the wellbeing, prosperity and empowerment of Mexican communities abroad. Ohtli is a náhuatl word that means "pathway," or "camino" in Spanish.

Dr. Pujana, who is the first person to receive this honor in the North East Ohio region, was instrumental in the formation of Ventanilla de Salud at MetroHealth Hospital earlier this year.

She is a champion on Hispanic issues related to health, education, economic development and the arts through her involvement with institutions like The Cleveland Foundation, MetroHealth, The Cleveland Red Cross, The Cleveland Museum of Art, The Cleveland Institute of Art and The Beck Center for the Arts, among others.

Past recipients of the "Ohtli Award" include: U.S. Secretary of Labor, Hilda Solís, the President of the Educational Fund of NALEO, Arturo Vargas, the Editor of "La Opinión" in Los Angeles, California, Mónica Lozano, renowned labor leader Eliseo Medina, the President of the United Farm Workers of the United States, Arturo S. Rodríguez, the President of the National Council of La Raza, Janet Murguía, former Governor of New Mexico, Bill Richardson, the President of the Hispanic Leadership Institute, Dr. Juan Andrade Jr., Congressman and Chair of the Congressional Hispanic Caucus, Charles Gonzalez, Actor, Producer and Director Edward James Olmos, the Coordinator of Ventanilla de Salud (Mobile Health Window) in SW Kansas Arturo Ponce, just to mention a few.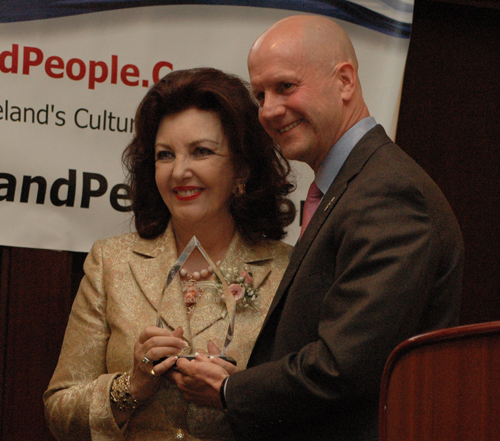 Maria Pujana MD was inducted into the Cleveland International Hall of Fame in a ceremony (photo above) on Wednesday May 8, 2013 by Len Komoroski, CEO of Cleveland Cavaliers/Quicken Loans Arena.


---
Cleveland Cooks™ - Celtic Cooking Tips from the Celtic Caterer Chef Eric W. McBride
The Celtic Caterer Chef Eric W. McBride demonstrated Celtic foods, cooking and spices at the Ohio Celtic Festival at Classic Park in Eastlake, home to the Lake County Captains.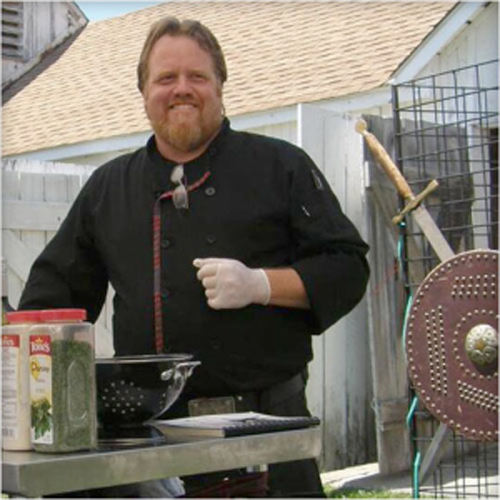 Celtic Caterer Chef Eric W. McBride
Watch and learn from the Celtic Chef
---
Remembering The Perfect Peach
by Maury Feren
Today I am going to talk about the wonderful memories of all the perfect peaches I met in my search for good taste.

I've purchased peaches (local) from 3 different farm stands all priced differently all claiming to be Amish but only one lot made the top. My problem is I know what a local peach should taste like. My early history goes back to Blackmore Farms in Painesville, Ohio where I was subjected to the most exquisite peaches I have ever tasted. ....

Read Maury's Thoughts on Remembering The Perfect Peach


---
Amish Produce Stands
by Maury Feren
What is there about the produce that is sold by the Amish people that gives it that special taste?

It's got to be from lots of good things. First of all they rotate their crops. The land they use for growing is given a rest every year according to the item they grew that year....

Read Maury's Thoughts on Amish Produce Stands


---
Opera in the Italian Cultural Garden
In 1930, the Italian Cultural Garden opened as a "symbol of Italian culture." Almost 70 years ago the Italian Garden hosted the San Carlo Opera in the lower level amphitheater. In 2008, the Italian Cultural Garden Foundation revived this tradition by presenting Opera in the Garden.

A record crowd of over 2,000 attended the July 26, 2015 performance by the artists from the Opera Circle Cleveland Company. This included Tenor Mikhail Urusov who has performed at the Bolshoi Theatre in Moscow, Russia.

If you missed the 2015 Opera you can see photos and videos of every song. Be sure to watch the videos full screen.

Here's a sample of Nessun dorma.

Opera in the Italian Cultural Garden


---
Domestic Violence
Domestic violence is a pattern of repeated physical, sexual and emotional violence and behaviors that one person in a relationship uses to exercise power and control over the other. Cleveland and Northeast Ohio have many resources for victims of domestic violence.

Main Domestic Violence Page including:
What is domestic violence?
Why do partners abuse?
Are you in an abusive relationship?
Domestic Violence Emergency Help
Domestic Violence and Children

Domestic Violence and Immigrants

Housing Protections for Victims of Domestic Violence

Civil Protection Orders for Victims of Domestic Violence


---
Serbian drinking song by 4 Cleveland Women
4 Serbian American ladies from the band Sarena performed a song explaining why they have to drink all night. They were at the annual golf outing dinner to support the Serbian Cultural Garden in Cleveland, Ohio.

See more of the Cleveland Serbian community


---
The women of the 1916 Easter Uprising
Marilyn Madigan, President of the Ladies Ancient Order of Hibernians (Cleveland) told about the men and women who fought in Easter Week at the Pride of Erin in Cleveland Ohio at an Easter 1916 Commemoration on the 99th anniversary of the declaration of Irish independence and the armed rebellion to oppose English tyranny.

The event was organized by Ladies Ancient Order of Hibernians and Irish Northern Aid.

The presentation highlighted the women in the struggle - the Daughters of Erin - the women of 1916.




---
Murphy Irish Dancers win World Championship
The Murphy Irish Senior Dancers spent Easter Week in Montreal, Canada competing with more than five thousand Irish dancers from all over the world. And they won! They are the World Champions!

A panel of seven judges - also from around the world - scored the dancers 475 out of 500 available points. They outscored their closest competitor by over 100 points. It is estimated that more than 20,000 people were spectators and had the opportunity to witness the competition.

Cleveland Woman Sheila Murphy Crawford is herself an award winning Irish Dancer and now shares her talent and passion with her students. Murphy Irish Arts Center is in its 37th year and in that time a lot of trophies, awards and ribbons were earned, but a World Championship, as one can imagine, is very special.

A win like this does not come easy. Competition is stiff and the dancers need to practice constantly. Few athletes practice as much, and in this Superbowl of Irish Dancing it paid off for the Murphy Irish Senior Dancers.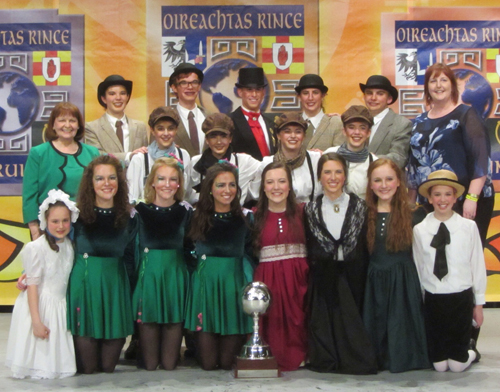 World Champion Murphy Irish Dancers
More from the Murphy Irish Dancers win in Montreal
---
Special Deals and Shopping for Cleveland Women and Girls
We now have two great sources for you to find the best online pricing values. One is Cleveland specific and features products about Cleveland and by and for Clevelanders.

The other is 20 or so companies that are the best of the best in on-line shopping products, value and service. Names you will know like Amazon, Walmart, 1800Flowers, Hanes, Microsoft, Drugstore.Com and Pets Warehouse. But also some lesser known best of breed stores such as Old Time Candy, Lauren Hutton makeup, ShopIrish, DermaDoctor, Shutterfly and more.

On-line store for Cleveland Women and Girls

Take a look. You can always get back to the Store by clicking on the Shopping & Specials link on the left hand side of the page.

Happy Shopping!
---
ClevelandWomen.Com Facts of the Week
48% of law school graduates and 45% of law firm associates are female.


---


Have you seen the Amazon Deal of the Day? Everyday, a new very special deal will be offered. Look below for the daily special.


---


Women make up more than 1/2 of the population but sometimes it seems that the Internet has ignored this fact.

Or the sheer enormity of the Internet does not make it easy to find information, resources and items of interest for women and girls in the Cleveland area.

Not anymore! ClevelandWomen.Com is geared toward providing information, resources and fun to the female population of Northeast Ohio - Cleveland Women - and those who care about them. In fact, we hope that the men in your life will visit and maybe learn what makes you tick.

Don't miss our profiles of interesting Cleveland Women - Maybe it's someone you know! (Or tell us about someone we should know)

Take advantage of discounts and specials selected just for you.

Ask questions and receive answers from our many experts from all walks of life.

Share your thoughts, memories, ideas with other Cleveland Women.

Take advantage of the information provided for your age group and situation.

Most importantly, come back often and



Have Fun!

---
---
Top of Page