Welcome to ClevelandWomen.Com
for Women of all Ages
in Cleveland, Northeast Ohio & Beyond.
---
Cleveland Museum of Art Centennial
Cleveland Museum of Art (CMA) Director William Griswold spoke at the kick off of the Cleveland Museum of Art's summer of centennial programs event. He was asked to imagine he had a time machine. What might the CMA founders have thought if they could see the Museum today? He also asked what his successor might say in 100 years at the Bicentennial celebration.




---
Grandson's Senior Recital
by Amy Kenneley
The huge auditorium, filled to capacity the previous evening for a performance, echoed this morning with the smaller sounds of pre-recital tunings and directions. This was my grandson's Senior recital, one that tested his four years of work at Belmont University's School of Music. He would be presenting five pieces, all reflecting the aspects of playing, composing and arranging music.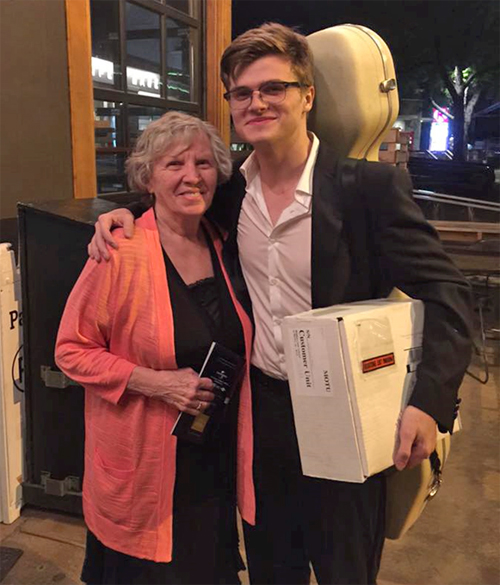 Amy Kenneley and grandson Patrick
Read the rest of Amy's story
---
Cleveland and the RNC - Are you concerned?
Cleveland finally lands a huge event - the Republican National Convention - and it seems there are all kinds of potential problems instead of just a profitable showcase for our city. Are you concerned?

The Rotary Club of Cleveland hosted their annual International Fellowship Day in Cleveland Ohio on April 7, 2016. The event featured the presentation of the International Service Award to Cleveland Mayor Frank Jackson.

After his speech Mayor Jackson was asked how the challenges of hosting the Republican National Convention (RNC).

He said we are not afraid of the challenge. We will step up our game to meet whatever challenge is before us and put Cleveland in the best light. This is about who we are. How you deal with adversity is how you are defined.



See more from the Mayor at the Rotary event


---
Letter to a husband (humor)
Sweetheart, Before you return from your overseas trip I just want to let you know about the small accident I had with the Ford F-150 when I turned into the driveway.

Fortunately it's not too bad and I really didn't get hurt, so please don't worry too much about me. I was coming home and when I turned into the driveway I accidentally pushed down on the accelerator instead of the brake. The garage door is slightly bent but the Ford F-150 fortunately came to a halt when it bumped into your Corvette. I missed our bikes.

I am really sorry, but I know with your kind-hearted personality you will forgive me. You know how much I love you and care for you my sweetheart.

I am enclosing a picture for you. I cannot wait to hold you in my arms again.

Your loving wife. XX

P.S: Your girlfriend called….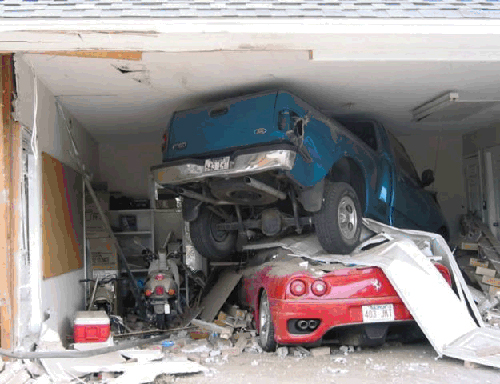 ---
Judge Sara Harper honored
The Committee on Arrangements; Ohio Republican Party, Republican Party of Cuyahoga County, Sara J. Harper Leadership Institute, I Group, The Committee of 40, Lauren A. Gore, esq., WEA, Inc., LA Gore & Principals and the Inner City Republican Movement hosted a Community Black History Celebration honoring the Life & Achievement of Judge Sara J. Harper.

Her illustrious career spans the decades, as one who has toppled barriers, and made history. Born in Cleveland, Ohio in 1926, Judge Harper was the first African-American woman to graduate from Case Western Reserve University Law School. She also was the first woman to serve on the judiciary of the U.S. Marine Corps Reserve.

After retiring as a Lieutenant Colonel, she won a seat on the Ohio 8th District Court of Appeals, becoming one of the first of two African-American women elected to the court in 1990.

Judge Harper twice was a candidate for the Ohio Supreme Court -- for chief justice in 1980 and for justice in 1994. And she was the first African-American woman appointed to sit on the state's high court in 1992.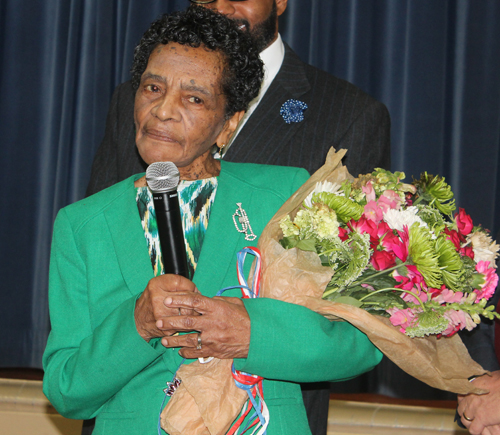 Judge Sara Harper
See photos and a video from the ceremony for Judge Sara Harper
---
First woman ambassador in NATO history - born in Cleveland!
Ginte Damusyte-Damusis has served as Ambassador from Lithuania to Austria, Slovakia, Slovenia, Croatia and Canada. Currently she is director of the department in charge of diaspora affairs in Vilnius, Lithuania. She was the keynote speaker at the 98th Anniversary of the Lithuanian Declaration of Independence Program in Cleveland.

The Ambassador was born in Cleveland and she still has ties here.

She told ClevelandWomen.Com about breaking the glass ceiling in the diplomacy world.




---
Kurentovanje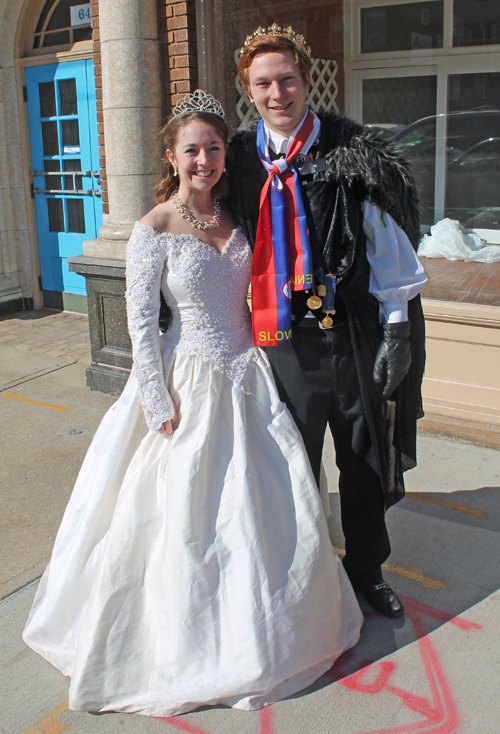 Princess and Prince of Kurentovanje

The 4th annual Cleveland version of the most popular carnival in Slovenia - Kurentovanje - began with a parade. The units gathered at Sterle's on East 55th and marched up St Clair to the Slovenian National Home.

Kurentovanje is a cultural event which connects ethnology, culture, arts, and people from all over Europe. It has been celebrated in Slovenia for the past 50 years. The central figure of the carnival, the Kurent, is believed to chase away winter and usher in spring with its supernatural powers. Kurentovanje has a Mardi Gras feel so many participants wore masks to help scare away winter.

Photos and videos of Cleveland's 4th annual Kurentovanje


---
The Healing Power of Wine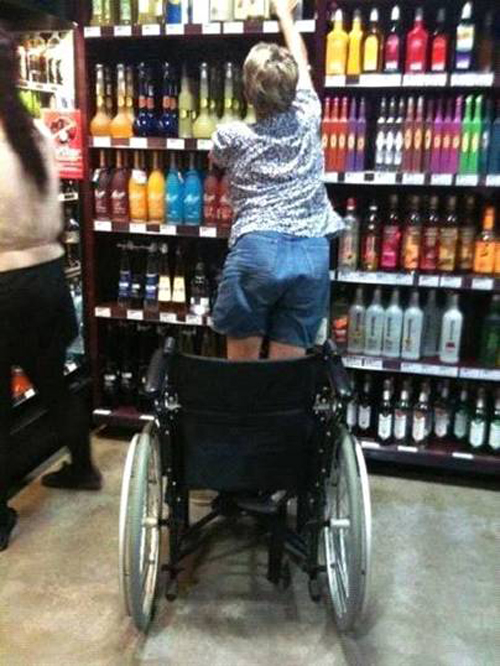 ---
ClevelandWomen.Com Fact of the Week
The average height of a woman in the U.S. is approximately 5 feet 4 inches, and the average weight is about 163 pounds. These figures vary greatly throughout the world, due to differences in nutrition and prenatal care


---
The ClevelandWomen.Com Class of 2016
As we focus on re-creating ClevelandWomen.Com we want to feature interesting Cleveland area women of all ages and walks of life. We want your help.

Who would you recommend? Who has influeced your life, taught you something, inspired you? Who do you admire, emulate, want to be like?

Let us know (feel free to suggest yourself) and stay tuned for the all new ClevelandWomen.Com coming soon.
---
The Modern Wedding Cake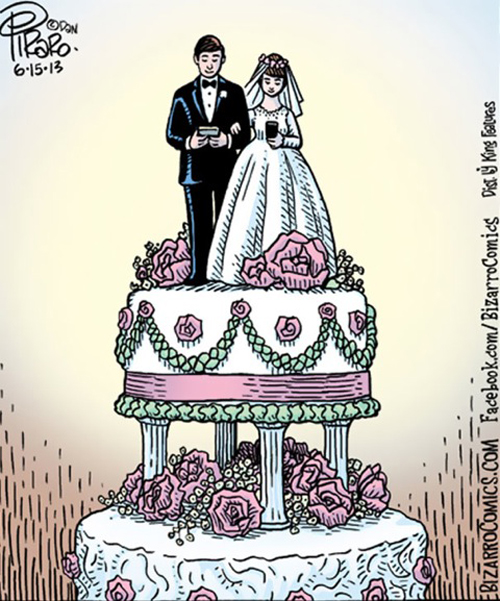 ---
Books with a Cleveland focus
Congratulations to the winners of some terrific new Cleveland focused books.

Winners have been notified and books were taken to the post office for delivery. Be sure to sign up for the free ClevelandWomen.Com eNews to learn about contests like this first.

The books that were won were:
Let's Have Another by Dan Coughlin

The Ashtabula Hat Trick: A Milan Jacovich Mystery by Les Roberts

The Making of Major League: A Juuuust a Bit Inside Look at the Classic Baseball Comedy

The Bone Lady: Life Lessons Learned as One of Football's Ultimate Fans

Cleveland TV Tales Volume 2: More Stories from the Golden Age of Local Television
See more about the books
---
Domestic Violence
Domestic violence is a pattern of repeated physical, sexual and emotional violence and behaviors that one person in a relationship uses to exercise power and control over the other. Cleveland and Northeast Ohio have many resources for victims of domestic violence.

Main Domestic Violence Page including:
What is domestic violence?
Why do partners abuse?
Are you in an abusive relationship?
Domestic Violence Emergency Help
Domestic Violence and Children

Domestic Violence and Immigrants

Housing Protections for Victims of Domestic Violence

Civil Protection Orders for Victims of Domestic Violence


---
Special Deals and Shopping for Cleveland Women and Girls
We now have two great sources for you to find the best online pricing values. One is Cleveland specific and features products about Cleveland and by and for Clevelanders.

The other is 20 or so companies that are the best of the best in on-line shopping products, value and service. Names you will know like Amazon, Walmart, 1800Flowers, Hanes, Microsoft, Drugstore.Com and Pets Warehouse. But also some lesser known best of breed stores such as Old Time Candy, Lauren Hutton makeup, ShopIrish, DermaDoctor, Shutterfly and more.

On-line store for Cleveland Women and Girls

Take a look. You can always get back to the Store by clicking on the Shopping & Specials link on the left hand side of the page.

Happy Shopping!
---


Have you seen the Amazon Deal of the Day? Everyday, a new very special deal will be offered. Look below for the daily special.


---


Women make up more than 1/2 of the population but sometimes it seems that the Internet has ignored this fact.

Or the sheer enormity of the Internet does not make it easy to find information, resources and items of interest for women and girls in the Cleveland area.

Not anymore! ClevelandWomen.Com is geared toward providing information, resources and fun to the female population of Northeast Ohio - Cleveland Women - and those who care about them. In fact, we hope that the men in your life will visit and maybe learn what makes you tick.

Don't miss our profiles of interesting Cleveland Women - Maybe it's someone you know! (Or tell us about someone we should know)

Take advantage of discounts and specials selected just for you.

Ask questions and receive answers from our many experts from all walks of life.

Share your thoughts, memories, ideas with other Cleveland Women.

Take advantage of the information provided for your age group and situation.

Most importantly, come back often and



Have Fun!

---
---
Top of Page