Welcome to ClevelandWomen.Com
for Women of all Ages
in Cleveland, Northeast Ohio & Beyond.
---
What's cuter than little kids in bunny suits?
Cute kids in bunny suits from Rising Star Acrobatics led by Connie Zhang performed with a classic acrobatic dancer at the 6th annual Cleveland Asian Festival (CAF) in Cleveland's AsiaTown.


---
Violence and Domestic Abuse
by Maury Feren
Maury is 99 yeras old and says it is so hard to understand why women "are willing to accept abuses such as beatings and verbal attacks as an acceptable tool for a man to be in control. How can that happen? What is the reasoning behind it? Is there any way that we can make an indentation and put some type of end to it. Aren't we the public aware of the change in our society?"

Read the rest of Maury's thoughts about Violence


---
Neighborhoods are important
Slavic Village, a historical neighborhood located outside of downtown Cleveland, was devastated by the national housing crisis and continues to struggle in the aftermath of economic decline. A once vibrant neighborhood rich in history and culture has been plagued by blight, vacant homes and financial hardships. But it's on its way back.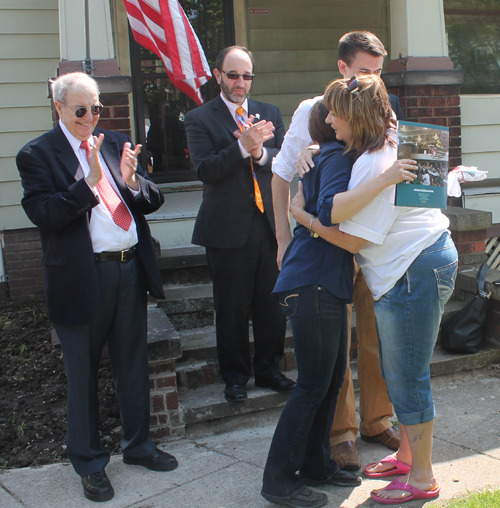 New Slavic Village neighbors
Slavic Village recovery and celebration of its 25th homebuyer
---
The women of the 1916 Easter Uprising
Marilyn Madigan, President of the Ladies Ancient Order of Hibernians (Cleveland) told about the men and women who fought in Easter Week at the Pride of Erin in Cleveland Ohio at an Easter 1916 Commemoration on the 99th anniversary of the declaration of Irish independence and the armed rebellion to oppose English tyranny.

The event was organized by Ladies Ancient Order of Hibernians and Irish Northern Aid.

The presentation highlighted the women in the struggle - the Daughters of Erin - the women of 1916.




---
The New Cleveland Ballet
Dr. Michael Krasnyansky, Chairman of The Board of the New Cleveland Ballet, spoke at the 99th birthday of the Cleveland Cultural Gardens on April 14, 2015. He told how the original Cleveland Ballet left Cleveland for California 15 years ago. The New Cleveland Ballet is now being formed.

Here are 3 young ladies from the Cleveland Ballet Youth Company who performed a dance from Masquerade at the 99th birthday of the Cleveland Cultural Gardens.

Cleveland Ballet Youth Company is a classically trained youth ballet group made up of young dancers of exceptional potential. The mission of the Cleveland Ballet Youth Company is to train dancers (ages 14-19) in preparation of fulfilling Cleveland Ballet's core of professional dancers.




---
Murphy Irish Dancers win World Championship
The Murphy Irish Senior Dancers spent Easter Week in Montreal, Canada competing with more than five thousand Irish dancers from all over the world. And they won! They are the World Champions!

A panel of seven judges - also from around the world - scored the dancers 475 out of 500 available points. They outscored their closest competitor by over 100 points. It is estimated that more than 20,000 people were spectators and had the opportunity to witness the competition.

Cleveland Woman Sheila Murphy Crawford is herself an award winning Irish Dancer and now shares her talent and passion with her students. Murphy Irish Arts Center is in its 37th year and in that time a lot of trophies, awards and ribbons were earned, but a World Championship, as one can imagine, is very special.

A win like this does not come easy. Competition is stiff and the dancers need to practice constantly. Few athletes practice as much, and in this Superbowl of Irish Dancing it paid off for the Murphy Irish Senior Dancers.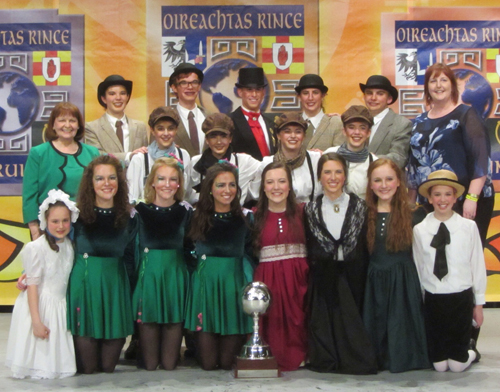 World Champion Murphy Irish Dancers
More from the Murphy Irish Dancers win in Montreal
---
Special Deals and Shopping for Cleveland Women and Girls
We now have two great sources for you to find the best online pricing values. One is Cleveland specific and features products about Cleveland and by and for Clevelanders.

The other is 20 or so companies that are the best of the best in on-line shopping products, value and service. Names you will know like Amazon, Walmart, 1800Flowers, Hanes, Microsoft, Drugstore.Com and Pets Warehouse. But also some lesser known best of breed stores such as Old Time Candy, Lauren Hutton makeup, ShopIrish, DermaDoctor, Shutterfly and more.

On-line store for Cleveland Women and Girls

Take a look. You can always get back to the Store by clicking on the Shopping & Specials link on the left hand side of the page.

Happy Shopping!
---
ClevelandWomen.Com Facts of the Week
48% of law school graduates and 45% of law firm associates are female.


---


Have you seen the Amazon Deal of the Day? Everyday, a new very special deal will be offered. Look below for the daily special.


---


Women make up more than 1/2 of the population but sometimes it seems that the Internet has ignored this fact.

Or the sheer enormity of the Internet does not make it easy to find information, resources and items of interest for women and girls in the Cleveland area.

Not anymore! ClevelandWomen.Com is geared toward providing information, resources and fun to the female population of Northeast Ohio - Cleveland Women - and those who care about them. In fact, we hope that the men in your life will visit and maybe learn what makes you tick.

Don't miss our profiles of interesting Cleveland Women - Maybe it's someone you know! (Or tell us about someone we should know)

Take advantage of discounts and specials selected just for you.

Ask questions and receive answers from our many experts from all walks of life.

Share your thoughts, memories, ideas with other Cleveland Women.

Take advantage of the information provided for your age group and situation.

Most importantly, come back often and



Have Fun!

---
---
Top of Page