Welcome to ClevelandWomen.Com
for Women of all Ages
in Cleveland, Northeast Ohio & Beyond.
---
There's No Getting Out Of It! Amy ponders Volunteer's Remorse
"…..and is anyone here interested in working on this project?" My hand shot up immediately. Who cared what the project was, I was the willing and eager person to tackle whatever someone wanted done.

The flush of being needed, being wanted, being the head or tail of a job was calling to me. You've heard of Buyer's Remorse, when the object purchased-usually a big-ticket item such as car or house-is viewed, in the clearer light of day, as less than well thought out? There must also be Volunteer's Remorse as well....

Read the rest of Amy's guide for volunteers


---
Fall is Leaving, Winter is Coming. Keeping up with Maury
Alas, Summer and Fall are leaving us. But what beauty has the Fall left behind. Everywhere you turn you're beset. Just a few days ago the colors were mostly yellow. Contrasting in the lighter shades of green turning yellow. I was sure we would never get the magnificent reds and browns that made Fall so colorful and important. ...

Read the rest of Maury's column on Cleveland's Fall scenery


---
9-11 Memorial and Museum
If you find yourself in Lower Manhattan, you should plan a visit to the 9-11 Memorial and Museum. Start with a walk around the 2 reflecting pools that sit where the 2 towers once stood. They cover about an acre apiece, and contain the tallest manmade waterfalls in North America...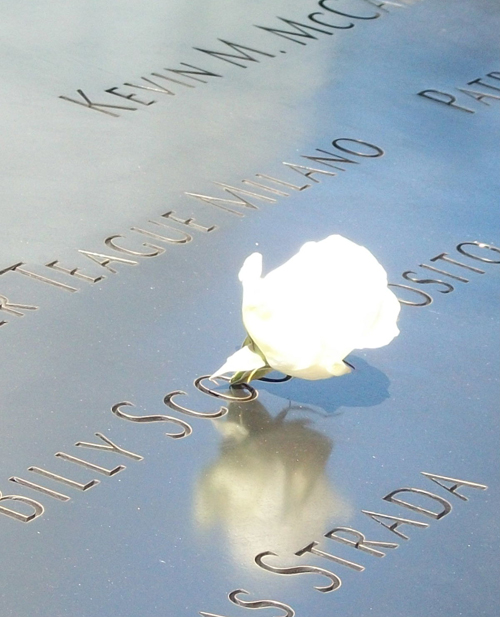 Flower left at 9-11 Memorial
Read the rest of Tom Mugridge's tour of the 9 11 memorial and Museum


---
What are these young Cleveland Women looking at?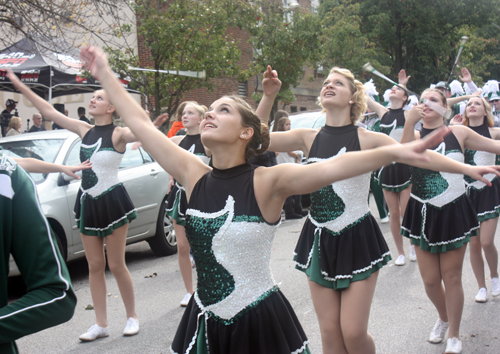 They are part of the Lake Catholic High School Marching Band and they performed in the 2014 Cleveland Columbus Day Parade.

See 4 pages of photos and videos from the Parade.


---
Congratulations to Cleveland Woman Connie Sancetta
Connie Sancetta has been president of the Italian American Cultural Foundation since 2007. She is also secretary of the Cleveland Italian Ancestral Organization and holds other positions as well. She was honored in the Individual category at the Italian Heritage Month 2014 Kickoff in the Cleveland City Hall Rotunda on October 6, 2014.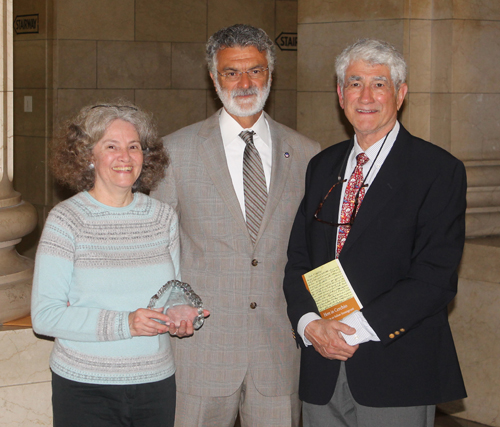 Connie Sancetta with Mayor Jackson and her husband
More from Italian heritage night at City Hall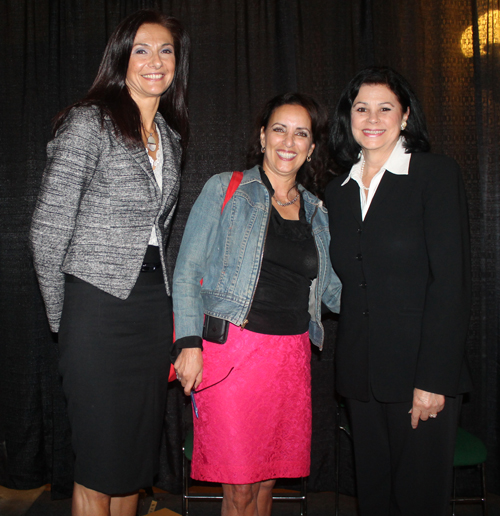 Italian Consul Serena Scaiola, Board Member Rose Zitiello and
Cleveland Council's Dona Brady at Italian Heritage Night
---
---
Elyria woman recognized with national volunteer award
Life Care Centers of America recognized the outstanding volunteer contributions of Madge Bomback with its Carl W. Campbell Wind Beneath My Wings Award on Monday, Sept. 22. The award, commemorated by a glass sculpture of an eagle in flight, was given during the company's annual management meeting in Cleveland, Tennessee.

"This is the highest award that we give to anyone in the company," said Beecher Hunter, Life Care president. "We truly value the contributions of Madge and other volunteers who share her selfless spirit."

Bomback, 83, has been a volunteer at Life Care Center of Elyria for five years. She visits residents weekly, leading a rosary service for Catholic residents and meeting one-on-one with residents of all faiths to provide friendship and encouragement.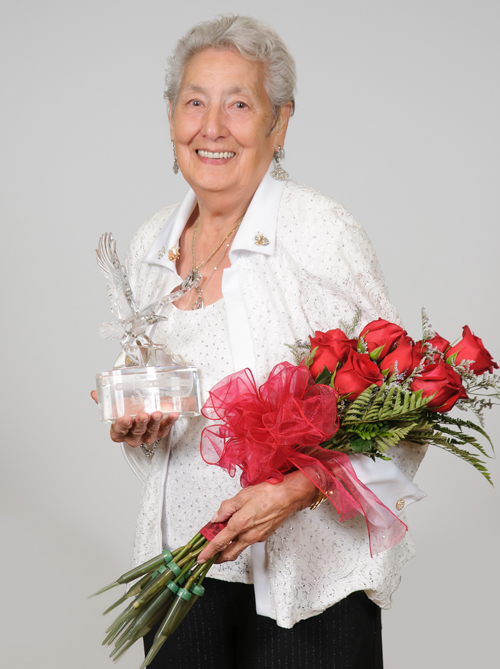 Outside her weekly visits, Bomback helps with special events, including serving Thanksgiving and Christmas dinners at the facility, making pies and cutting them up for pie-eating contests, assisting at the community dog show and bringing in art supplies for card making and decorations. She has even helped several short-term residents by doing their laundry.
"On her volunteer application, she put down 'whatever is needed,' and that is exactly what she's done," said Jon Hennemyre, senior executive director at Life Care Center of Elyria.
"I love doing what I do," Bomback shared. "I love talking to the patients. I do not accept this award for myself. I accept this award for all the volunteers in all the facilities who come in to help all the residents."
The Carl W. Campbell Wind Beneath My Wings Award is presented annually to a volunteer chosen from among Life Care's more than 220 facilities nationwide. Criteria include serving as an inspirational example of extraordinary dedication, providing leadership in the field of nursing home volunteerism and initiating new approaches to fundraising that provide additional benefits to residents.
Carl W. Campbell is an entrepreneur from Washington who provided financial support for the construction of Life Care's first nursing facility in Cleveland, Tennessee. Campbell has continued to lend his resources and heart to the growth of the company and the achievement of its mission, and he presented the award to Bomback personally this year.
Life Care Center of Elyria is located at 1212 S. Abbe Road. Founded in 1976, Life Care operates or manages nursing, post-acute and Alzheimer's centers in 28 states. For more information about Life Care, visit lcca.com.


---
Do you remember shelling peas? - Keeping Up With Maury
My friend George asked me, Where have all the English peas gone? Yes, those old time long peas that you had to open up one by one are called English peas.

So, here is the story. Everything changes, even peas. Many years ago the English peas were the only story in town. In summer, there were a few local growers who would grow them. It was wonderful because they usually were plump and full bodied with lots of peas.

It was the job of the youngest family member to shell them...

Read the rest of Maury's look at peas and lima beans


---
It's not too early to be thinking about Halloween!
---
Wags 4 Warriors
Frank DeLorenzo and Jen DeLorenzo of Wags 4 Warriors spoke at the 12th annual Support Our Troops luncheon in Cleveland, Ohio. The Mission of the 501c3 non-profit WAGS 4 WARRIORS is to unite veterans whom upon returning home from war suffer with PTSD or TBI with an appropriate dog, and to provide all of the training, equipment and support for the dog to become the veterans service dog at NO COST to the veteran.

The ultimate goal is for the service dog to take away the struggle the veterans face every day. W4W was founded by Frank DeLorenzo (OIF Veteran) and Jen DeLorenzo. The organization was started to help service men and women that have been affected by their combat experience.




---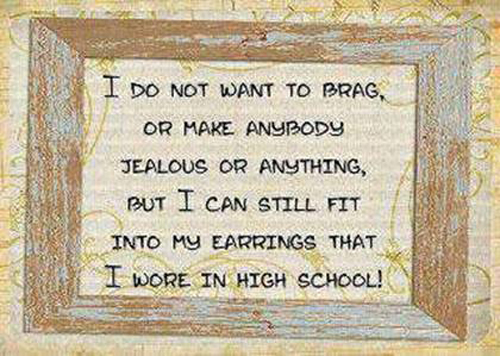 ---
ClevelandWomen.Com Joke of the Week
Three blonde men are stranded on an island. Suddenly a fairy appears and offers to grant them each one wish.

The first blonde asks to be intelligent. Immediately he is turned into a brown-haired man and he swims off the island.

The next blonde man asks to be even more intelligent than the previous one. So he is turned into a black-haired man and he builds a boat and sails off the island.

The third blonde man asks to be made even more intelligent than the first two. The fairy turns him into a woman and she walks across the bridge.
---
ClevelandWomen.Com Facts of the Week
The average height of a woman in the U.S. is approximately 5 feet 4 inches, and the average weight is about 163 pounds. These figures vary greatly throughout the world, due to differences in nutrition and prenatal care


---
ClevelandWomen.Com Special offer of the Week
---
---


Have you seen the Amazon Deal of the Day? Everyday, a new very special deal will be offered. Look below for the daily special.


---


Women make up more than 1/2 of the population but sometimes it seems that the Internet has ignored this fact.

Or the sheer enormity of the Internet does not make it easy to find information, resources and items of interest for women and girls in the Cleveland area.

Not anymore! ClevelandWomen.Com is geared toward providing information, resources and fun to the female population of Northeast Ohio - Cleveland Women - and those who care about them. In fact, we hope that the men in your life will visit and maybe learn what makes you tick.

Don't miss our profiles of interesting Cleveland Women - Maybe it's someone you know! (Or tell us about someone we should know)

Take advantage of discounts and specials selected just for you.

Ask questions and receive answers from our many experts from all walks of life.

Share your thoughts, memories, ideas with other Cleveland Women.

Take advantage of the information provided for your age group and situation.

Most importantly, come back often and



Have Fun!

---
---
Top of Page