Welcome to ClevelandWomen.Com
for Women of all Ages
in Cleveland, Northeast Ohio & Beyond.
---
Plans for a Lebanese Cultural Garden
Natalie Ronayne, Chairperson of the Lebanese Cultural Garden Committee, and committee member Amy McDonald made a presentation on the new Lebanese Cultural Garden on Lebanon Day in Cleveland City Hall.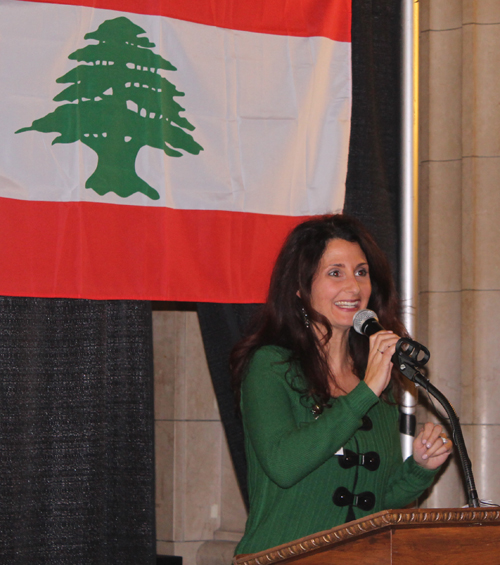 Natalie Ronayne
See the presentation on the Lebanese Cultural Garden
---
What's in YOUR wallet?
Women need their purses, whether a giant totebag to carry everything for a safari expedition, or a teeny, glittery, evening one holding only a lipstick and a credit card. But men! They manage with a little piece of folded and stitched leather. Not tied to straps and handles, they slip their wallet into their suit jacket and off they go to face the world.

...So when the Irish wake for Himself was over and everyone had left, I put his wallet into the top dresser drawer, and there it lay for going on 5 years. The other day, around his birthday, I brought it out, setting each item inside on the dining room table.

Read the rest of Amy's look into her husband's wallet


---
Burying the Time Capsule in the Cleveland Cultural Gardens
The Cleveland Cultural Gardens Federation ended their Centennial Year by burying a time capsule at the Kiosk of the Gardens on MLK Blvd. The time capsule has information and artifacts about the Gardens and also Cleveland in 2016. (Go Cavs, Go Tribe) It will be opened in 25 years in 2041.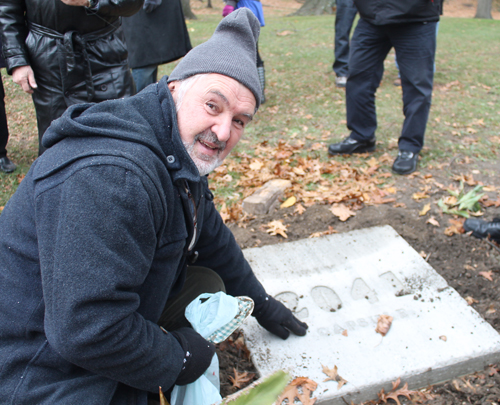 Past Gardens president Paul Burik says see you in 2041
More from the Time Capsule burying
---
Healthy Asian Cooking
Rose Wong founded Pearl of the Orient restaurant in 1978. It was the first to offer Northern and Szechuan cuisine in Cleveland Ohio and continues to be a favorite among Chinese food cognoscenti. Rose gave a Healthy Asian Cooking demonstration on November 10, 2016.

Chinese and other Asian cooking is often healthier than the West because of the stir frying and healthy ingredients such as tofu, ginger root, garlic, onions and even thousand year old eggs.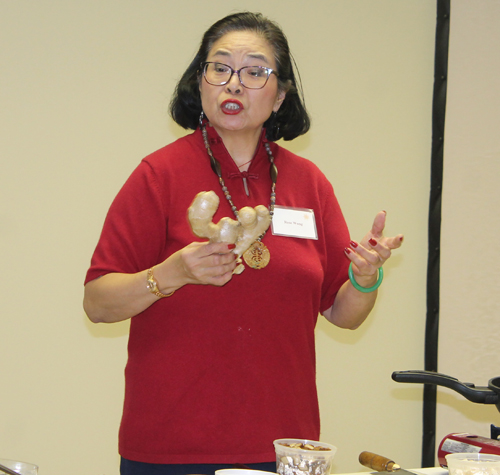 Rose Wong with Ginger Root
Learn about woks, soy sauce, sesame oil, MSG and more from Rose Wong
---
You know you've done it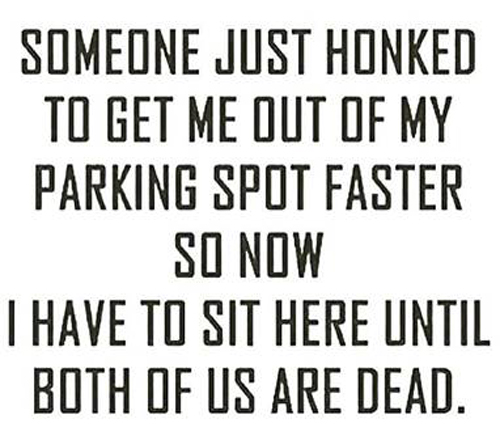 ---
I Wanna Be Wonder Woman by Amy Kenneley
A few days ago, the United Nations selected Wonder Woman to be the Honorary Ambassador for the Empowerment of Women and Girls on the 75th birthday of her creation as a comic book character. Immediately, protestors gathered, demanding that a "real woman" should have been chosen for the honor, not "….a fictitious comic book character wearing ..what looks like a Playboy-type bunny outfit .." (a quote taken from The Associated Press release)

SO...Pick Me! I am a real person, and I LOVED Wonder Woman, so what better combination could they have to be that Honorary Ambassador?

Here's why:

Read the rest of Amy and Wonder Woman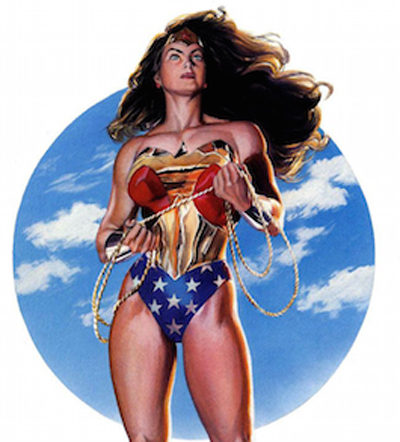 ---
ClevelandWomen.Com Book of the Week
The Girl on the Train


The #1 New York Times Bestseller, USA Today Book of the Year, now a major motion picture starring Emily Blunt. The debut psychological thriller that will forever change the way you look at other people's lives.

Intersecting, overlapping, not-quite-what-they-seem lives. Jealousies and betrayals and wounded hearts. A haunting unease that clutches and won't let go. All this and more helps propel Paula Hawkins's addictive debut into a new stratum of the psychological thriller genre. At times, I couldn't help but think: Hitchcockian. From the opening line, the reader knows what they're in for: "She's buried beneath a silver birch tree, down towards the old train tracks…" But Hawkins teases out the mystery with a veteran's finesse. The "girl on the train" is Rachel, who commutes into London and back each day, rolling past the backyard of a happy-looking couple she names Jess and Jason. Then one day Rachel sees "Jess" kissing another man. The day after that, Jess goes missing. The story is told from three character's not-to-be-trusted perspectives: Rachel, who mourns the loss of her former life with the help of canned gin and tonics; Megan (aka Jess); and Anna, Rachel's ex-husband's wife, who happens to be Jess/Megan's neighbor. Rachel's voyeuristic yearning for the seemingly idyllic life of Jess and Jason lures her closer and closer to the investigation into Jess/Megan's disappearance, and closer to a deeper understanding of who she really is. And who she isn't. This is a book to be devoured. -Neal Thompson

The Girl on the Train: A Novel
---
Free weekly eNews
Every Tuesday evening we send an e-mail message to people who are interested in upcoming (the next week) events that have an ethnic or cultural connection. So it may be Opera in the Italian Garden or Puerto Rican Day Parade or Slovenian Kurentovanje or...

If you are interested in receiving this free weekly e-mail just sign up for the free eNews.

You can also sign up to receive more specific free eNews for any groups or groups you may choose (Irish, German, Polish, Chinese, etc.)

It's easy and free and will let you know every week about fun and interesting events that are coming up in the next week.
---
Books with a Cleveland focus
Congratulations to the winners of some terrific new Cleveland focused books.

Winners have been notified and books were taken to the post office for delivery. Be sure to sign up for the free ClevelandWomen.Com eNews to learn about contests like this first.

The books that were won were:
Let's Have Another by Dan Coughlin

The Ashtabula Hat Trick: A Milan Jacovich Mystery by Les Roberts

The Making of Major League: A Juuuust a Bit Inside Look at the Classic Baseball Comedy

The Bone Lady: Life Lessons Learned as One of Football's Ultimate Fans

Cleveland TV Tales Volume 2: More Stories from the Golden Age of Local Television
See more about the books
---
Domestic Violence
Domestic violence is a pattern of repeated physical, sexual and emotional violence and behaviors that one person in a relationship uses to exercise power and control over the other. Cleveland and Northeast Ohio have many resources for victims of domestic violence.

Main Domestic Violence Page including:
What is domestic violence?
Why do partners abuse?
Are you in an abusive relationship?
Domestic Violence Emergency Help
Domestic Violence and Children

Domestic Violence and Immigrants

Housing Protections for Victims of Domestic Violence

Civil Protection Orders for Victims of Domestic Violence


---
Special Deals and Shopping for Cleveland Women and Girls
We now have two great sources for you to find the best online pricing values. One is Cleveland specific and features products about Cleveland and by and for Clevelanders.

The other is 20 or so companies that are the best of the best in on-line shopping products, value and service. Names you will know like Amazon, Walmart, 1800Flowers, Hanes, Microsoft, Drugstore.Com and Pets Warehouse. But also some lesser known best of breed stores such as Old Time Candy, Lauren Hutton makeup, ShopIrish, DermaDoctor, Shutterfly and more.

On-line store for Cleveland Women and Girls

Take a look. You can always get back to the Store by clicking on the Shopping & Specials link on the left hand side of the page.

Happy Shopping!
---


Have you seen the Amazon Deal of the Day? Everyday, a new very special deal will be offered. Look below for the daily special.


---


Women make up more than 1/2 of the population but sometimes it seems that the Internet has ignored this fact.

Or the sheer enormity of the Internet does not make it easy to find information, resources and items of interest for women and girls in the Cleveland area.

Not anymore! ClevelandWomen.Com is geared toward providing information, resources and fun to the female population of Northeast Ohio - Cleveland Women - and those who care about them. In fact, we hope that the men in your life will visit and maybe learn what makes you tick.

Don't miss our profiles of interesting Cleveland Women - Maybe it's someone you know! (Or tell us about someone we should know)

Take advantage of discounts and specials selected just for you.

Ask questions and receive answers from our many experts from all walks of life.

Share your thoughts, memories, ideas with other Cleveland Women.

Take advantage of the information provided for your age group and situation.

Most importantly, come back often and



Have Fun!

---
---
Top of Page