A Healthy Holiday Season:
Avoiding the "Griswold Syndrome"
This week, the film "National Lampoon's Christmas Vacation" will be airing on one of the local cable networks. I have to admit, I have found this to be one of the funniest Christmas films I have ever watched!
I will also admit it is one of the most insightful films I have ever watched. If you have never had the opportunity to see it, check your local TV listings or rent it from your local video store.
The film's main character, Clark Griswold (Chevy Chase) magnificently presents all the trappings associated with people who operate on "overload" in their attempts to create the "Perfect Family Christmas". The film is a wonderful depiction of how "more" does not always mean "merrier".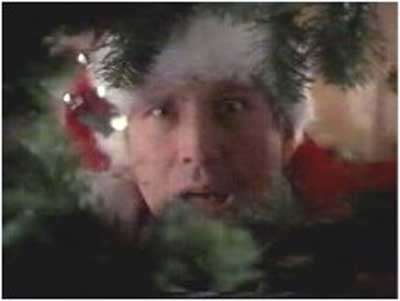 Clark Griswold on Christmas



With the holiday season upon us, it becomes all too easy for us to be caught up in the energy and pressures of preparation, excessive spending, eating, drinking, and socializing in the pursuit of our own "perfect holiday".

In most (if not all cases) this goal can never be fully achieved, which leads us to unnecessary personal disappointment. In an attempt to experience a "Healthy Holiday", I would like to suggest the following:

Before you create your Christmas shopping list, calculate how much money you can honestly afford to spend this season. Once that amount has been determined, STICK TO IT! Many people discover that they are still "paying" for Christmas in June of the following year.

Don't convince yourself that sending Christmas cards (to everyone), attending EVERY holiday party you'll be invited to; decorating the entire house (and front yard) MUST be accomplished in order to have a good holiday. Know your limits, listen to your body.

If you find yourself too tired to take on a new task or attend a holiday function, don't do it. Emotional and physical fatigue can rob you of the opportunities to truly enjoy this time of year. Try to maintain your regular bedtime routine as well.

Manage your food and drink in a healthy way. Christmas cookies at every turn! With the holidays comes the inevitable plethora of rich foods, alcoholic beverages and sweets. When taken in moderation, this is very enjoyable, and adds to the holiday celebration.

Like everything else in life, too much of a good thing can produce negative results (indigestion, intoxication, increased blood sugar levels, hangovers). Make a strong effort to maintain a healthy balance in your diet during this time of year. It's also a good idea to enhance your current exercise regimen.

For some, the holidays can be a reminder of family and friends who are no longer living. This can generate feelings of sadness, loneliness and even some mild depression, placing us at risk for substance abuse or other self-destructive behaviors.

One of the key contributors for people experiencing this issue is isolation. Reach out! Call available family, friends or clergy. The simple act of light conversation can provide a great deal of relief, support and comfort during difficult times.

This time of year holds many unique components for people, all of which are joyous, pleasurable and weaved with a "special spirit". It is important to remember that the quality of the "spirit" is always contingent upon the healthy choices we make to keep ourselves in emotional and physical balance.

HAPPY HOLIDAYS!!

Ken Alexander
---
Top of Page


Back to Holidays
Back to Mental Health