February 2nd began the Year of the Rabbit on the Chinese calendar, and to celebrate, St. Clair Superior Development Corporation filled our community with a collection of public art pieces in honor of the Year of the Rabbit!

Local artists applied their talent & creativity to the fiberglass rabbit sculptures to create an assortment of unique pieces of public art. The Rabbits have been placed outside local business establishments in Cleveland, and will be auctioned in the Fall 2011.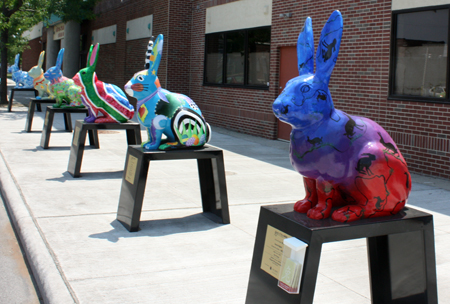 Each artist was challenged and inspired by cultural influences, their personal history, and their own interpretation of the rabbit as an object of art.
This is the 6th year of the project with prior art honoring the Year of the Ox, Rat, Pig, Dog and Tiger.
Learn more at http://www.stclairsuperior.org/
Which is your favorite?
Browse through these images and note the number of your Top 3 favorites. Then vote (anonymously) in the form at the bottom of the page.
The voting is now closed - thanks for voting.
Summer's over and so is the contest to vote for your favorite Year of the Rabbit sculpture. 19 of the 24 Rabbits received at least one vote. The Rabbit that got both the most votes and the most first place votes was Ralphie Rabbit at 1419 East 40th Here are the Top 5 that you voted for:
Ralphie Rabbit at 1419 East 40th
Metallago, Heavy Metal Rabbit in Asia Plaza
Patches at East 30th
Garden Party at 3601 Chester
Blue Snow Bunnies at East 30th
You can still view most of the Rabbits in the St. Clair-Superior neighborhood. See photos of all the Rabbits at https://www.clevelandwomen.com/arts/2011/rabbits.htm Here are a few of your comments:
They are all awesome works of art...hard to pick just 3!
The bunnies are all absolutely beautiful. Congratulations to Cleveland for such an original idea. Keep it coming
These are all amazing-it was hard to choose
I saw a few of these in person. The art work is great a fun.
Great fun and creativity. I go w/my girlfriends every year and we drive all around to see them all. Thanks, St. Clair-Superior Dev. Group!