A Round-Heeled Woman: My Late-Life Adventures in Sex and Romance
Review by Kelly Ferjutz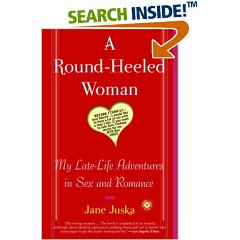 I read a lot. Some books I can't finish. Others I think-Oh! I wish I'd written this!
Sometimes the book in question is fairly recent one, or it may be a classic, such as The House on the Strand by Dame Daphne du Maurier. It may be the writing itself that particularly moves me, or maybe the creativity of the plot.
Seldom am I driven to think "I should have written this one! I could have done it SO much better!" Unfortunately, it never would have occurred to me to think of it, nor would I have had the guts to follow through with the plan. But I still wish I had.
The book that prompts this longing is A Round-Heeled Woman: My Late-Life Adventures in Sex and Romance by Jane Juska. Ms. Juska is a woman some four years older than I am, who had been single and celibate for too many years (as I had) and one day in 1999 rounded up her pen and paper (and $136.50) and sent off a personals ad to The New York Review of Books.
"Before I turn 67--next March--I would like to have a lot of sex with a man I like. If you want to talk first, Trollope works for me." Then she waited to see what, if anything, would happen.
This book is what happened. It is not at all titillating. There are only two happy chapters out of nineteen; the rest are Jane's life before she reached the age of 66. It isn't a very happy or well-lived life, to be sure, and as much as she liked being a teacher, it couldn't keep her from becoming addicted to liquor and pills, ignoring her 'beautiful' son, and generally making a mess out of her life.
For most of the book she is a good writer, but then you run into a section that says nothing more than the fact that both the editor and the author were out to lunch when that portion needed scrutiny.
This book is really Jane's catharsis-in addition to the five years of psychotherapy she underwent. She did do some good things with her life, though. Apparently she had a real gift for reaching both teenagers and the men imprisoned at San Quentin to whom she taught writing for several years.
She tells about her adventures with several men: Jonah, Robert, Sidney, John, and finally Graham, who was half her age. Chapter Ten in which she falls in love with Robert via e-mail and phone calls is terrific.
I know exactly how she felt, because the same thing did happen in my life in 2002, when a man I'd thought to be the love of my life twenty years earlier suddenly appeared in my e-mail inbox one night, prompting an instant storm of tears, and disbelief. But he was real! For three months, he was real, and then he went away again, forever searching for the one who will cure him of his commitment-phobia.
But those three months were the happiest of my life, I do believe. At least the first 68 years of it. But then for me, life only began when I was 41. Talk about being a late-bloomer!
I was nearing the end of my second marriage-the first had also lasted ten years-about which I used to say 'he said I do, but meant he didn't'. At that time, I was on my way to falling in love with a wonderful, talented, intelligent man who treated me as an adult (for the first time in my life). Unfortunately, he died less than a year later of cancer.
I was devastated, and an easy mark for the next guy who treated me with courtesy and affection. To be sure, he was also talented and intelligent, and a terrific lover. Both of them were musicians, which will always get to me much quicker than Trolloppe.
But circumstances interfered, and we parted. After several unsuccessful attempts at finding another reasonably appropriate gentleman, it was easier just to give up.
I kept busy, and had the most productive years of my life: three plays and half-a-dozen completed books, plus a bunch of incompletes in the computer. Two of the books were even published. Books are wonderful, but they don't keep you very warm at night.
I guess I'm glad I read Jane's book. But really, I wish I'd thought of it first. I would have done it SO much better! But maybe it isn't too late?
After all, 'theme and variations' is a popular construction in classical music! Why not with books, too?
---

For more information or to buy this book from Amazon.Com just click
A Round-Heeled Woman:
My Late-Life Adventures in Sex and Romance
---
Top of Page
Back to Books
Back to Times of Your Life