Calendar of Events
for Cleveland Women and Girls
Submit your event
---
Now!
North Union Farmers Market
Various times and locations
North Union Farmers Market is a 501(c)(3) nonprofit organization that operates certified, producer-only farmers markets. We run several farmers market each week during the height of Ohioís season. Since opening in 1995, North Union has offered Clevelanders and Northeast Ohioans something to which they previously did not have access Ė healthy, fresh, local produce sold directly by farmers.

Market locations and times on their website


---
May 7, 2022
20th Anniversary of the Walk, Rock, Roll and Run
Rock and Roll Hall of Fame Plaza
The Diversity Center is excited to celebrate our 20th Anniversary Walk, Rock, Roll and Run both virtually and in-person at the Rock and Roll Hall of Fame on May 7, 2022. In the midst of the COVID-19 pandemic, we are adjusting our in-person event to adhere to CDC guidelines and ensure the health, safety, and cooperation of everyone in our community!
May 21 & 22, 2022
Cleveland Asian Festival
11 AM - 7 PM
East 27th and Payne Ave.
The Cleveland Asian Festival (CAF) is a grassroots festival that highlights Cleveland's AsiaTown, Diversity, and Asian Culture in Northeast Ohio. It will return to an in-person event in Cleveland's AsiaTown neighborhood on May 21 and 22, 2022.
June 4, 2022
Peninsula Flea at Heritage Farms
10 AM - 4 PM
6050 Riverview Road, Peninsula, Ohio, 44264
This is the eighth year for the Peninsula Flea, on our 174-year-old 5th generation family-owned Christmas Tree farm. You'll enjoy shopping out under the trees, in the barns and down in the field, with 70 plus amazing artists and vintage vendors, live music midday and several options for food and beverages. Shop our upscale market with high quality handmade, repurposed and vintage items from dedicated artists, crafts people and collectors.

We are pleased to offer spacious grounds with a beautiful farm setting. We have our booths spaced apart to allow for social distancing and encourage you to wear a mask if you need one. We've set up self-serve sanitizing stations in each area, and staff will be sanitizing consistently and wearing a mask if needed. If you want to avoid crowds, please come after 3 pm when itís not as busy. This is a rain or shine event, there's no entry fee to attend and plenty of free parking.

Other dates will be June 25th, July 2nd, August 6th, and September 3rd, 2022
June 7, 2022
Cleveland International Hall of Fame Inductions
Doors open 5 PM
Windows on the River
The 2022 class of the Cleveland International Hall of Fame will be inducted in a dinner ceremony. TV3 anchor Russ Mitchell will be the MC. Bishop Edward Malesic will give the invocation. Join with hundreds of others celebrating Cleveland's ethnic diversity.
June 24-25, 2022
Ohio Scottish Games & Celtic Festival
Cuyahoga County Fairgrounds Berea
19201 E. Bagley Road
The Scottish American Cultural Society of Ohio is proud to be hosting the Ohio Scottish Games & Celtic Festival. There will be a parade of competitors, bagpipe competition, Scottish heavy athletics, keg toss, haggis throw, highland dance competitions, harp & fiddle competition, entertainment, genealogy, clans, entertainment, workshops, whiskey tasting, kilted mile, food and merchandise vendors and Tattoo! There are three separate entry ticket opportunities.
July 24, 2022
Opera in the Italian Garden
6 - 7:30 PM
Italain Cultural garden - East Blvd.
Featuring well known music from Italian opera, Broadway musicals and popular Italian songs with The Cleveland Opera and the Cleveland Ballet. Reserved seating available at $28.50 in front of the stage. Free general admission in the rest of the garden. Family friendly concert, bring a picnic! Enjoy free wine tastings from Little Italy Wines in the beautiful Italian Renaissance garden.
August 12-14, 2022
Ohio Celtic Festival
Lake County Fairgrounds in Painesville Twp.
Save the Date. More info to come.


---
August 28, 2022
One World Day
11 AM - 6PM
Cleveland Cultural Gardens
The 76th annual One World Day in the Cleveland Cultural Gardens. Save the Date. More info to come.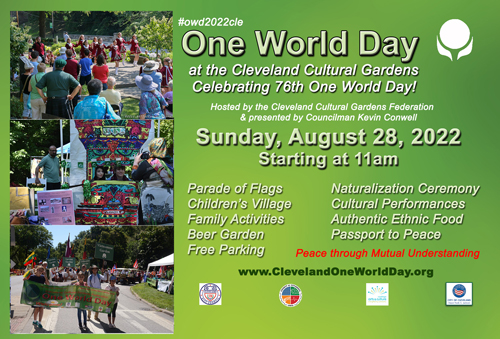 ---
---

---
Top of Page
Back to ClevelandWomen.Com Home Page


Sign up for our free eNewsletter sent about once every month with special offers, discounts, contests and more specifically for Cleveland area Women and Girls.






Follow us on Twitter







---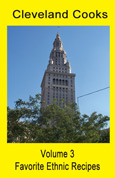 Cleveland Cooks Vol 3
The best Ethnic Recipes from Cleveland