ClevelandWomen.ComPeople Page
Columns
Dear Webby, Chat with Pat and more

Personalities
Who's Doing What, Photos,You Go Girl!

Profiles
Stories of Cleveland Women

Memorial Tributes
Women who have Influenced Our Lives

Columns include our resident chatterbox, Chat with Pat, and advice for the cyberage from Dear Webby

The Personalities section keeps you up-to-date with who's doing what - promotions, anniversaries, awards, etc.

Profiles tells the story of Cleveland Women - the famous and not-so-well-known.

Tributes let you tell about the women who have influenced your life. Memorial Tributes let you submit the story of a deceased relative or friend to be preserved on the Web in honor of their life.
---
Rest in Peace Pat Hanson
Patricia Hanson (nee Sweeney) beloved spouse of Norman (deceased) and treasured mother of Dan, Debbie and Pat (Mugridge, husband Tom) went to heaven on Thursday November 18, 2021. A book should be written but here are a few thoughts about her life.
Pat (Patty, Aunt Patsy) was born in 1930 to James F. (Bud) Sweeney and Helen Primosch Sweeney. Besides her devastated children she leaves behind her dear brother James F. Sweeney and many beloved nieces, nephews and cousins.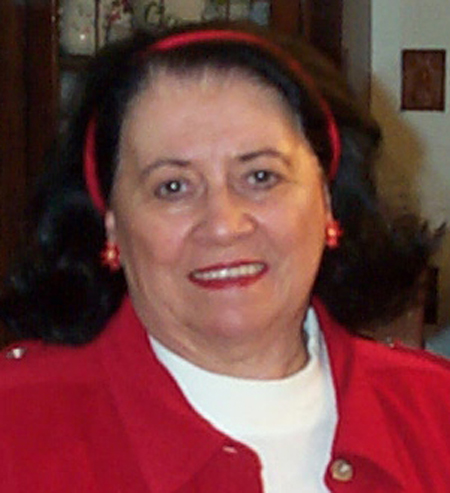 Pat was the Project Manager of ClevelandPeople.com, ClevelandWomen.com and ClevelandSeniors.com where she wrote the popular columns 'Chat with Pat' and 'Dear Webby'.

She helped create the Cleveland International Hall of Fame.

She had a typical Irish Catholic upbringing on East 32nd Street with her brothers Terry (deceased) and Jim which included Irish dancing and singing and attending St. Columbkille Church and school.

Her aptitude was for the law but girls from 32nd St. didn't get a chance to go to college back then. She worked in Probate Court and did modeling for wedding dresses and other clothes. The Irish belle of the ball, bands would stop playing in mid-song when she walked into a dance hall and immediately break into an Irish song for her. She loved her larger than life husband, "Slim".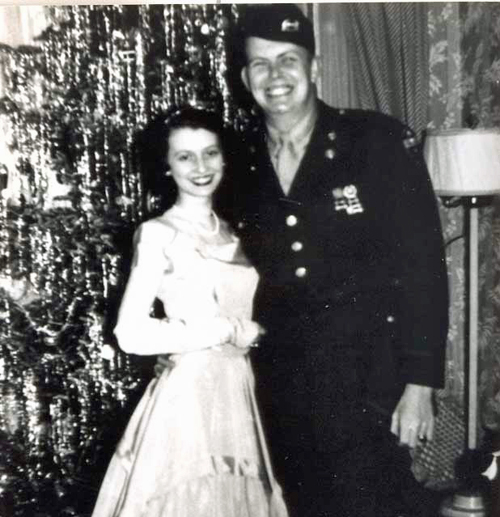 Pat and Norm (Slim) Hanson

She was a devoted wife and family was always her first priority.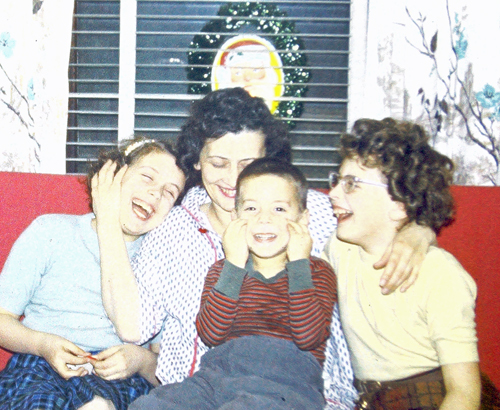 Pat Hanson with her kids on Christmas



She worked for years doing payroll and other duties for Magnum Electric, Norm's electrical contracting business and later her son Dan's Magnum Computers. Both were on East 32nd and Payne which was a part of her that she never left behind.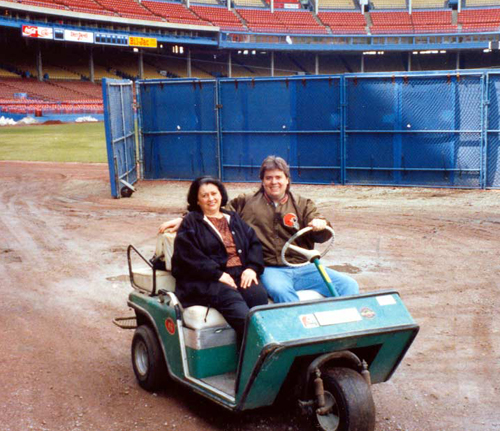 Pat Hanson with son Dan at Cleveland Municipal Stadium

She started her family on 4th Ave. in East Cleveland and became active at St. Philomena Church. After moving to Cleveland Heights she was active at St. Margaret Mary School and Church. She later returned to St. Phil's. She was a devout Catholic and a relentless pray-er. She had a direct pipeline to God.

She was the best friend to so many. Not just a friend but many considered her to be their best friend. Over the last few years dog-walkers and neighbors made a point to stop by and visit almost every day as she sat on the porch. From the mailman to the trash collectors they all stopped to talk with Pat.

She was honored by the Cleveland Rotary and that was the first time that Cleveland Mayor Frank Jackson attended the event - to honor her. She was also honored by the American Nationalities Movement and other groups where "Mama Hanson" was well-known and loved. She loved the people of the Irish American Club East Side.

She treated Mayors and CEOs the same as the cleaning staff. Money and prestige did not matter to her. When she could no longer drive she gave her car to a handyman from East Cleveland who had become a family friend and was down on his luck.

She was a volunteer for the non-profit Computers Assisting People for 20+ years and, while not a techie, used her personality and skills to help bridge the Digital Divide in Cleveland.

She was known as "Mom" to so many in the Cleveland community.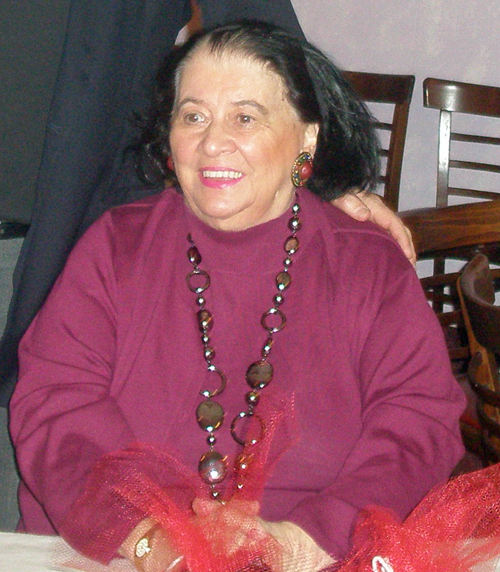 With all the painful years in a wheelchair and other health issues she never complained or said "Why me?" Nurses and aides all commented on how nice she was and how she was their favorite - remembering a compliment or even a blown kiss.

She has earned her eternal reward but her passing leaves an unfillable void for her children, family and friends but also for the community at large.

On Friday December 3 there will be a visitation at St. Philomena Church at 13824 Euclid Ave, Cleveland, OH 44112 at 9:30 followed by a Funeral Mass at 11AM. The obituary and more information was in next Sunday's Plain Dealer.
---
City of Cleveland Proclamation in honor of Pat Hanson
Thank you to Mayor Frank Jackson and Chief Valarie McCall for the wonderful proclamation on behalf of the citizens of Cleveland "In Loving Memory of Patricia Hanson."

As the Mayor said in the proclamation "A remarkable woman, Ms. Hanson was loved by many and will be truly missed by all…I humbly request that all citizens join with me in extending our prayers to her family and friends during this time of bereavement."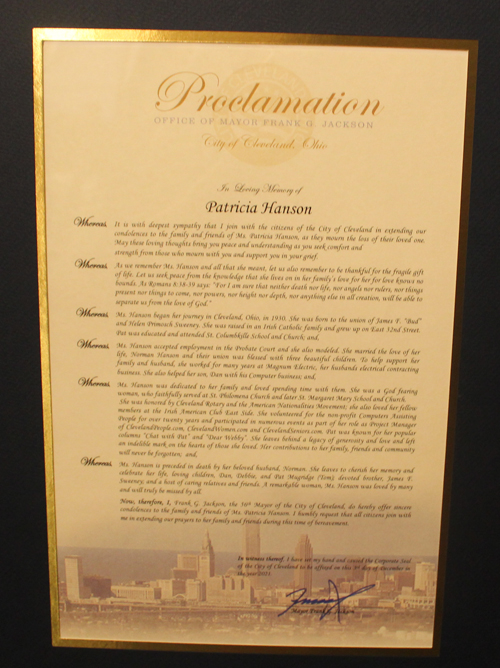 City of Cleveland Proclamation in honor of Pat Hanson
---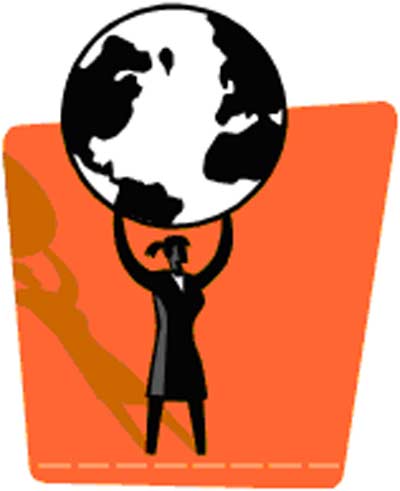 ---
---
Top of Page
Back to ClevelandWomen Home Page