Go Red for Women
February 2, 2007
Cleveland went Red for Women at the Rhapsody in Red Breakfast at the Renaissance Hotel in downtown Cleveland. Put on by the American Heart Association and many local sponsors, this yearly event drew almost 800 people, mainly women, and all were donned in red.
The Ballroom Balcony was home to a silent auction and tables offering heart healthy information and testing including cholesterol, glucose, body mass index and stroke risk calculations.
Cleveland Clinic, University Hospitals and Lake Hospital Systems were well represented. Many of those attending were employed in some capacity in the cardiovascular section. All seemed to think that women's risk of heart problems is finally coming to the attention of the masses.
One woman reported "Women have known for a long time about the risks of heart disease, but doctors would often just chalk it up to menopause or some other "catch-all" ailment. Now the doctors are paying attention."
The theme of the day was Survival. Speaker after speaker told their story of surviving a stroke or heart attack and how they have changed their lives to prevent a reoccurrence.
The Keynote Speaker, Margaret Bobonich, is not only a Nurse Practitioner, but was a participant in the reality television show, Survivor. She spoke beautifully about the strength of women, their need to stick together and the importance of making yourself and your health a priority.
Dr. Daniel Simon Chief Director of the Cardiovascular Department of University Hospital presented a graphic display of what happens during a cardiovascular incident. He did a remarkable job of helping us understanding the seriousness of the situation.
For example, he told us that there are over 30,000 genes in the human body. Only 54 have been identified as being different in people who have had a heart attack than those that have not, and as he said, that makes detection extremely difficult. So it falls upon the individual to take whatever steps they can to prevent the incident, rather than just predict it.
He also pointed out that nationwide, only 55% of women know that heart attacks are the number 1 killer of women. Most of the rest believe it to be breast cancer. In fact, according to Dr. Simon, heart attacks are responsible for 6 times more deaths than breast cancer. 38% of women who have a heart attack die within 1 year of the attack, whereas only 25% of men do.
Possibly the most important thing he stressed was that woman present with different symptoms than men. Often the only symptoms are nausea, burping, shortness of breath and sweating.
It is, as all of the speakers so eloquently reminded us, ultimately our responsibility to eat health, exercise, know our numbers and be aware of messages our body maybe sending us.
It was a wonderful one day event - but the message they were sending is meant for a lifetime.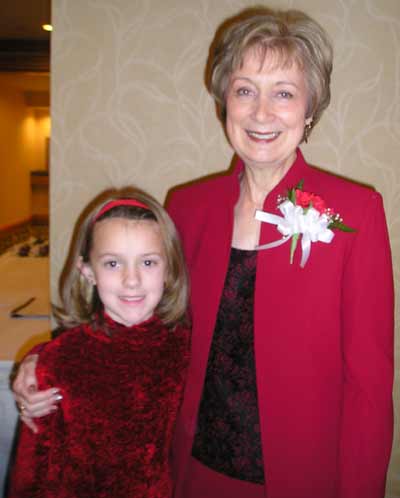 Go Red for Women Chairperson and President & CEO of Parma Community General Hospital Patricia A. Ruffin with granddaughter Allison
---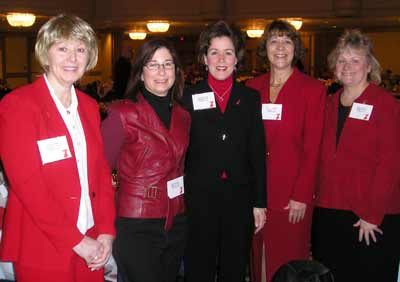 Cleveland Clinic cardiovascular department workers Robbi Cwyear, Donna Zabelt, Regina Huack,
Betsy Stovsky and Kelly Hancock
---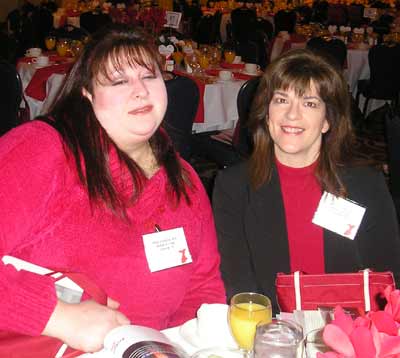 Kelly Savarini RN and Nancy Ciraldo RT
---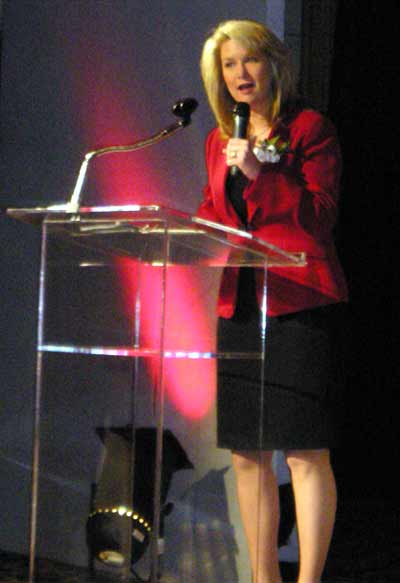 Emcee Alicia Booth from NewsChannel 5
---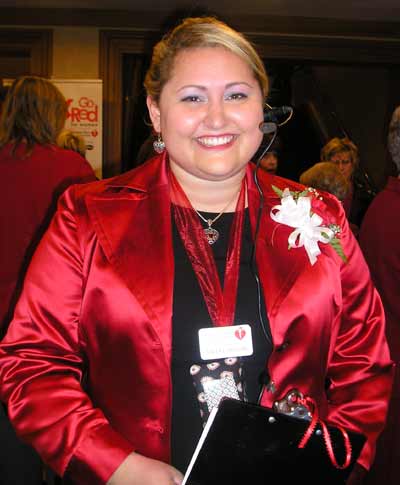 Valerie Hillow, Go Red for Women Director
---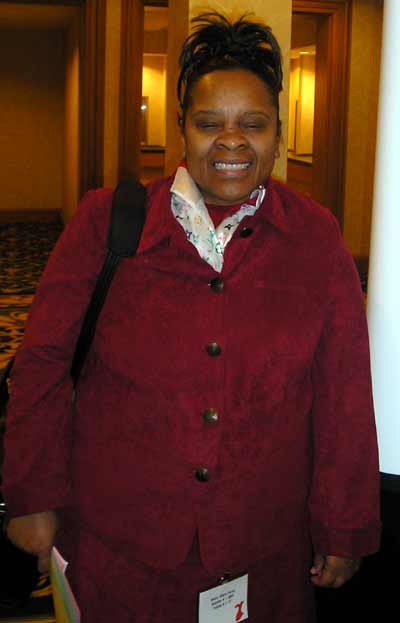 Mary Ellen Penn
---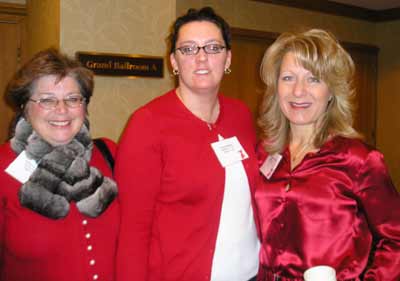 Roz Vandenbossche, Vickie Bramley
and Debbie Brosovich
---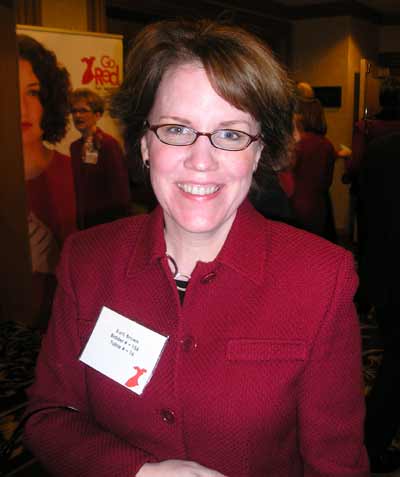 Barb Brown of Brown-Flynn
---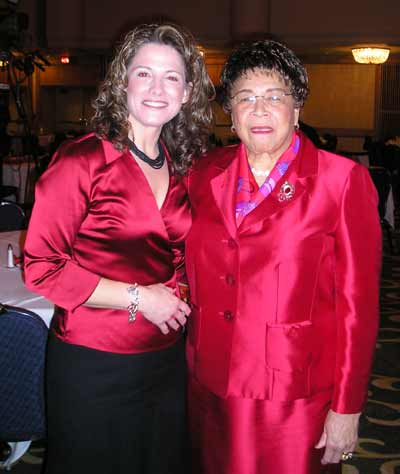 Keynote Speaker Margaret Bobonich with Dean May L. Wykle of the Frances P. Bolton Nursing School
---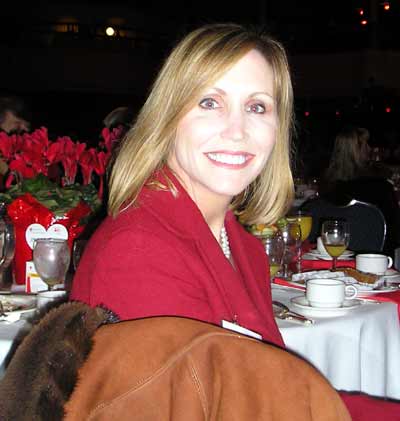 Connie Dieken
---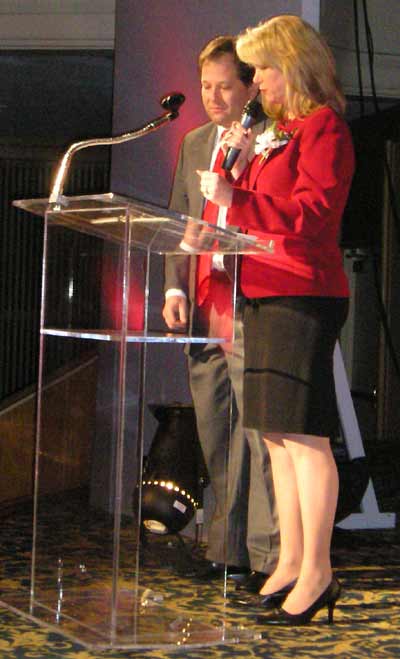 American Heart Association Chairman Peter Rome and NewsChannel 5's Alicia Booth
---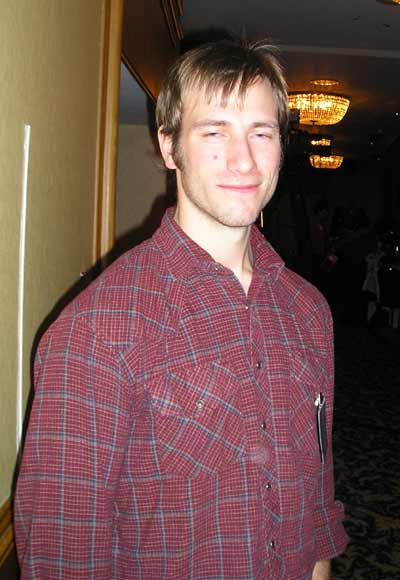 Brandon Bellinger of Survivor Guatemala
---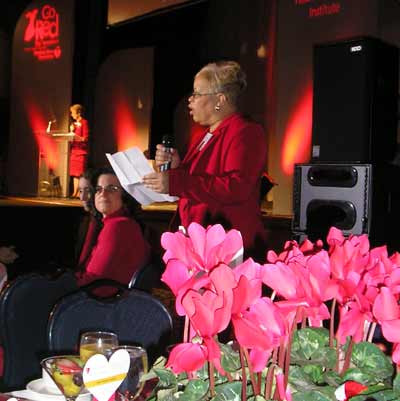 A heart disease survivor from the audience tells her inspirational story
---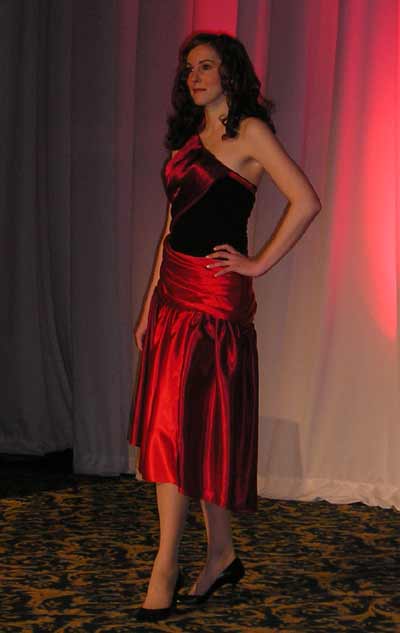 From the Fashion Show
---
See more of the red dresses from the Fashion Show at the Go Red for Women breakfast

---
Have an event ClevelandWomen.com should cover? Have photos of Cleveland Women out and about?
Send them to outabout@ClevelandWomen.com
---
Top of Page
Back to Out & About