Jim Brickman
Holiday Homecoming
Jim Brickman was born in Cleveland and lived here until he was 28 and he says "he loved it." He attended Shaker Heights High School after which he simultaneously took music classes at Cleveland Institute of Music and business classes at Case Western Reserve.
Although he was not taking classes specifically in the business of music, he thought the classes at Case would help him better understand the business side of the music world.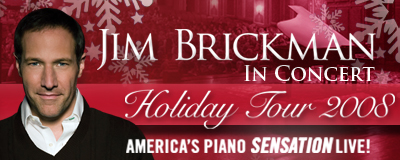 Jim Brickman performs Friday, December 26, 7:30 p.m., at Severance Hall, 11001 Euclid Avenue. Tickets are priced at $62.50, $57.50, $47.50 and $35.50 and can be purchased at the Severance Hall Box Office, charge by phone at 216-231-111 or online at www.severancehall.com.
Keep reading to see how you can win free tickets!
In a recent interview, Jim says he received tremendous support from his family and the community even though he did not come from a musical family.
At only 19, he did some work for Jim Henson and the Muppets, a job he describes as "glorified intern at best". He says he was not writing music for the Muppets, even though many sources have embellished this part of his resume a bit.
In a world full of production pieces - big sets, special effects, computerized sound, Jim, with only a piano and a whole lot of talent has managed to earn 6 Gold and Platinum albums. He attributes this "[because] it is authentic and not masked by hype or gizmos. It's the simplicity and the spirit of the organic nature of what I am providing."
He says there is a lot of beautiful, emotional, authentic music out there, but it is not as main stream. As a result of his touring, he has the opportunity to reach a large amount of people.
His music is described as "new age" but Jim "[doesn't] really pay much attention to calling it something. I don't mind it, I don't argue against it. I think it is in its own category."
He also hosts a radio show on WDOK, Sunday nights at 7:00 and has authored two books with a third to be coming out soon. (Simple Things and Love Notes)
Jim has written jingles, love songs and music of faith. He has worked for the Muppets, Disney and Carnival Cruise Lines as well as his own production company. He hosts a radio show and appeared on television shows from Good Morning America to Live with Regis and Kelly and collaborated with some of the world's best vocalists.
What could possibly be in the future for Jim Brickman? "As songwriter you evolve no matter what you do in any artistic capacity - I really enjoy theatrical space, both as a performer and a producer. Theater has a very captivating appeal and pull for me - so I see more theater, not as an actor but possibly writing a musical"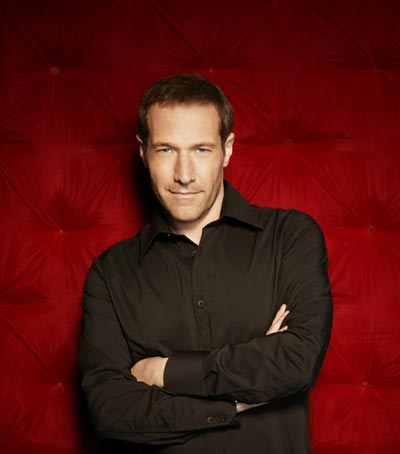 Whenever he hears a gifted singer, known or unknown, he hopes to perform with them. He has an eclectic list of people he would like to perform with some day. Some we know like Streisand or Josh Groban and some we have not heard from -yet.
He likes to play Cleveland because "It's my hometown and it feels like a homecoming. I think it's really important to remind the audience that I'm from there, but also to come home."
"I have a lot of pride in being from Cleveland"
Jim is single but "dates quite a bit". He says he tours "like a crazy person" which is not conducive to long term relationships. He is in his 13th year of holiday touring and it is challenging but feels is as if he is on a mission; that he has been called to tour and perform. "I am in love with the road" He fears that a solid relationship with a woman, who may want him to give up touring, would result in him going crazy.
"I get to tour with my friends, like Ann Cochran" who is also from Cleveland and "we are together all the time"
Jim would like to be remembered as the man who "wrote beautiful music that was romantic and healing and inspiring."
His entire business operation, which employs 12 people, is all based in Cleveland. He emphatically considers himself a Clevelander and an Indians fan. He says he owns every piece of Indians clothing the Pro Shop offers. In fact, as we spoke, he was in Boise Idaho wearing an Indians sweatshirt.
He was asked to perform the national anthem at an Indians play-off game, which was a thrill for him.
This concert will ne Jim's first time playing Severance Hall, which he describes as "a spectacular environment." He promises a beautiful show with a lot of variety, including light hearted humor and breathtakingly beautiful vocals. It will be a mix of holiday music and his hits.
Jim's concert will be on Friday, December 26th at 7:30 pm at Severance Hall. Tickets are available through Ticketmaster or can be purchased at the Severance Hall Box Office, charge by phone at 216-231-111 or online at www.severancehall.com.
To enter a contest to win free tickets to Jim Brickman's Cleveland's Holiday Concert Show, courtesy of ClevelandWomen.Com, fill out the form below. (Your address will only be used to mail you tickets if you are a lucky winner.)
---
---
Win Jim Brickman Holiday Show Tickets!
---