Women of Excellence
Corporate Club at Landerhaven
3-14-07
A crowd of over 300 guests attended the March Corporate Club luncheon at Landerhaven today. They were there to hear and see the Women of Excellence Panel, moderated by WEWS Channel 5's news anchor, Lee Jordan.
Joining Lee on the panel were Valarie McCall, Chief of Government Affairs, City of Cleveland, Shelley Seifert, Executive Vice President, National City Bank and Connie Schultz, Pulitzer Prize-Winning columnist, The Cleveland Plain Dealer.
Lee started off by asking each panelist to describe what they consider success to mean. Valarie McCall responded that as a member of government she feels she is successful any time she knows she has accomplished something that will benefit the citizens. As she says, "Remember, the mayor is the CEO of a $1.4 billion company. Everything we do is for the citizens and the future of this city and I feel a strong sense of value in this administration and being part of it."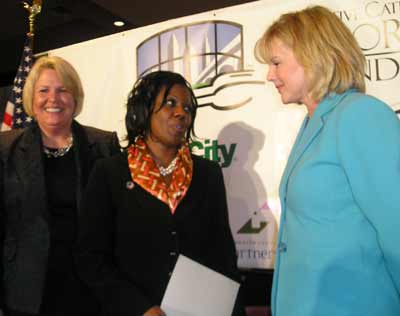 Women of Excellence Shelley Seifert,
Valarie McCall and Lee Jordan



Shelley has been with National City for 28 years and has seen many changes. She says she defines success as recognizing that change is part of the plan and adapting changing and growing is always the goal. She says "When we can adapt and change and grow along with the company and the community we are in, we are successful."

Connie divides success into professional and personal success. "I think I am successful professionally when I make people think. I don't necessarily need them to agree with me. I just want to make people think."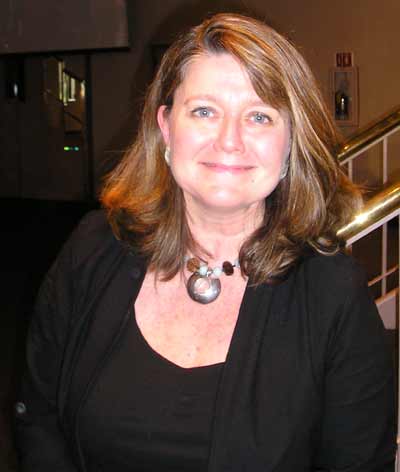 Woman of Excellence Connie Schultz


On a personal level she feels success is a matter of integrity and values. She acknowledges that people don't always like what she writes or agree with her opinions, but she is not troubled with that.

"Of course it hurts when some of the very personal things are said, but I can't let that stop me." She quotes poet Lucille Clifton "What they call you is one thing. What you answer to is something else."

Lee polled the panel to see if they thought we were passed the day that gender really mattered. Connie replied that she is always amazed when women in powerful positions go to great lengths to point out to her that they are not feminists. "I always want to say how do you think you got here?" She says that gender does still matter, as long as women allow it to. She encourages women not to wait for an invitation to participate; just do it.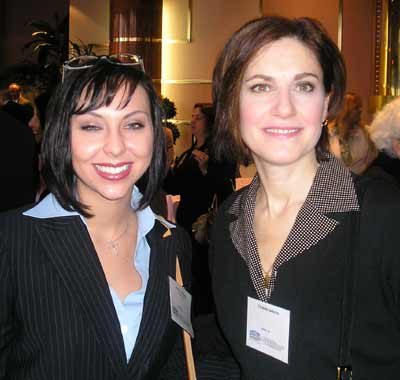 Merril Lynch's Jocelyn Miller and
Party Planner Christine Laderosa



Shelley has seen a tremendous increase of women in leadership roles in the banking business. She remembers starting out when all female bankers were tellers and they were all dressed in uniform white shirts with men's ties. She quips "We kept them as tight as we could. I guess in order to be accepted we had to survive with less air than the rest of them."

From there she says women became super women and recalls the commercial with the singing woman in a suit holding a frying pan. "I can bring home the bacon, cook it up in a pan, and never ever let you forget you're a man."

She said that woman was just as out of touch as the women in men's ties. But the balance, according to Shelley Seifert, finally came and women are more in tune to what they can do, what they must turn down, and how to do what they do, well.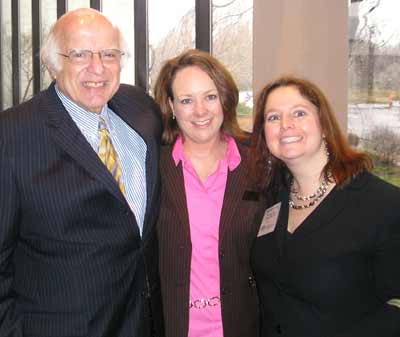 Harlan Diamond and Maureen Reich of Executive Caterers with Judge Bridget McCafferty



Valarie McCall cited Speaker of the House Nancy Pelosi as an example of women reaching new and more powerful heights, but believes that "we are still in an era of challenges."

Lee Jordan noted that so many women still try to do it all and are asked how they are able to juggle everything. "Yet" she says "I don't hear them asking men that question."

Connie Schultz does not think women should be resentful of that but should rather celebrate the versatility of women and the extra challenges women face. "Of course" she adds "women have suffered financially for that."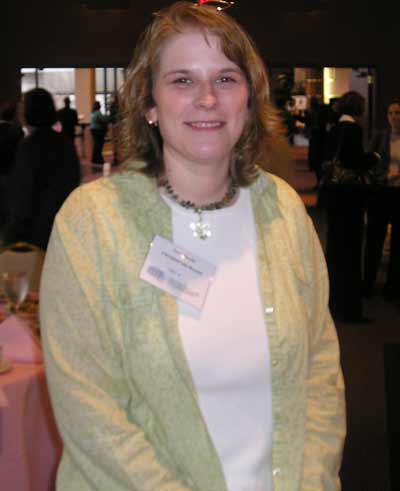 Susan Berndt of Cleveland & Beyond



The discussion turned to mentoring and Valarie felt strongly that people need mentors of both sexes to give both perspectives. "You will face multiple perspectives as you go into the work place and you need to know what the other perspective is."

When faced with adversity in the workplace Valarie found it imperative to learn when to play in the sandbox with others and when to go off on your own. She says she tries to study a problem, consider the possible outcomes and engage others in resolving a problem.

Shelley remembers when she had to tell her boss, after sixteen years on the job, that she was pregnant. "I handled it well" she says "I broke down in tears." She was astonished to hear him tell her that she should be happy and how her job was certainly not in jeopardy because she was having a child.

It was at that point that she realized how much impact a person can have on another. "I realized then that when I answer other people, my answer will have consequences."

All of the women agreed on the need to be connected to and involved in the community in which they work. They also agreed that it was an essential part of any women's life to designate time for themselves away from the office.

As a single woman, Valarie acknowledged that this was especially hard for her, since she couldn't say she had to get home to the children or had family commitments. But she recognizes the importance and makes time for her "baby", a miniature poodle.

In response to a question from the audience the women talked about how important humor is in the workplace and how enjoying the people you work with makes any task easier. Lee Jordan said that "newsrooms are where dark humor originated. We keep it light by making fun of (TV 5 weatherman) Mark Johnson."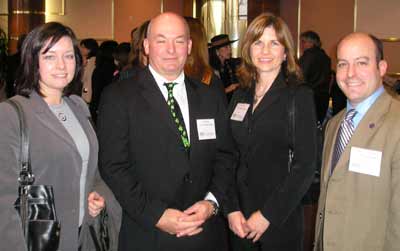 City of Mayfield's Anne Weiland, Tom Jamieson, Renee Augustine and Mayor Greg Costabile



They talked about their place as role models. Connie Schultz was especially vocal on the subject, criticizing successful people, especially athletes, who think their job is only to play ball.

"Anyone with any success must be a role model. And it is such a privilege to be one. I get so angry when they act like it is a burden. It's not. And I say, let's talk salaries!"

Shelley agreed that it was part of the job and a privilege to be a role model. She also said that at least in her case, she was lucky enough to have chosen what she did everyday. So she was always careful not to act like going to work was a burden - it was a choice.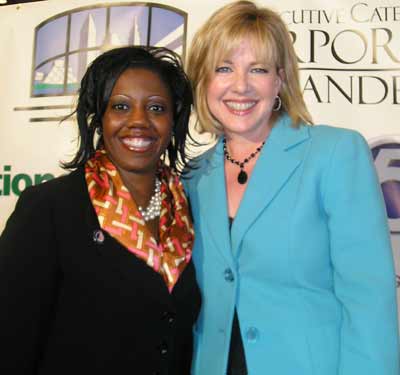 Valarie McCall and Lee Jordan


The panel ended with a discussion of women's reactions to other women. Connie Schultz warned people not to sabotage young women coming up, but to instead offer them a helping hand. "We don't have their midriff, but they don't have our wisdom."

Connie quoted Maggie Kuhn who once said "Speak your mind even if your voice shakes". But she also added to the quote by saying "It is the shaking in your voice that will make people be very quiet and listen to you."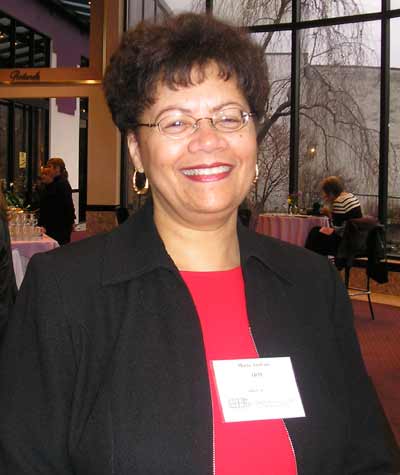 Maria Andrad


Although none of the panelists spoke with a shaky voice, the room was quiet and attentive as they spoke and everyone present at yet another highly successful Corporate Club event went away having learned a little something and feeling a little more empowered themselves.

---
Have an event ClevelandWomen.com should cover? Have photos of Cleveland Women out and about?
Send them to outabout@ClevelandWomen.com
---
Top of Page
Back to Out and About