The USDA released (9/28/05) new dietary guidelines for children, recommending 4 cups of fruit and vegetables every day, with a focus on eating more fruits.
Strawberries, rated by children as one of their favorite fruits, are also rated by the USDA as one of the power foods based on a new antioxidant study.
Strawberries are an excellent source of vitamin C, an antioxidant that is important for growth and repair of all body tissues, helps heal cuts and wounds, and keeps teeth and gums healthy. Though sweet, strawberries are low in sugar.
A serving of strawberries (8 berries) is also a good source of potassium and fiber. These dietary components are among seven nutrients highlighted as lacking in American diets by the Advisory Committee for the new Dietary Guidelines
Eating more strawberries may help families combat a nationwide problem: obesity. With only 45 calories and no fat per serving, parents can replace junk food with a naturally sweet alternative.
Schools that participated in the USDA's Fruit and Vegetable Pilot program in 2002 and 2003 concluded that including fruits and vegetables in a child's diet reduces consumption of unhealthy foods.
In addition, the healthier diet may improve school test scores and reduce disciplinary problems by providing energizing, long-lasting nutrition.
The USDA suggests easy ways to include fruit into a daily diet. For example, Strawberry Sandwiches can be an easy, satisfying, low-calorie snack or breakfast.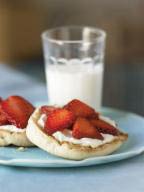 STRAWBERRY BREAKFAST SANDWICH

Prep time: 10 minutes
8 ounces Neufchatel cheese or low-fat cream cheese, softened
1 tablespoon honey
1 teaspoon grated lemon zest
4 English muffins, split and toasted
2 cups (about 10 ounces) sliced stemmed California strawberries
In food processor, process cheese, honey and zest until well mixed, or mix in bowl with wooden spoon.

Spread 1 tablespoon cheese mixture on cut side of 1 muffin half; top with 1/4 cup strawberries. Repeat with remaining ingredients to make 8 open-faced sandwiches.

Makes 4 servings

Nutrition Information Per Serving: 215 calories; 5 g fat; 11 mg cholesterol; 277 mg sodium; 37 g carbohydrate; 4 g fiber; 7 g protein, 20 % calories from fat.

Tip: Make cheese mixture ahead and store in refrigerator.
---
Top of Page
Back to Kitchen Tips