Andria Trivisonno
Stand out young entrepreneur
now helping others stand out
Andria was born in Florida, but raised in the Cleveland area. She graduated from Aurora High School and Ohio University. In college Andria studied International Communications and Spanish.
She studied in Pamplona Spain for three months, but regrettably, not during the famed "Running of the Bulls". "I don't know if I would've run but I would have been somewhere close by watching the action."
When she left high school she wanted to do all the "typical things high school girls want to do", like joining a sorority, but didn't have a specific major or direction at the time of entering college. Yet she was sure of one thing, "I always knew I was supposed to do something more than the typical 9 to 5. I knew I was capable and I had the ambition to do more."
She says a lot of people look for stability and accept whatever path in life has the least risk or the most predictable outcome, but that wasn't for her.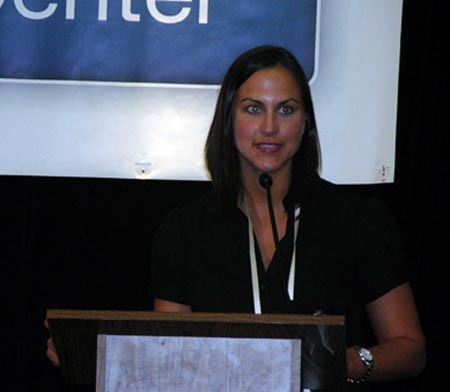 Andria Trivisonno speaking at the recent Plug & Play Tech Center in Sunnyvale, CA.



She was certain she wanted to see the world and do something "bigger and better" than the average person. She says this not to be boastful, but just as a statement of fact. She knew she had potential and wasn't willing to let that slip away from her. She wants to both see the world and change the world.

For Andria the thought of working every day in a job she didn't like was not an option. It was this line of thinking that led her to be an entrepreneur. "I am a risk taker, and I think in order to be an Entrepreneur you need to take risks every single day of your life. Sometimes they are very small, sometimes they are huge, but there is always risk involved with being an Entrepreneur."

Andria's business partner, Julie Fink, has been a friend since grade school. Right after college Andria moved to Los Angeles to work on a television show. She went there for about a year working in television and marketing. In the meantime, Julie had an idea for a portfolio company - something to help people find a job on the internet. Julie talked to Andria and Andria started helping her more as an advisor than an actual business partner.

She soon realized that this was a great opportunity and she needed to jump into it head first. So she quit her job, left Los Angeles, came back to Cleveland, moved back in with her parents and had virtually no money.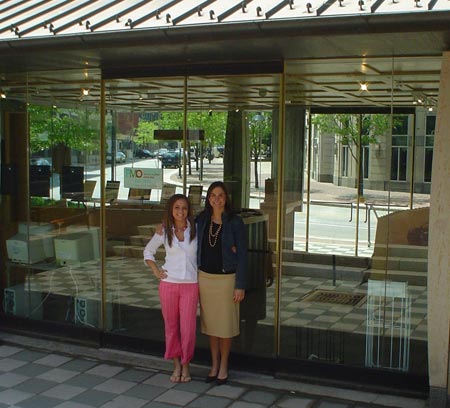 Zolio partners (and best friends)
Julie Fink and Andria Trivisonno



At that time (2004) there were not a lot of portfolio companies on the internet. Now, as Andria points out, there are a lot of them, not all as reputable or as successful as Zolio. The idea was for students across the country to put up information about themselves on the site and use it for either employment or to get into college.

Working with a partner can be very difficult, even with your best friend. Julie is more creative; Andria more business-minded. The goal for both of them, however, is a successful company and they know they have to put disagreements aside.

"It's really about the communication. It will fail without the communication and getting to the root of the problem. Here's my side, here's your side how are we going to resolve this… It makes us a lot stronger and the business gets a lot stronger too… we're not going to let a disagreement between us make the business fail."

Her first office was in Julie's family basement, but it was their first official office that stood out and was highly visible. It was actually a glass hut on Star Plaza. It was summer, so people were out and about.


The 'fish bowl' at Star Plaza



"We were literally in a fish bowl and people would just stare at us. It used to be a ticket hut, so people would always come by and ask for tickets or directions or just stand and stare. We were there for 6 months and it brought us a lot of publicity. "

Andria says that what they have learned in the business field is equivalent to earning an MBA. "We've taught ourselves and been mentored and we've got ourselves where we are… People see the passion in us… and they always want to support us."

Andria stresses the need for a good personal presentation "If you want to be taken seriously you have to act and dress the part and then hopefully you will get the part."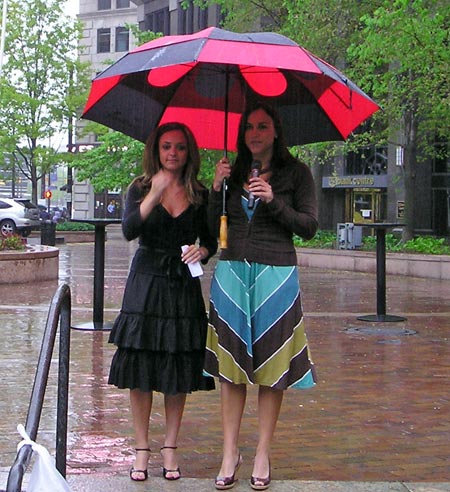 Julie Fink and Andria Trivisonno launch Portfolio Magazine Online in uncooperative Cleveland weather



In today's economy, many people are being told to start their own business but Andria has a warning about that. "I could write a book about [the downside] of this. One of the big sacrifices you have to make is the financial; a lot of people aren't used to being without the stable paycheck. When I first started I had to move back with my parents. I wasn't going out to eat. I had to sacrifice weekends because I was so busy. When you are an entrepreneur whether you have one partner or two or you are doing it alone you have to wear all of the hats. You may not be especially strong in sales, but you have to do sales. You may not be specifically strong in creating financial documents but you have to do it."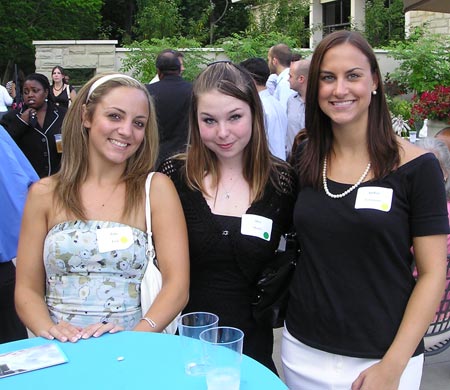 Julie Fink, Alea Moore and Andria Trivisonno of Portfolio Magazine Online at a Cleveland Young Professionals event at the Botanical Gardens



Andria started at the age of 22 - knowing the creative side and marketing side of the business she wanted to create, but says she was "pretty clueless about actually forming a business".

She says you have to teach yourself a lot of things, and it is very difficult. An entrepreneur also needs more than the average amount of discipline. She remembers in college when papers where due in 3-4 weeks, she would always get it done weeks in advance to give her time to check and re-check so the final product was something she could be proud of. Good grades mattered to her, even when it meant passing up a party or event.

"I was always like that. I played a lot of sports and danced, and those things require discipline as well." For Andria, finishing a business plan or getting ready for work takes precedent over social activities at this stage of the game.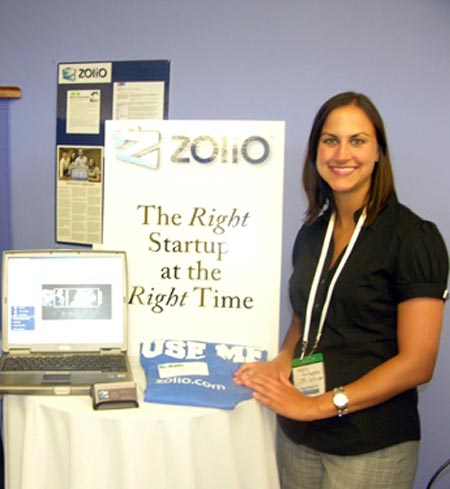 Andria Trivisonno at Zolio booth at Plug & Play Tech Center



Andria advises people in the market for a job to beware of being too much like the applicant next to them. "People are not standing out - they are blending in with a stack of resumes on the desk. Zolio.Com is the tool for that. Another division we are working on… helps organize job applications from all of the multiple job boards… Making it a little less painful"

She cautions people to be careful of what they post on social or business networking sites. She says 84% of people in charge of hiring will "Google® you and you have to be so concerned about what people will see. You should be posting and tweeting intelligently". She also suggest you Google® yourself daily to see what is out there that maybe should be removed.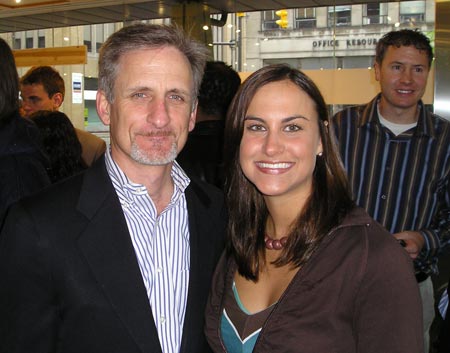 Entrepreneurs Ron Copfer and Andria Trivisonno



Andria is the daughter of pro-golfer Gary Trivisonno and the niece of talk show host Mike Trivisonno. She says the name has opened some doors for her and given her some opportunities, but at the end of the day the name won't help her if she doesn't get the job done.

She would like to do "great things" for young people and young entrepreneurs; helping them get past some of the pitfalls she had to work through. But not too young. She thinks under the age of 18 "you can't figure out what you want to do - you still have to figure yourself out".

She feels there is a lot of pressure on young people, and wishes they had a little more time to be children and then maybe the decisions they make about their future will have a better foundation.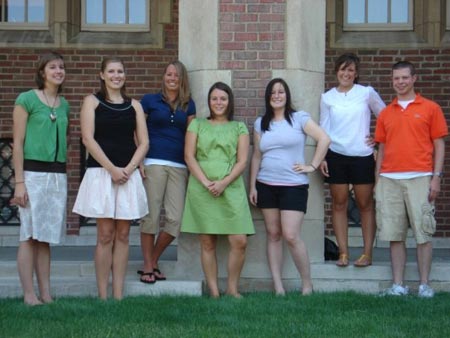 Zolio Interns



Andria is involved in Cleveland Plays - a group of young people who participate in sports. Every season has a different sport for young people (flag football, beach volleyball etc). She ran her first 10K (about 6 miles) a couple months ago and is in training for a 10 mile race. She loves to be physically active.

She says it is important to have a life outside of the business. "Every single day you need to do something to relax, even if it's just watching a movie... unless you turn it off it will consume you."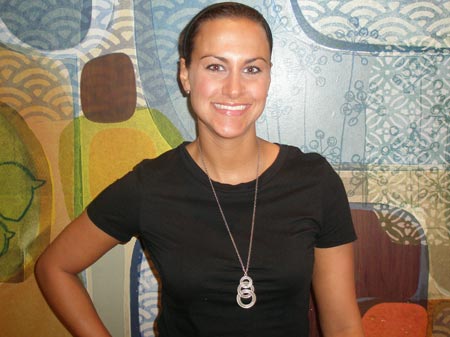 Andria represents the best of the future. She knows the value of hard work and pride in what she accomplishes. And at the end of the day she is already planning how she will give back by offering assistance to other young entrepreneurs.

After watching television news show and being bombarded with all of the negativity, remember the Andria Trivisonnos that are out there. It is sure to give you hope.

Contact Andria at andria@zolio.com and follow her on Twitter @andriatriv.
---
Listen to a brief message from Andria Trivisonno offering advice to women.
Profiled by Debbie Hanson - July 2009

---
Top of Page
Back to Profiles of Cleveland Women and Girls