Arianna Körting
Bringing out the Best in Music
Arianna was born in Cleveland on July 9, 1994 making her chronological age 14. As you read on you will see it is hard to believe she has already accomplished so much.
She has one sister, Mirielle, who is 9 years old and Arianna's very good friend. Mirielle is going to start violin lessons and loves to sing.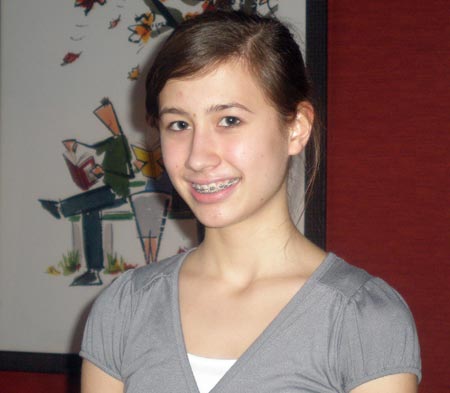 Arianna In 2009



Her maternal grandfather, Remigio Abello, plays the piano but his schedule as a physician has kept him from practicing recently. "He actually brought me into the piano. He has an upright piano at his house. One day I was sitting in the car [she was not quite age 3]. I was listening to music and I actually heard this piece of music. Then when we went to my grandpa's house I just got to the piano and started playing it."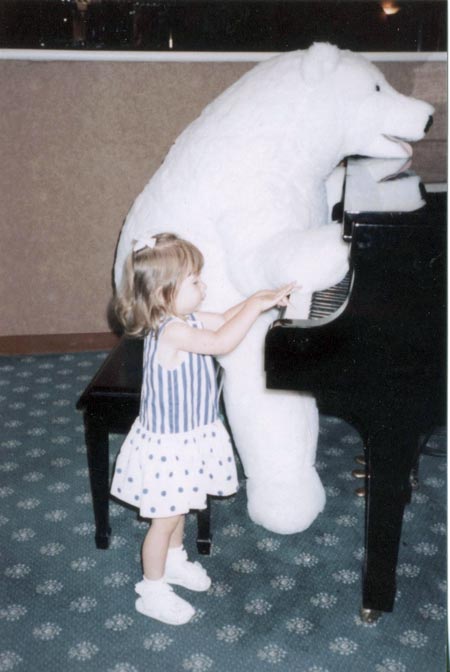 Arianna Körting at 2 years old trying to play piano
in a hotel lobby in Chicago



Her mother recognized how amazing this was and tried to enroll her in classes. She was met with opposition because of Arianna's age, but eventually they said if she could sit through a 15 minute lesson they would try to teach her. The 15 minutes turned into two hours.

She also feels having heard her grandfather practice and play also attracted her to the piano. Whenever they drive together in the car "on our way to Severance Hall or wherever" he always put on Tchaikovsky's Concerto No. 1, a piece she loves. "I just love music." She has never played a duet with her grandfather - at least not yet.

Arianna sings with the Cleveland Orchestra Children's Chorus. She practices every Monday night for two hours with the Chorus. They perform at Severance Hall throughout the year, but the major performance is the Christmas Concert. She says those tickets are sold out weeks in advance and for her it is "really fun, singing with the Choir and all of the beautiful lights and everything." Arianna has sung with this choir for 5 years, since she was in 5th grade. She is a First Soprano.

Arianna has been singing "forever." Even as a very small child she walked around the house singing. Sometimes she was not even aware that she was singing. "I have had music in me from the very beginning."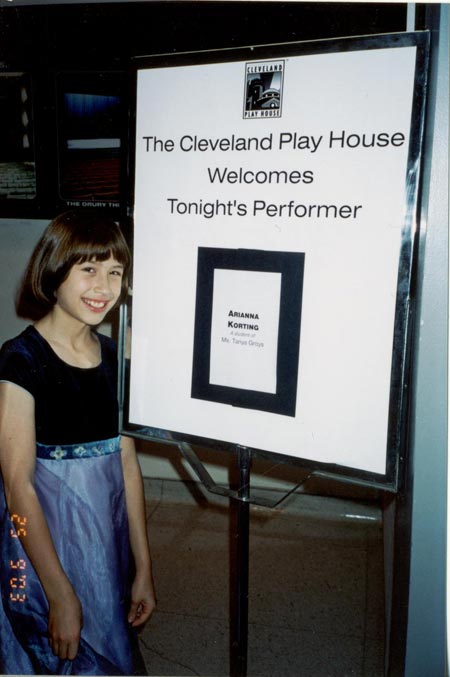 Arianna played the Cleveland Playhouse at age 7



While her peers are out doing what 14 year-olds do, Arianna is practicing and performing. Yet she does not feel she is missing out on anything because she is doing what she loves. "I like what I'm doing. This is fun for me." And her friends are very supportive and interested in what she is doing.

Arianna is a freshman at West Geauga High School taking honors classes. She finds high school very different from the private elementary school she attended. She was previously in the honors program at Notre Dame Elementary School in Chardon.

"It is actually very fun, lots of different people. Diversity and everything. In private school you are all treated the same way...They are very strict in private school, but in public school they don't care as much… Honors class students and teachers care more about grades and are determined to do better."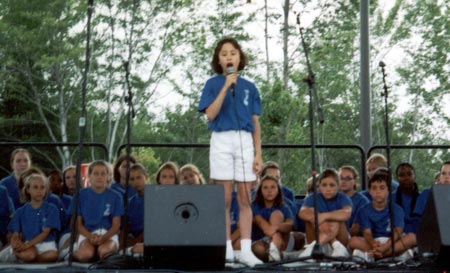 Arianna Körting with the Cleveland Singing Angels



Arianna practices a minimum of two hours every day. Her mother never had to remind her to practice, but rather Arianna would remind her mother it was time. She started with a method of learning known as Suzuki.

The Suzuki method teaches a child to play in the same way they learn to speak their native language. They hear it, remember it and imitate it. It is more about saturation and immersion in the piece than it is about learning the technical aspects. She is now enrolled at the Cleveland Institute of Music (CIM) where she is learning the technical and traditional way.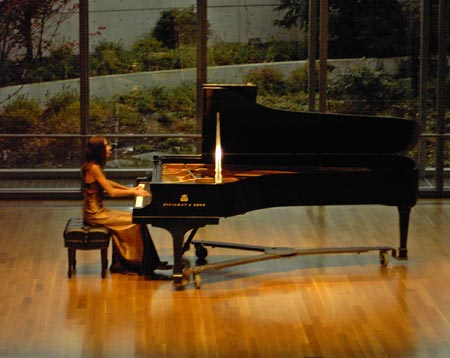 Arianna playing at the opening ceremonies of Mixon Hall at the Cleveland Institute of Music



Arianna also plays in a Chamber Music group at CIM - and really loves that too. On Wednesday evenings she attends German School to perfect a language in which she is already fluent. "I am bilingual. I only speak German to my dad, nothing else. I have been speaking it since the very beginning."

Her family is also multilingual. Her mother, who was born in the Philippines, speaks Filipino, English and French. In addition she understands German from having heard Arianna and her father speak. Arianna's father was born in Canada, and speaks English, French and German. Mirielle also speaks German.

Her week includes Monday nights with the Children's Chorus, Tuesday and Thursday Chamber Music practice, Wednesday is her German classes and Friday is reserved for piano at CIM. On the weekends she has performances.

Her grades have not suffered any from this amazing schedule; she maintains a 4.1 grade point average. Her mom says "She works hard - stays up late and gets up about 6:30." She gets out of school about 2:30 and then it's time for homework and classes.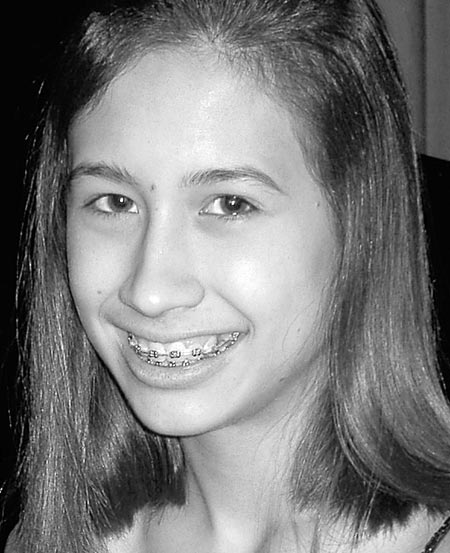 She is hoping that music will be with her forever. She is interested in doing many things in the future, all involving music. She would love to be a solo concert pianist, but she also anticipates playing with other people.

She was first introduced to Chamber music this summer at Chamber Music Camp and truly loved playing with others. Chamber music is a small, instrumental ensemble usually involving more than 2 and less than 8 people. It is sometimes called "the music of friends" because of its intimate nature.

When she was very young she played the violin for awhile, but didn't really enjoy it. She would very much like to try the harpsichord or the celesta. Arianna explained that a celesta is a percussion instrument, somewhat like a piano, but smaller. It sounds like a music box.

Arianna does not want to be a composer - she likes to play music created by others more than she likes to write her own, though she has tried to write a few times.

Her grandfather was, of course, a mentor. She is also inspired by her teacher, Gerardo Teissonnière. "I love him as a teacher. He is fun to work with. He is very demanding, which is good. He expects the best from you and he really brings a lot of your personality out. He is great."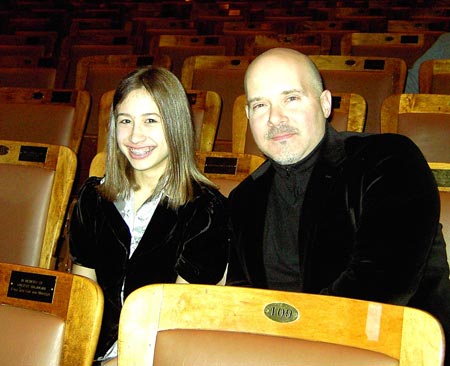 Arianna Körting with her teacher Gerardo Teissonnière
at Jordan Hall in Boston



Arianna appreciates discipline both from her teachers and her home life. In a world where young people are often seen as egocentric and lazy, Arianna is the exception. "It feels weird to me to just chill out. When I don't do anything I think this is really boring."

She loves ice skating and playing pranks on her sister - like when she woke her up and told her it was morning. Her sister not only believed her, but got up to take a shower. "But I stopped her before she got in the shower."

"My sister is my best friend. She looks up to me a lot and also supports me. I tell her to get into extracurricular things... I try to encourage her. She is in Chess Club now and singing."

Every Sunday her family gets together at her grandpa's house for dinner and she looks forward to that. "I love when the whole family is together."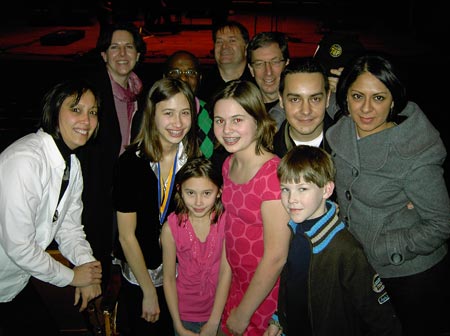 Arianna with friends and family at Jordan Hall for NPR Show



She wakes up happy. Her mother says that even as a child when she was woken, she would be smiling. She feels that she is surrounded by good things and good people and doesn't let things bother her. "I just basically let things fly by."

Arianna believes simply "Hard work pays off." She believes talent is something you are born with but ability can be learned so that virtually everyone has something at which they could be good, if they were willing to work hard. The other missing element is passion, which she says inspires a person to perform to the best of their ability. Passion plus talent equals ability.

This young pianist has done something many much-older, career musicians only dream of doing. She has played Carnegie Hall in New York. After winning 1st place in the Elementary Division of the international Bradshaw and Buono Piano Competition, Arianna was able to perform in May, 2007 in the Winners Recital held in Weill Recital Hall of Carnegie Hall.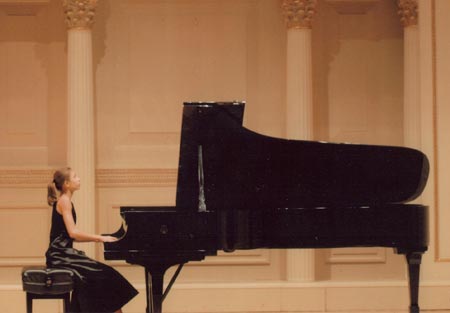 Arianna Körting performing at Carnegie Hall as winner of the Bradshaw and Buono Piano Competition



"It's the small hall - and I would like to play the big hall." Also on her list of future venues is Lincoln Center and Severance Hall, although she does sing there with the Cleveland Orchestra Children's Choir.

She has also played Boston's Jordon Hall where she performed Jeux d'eau by Maurice Ravel and sung with the Disney Pop Squad.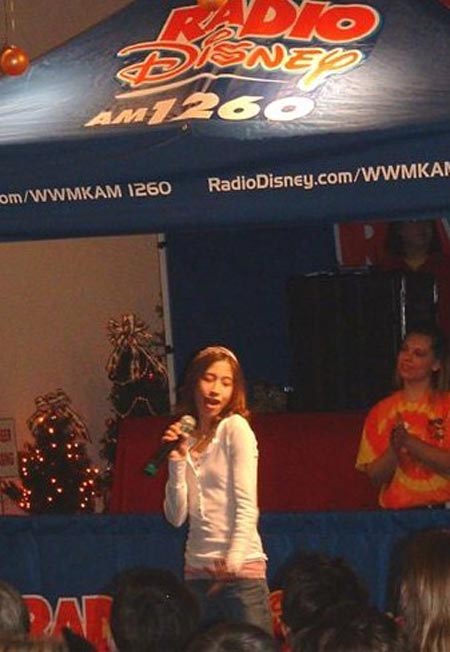 Arianna Körting performing for the Disney Pop Squad



At this young age, she is already a master of composure and tranquility, but will admit there are moments before a performance when she is a bit nervous. "Nerves really help a lot. But if you're too nervous, you might not think about what you're supposed to do. When I play at home practicing, I'm not nervous because there is no one really listening. It just feels different. You feel comfortable. On stage there are people watching but I'm used to it and I don't have a problem."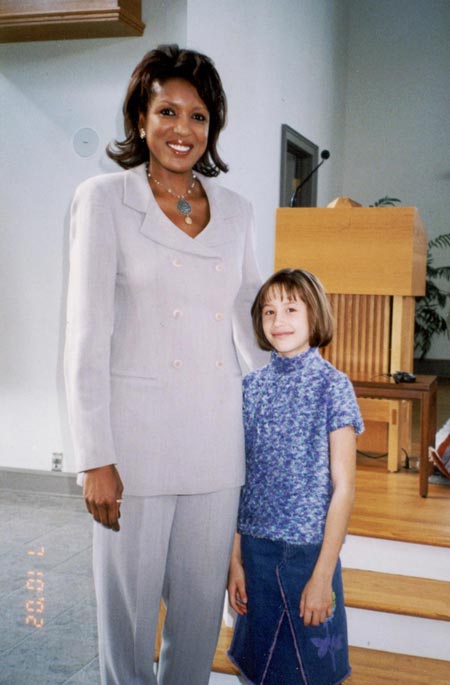 Romona Robinson featured Arianna as one of 'Romona's Kids'



While she is playing, she is thinking musically; phrasing her music properly. "I want people to feel how I'm feeling when I play." The feeling changes with the piece "If you just play technically with no beautiful sound it could be boring and I don't want it to be boring when I play. I like it to get people to cry when it's supposed to be sad or feel happy when it's supposed to be happy. I love that feeling when someone says 'you made me cry' or 'you made be happy'. That's a great feeling for me. I want to bring them into the music."

She finds herself critiquing a piece when someone else is playing, but acknowledges that everyone plays a piece differently. She plays very true to the original composer's work "They are very wise and they wouldn't have written it that way if they didn't want it. The basic thing for classical music is that you are trying to bring the composer back to life through your music, so I play it the way it is written."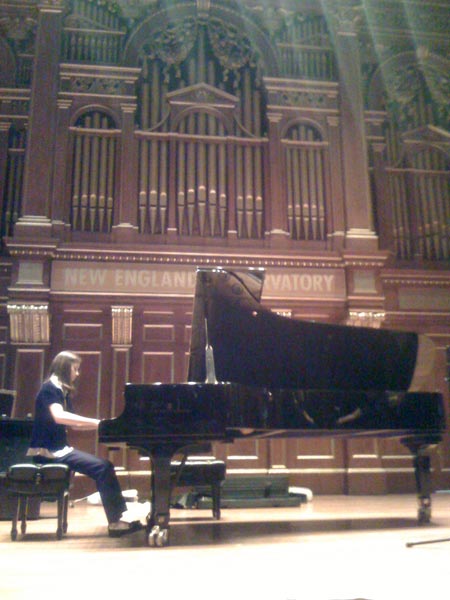 Arianna Körting in Jordan Hall at
the New England Conservatory of Music



She was also a featured guest on the NPR radio show, From the Top. "From the Top" is a "very, very, fun radio show. They show your talent but show something else outside of your normal talent." In Arianna's case she was given a test to see if she really has perfect pitch and if she could identify the pitch of a sound. Her family often quizzes her with things like the pitch of a telephone or a siren going by.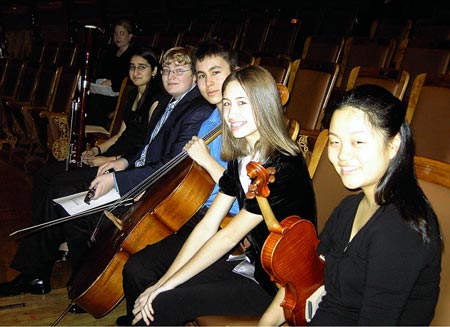 Arianna Körting with other young musicians before a performance of From The Top in Jordan Hall



When Arianna appeared on "From the Top" she was tested with the sound of a lawnmower which she easily identified as an "A". They tested it and, to their surprise (but not to Arianna's) she was right. "I don't know how some people can't do that because I always could, so it seems strange that some people can't."

She loves to travel and has been many places. Last September she was in Paris. She's been to Germany, Austria, Switzerland, United Kingdom, Philippines, Czechoslovakia, Thailand, and Canada.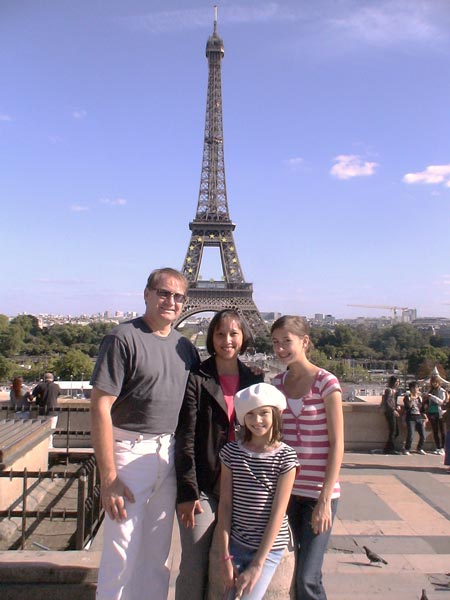 Arianna with sister Mirielle and parents in Paris



In Thailand she rode on the back of an elephant, and in Prague she performed at the Canadian Embassy for the Ambassador. Of course she could not leave France without a visit to the gravesite of her favorite composer, Chopin. "There are so many good memories." They take a lot of pictures and she looks at them often.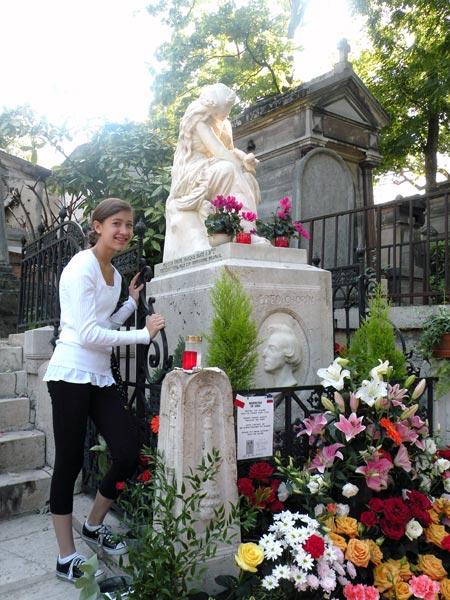 Arianna Körting at Père Lachaise Cemetery in Paris
next to Chopin's grave



Whenever she is away from home she seeks out a piano to practice on to keeper her fingers lissome and not lose her edge. Sometimes she practices in hotel lobbies, sometimes in piano stores and in Florida she was only able to play an electric piano in COSTCO. The piano was not working so she was not able to hear what she was playing, but she was still able to keep her fingers nimble.

Arianna's grandfather gave her a grand piano for her 13th birthday. It was right after playing Carnegie Hall while they walked through China Town together that he told her he wanted her to have her own piano. Until that time her daily practices were at his house on his upright piano.

She loves her grandfather's upright because "it gave me a good start and it brought me to where I am." She knew the upright did not have the "color" in the music that Arianna was looking for. "Every piano is different it is like a person… No piano is the same, they're like snowflakes." The piano that her grandfather bought her is a Steinway and she calls it "my gift for a lifetime."

Arianna has also had a couple of art pieces in competitions at Lakeland College and Regina High School and she has won. "I seem to be good at art, but I am not really interested in it."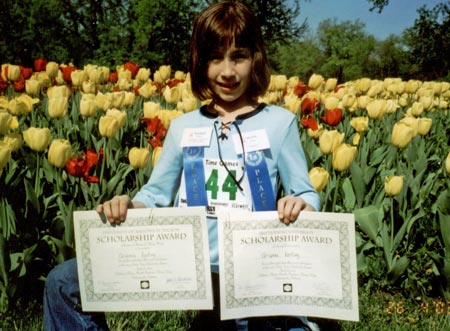 Arianna was a double-scholarship winner of the Children's Better Health Institute Tulip Time Scholarship Games
in Spelling and Piano Competitions



Whatever free time she has she likes to spend with her sister. "We have the best time together."

Her heart belongs to classical music but there's room enough for hip hop and jazz as well. "I just love all music." She says she has a 'classical side and a spunky side." "Music is my head 24/7 - I can't stop thinking music". Music weaves its way into everything she does, whether it is intrinsically a musical task or not.

Arianna hopes she is able to bring out the best in music. "It's what I really want to do." It goes without saying that she is a highly skilled musician and a remarkable young woman. At 14 she has accomplished things few adults will ever be able to claim. It is exciting just to hear her talk about music much less actually perform.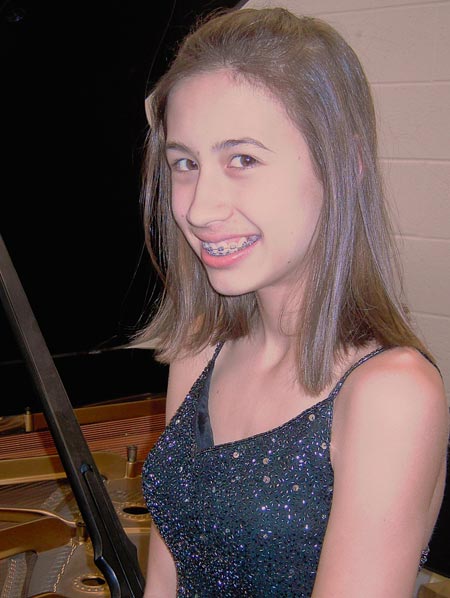 There is no telling what is in store for Arianna. One thing is certain. Whatever she takes on she will do it with style, grace and commitment. She will not be one to shy away from her future because it may be hard. Arianna has chosen the road less traveled and as Robert Frost says "that has made all the difference."

One day the world will know Arianna Körting, as well they should. We will look back to the day this young girl told us she wants to bring out the best in music and we will smile, knowing all along that music brings out the best in her.
---

Listen to a brief message from Arianna Körting.
Profiled by Debbie Hanson - 2009




Do you know somebody with an interesting story to tell?
E-Mail us at: profiles@ClevelandWomen.Com






---
Top of Page
Back to Profiles of Cleveland Women and Girls