Basha
Dancing Down
the Yellow Brick Road
Yes, you read it right. Her name is Basha and all of the excitement and all of the mystery that goes with a name like that applies to her as well. Even her age is a mystery - "Sometimes I feel like 80 sometimes 30. It's all a state of mind".

Basha was born in Cleveland at University Hospital. She has one "wonderful, quiet, subdued" brother who lives in Pennsylvania. She started high school at East High, but then moved and finished at Shaw. From there she went to Fenn College for a time. Then she became aware that her uncle, a military man, was stationed in Hawaii. She got on a plane and off she went and enrolled in the University of Hawaii. She started out living on base with him, but soon discovered that military life was not for her. She moved to Waikiki and went to work for the Dole Pineapple Company. "I didn't graduate though, I discovered surfing!" She has often thought about going back to school at Kent State to finish her degree, but just hasn't had the time yet. Basha has been a parishioner at St. Philomena Catholic Church, Christ the King and now St. Joan of Arc. At the age of four Basha started dancing.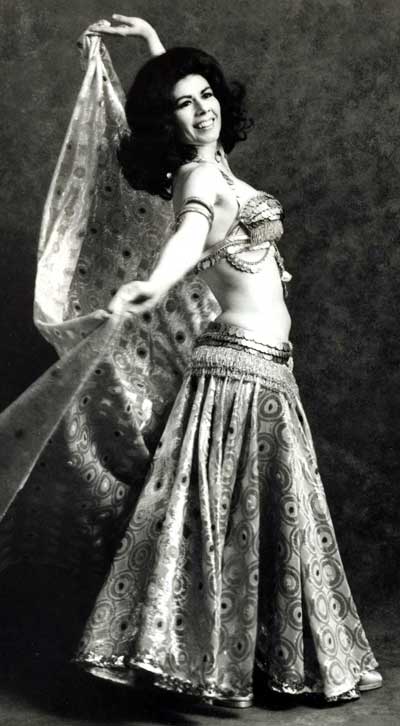 She was diagnosed with scoliosis and the doctor told her mother that dance classes might help keep her limber. She studied under Marguerite Duncan and The Chicetti Ballet, She was in the Corps de Ballet and absolutely loved it for awhile, but eventually it became boring. Basha branched out to become a stage dancer. She mastered oriental, interpretive, belly dancing, Spanish; you name it, she did it. "Even if I had never done it before I learned to do it." In Hawaii she studied Hawaiian, Tahitian, Maori and Samoan dance. Basha left Hawaii and came back home because "the island got very small." She felt confined and restricted. Of course, she was also a bit homesick and hearing that her brother was ill clinched the deal for her. It was back to the Mainland for her. She didn't come straight back to Cleveland though. She went to New York City where she auditioned and modeled and worked as a Kelly girl. "It almost killed me. It was expensive and crowded and not where I wanted to be. The dance classes were so hard." She was in top condition when she was taking her masters class in New York; she had to be to meet the demanding schedule. She danced from 8 to 8 every day and then took the subway home. Her blistered feet would rest a few hours and then back for another twelve hours the next day. "Being in condition is so important."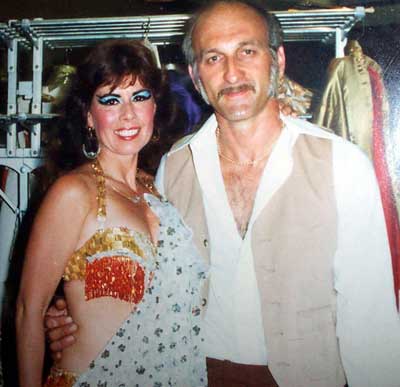 Basha with husband Sonny


She came home and worked as a secretary while she was performing and eventually she just performed. She also worked in cosmetic sales and acted in productions such as The King and I. She's danced all over the country. She's been a Playboy Bunny and a Belly Dancer and everything in between.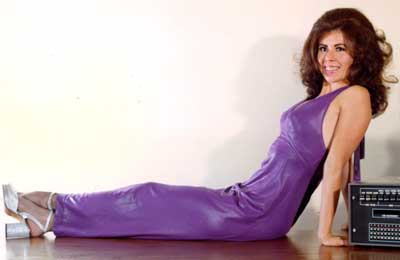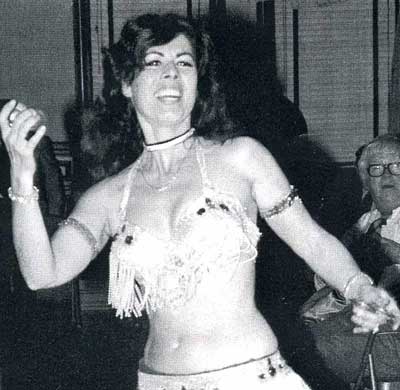 She's been to the Academy Awards twice and was thrilled to meet Tom Hanks and John Travolta. "The excitement was so intense. A helicopter picked us up. Imagine! I met millions of people and even had a drink with Jack Nicholson. I remember thinking how much this guy looked like Jack Nicholson and it was him!"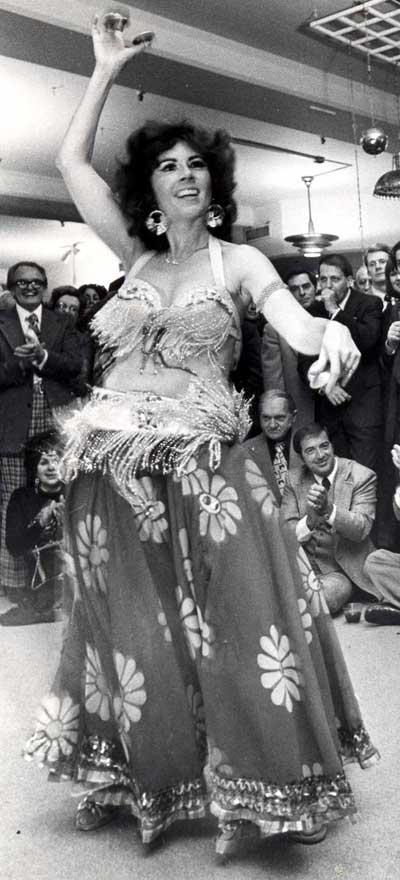 Now Basha just dances socially, not professionally. She decided early on that she wanted to go out at the top of her career. She would pray "Please God don't let me be a broken down show girl that doesn't know when to get off the stage." When she started to feel pain in her back, she knew it was time to quit. Basha has taught dance all over the city. She's taught in Mayfield Heights, Lyndhurst and Solon; she's taught masters classes at Kent State. She also gives lectures on her other true passion - The Wizard of Oz. Basha's father worked with a man named Joe who was married to one of the little people from the Wizard of Oz. (In fact it was Joe's wife who taught Basha the Mexican Hat Dance!) When Basha met them she was in her teens and had her first real break through on the glories of the Wizard of Oz. Now the Wizard of Oz has encompassed every part of her life. She is close, personal friends with a number of the little people.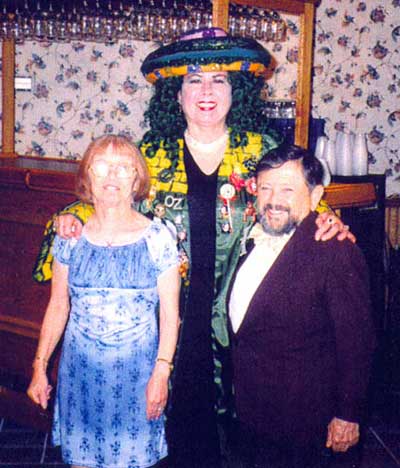 Basha with Wizard of Oz Munchkin friends


Clarence Swensen (a soldier); Carl Slover (a trumpeter); Jerry Marlin (a lollipop kid); Margaret Pellegrini (one of the flower pot's that opened to reveal a "sleepy head"); Raabe Meinhart (the coroner) and Donna Steward Hardway (one of the few child-actors that played a munchkin) are among her many Wizard of Oz character friends. Basha's home is loaded with authentic and fabulous Wizard of Oz collectibles. There is a yellow brick road leading into one bedroom, with witches showing from under the feet.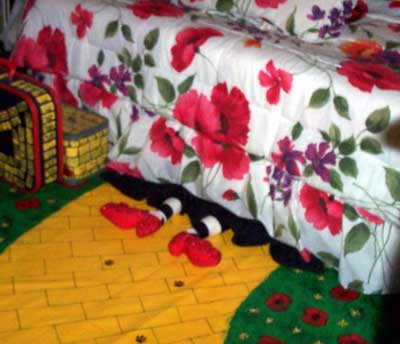 Feet of a Wicked Witch appear from under the bed


As soon as you enter the house you are greeted by a life size wicked witch and a host of flying monkeys.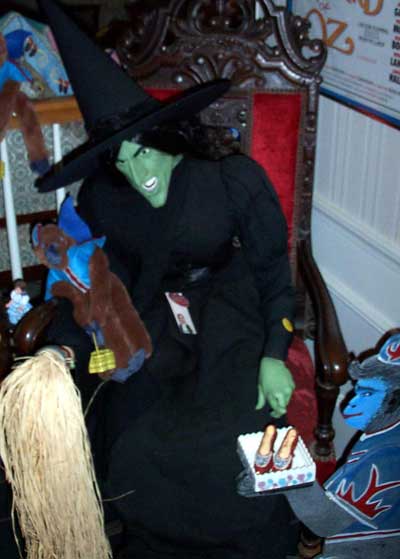 Wicked Witch of the West from Wizard of Oz


There are statues and drawings and pictures and everything you can imagine representing Dorothy, The Wizard, The Good Witch, The Bad Witch, The Scarecrow, The Lion, The Tin Man and of course, Toto too. Her brand new driveway will be painted as a yellow brick road in the near future.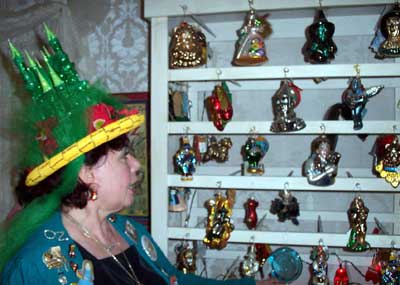 Basha with Wizard of Oz memorabilia


And then there's Basha. She is wearing a stunning hat of emerald green, with, you guessed it, the entire Emerald City skyline in intricate detail.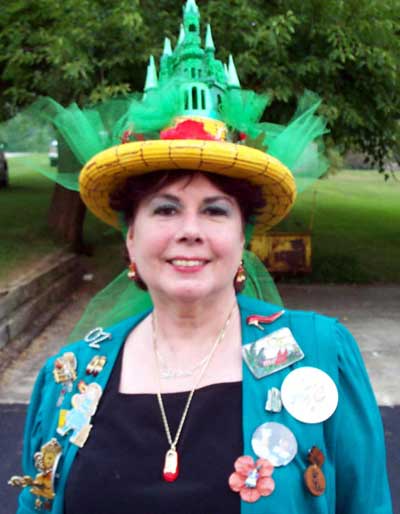 Basha wearing an Emerald City hat



Not painted on, mind you, But rather a three dimensional cityscape complete with every detail of the real thing. She had made a number of hats, bags and outfits for herself and her husband and friends.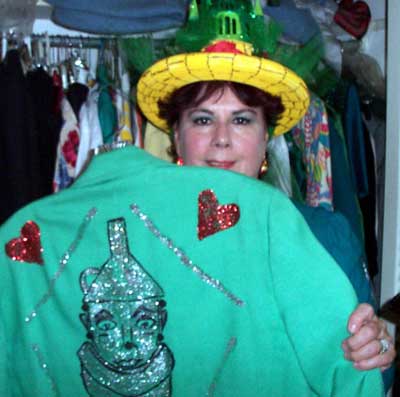 Basha with her Tin Man jacket


In addition to her Emerald City Hat she has a beautiful Rainbow Hat and a Poppy Hat. Of course each hat has an appropriate outfit to go with it. She makes them all herself and they are very intricate with beads and glitter and quite a bit of detail. She only carries the luggage she's painted and of course, it has a Yellow Brick Road on it. She and her husband and friends all wear them to the Wizard of Oz Conventions they go to - and there are a lot of them. She goes to conventions that have well over 100,000 people and she's always a hit with her outfits and glamour. The conventions are held all over the world. There is an especially large one in Minnesota as well as, of course, Kansas. She has been married to Sonny for 22 years - and he dresses up with her.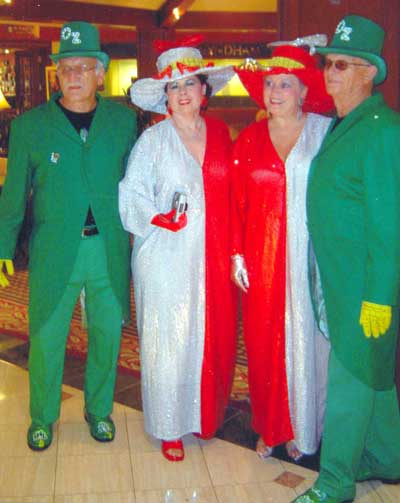 Basha with husband Sonny
and Vernon and Jane Craddock



Although he wasn't a Wizard of Oz fan to the extent that Basha was when they first got together it didn't take him long to join in the fun. He even wears the Emerald City shoes she made for him and the sneakers with the yellow brick road painted on them. Basha doesn't consider herself an artist, but most people would disagree. A lot of her art work is centered on The Wizard of Oz, such as one she calls Poppy Fields.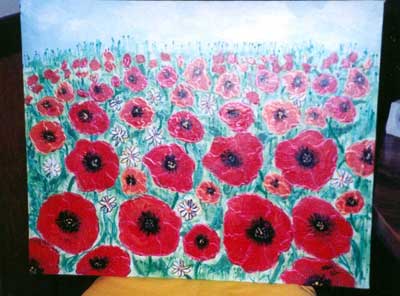 Basha's Poppy Fields



She often donates her paintings to church fundraisers. She has an amazing sense of color and style that is evident in her beautiful work. "Life's too short - you have to have fun! Some people run away from fun - and me! But if they stick with me they're going to have a good time!" She's had green hair, purple hair, blue hair -whatever goes with her outfit! Ten years from now, she plans to be living 100% in The Emerald City. She also knows just about everything you'd ever want to know about The Wizard of Oz, and author L. Frank Baum, including the fact the he wrote fourteen other books in the Wizard of Oz series.




Jack the Pumpkin Head from author
L. Frank Baum's Wizard of Oz series


One of the books, "Jack, Pumpkin-Head", is appropriately represented in her foyer. She laughs at the idea that Baum wrote the series as a political statement. "Some say the Tin Man represented the steel companies. That's just baloney. His books were about children and fantasy because that's what he loved and it was not about politics at all." Basha enjoys her life in fact she says "I enjoy enjoying! I have the best friends, they're just wonderful."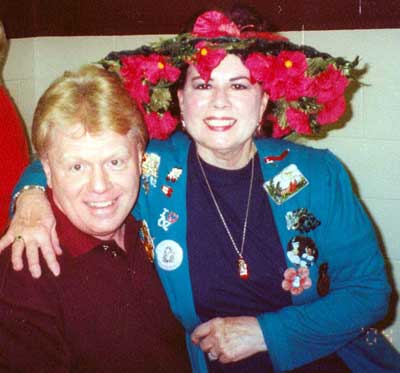 Basha with noted author John Fricke



Her good nature is apparent even to animals. She has a Golden/Lab mix named Munchkin and a rescue Golden Retriever by the name of Puma (she was already named). She also has Dorothy the Cat, a Russian Blue rescue cat. "The next dog I get will be named Toto no matter what. Even if it's a St. Bernard my next dog will be Toto!" She even found a stray horse once; animals just seem to be naturally attracted to her.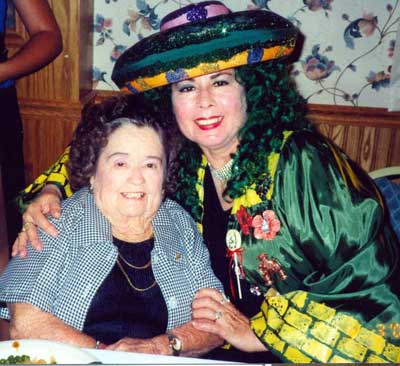 Basha with Munchkin friend


"There are so many wonderful things about the Wizard of Oz. The best thing is the people I get to meet. And I have my very own private Munchkin friends. Isn't that wonderful?"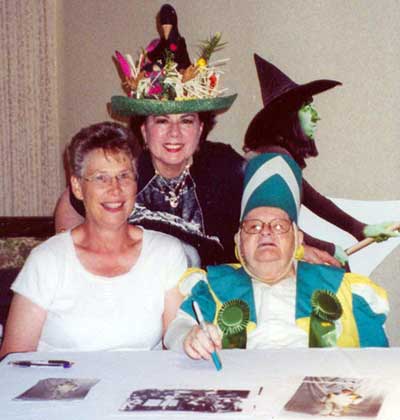 Basha with another Munchkin friend


It is not hard to find people who take themselves very seriously and look at life with a sour twist. They are all around us. But Basha's attitude is refreshing and fun. I wouldn't want to know the person that can look at her and not smile. She brings a bit of whimsy and light heartedness to everyone she meets.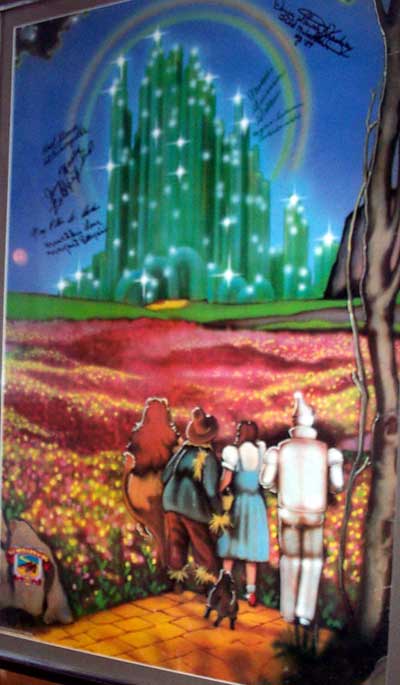 On the way to the Emerald City



In a world filled with serious situations and day-to-day drudgery, time spent with Basha is like a magical trip to the Emerald City.

Profiled by Debbie Hanson

---

See more of Basha's Wizard of Oz memorabilia

---

Do you know somebody with an interesting story to tell?
E-Mail us at:
profiles@ClevelandWomen.Com

---

---
Top of Page
Back to Profiles of Cleveland Women and Girls


Sign up for our free eNewsletter sent about once every month with special offers, discounts, contests and more specifically for Cleveland area Women and Girls.




Follow us on
Twitter





and friend ClevelandWomen on Facebook





---
See many more Wizard of Oz Items in our on-line
Wizard of Oz Store
---
Murder in the Cultural Gardens - Whodunit Mystery set in the Cleveland Cultural Gardens by Dan Hanson
---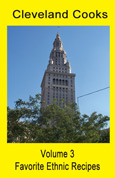 Cleveland Cooks Vol 3
The best Ethnic Recipes from Cleveland
---
What kind of Cleveland Person are you?

Find out more
about Cleveland's
rich ethnic cultures at
ClevelandPeople.com