Dominique Moceanu and
Husband Mike Canales
Welcome Carmen Noel Canales
Olympic gold medal winning gymnast Dominique Moceanu and her husband, Dr. Michael Canales, have announced the birth of their first child, beautiful little Carmen Noel Canales.
Born just after 3:00 p.m. on Christmas Day at MacDonald Women's Hospital in Cleveland, the baby weighed 7 lbs, 7 ounces at birth and measured in at 18.5 inches. Mother and baby are doing well and are now home.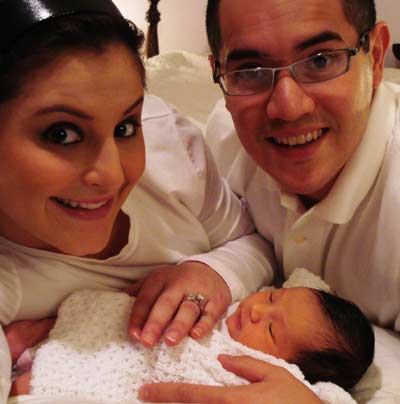 Dominique Moceanu, husband Mike Canales and new addition Carmen Noel Canales



"We are so excited," said Moceanu. "Mike and I have talked about starting a family for so long - it's really a dream come true. The miracle of baby Carmen being born on Christmas Day makes this wonderful time all the more special to us. This is the best Christmas present we could have ever received!"

Whether or not little Carmen decides to pursue a career in gymnastics is unknown at this point, but Moceanu reports that her new daughter was a particularly active, kicking and flipping baby prior to her Christmas arrival!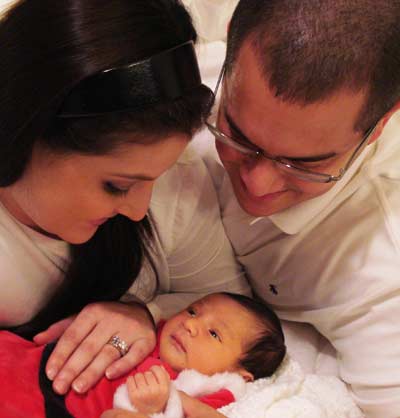 Dominique and Mike's best Christmas present ever.



Moceanu said she looks forward to raising baby Carmen in the Cleveland area where she teaches gymnastics and where Canales practices as a foot and ankle surgeon.

"We love it in Ohio and look forward to raising a family here," said Moceanu, who also added "Bringing a precious new life into this world is the ultimate achievement - I feel this tops it all."

Dominique told ClevelandWomen.com that "Our Christmas will never be the same, but motherhood suits me well and I am loving every minute of it."



---
Top of Page
Back to Profile of Dominique Moceanu