Dona Brady
Walking her talk in the community of her childhood
Dona Brady was born in Cleveland in the ward she now represents. She is the oldest of three children. Growing up for Dona was a wonderful experience.
"Cleveland was a force at that time… Growing up in Cleveland was great… I had a really enjoyable childhood." She went to St. Phillip and James Catholic Grade School. Dona earned a bachelor Degree in Urban Studies from Cleveland State University Levin College of Urban Affairs. She majored in neighborhood revitalization.
Every summer day you could find her at the swimming pool at Halloran Park which, she says, is "one of the jewels of the West Side." In her ten years on council she has made over two million dollars in improvements at Halloran including a gazebo. "I had an idea that I wanted to have entertainment for adults… This is the second summer we had free entertainment in the evenings for adults."
As a child, she did a lot of ice skating - in the winter she skated every night after homework. She had her own horse and loved horseback riding. She has since given up both ice skating and horseback riding.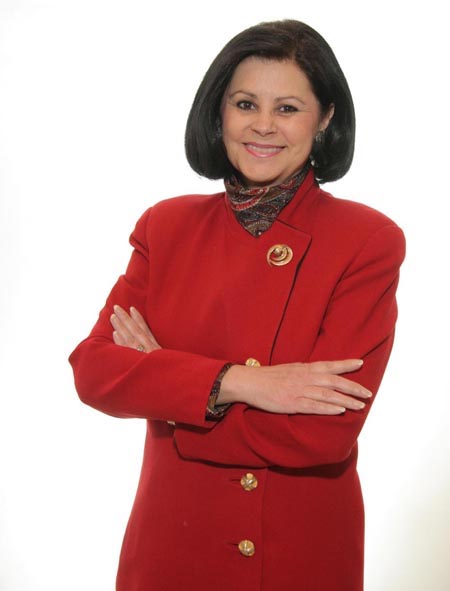 When she was young Dona and all of the children in the neighborhood would walk to the Variety Theater every Sunday and fill all 1900 of the theaters seats. "That's how many children were living there then!" "What I loved about Cleveland was the people and the neighborhoods. People were out. Everyone knew each other. I walked to school. I walked home. I walked to the theater."
One of the other things she loved about Cleveland (and still loves about Cleveland) is the multi-cultural makeup of the city. "In my own family there were four languages being spoken… Italian, Albanian, German and English." She took classes in German, Spanish and Italian and hopes to finish the Albanian language lessons she once started. She truly enjoys languages and does not find them intimidating as so many people do.
For many years children in general seemed embarrassed by their parents or grandparents accents. But it was never that way in Dona's family. Dona and her family were very proud of their ethnicity while she was growing up. "Like most of us, at that time we had great respect for our elders. We were proud of their ethnic backgrounds and had great respect for what they did to get to this country."
She was very close to her immediate family as well as her aunts and uncles. "I was always a little more mature and they would talk to me as an adult and I would enjoy listening to their different languages." Her mother would be speaking German to her sister on the phone and her grandmother would be speaking Albanian to her sister and Italian to her husband.
Each culture had a keen sense of involving children. She remembers weddings as a child when children were still included in the invitations. "We had a ball. That's how the cousins stayed close. We ran around like crazy and slid on the dance floor. Children aren't included anymore. "She says her grandparents babysat every Saturday night, giving her yet another opportunity to get to know them and get closer to them.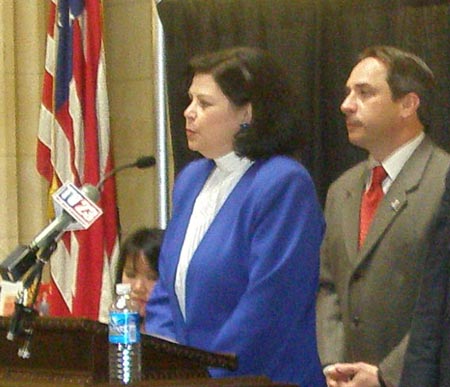 Dona Brady speaks at Cleveland City Hall at
a celebration of International culture



At a young age she knew the difference between the cultures, and celebrated those differences. She is very involved with the Albanian culture, partially because the Albanian wing of the family "outlived everybody". After the fall of Communism, when Albanians started coming to this country, many would come and work in her aunts' restaurants, because it was something they could do quickly. "A lot of Albanians also spoke Italian because they got Italian television".

One aunt in particular really took the new Albanians under her wing. She had some rental property and set them up with housing, jobs and learning the language. "Now many of them own their own business. They got accreditations in the same business they were in while in Albania. If they were a dentist in Albania they trained to be a dentist here."

Albanian foods include lamb, chicken, lots of vegetables and often fruit for dessert. The food is spiced with garlic and basil, but is not spicy hot. Because of Albania's geographic location. fish is plentiful there. So many Albanian meals include fish. Beef, on the other hand, is hard to come by in Albania so it is not an integral part of an Albanian meal.

Albanians make their own yogurt, but it is more of a thick cheese than we are used to in this country. Sometimes it also contains garlic. Many of the vegetables, like zucchini and eggplant are stuffed. In some ways Albanian cooking is like Greek, often using grape leaves, feta cheese but Albanian foods are prepared differently than Greek foods.

Dona learned to cook Albania foods, and loves doing it. "I had a very rich, rich childhood with all these people. My grandmother would call me and say. Would you like to come over and have a duck! Can you imagine? She made the best duck!"

On holidays her parents would pack up the kids and they would go to all of the relatives' houses. "Maybe we would start at my German grandmother's and she would probably have a roast. Then we would go to the next house and it may be Italian or Albanian. On Thanksgiving my Albanian grandmother would have turkey and spaghetti."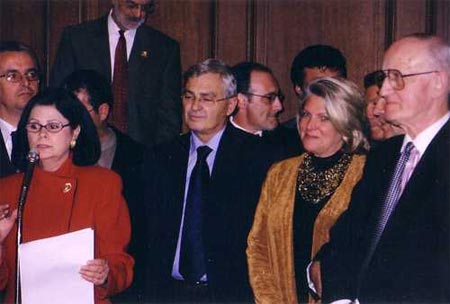 Councilwoman Dona Brady, Albanian President Medjani, Mayor Jane Campbell and Peter C. Kole - November 2004



Dona describes herself as a Type A personality, and therefore was always very active. "I can't sit still very long!"

Dona worked as an Administrator in County Prosecutor William Mason's Office as well as being Housing Court Administrator for Judge Raymond L. Pianka. She served as the Vice-Chairman of Cleveland's Zoning Board.

However, the job she really wanted was a seat on the Cleveland City Council. "I've wanted this job as a Cleveland City Councilman for the last 25 years but my husband [Dan Brady] was a councilman before me. I met him because I was going to run against him [1985]. I really wanted this job because I had decided I really wanted to make a difference… When I met Dan and he was running I thought what a wonderful guy. He was definitely qualified. So I decided I'll support him and I'll wait. Little did I know I would be marrying him in a couple years [1987]"

Dona stayed active and continued to pay attention to what was going on in Cleveland and when his seat opened up she ran for it, and won. She is now in her 10th year. Her husband, Dan, meanwhile went on to the state house and then the state senate.

Dona takes tremendous pride in the neighborhood she serves. She boasts the only operating ice skating rink in Cleveland. She fought to have an instructor there; remembering how, in her youth there was no instructor.

"Your ankles were wobbling in and out and we pretended to do all those beautiful spins… we never had anything like that. I wanted to give that opportunity to those young people…. Who knows? We may produce an Olympic star from Halloran." She also built another park and a water playground.

She is working on the restoration of the Variety Theater located between West 118th and West 119th on Lorain Avenue. Her surveys show that people want second-run movies, live theater, children's plays and activities and she plans to have it all. The model block around it will be called Variety Village and the building it is housed in is becoming an artists' colony.

Though unopposed in the recent election, Dona still walked the entire ward and knocked on doors so that she can talk to the people she represents and understand their needs. She wants to speak with authority on the subjects that interest her constituents and feels she must hear it from them first hand in order to be able to do that.

"People that talk to you on the phone are not everybody. They may or may not represent the feelings of the people. You have to get out there and talk to all of the wonderful people that live there."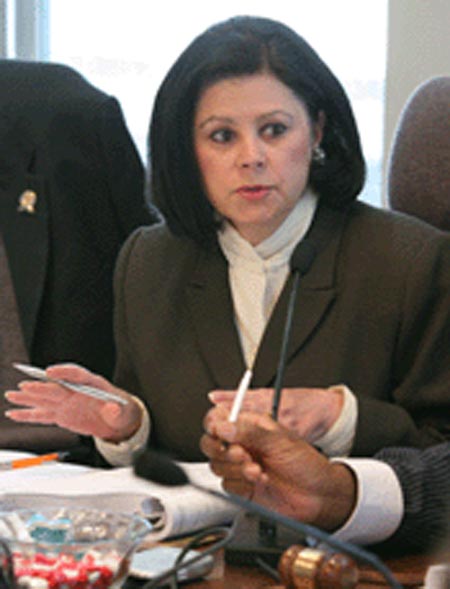 Her ward extends from Edgewater to the Brooklyn border, which is larger than many suburbs including Brooklyn, Warrensville Heights, Broadview Heights, Parma Heights and many others. "People don't understand that each ward is larger than almost every suburb, with the exception of Cleveland Heights, Lakewood, Parma and a few others. "

She says her parents were always supportive of everything she wanted to do and she's "done a lot of different things. I think that support made me realize how important it is for me to support other people so that they can accomplish their goals".

The people most influential on Dona were her family. "Believe it or not I was a very shy child." The Albanian side of her family was matriarchal. They were the dominant side of the family. Her mother taught her what was important in life; and these were lessons passed on from the previous generation. Although she says she got her strength from the Albanian women in her life, her German ancestry also made contributions to her personality.

"I think it's the German in me - I am a builder. I build parks. I build playgrounds. I like to see the difference. I want to see the street resurfaced. I want to see the tangible results of my efforts. "

Dona took her first trip to Albania two years ago, she had always wanted to go but it had always been shut off because of Communism. Her family is actually from the mountains where many Albanians fled when the Ottomans invaded 500 years ago. They went across the Adriatic and up to the mountains. She visited this spot on her visit two years ago. Aside from wanting to see the land of her heritage, Dona also went on this trip because Cleveland instituted a sister city program with the city of Fier, Albania.

She went for Easter Sunday and was able to sit in the family pew "and I had the most wonderful time there". Dona has traced all of her roots back as far as possible and even went to Ireland and traced her husband's family back to County Galway.

Dona had wanted to make the sister city a reality for many years but was not able to make it happen for a long time. When the Jackson administration came in she voiced her desire and did the research. Most of the Albanians in Cleveland came from Fier (also pronounced Fieri). The mayor of Fier was contacted and the program was explained. Dona did not want just an on-paper arrangement. Through perseverance and dedication the commitment was made and a sister city was born.

Another project Dona is deeply committed to is the Albanian Cultural Garden which is set to be finished in August, 2010. Landscape architect, Jim McKnight has designed the garden. A major focal point of the garden will be a larger than life statue of Mother Teresa based on a photograph given to Dona by Dagmar Celeste. Ms. Celeste was a personal friend of Mother Teresa and is helping with the plans for the statue and garden.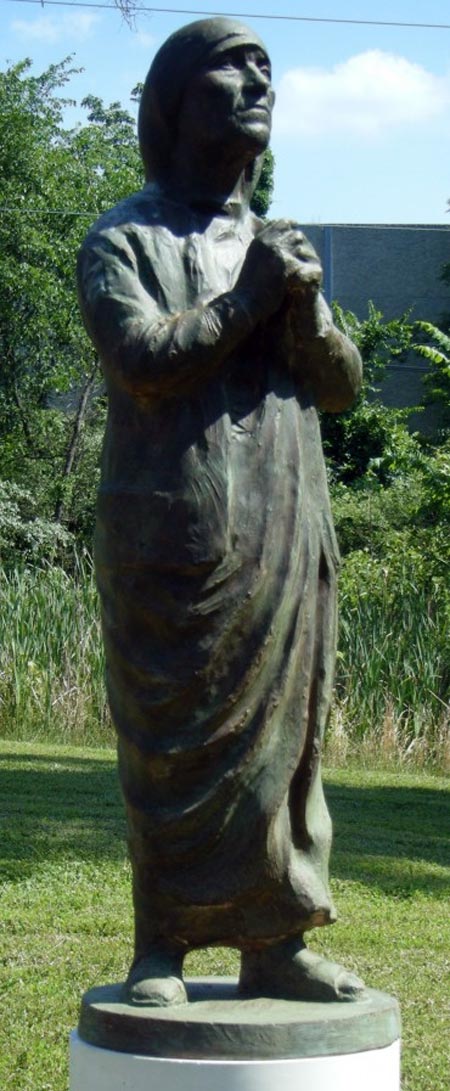 Mother Teresa statue planned for Albanian Cultural Garden



Dona is happiest when she is busy. "I enjoy my family. I enjoy cooking. I always had a vegetable garden until I moved; now I have too much shade." But she admits it can get overwhelming too. "Juggling concerts and theaters, and cultural gardens and a family and a job that is a 24 hour 7 day a week job, I bend over backwards to help my constituents. I really enjoy helping people."

She was instrumental in resettling the Kosovo refugees. "I was in Kosovo last summer and it was wonderful to be in the newest country in the world." For her efforts she was honored by The International Services Center and the American Nationalities Movement.

Dona admits to a bit of a temper. The people that work with her know that she is deadly serious about the things she wants done and has zero tolerance for incompetence, laziness or procrastination. She has discovered about herself that if she did things before it was due she could move onto other things and accomplish more. Even in school when they gave her homework or something due at the end of the semester, she got it done right away and missed the "panic rushing" as the deadline neared.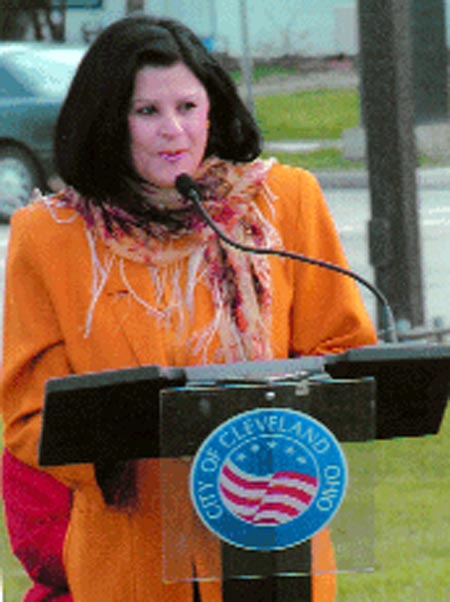 Dona Brady is one of those rare politicians that really understand that their role is to serve and represent the people. She is a hard working woman with her eyes clearly open to the future of her district in particular and the city in general. She looks to the past for insight and strength and to the future for hope and great accomplishments.

"It isn't about me at all. It's about what I want to accomplish. … Kids in the park will run over and hug me and that's what it really is all about. This job, as hard as it is, is so rewarding. It is the job I work the hardest at and the job I love the most. Life is very very good."

Dona Brady did not grow up with a silver spoon in her mouth. She was not handed a gravy-government job. She does not sit back and bark orders to others while she rests on her laurels. When she says "life is very very good" it is because she has made it that way and is helping others to make life good for them as well.
---

Listen to a brief message from Dona Brady
Profiled by Debbie Hanson - 2009

---
Top of Page
Back to Profiles of Cleveland Women and Girls
Albanians in Cleveland