Kim Crow
Cleveland's Fashion Guru
has a Style All Her Own
Just how did this young Madison High School grad get to be Cleveland's fashion Go-to-Guru? Let's find out.
Kim was born in Mayfield, Ohio on March 12, 1970 but grew up in Madison. She is a class of '88 graduate from Madison High School and then earned her degree in Journalism from Ohio University in 1991.
Kim knew from the very beginning that she wanted to be involved in journalism. She worked on the 7th and 8th grade yearbook and her high school paper. "I don't know what else I would do if I didn't do this. This is what I was meant to do. It makes me nervous wondering what else I could do if I had to."
Her dad was a mechanical engineer and now is a cabinet maker. Her mother worked in inventory control near Geneva. "Every house I had growing up we would only be in for about 5 years." She says the family would fix it up, sell it and move.
Kim remembers her first job and described it as being "really great, especially for a first job." She worked for Gannet Suburban Newspapers in Westchester County, just outside of New York City. "We put out 14 editions a day. The Plain Dealer has two or three."
The papers were small community papers. Every section had to be re-made every couple of hours. Kim was at the copy desk at the time. "It was very busy and very hard work."
There was a high turnover because of the intensity of the job. "So if the book editor left, I would be the book editor. If the fashion editor left, I was the fashion editor. I was the Teen Editor the entire time I was there."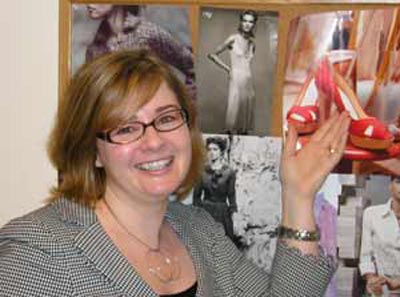 Kim Crow in her Plain Dealer office



Kim found the older people at the paper very supportive. "I worked an insane number of hours and made a ton of mistakes. The stakes weren't that high though so no one was really critical. I hope I learned by all those mistakes."

As much as she loved living in New York, Kim left that job because she "just couldn't afford to live there." She moved to Charlotte, North Carolina where she worked for three years at the Observer. It was a team based newspaper and, again, she did a lot of different things.

Her main job, however, was Features Art Director. As such she was able to generate story ideas and do an assortment of design, copy and editing. She did everything but write. "I offered input, and they listened, but someone else actually wrote the stories."

When the Fashion Editor went on maternity leave, Monica Moses (now at the Star Tribune in Minneapolis) jumped at the chance to add that title to Kim's already brimming repertoire. Kim was a natural and the rest, as they say, is history.

When she left the Observer she applied for a job in Detroit, which she didn't get. "But the editor was very encouraging, and that made a difference." Instead she found her way to the Pittsburgh Post Gazette where she met, and then married, Ted.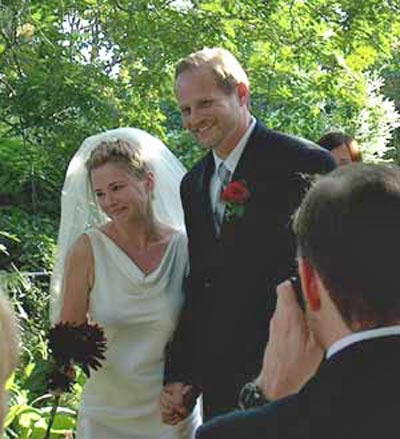 Kim and Ted's wedding
in her Pittsburgh garden



"I was his manager." Ted was an award winning artist for the paper (and is now an artist for the Plain Dealer).

Kim heard about a job at the Cleveland Plain Dealer. "My family is all still around Geneva and I missed them a lot." In January 2004 her nephew, Owen, was born and "I really wanted to come back to Cleveland to play with him."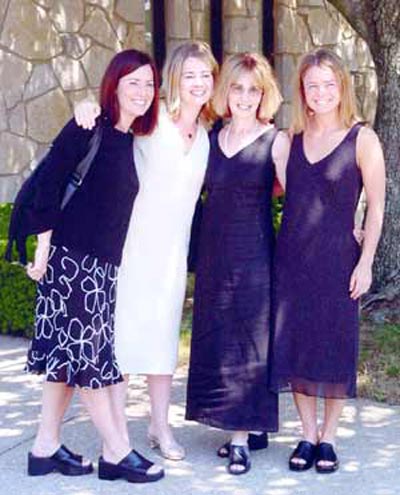 Kim Crow with Mother and Sisters



She called and setup an interview with Elizabeth McIntyre (Metro Editor) and was offered a job. Unfortunately, it was as a Design Manager and not what Kim was looking for. So she passed on the job, but made an impression on McIntyre. When the Plain Dealer decided they wanted to start the PDQ section, Elizabeth remembered Kim and offered her the job.

So Kim moved to Cleveland. Her husband came to Cleveland after his son graduated in June. They lived downtown for awhile when they first got here, but have since bought a house and moved to Ohio City.

In addition to her husband of four years, Kim also lives with her Yorkies, "Pansy" and "Trixie".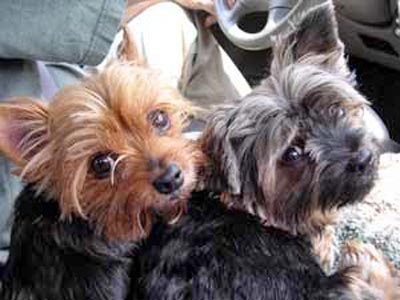 Pansy and Trixie


Ted brought his large shepherd/collie mix, Rebbi, to the marriage with him, but as a result of a recent "incident" Rebbi has moved to Pennsylvania.

Also living with them is Ted's son Tim, who is now 17. "Having Tim move in was not a problem at all. I love spending time with him, even though I'm not terribly motherly. The harder part was trying to merge the dogs."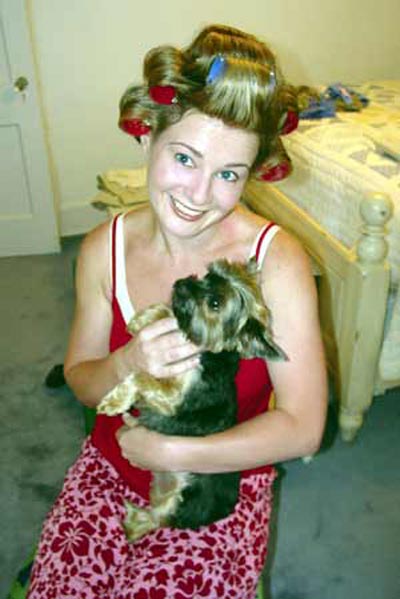 Trixie giving Kim Crow help getting dressed



Kim fell in love with Cleveland instantly. "It was such a welcoming community and so easy to find friends. I made good, long term friends right away here." She has no plans to leave Cleveland.

As Style and PDQ Editor at the Plain Dealer Kim follows the trends and reports them back to us. She attends all of the big New York and Los Angeles Fashion Shows and keeps her hand on the pulse of the business.

"When people first meet me they always think I'm going to be critical, like I would judge their clothes or style. I say we are all in this together. How can we best navigate through it all? I have information and I share it, but I am not going to say 'Hello. Nice to meet you. That outfit is hideous.' That's not who I am."

She remembers running out to Trader Joe's one morning. "It was early and I was still half asleep. I had on jeans and a fleece sweatshirt." The clerk rang the Trader Joe's bell and loudly reported "Kim Crow is here and she's wearing sweats!"

So now she is sure to dress the part before leaving her house. This is not really a punishment since she loves fashion and buying new things. "Shopping is not the number one thing in my life, but I do love to shop."

She realizes that Cleveland is not on the cutting edge of fashion and in fact is "behind" in a number of trends, but she also recognizes why this is so. "In the first place," she explains "there is not a lot of disposable cash in Cleveland. People work hard for their money here and fashion is not a priority."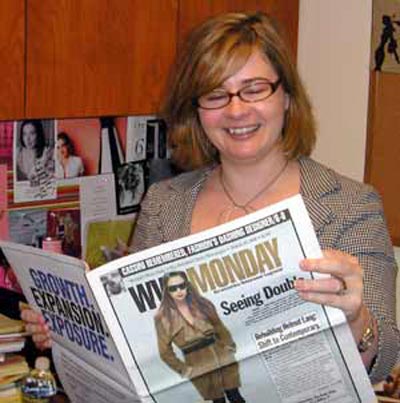 She goes on to say that people are not as highly visible here as they are in someplace like New York City. "In New York people walk more or take cabs. Here people leave their house in a car and no one sees them until they arrive at their destination."

"Cleveland has a great boutique culture though." She loves to shop the boutiques and help out local businesses and it helps her with her job as well. "It's a tough job, but someone's got to do it." A great day for Kim is meeting up with her mom and sisters and shopping all day.

Kim sees the number one fashion faux pas as people dressing for the wrong era. "People tend to dress from the eras when they were happiest. Like peg jeans in high school. They think if they were happy, confident and popular in high school and they wore peg jeans there must be a connection. They don't necessarily think it consciously but in general people are reluctant to give up clothes from their 'happy times'."

She doesn't believe there is such a thing as "Age Appropriate Clothes" but definitely believes in "Appropriate Dressing." As an example she points to televisions Desperate Housewives. "That is the perfect example of inappropriate dressing for day to day life. It drives me insane!" She doesn't expect to see women going to work in tank tops; it's not work-appropriate.

"Clothes announce who you are and where you are in life. Your clothes are a chance to make a statement." She stressed how important it is for women to show respect for themselves in the clothes they wear.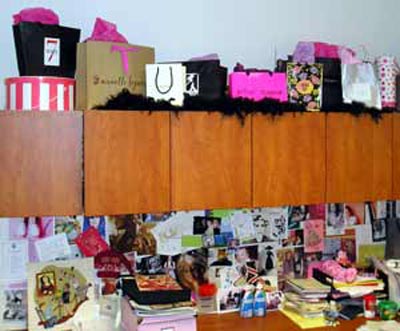 The fun office of a Fashion Writer


She loves shoes and handbags, but doesn't allow herself to pay $1200 or get on a six month waiting list for a Chloe Paddington bag. "I really admire beautiful shoes and purses, but I just won't do the really high end."

Kim's personal style does not lean towards glitz and rhinestones, but more to the classics. Her "fashion splurge" is a nicely cut jacket and her favorite designer is Nanette Lepore. She gives a nod to the trends by incorporating them into her style, but has never gone "head to toe trendy. Real trendy is just for the limo lifestyle and not many of us lead that life!"

She went to her first New York fashion show last September and "it was almost impossible not to stare." She was literally shoved up against Ellen Barkin for ten minutes and couldn't help but notice her 2 inch pear shaped diamond ring.

"I put my hand up; showing my ring and said 'I used to be so proud of mine'. She replied "yes, it's over the top isn't it" and then turned the ring around."

She remembers that The Zac Posen show was sometimes like a rock concert. On the way out she came face to face with Uma Thurman "I never felt so short in my life. She's about 6'3" I came to just about breast level. What a striking woman she is!"

She even bumped into rapper 50-cent; "He called me ma'am!"

The show gave her the opportunity to see old friends from other papers, but it was also exhausting. The hours were 9 to 9 every day and then back to the hotel to write for the next day's paper. "These shows are a good way to see just what's going on in the world of fashion and what I can bring back to Cleveland."

According to Kim there is no special "Cleveland look" but "the further you get from the city the more popular 'comfortable' becomes."

Kim's articles are basically harmless, certainly not life threatening. Yet she gets nasty phone calls and emails after every article she writes. She likes getting feedback and has come to ignore the "go home B*!" comments.

She gets tons of male feedback as well as female. "But in reality, I don't even pretend to care about male fashion. There's just not enough change there, not enough to make a major difference."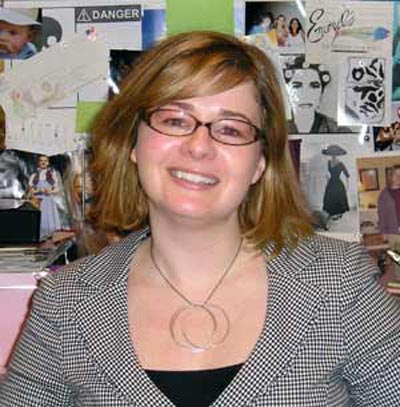 She doesn't wear much jewelry, but likes a 'statement necklace.' "Since I'm petite I don't wear a lot of jewelry. I've been wearing this same watch for 15 years."

She carries her love of fashion to her home as well. She experiments with paint colors on her walls as easily as getting a hair cut. Her furniture is fairly neutral, so it is easy to go through a whole gambit of colors. "I always did the painting myself, I actually enjoyed it. But now there is a 2 story entrance way and I have to pay someone."

Kim is a clothes purger, partially because she has no room, partially because she goes up and down in size and partially because she is so fond of replacing things that have been purged. She thinks women who struggle with their weight have better wardrobes. "They get to shop more often as their sizes change so they stay more current."

Ten years from now Kim hopes to have learned more and tried a lot of new things and she hopes "to be thinner." She is excited with the prospect of continuing on this journey and meeting new people and doing new things.

She is going to Napa Valley with her husband for the first time in October. Since their honeymoon in Paris she has not traveled much, with the obvious exception of her work related trips. And this includes her trip to the Academy Awards in 2004 which she covered for a Pittsburgh Paper.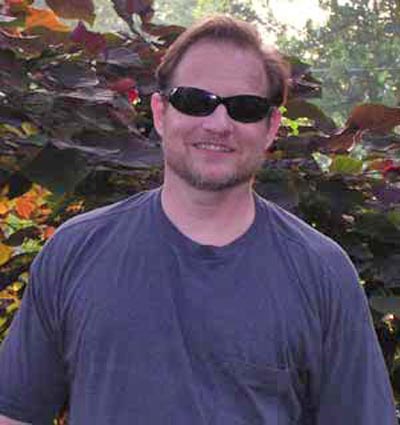 Kim Crow's husband Ted


"I would rather buy a purse than an airline ticket but this trip to Napa Valley is the exception." Then she winks and says "but if you see me with a really high end purse you know the trip is off!"

Kim describes herself as "very much a Pisces." "This is a great job for a Pisces. I would never get anything done without a deadline." She also says, like a typical Pisces, she tends to "stay in her head a lot" and finds it difficult to speak to crowds of people.

Kim does not, however, find it difficult to write or talk on a one-to-one. Her articles are funny, informative and insightful. She has taken a subject that some would consider fluff and made it actually matter.

She is a delightful person with a killer smile and an ever-present twinkle in her eyes. What the future holds for Kim Crow is yet to be seen, but rest assured we have not heard or seen the last of her.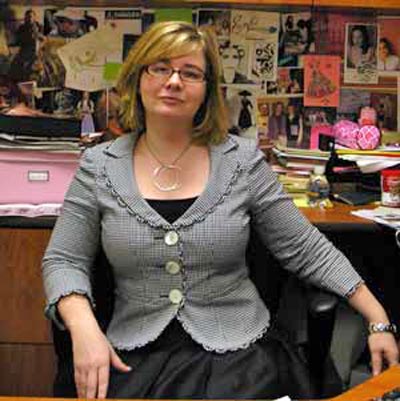 She is a strong presence in the world of journalism as well as style and what's happening in the community. If it's stylin' in Cleveland, Kim Crow will be there to be part of it, write about it and experience it.

So that's how Kim got to where she is. But where she's going is yet to be seen.

Hold on to your couture hats - it's going to be an exciting ride!




Profiled by Debbie Hanson







---
Top of Page
Back to Profiles of Cleveland Women and Girls