Lisa Spicer
Music & Family:
The Spice of her Life
Lisa was born in Brookpark Ohio on December 19, 1962, the fifth of seven children. "I come from a good Catholic family!" From just the first and simplest question, Lisa responds with the humor she is so famous for.
She is a Class of '81 graduate of Berea High School and in 1988 was married to Richard Busta.
Even the story of how they met is special. She was singing at Molly McDougal's and he was heckling. "I had the mic so I won." She was only 18 years old at the time ("I couldn't even drink in the bar I was singing in")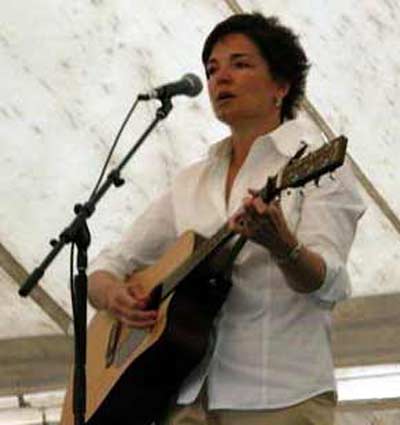 Lisa Spicer performing in Euclid
He asked her out but she said "no." But "he was cute and I liked him" and eventually no turned to "yes" and as they say, the rest is history. They dated for 5 years before becoming engaged and it took another 2 years after that before they were married. Rick has 5 diamonds in his wedding band - one for each year they dated.
He proposed on Public Square in front of the "H" in Higbees. The carolers were singing White Christmas, the theme of their favorite movie. From there they went to see the Nutcracker and "he expected me to be quiet during the whole show!"
They bought their first house around the block from her parents and her brother moved right around the corner. "Family should be close."
They have three daughters and the five of them make the closest thing to a perfect family one could ever expect.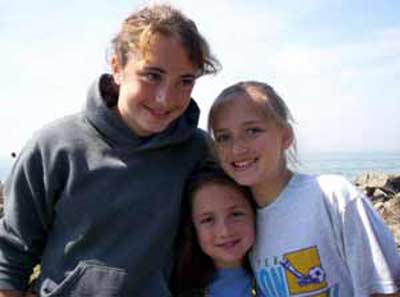 Lisa Spicer's daughters Hallie, Anna and Emily



Her 15 year old Hallie Elizabeth ("named after a friend, not the store") runs cross country and ranks 15th in the entire State of Ohio.

Thirteen year old Anna Kathleen plays soccer at Jackson Middle school and nine year old Emily Claire is into ice hockey. Emily is also the only girl on her team, but her skill and perseverance has made her an accepted (and treasured) team member.

Lisa herself still runs and exercises and Rich plays hockey. "I find that sports helps takes the focus away from some of the negative aspects of being a teenager and they learn some very important lessons from sports."

Lisa believes in going for the win and that children need to know that losing is not only possible, but probable, if you don't try and give it your best. "It is a great opportunity to get a glimpse into their future and the need to do their best and the consequences when they don't."

If you're wondering why you know the name "Lisa Spicer" it is most likely because of her beautiful singing voice and talent for performing. She started singing with her Aunt Pat at the Black Briar Inn in North Olmsted. Her aunt taught her all the old Irish songs and let her sing with her on stage. Lisa made her living that way for quite awhile.

Then for awhile she went to work for Smith, Weber, Swenton as a sales account executive, and just sang on the side. When she started having children she stayed home to raise them and just sang occasionaly, when it would fit into the family schedule. Her priority has always been family first.

She now works part time in merchandising for American Greetings; also a flexible job to accommodate her family schedule and still sings out whenever possible, usually 2-3 times a month. "When I was younger I had to work singing every Thursday through Sunday for sure. Now it is more of a happy hobby."

You may have heard her in such places as The Public House, Molly McDougal's in Huron or some of the local festivals; The Water Festival, The Irish Summerfest, The Irish Cultural Festival. She has also played at the Irish American Club, East Side and is currently at Mavis Winkles in both Independence and Twinsburg.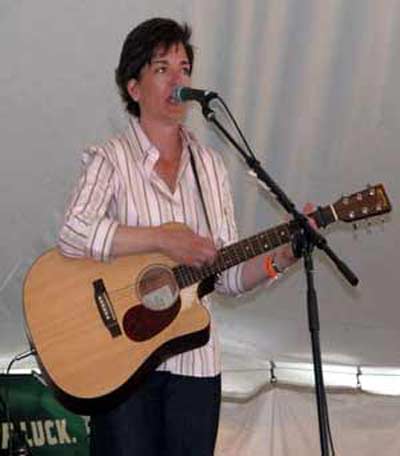 Lisa Spicer performing


Her music is not all Irish; she does a wide variety from Johnny Cash to Beach music. "It depends on who's sitting in the audience."

She also sang with the late Paul Quinn for awhile. "He's the one that taught me that singing wasn't enough. You must be an entertainer and work the crowd."

But it was really her Aunt Pat that was her total inspiration. "She is just wonderful. I love to listen to her - I always learn something."

You would think that the stress of every day life and raising a family could make it difficult to "turn on" the entertainer persona, but not so. "Most of my gigs are at least 40 minutes away. I take the time in the car to get in the mood so when I'm on stage I am genuinely happy to be there. I have a CD in the car that I sing along with to get the voice going. People come to hear me to have a good time and I want to give that to them. I think they would be able to tell if I was faking it - so I don't."

It also helps that her husband is so very supportive and helpful. "He'll come home early from work to help with the kids and whatever else I need so I can leave on time and in a good frame of mind. He is the best!"

For the last 16 years Rick has been with Smith Dairy as the Ice Cream Sales Manager. "It's like being married to Willy Wonka. We're always testing something new."

"I have the best job in the world. I get to sing! Sing - can you imagine how great that is? It's not like I'm out there putting toothpaste caps on toothpaste tubes - I get to sing!"

"I'd like to start my own business some day, maybe even go into rental properties. That doesn't really sound like fun though and my husband has always encouraged me to do what I love. "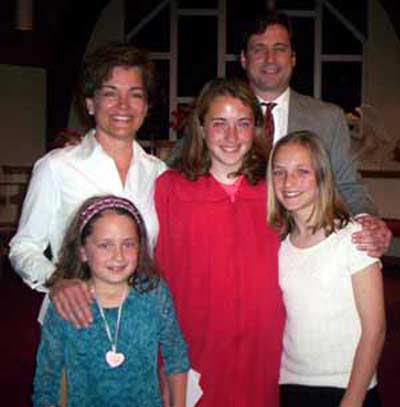 Lisa, Rick and their daughters



The term "family values" is bandied around a lot especially in political discussions. But it has true sincere meaning in the Busta household. Lisa and her family are devout Catholics. Her children are involved in faith based activities in their parish, "Little Flower."

They follow a lot of European customs in the family. For example, they have a traditional Slovak Christmas Eve dinner at their home (her husband is Slovak) "you know, with four kinds of pierogies and everything". And she says "pierogies" with the accent of a native.

A few years ago they "adopted" a young man who was a deacon preparing for the priesthood. The man was from Slovakia. When he returned to Slovakia for his ordination he invited the whole family - and they went!

First they stayed in the priest house and then in the convent and the family had a wonderful time. Fr. Peter Holliday is now assigned to St. Rose parish in Youngstown, but they stay in contact.

Lisa and her husband have never vacationed without their children. "We only have so much time to get them ready for this world. We need to be with them if we're going to prepare them. Plus, we really all like being together."

They have Friday night movie night. They put some sleeping bags on the floor, rent a bunch of movies and eat junk food. Lisa loves old movies (and disapproves of colorization). "My children can see the remakes of movies like Cheaper by the Dozen or Willy Wonka or the new Yours, Mine and Ours, but I make them watch the original first."

The family eats dinner together every night. It's a time that no matter what else is going on they are together. Sometimes that means they all eat at 8:00 or they have to bring a family picnic to someone's game; they are flexible. But one way or another, they have dinner together.

Lisa looks at her own parents as wonderful role models. "My mother taught me that we must leave the past to God's mercy and the future to God's providence. That leaves us with the present - or as they say - the gift, to concentrate on." She says she has absolutely no complaints "I am truly blessed."

Although her family is very active in sports and other things they do not want to be the family who is always running. "You know the ones where the days are scheduled right down to 10 minute intervals" She thinks it is just as important to be sure there is time to read a book or "agitate a sibling - it's part of childhood."

Lisa herself loves to read, as time permits. She usually has 2-3 books going at one time. She just finished reading Mother Angelica's Book and is currently reading Heaven in our Hands (about living the Beatitudes) and "Living a Life That Matters". She is thrilled that her children's school systems (Jackson) centers on the written word and reading.

Rick has built an ice rink in their back yard for the last 6 years. There is an 18 x 30' frame lined with plastic and then filled with water. The family actually plays ice hockey on it.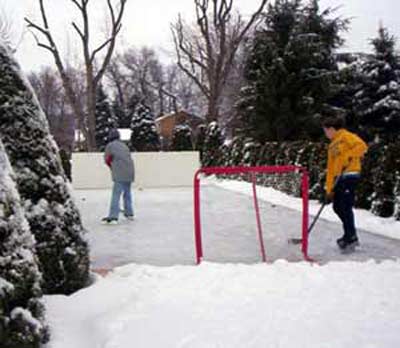 "We play music out the window, build a fire, have hot chocolate and play ice hockey. It's really wonderful. There are nets and everything."
They even have a sign from the old Greenbrier rink that lists the "Rink Rules" but she doesn't put that up, it stays in the garage. "It may be a little much for the neighbors!" She buys a bucket of pucks and then come summer time "the lawn guy usually finds them when he's cutting the grass!"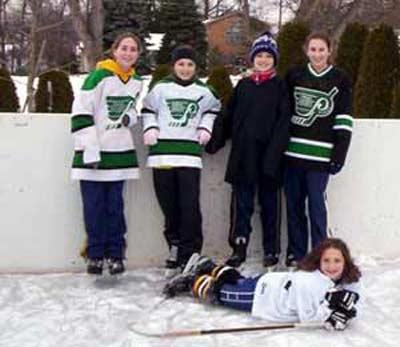 Maybe because her family life is so wonderful, Lisa is affected and saddened so much by children who have no opportunities. "In some cases the problem is financial but in so many cases it is because the parents don't bother."

She becomes angry with rude or stupid people who are quick to judge others by superficial and artificial standards such as race. "Maybe the worst is those people who would criticize or mock other people's religion in order to "support" their own."

Lisa chooses to surround herself with people she respects. As a result she is sincerely happy most of the time. Her husband and children always make her happy. She is also pleased to see simple solutions to problems brought about by people working together.

As an example she sites the Toys for Tots event she recently attended. The Marines and the families all got together for a wonderful-easy-no-politics event that will brighten the lives of thousands of children.

"Don't get me wrong though, I can be a curmudgeon - in fact my husband has nicknamed me "Crusty" because I can be so crabby. I am really working on having more patience." She also says she is a "stern bedtime person - except on Movie night."

Lisa is very hopeful about the future, partially because of all the blessings in her past (and present). "I have never had anything hard thrown at me. I have good health. I consider myself pretty smart. I have a nice house and have always had food to eat. And of course I have my family. I am truly blessed! And on top of all of that we live in a great country."

"I do not have the information to form an intelligent opinion as to whether or not we should be at war in Iraq. But I do know that I am eternally grateful to all the people fighting the war to keep terrorists away from my family. They are true heroes and I am just so thankful for what they are doing."

Another reason Lisa is hopeful about the future is because, simply put, "It is a sin to despair." She goes on to say "When you despair you are negating God's promise to us. People suffering lose hope when they see us despair. We must be ready for God to come for us whether it is now or in 20 years and we must maintain hope because we believe in His promise. Eventually, we will all suffer. When we maintain the strength we receive from God's promise, hope is the natural outcome."

Her number one job now is to "create hard-working, functioning, independent adults".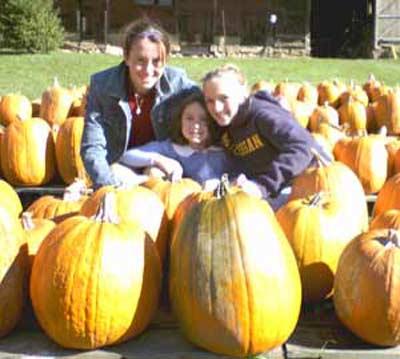 Lisa's daughters in the pumpkin patch


Lisa sits in adoration of the Blessed Sacrament at the Poor Claire Chapel, usually once a week. Catholics understand that when the Host is "exposed" a constant vigil must be kept. She would encourage anyone to come and experience the peacefulness and quiet as she mediates and prays.

You could say Lisa is a contradiction. She laughs and jokes and sings in bars. She loves Guinness (but only when she's performing) and just generally has a great time.

Then there's the Lisa who is 100% committed to her family. She loves her husband and her girls and there is nothing she would not do for them.Then there is Lisa the devout Catholic and spiritual person.

When you get to know her you realize there is no contradiction. She is the complete package. Each of her personas is entwined with the others and none would be complete on their own.

She is a remarkable woman who is blessed in many ways and is savvy enough to know it. She does not preach - she lives - and her life is an example to us all.

If you have the opportunity to hear her sing, be sure to take it. Even more important, if you have a chance to get to know her, don't miss out. Not only will she amuse you and entertain you she will truly inspire you.




Profiled by Debbie Hanson




Do you know somebody with an interesting story to tell?
E-Mail us at:
profiles@ClevelandWomen.Com






---
Top of Page
Back to Profiles of Cleveland Women and Girls