Red Hat Society
Greeting Middle Age
With Verve, Humor and Elan
It all started with a simple gift. Sue Ellen Cooper gave a dear friend, Linda Murphy, a copy of the poem "Warning" by British author Jenny Joseph and a bright red vintage fedora to celebrate her 55th birthday in November 1997.
"Warning" begins: "When I am an old woman I shall wear purple with a red hat which doesn't go and doesn't suit me" and continues on to state that aging can be filled with many frivolous and "freeing" moments.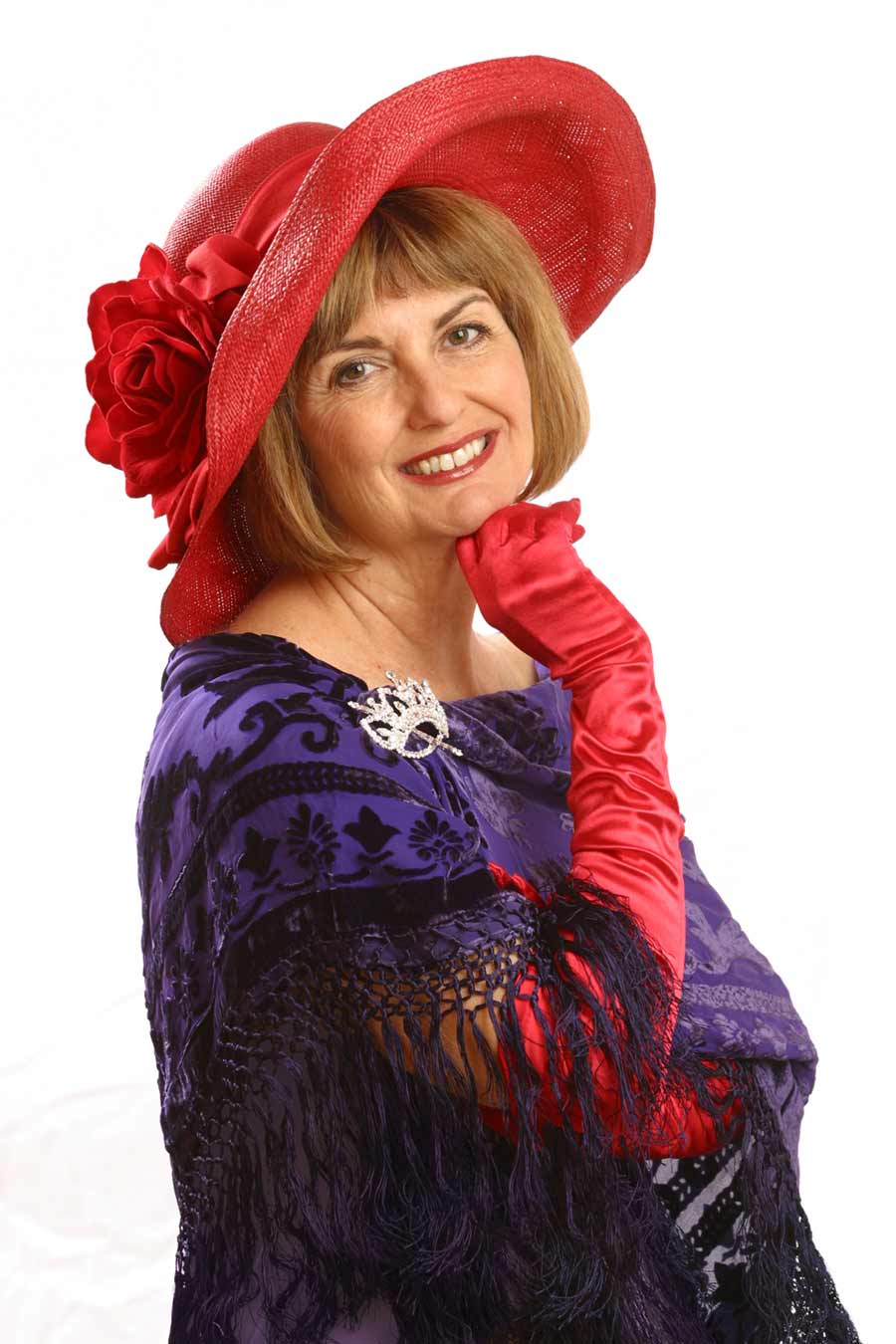 Since the poem mentions wearing a red hat and purple attire, she and her friends formed a group that met on a regular basis for tea in their red hats and purple dresses-in public, of course. The Red Hat Society officially formed in spring 1998 under Sue Ellen Cooper (pictured at left), who is fondly regarded as the Exalted Queen Mother.

The Founding Chapter, the first chapter, humbly formed in Fullerton, California with an afternoon tea. The second chapter formed in Florida.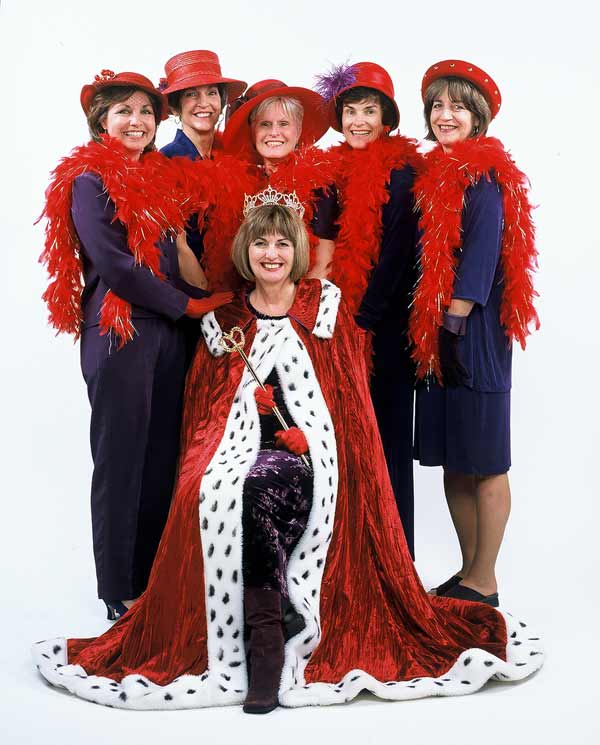 The Founding 6




When Sue Ellen and her friends were featured in Romantic Homes magazine in July 2000, they began fielding inquiries from other women who wanted to start their own chapters.

The Red Hat Society has an estimated 600,000 members and more than 25,000 chapters across the United States and in 20 foreign countries. Chapters follow no rules, believing that having fun and enjoying each other's company is what really matters as members age.

The Red Hat Society's motto is "Red Hatters Matter" and you will surely agree if you are able to spend just a few minutes with a Red Hatter.

The Red Hat Society has grown FUNominally fast and has been featured in national magazines Romantic Homes, Good Housekeeping and Women's Day, in addition to several regional editions of the Chicago Tribune, NY Times and the Boston Globe and hundreds of local newspapers.

In April 2002, the Red Hat Society held its first convention in Chicago with more than 400 Red Hatters in attendance. The second convention was May 2003 in Nashville and drew 2,000 Red Hatters. In April 2004 about 2,500 gathered in Dallas, Texas for the third annual convention.

The official website, www.redhatsociety.com, is the major form of communication between chapters and the Red Hat Society home office in Southern California.

Each chapter plans events according to their membership and size of chapter. It's estimated that each chapter averages about 20 members.

Membership is primarily women 50 years and older. Their full regalia includes red hats and purple clothing. Women younger than 50 are identified as Pink Hatters and wear pink hats and lavender outfits.

The demographics of the Red Hat Society is varied. Members include working women, grandmothers, retirees, golfers, attorneys and teachers as well as women who are widowed, married and single.

Since this is a no-rules "disorganization," the Red Hat Society has no bylaws to follow and they are thrilled about this!

Upon turning 50, a "Reduation" takes place where the pink hat is shed and a red hat bestowed.

Cleveland area chapters include:
'Of corsets' Red Hats and Fun! in Euclid;
Amazing Graces in Seven Hills;
Aqua Dolls in Parma;
BOACA (Babes of A Certain Age) in Olmsted Falls;
Blooming Violets in Wickliffe;
Celtic Hatters in Euclid;
Circle of Friends in Brookpark
and many, many others.
Not all chapters are accepting new members. To find a chapter near you, visit their website.

Top of Page

Back to Organizations for Cleveland Women


---