God Never Blinks
50 Lessons for Life's Little Detours
By Regina Brett


A friend in Louisville, KY forwarded me the first copy. She said, 'You have to read these life lessons written by an 90 year old woman."
I quickly scanned them and noted the name, Regina Brett, of the author.
Yes, it was the same Regina Brett who writes a column in the Cleveland Plain Dealer. I replied to my friend that yes the lessons were terrific but there was no way the author was 90 years old.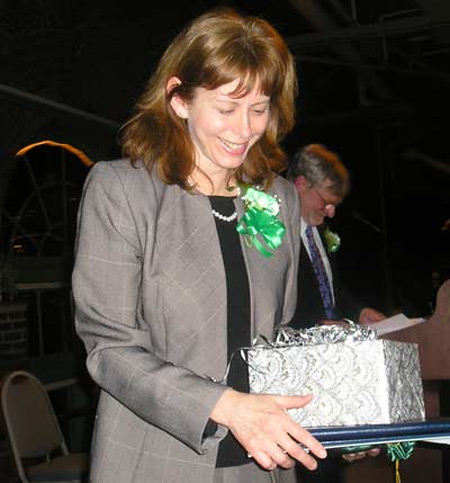 Regina Brett at Irish American Archive Society Walks of Life event in 2008



As someone who gets several hundred non-spam e-mails each day, I was not surprised that I soon received dozens of messages from people sharing this 'nonagenarian's' wisdom.

Maybe the original e-mail writer thought the message would be more interesting if it was written by a more experienced person. Whatever the reason, the important thing is the body of the message, not the age of the author.

Regina Brett wrote most of these life lessons when she was 45, and added 5 more for her 50th birthday. Though editors weren't thrilled with the content, readers couldn't get enough of the simple but powerful lessons. God Never Blinks: 50 Lessons for Life's Little Detours
consists of the 50 life lessons, expanded beyond a single line to 3 or 4 pages each.
Much of the power of the lessons comes from Brett's personal experience. She didn't have a silver spoon life. She was one of 11 children in her family. She had drinking problems in her teens, became a single mother at 21 and got breast cancer at 41. In between she has had other familiar trials and tribulations that life brings to most of us.
Since the author is a woman and the book delves into her personal life so deeply, many of the lessons are framed as if for a female audience. But the same lessons apply to the guys - maybe just in a different way.
Lesson 1 is 'Life isn't fair, but it's still good'. Brett talks about seeing a baseball cap at a chemotherapy session that said Life is Good. The cap's owner was a house painter who learned to be grateful for everything. So instead of "I have to go to work" he thinks, "I get to go to work." The "get to" approach works in all aspects of life. Try it.
When the author's hair grew back she eventually gave the 'lucky Chemo hat' to a friend with cancer and the hat has been passed around to countless people since then - all with great results.
Each of the 50 lessons gives a glimpse at how it affected the author. Often this will be directly relatable to something in your own life.
I had expected to read a few of the lessons and skim the rest. After reading the first few I decided to read all of them - one each day. But in the end, I read them in several large bunches as I didn't want to stop and was eager to see what the next lesson might be.
Whatever your approach to reading the book, you will find some ways to improve your life and your relationship with the people you share it with.
A great read from a 90 year old (make that 50!) first-time book author.
---
---
Top of Page
Back to Books for Cleveland Women and Girls