Live like your Nail Color
by Mary Foley

Mary Foley retired at age 33 from America Online, where she started 10 years earlier as an $8 an hour customer service rep. During those years she learned that being bodacious was the only way to thrive as a woman in business.
Now a popular speaker and author, Mary has been providing career advice for ClevelandWomen.com visitors. Her popular Your Bodacious Career columns are available here.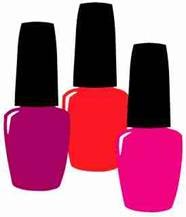 She also discovered how to live life passionately - like her vibrant nail polish colors. In this new series of columns, Mary will teach us how to live life like our nail color.
The series begins as follows: "It happened one day five years ago totally unexpected. At the time I usually sported "naked nails" except for special occasions. That night was one of those special occasions.
I had a business party to attend where I wanted to look my best, all the way down to my fingertips. I snuck in a late afternoon manicure, and took a sorely needed break.
To me, the best part of getting your nails done is watching your plain, ordinary nails that blend into the rest of your hand suddenly transform into these wonderful bursts of color. The worse part of getting your nails done is waiting… for … the … nail …. color …. to …. dry. Ugh.
In an attempt to keep my mind busy, I turned my attention to the bright new bottle of nail color I just purchased. It was this delightful combination of hot pink and red. "What was this color called?" I wondered.
I picked up the bottle, turned it over. The label said "Wild Berry." Immediately I thought "Wild Berry! I so want to live like my nail color - full-up on passion and energized about life!
I want to feel wild about myself and what I'm doing with my life. I want to feel more confident. And I want to have more fun!"... (continued in 4 Steps... below)
---
4 Steps To Living Like Your Nail Color
& Making Mamma Happy

Naked Nails
Help You Keep in Touch with Your True, Authentic Self

Why Base Coat is Important
For Your Nails & Your Life

Taking the Fear Out of Change
One Nail Color at a Time


---
About Mary Foley
Mary Foley, author of Bodacious Woman: Outrageously in Charge of Your Life and Lovin' It!
, speaker and founder of the Live Like Your Nail Color Women's Club, aims to inspire more sanity, confidence, and fun in every woman's life.
You can be inspired, too! Grab a copy of her audio "Live Like Your Nail Color - Even If You Have Naked Nails" today at her fun site www.LiveLikeYourNailColor.com.

---
Top of Page
Back to Self-Improvement - A Better You for Cleveland Women and Girls