Doris O'Donnell
Front-Page Girl
There was a time, before the Internet, when reporters actually went looking for a story; talked to sources; did research and met deadlines. It wasn't even that long ago.
One such reporter was Cleveland's own Doris O'Donnell. She is an amazing woman with an even more amazing story to tell. It is the story of trips to Moscow, crime scenes and suspense. It is the story of her venture into a male dominated world of smoke filled rooms and back room deals.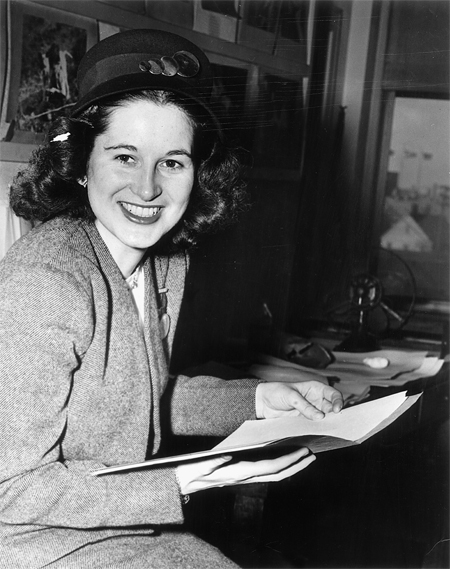 Reporter Doris O'Donnell
Image courtesy StoryWorks.TV



A world in which, at the end of the day, she conquered and still managed to remain a lady. Never having her credibility questioned or her ethics doubted; Doris O'Donnell was one of a kind.

Doris was born ninety years ago (1921) to what could be called a standard Cleveland family.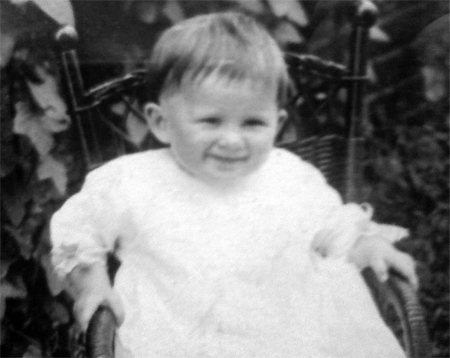 Baby Doris
Image courtesy StoryWorks.TV


Her father was a Cleveland fireman. Her mother ran a business and was a Democratic Ward Leader. Her family heritage was Irish, more specifically Bulmuril, County Mayo, Ireland.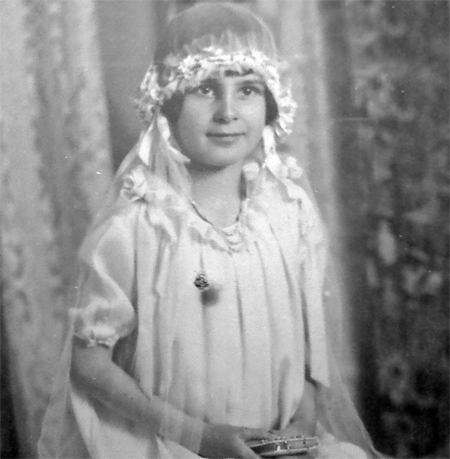 Doris O'Donnell First Communion
Image courtesy StoryWorks.TV
They all had a sense of responsibility to each other and to their community. Doris attended Sisters of the Precious Blood School and in 1944 graduated from Cleveland College.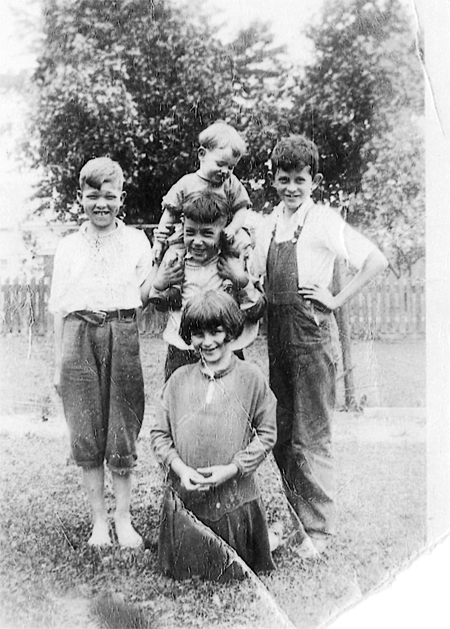 Tomboy Doris in 1930
Image courtesy StoryWorks.TV
She didn't wait for graduation to begin her career in news reporting. She says there was little doubt this was what she was going to do with her life. She describes herself as curious. "Some would say nosey - but I like to think it is curiosity." When she realized she could make a living asking questions and writing about what she discovered - she was hooked.
In 1936, when she was only 15, she covered the Republican National Convention for her school paper.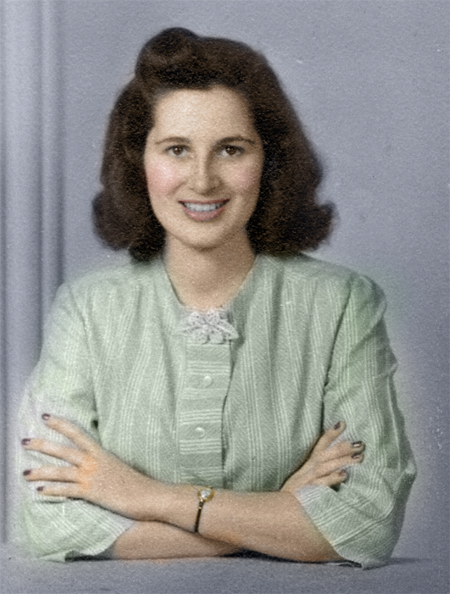 Doris O'Donnell in 10th grade at Rhodes High School in 1937
Image courtesy StoryWorks.TV
Immediately after graduation from college she went to work for the Cleveland News, starting what would become a 63 year career. Women were just started to be taken seriously as journalists. Of course as determined as she says she was, if they had not allowed her in she might have become the papers most formidable competition.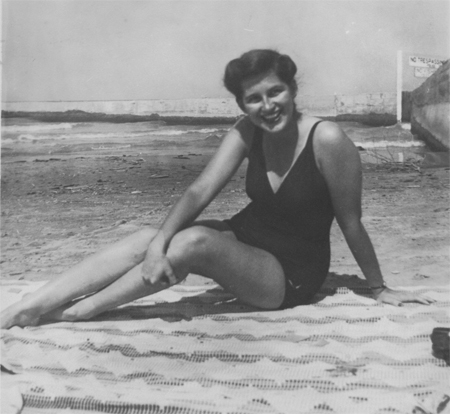 Doris O'Donnell in Rocky River in 1942
Image courtesy StoryWorks.TV



As an employee of the News and Plain Dealer, Doris was not a fan of the Cleveland Press ("I had some other reasons too") but she still admired Louis Seltzer for his foresight in dealing with ethnic groups and nationalities in the area, He had two employees Eleanor Prech and Theodore Andrika who did nationality columns.

"He knew how to handle Cleveland. Every church at that time had a nationality attached to it. Every neighborhood was defined by nationalities. Every summer he would send Andrika and Eleanor to Europe to look up the grandparents and relatives of people from Cleveland. They went to Slovenia, Czechoslovakia, and Poland. They stuck to mainly eastern European because other than the Irish and Germans, the Polish, Czech and Slovenians were the largest group in the area. They came back with the most interesting stories and messages from the "homeland" and their circulation among the nationality people just soared."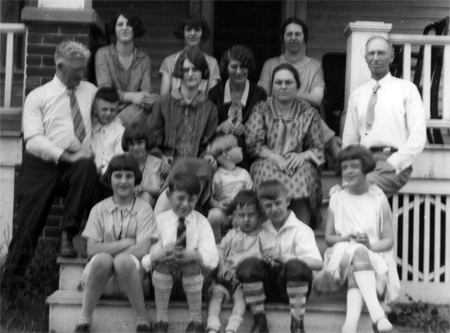 Doris O'Donnell family in 1938
Image courtesy StoryWorks.TV


Doris says it wasn't until Alex Machaskee put Bill Miller on the nationality beat at the Plain Dealer that the Plain Dealer really "blossomed" in the ethnic communities. Doris remembers when Bill Miller retired at a party at Donaschwaben in Parma. He got up to say thank you and "it turned into a long speech. He called everyone by name and the gifts just kept coming. And I thought, how smart that the paper recognized the importance of the nationalities. But they don't do that anymore."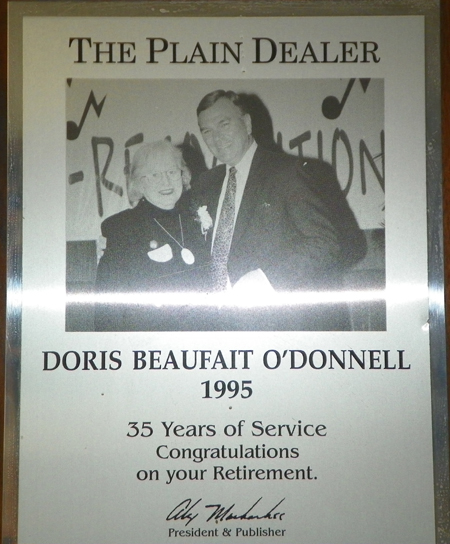 Doris O'Donnell and Alex Machaskee - Plain Dealer honor



Doris feels forlorn at the change in the paper and doesn't expect any newspaper to be around much longer. "There is no meat to the stories; no substance. It just makes me sad."

Doris retired in 1996 after 64 years in the business. Of course when she started there were no computers and she didn't think she wanted to take one into her retirement days with her. But a friend who was a stringer at the Plain Dealer took her around to various computer stores, taught her the lingo and helped her decide what she wanted. She not only wound up with a computer but uses it daily and is quite adept at it. "I just love going on Google and looking things up. I used to go to libraries like crazy… I still do sometimes, just to go. But the computer is just wonderful."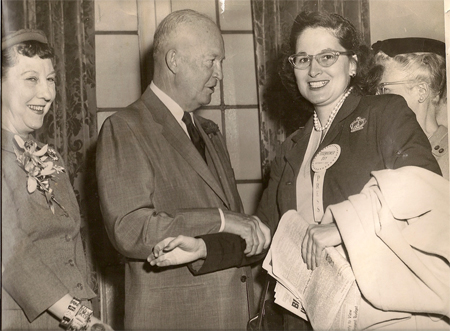 Doris O'Donnell with president Dwight D. Eisenhower
Image courtesy StoryWorks.TV



She loved to go to the office everyday - and loved to work with people. She's not too fond of the concept of working from home because she thinks people need that camaraderie of an office. "The first few hours of a newspaper office people are swapping stories before they go to work."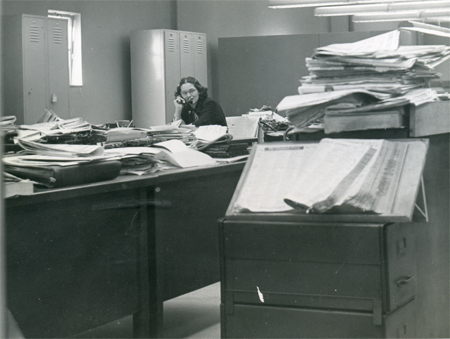 Doris O'Donnell working in the City Room
Image courtesy StoryWorks.TV


She likes to shop the small ethnic stores for her food and sometimes the West Side Market. "Isn't it fabulous!?"

When Doris retired there were a couple of things she wanted to do - and she did them. Case Western Reserve University had an off campus course in non-fiction writing in Gates Mills. She joined that and found it to be absolutely marvelous. "Everybody had such amazing stories from their life. There was a man who had worked in Riyadh in South Africa and a woman who as a child had been in the buzz bomb bombings in London - everybody had vignettes from their life".

Doris had many vignettes from the stories she covered because as a newspaper reporter she only had the opportunity to write the basics - just the facts without human interest or emotion. This was a wonderful opportunity to tell the rest of the story.

On the advice of a friend, Doris contacted an author by the name of Jim Badal who wrote In the Wake of the Butcher: Cleveland's Torso Murders.
They had "a five hour lunch" and discussed the murders and her vast knowledge of them. Her uncle, Marty O'Donnell, was the sheriff during the murders. She told him she wished they had gotten together before he published his book. He suggested she write down her memories and send them to him - which she did.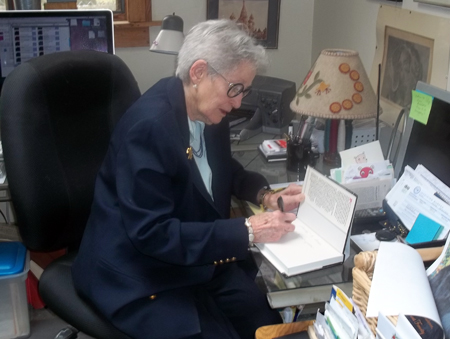 Doris O'Donnell working in 2011



He sent them on to his editor at Kent State Publishing who quickly called Doris and said "You're writing a book." Doris told her she was taking a class, but was still a reporter and wrote like one. The editor gave her ideas on how to put her thoughts into chapters and Doris wrote 39 chapters and 350,000 words. "I just wrote everything I could think of!"

They worked together for a long time and eventually worked out to 22 chapters and the result was Front-Page Girl
.
Doris had amazing assignments. For example, on assignment, she joined the circus in Circleville, Ohio where she got to ride an elephant in the Grand parade. She went to Dallas to cover the Kennedy assassination and remembers the police department being "just awful because I was a northerner."
Her style was to go to the source. "I never liked to write a story when I didn't get to meet the people - to see the house, the look on their face - It was so much fun! And of course, that is where the real story is."
The Beverly Potts Abduction was a huge story for a long time. Beverly Potts was a young girl who went missing on the West Side about 1951. "She had been at a party in Halloran Park, which was in her neighborhood. The Cleveland Press used to have a show wagon that would go out to the parks every summer. It started about 5:00 until dusk. She went up on her bicycle. She was with another girl and the two of them took their bicycles home and walked back. That was the last anybody ever saw of her."
"They never did find her. We would all go there every day and of course after awhile the family wouldn't talk to us anymore. The neighbors set up little parlors on their front porches with tea and cookies because our editors told us not to leave because something was going to break." Unfortunately nothing ever did and after about six months Doris and the rest of the reporters packed up and left.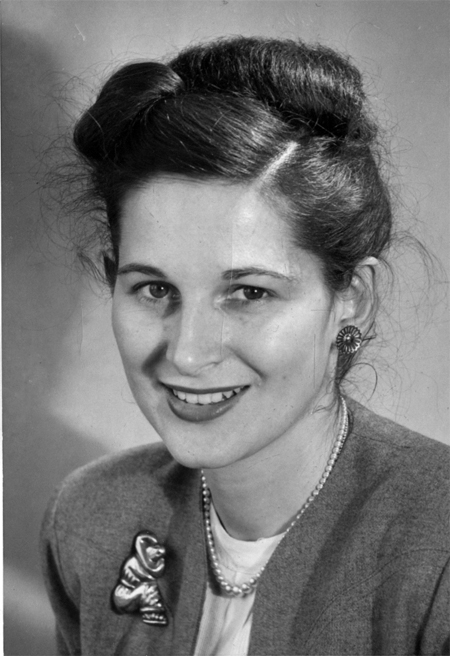 Doris O'Donnell in 1958
Image courtesy StoryWorks.TV



When Channel 25 was becoming unionized a lot of people were fired including Jim Badal. By this time Doris and he were good friends and she often helped him with background information. He and two friends came to see her and explained that now that they were no longer with Chanel 25, they were going to start a company. They wanted "to get a project started to see if we could peddle it to some TV station. They would come out for five or six hours at a time asking questions and videotaping."

Channel 49 picked it up and has shown eight segments of "Doris O'Donnell's Cleveland". The station is looking for eight more. The stories covered everything from Rosie the Riveter to Dennis Kucinich to the Glenville Riots, the Indians, the Golden Age of Print and The Day Marilyn Died (The Marilyn Shepherd story).

Let's look at a few of her more intriguing stories.

Princess Elizabeth before she was Queen

To Russia with Questions

On the Trail of Sirhan Sirhan's Gun

As Doris was planning to leave California after discovering how Sirhan Sirhan got the gun that killed Bobby Kennedy, her editor called again. Instead of heading back to Cleveland the Plain Dealer wanted to send her back to Los Angeles. This time they told her "Jim Brown, the football player, just threw his Chinese girlfriend through the glass door of a second floor apartment."

Doris said "no" - "I covered his trial in Cleveland when he raped a 16 year old girl and he called me every name he could think of and I ain't going down to cover any Jim Brown story. Get the AP to cover it."

"My husband and I cheered for the Browns many times - but never for him."

When it comes to heroes and villains she names Jim Brown and adds "I don't think Sam Shepherd is much of a hero either. He wanted to get rid of Marilyn so he could marry Susan Hayes."

Doris sat front row for every day of the Shepherd trial. "No doubt he was guilty...Marilyn should have killed him!"

Competition in those days was really tough. A lot of the news in those days came from the Labor Beat. Some papers even had a labor editor. "There were strikes and damage and fights. The Police horses would go out and that was big news in those days."

"In the hay day there were all these neighborhood groups…. Community Groups. The blacks had a community group and that's how I got to know… Leo Jackson, George Forbes… They were really good meetings… very helpful to the communities."

Doris attended the meetings. When she went to the night meetings she would bring one of her big Newfoundland dogs with her.

Then the Hough Riots came along. At the time there was only one black reporter working at the Plain Dealer. They asked him to cover story and he said no, "I work for Whitey." They asked a Jewish reporter to go and he said no, "My dad owns property and I collect the rent" So they went to Doris and she said okay.

She called George Forbes and asked him to meet her there and he did. "The tanks were still on Hough Avenue and the three of us [Doris, George Forbes and another councilman) walked through the middle of the street." They knew there were snipers on the roofs. "Buildings had been burned and on one building there was a big placard on it that said "Soul Brother". We went in and I remember George Forbes introduced me to this guy and said I was half-soul. But it was really scary. It was a very tough time."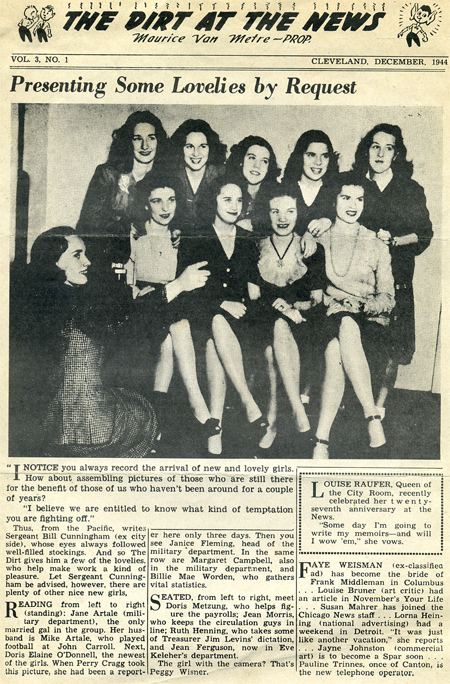 Women reporters were big news in 1944
Image courtesy StoryWorks.TV



Being a woman had its plusses and minuses in the world of newspapers. Doris was never one to let her femininity keep her from doing whatever she wanted and going wherever she needed to. But the atmosphere in the news room was not always woman-friendly.

When Frank Storey was police chief she remembers he never asked her to sit down. "Not a big deal, but noticeable. When you're on the police beat you're treated as kind of a freak. But after awhile it changes. I really liked Frank Storey, he was a good chief."

"I never really felt the discrimination. Marge Algie (Society reporter for the Press) and I were often asked to speak at career days and the question of gender based discrimination always came up. Neither of us really felt it. It was a little different for her because she covered society and people were publicity hounds and really wanted her there." Doris never wanted to tell aspiring young female journalists that there was gender bias because she didn't want to discourage them.

Note: Think a woman reporter couldn't compete in a man's world? Look at these photos from Doris' amazing career.
Doris O'Donnell at work - photo page

She remembers one of her first jobs at Union Bank of America. "If any of the female workers became engaged they were not allowed to wear their rings at work or announce their engagement in the paper. Isn't that amazing? Things have changed so much."

She travelled with the Cleveland Indians for awhile and was thrown out of not one but two press boxes. The teams' manager (the opposing team, not the Indians) told her to "go home and make babies."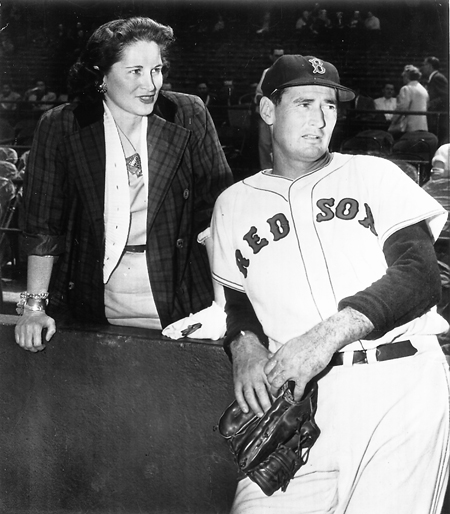 Doris O'Donnell with Ted Williams
Image courtesy StoryWorks.TV



Doris got married in 1957 to Howard Beaufait, the City Editor for the News. They were both Catholic. He had been married before and had three children. "All I told him was the only place I was getting married was in the Catholic Church. I told him he had to work out his problems and if it was worth it to him - fine."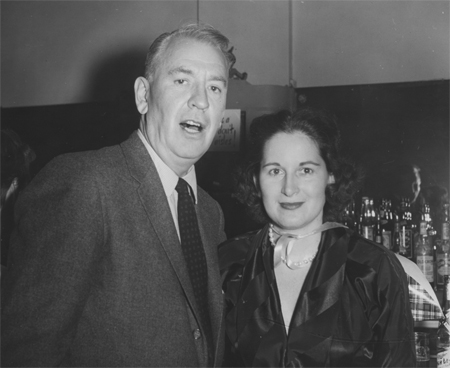 Howard and Doris at the Press Club in 1957
Image courtesy StoryWorks.TV
He met her in New York after her return trip from Russia. "I think he was surprised I was still alive." He eventually was able to get before the Diocesan tribunal and the long process of annulment began.
"At this time, Bill Veeck married Mary Frances Ackerman at St. John's Cathedral. She had never been married, but he had been married three times. Monsignor Smith was marrying them in the Cathedral. So I called Monsignor Smith and I said 'how come?...We're going through the tribunal and you're marrying him without going through the tribunal" Shortly thereafter Howard and Doris were married in St. John's Cathedral.
Howard was 20 years older than Doris. They were married for 22 years before he died in 1979.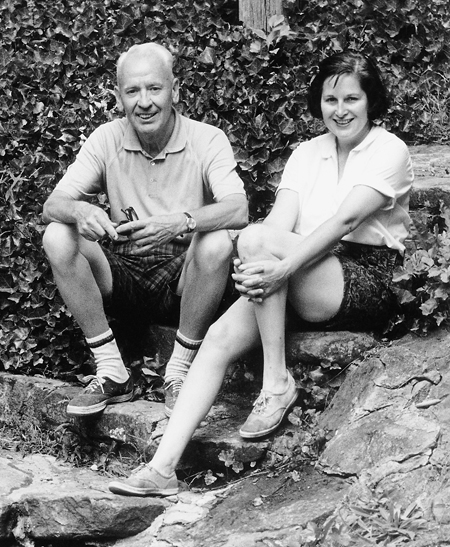 Howard Beaufait and Doris O'Donnell
Image courtesy StoryWorks.TV



If Doris were covering the Cuyahoga County corruption story today she would be asking "Why did we endorse them for 17 years without knowing what they were doing? When I covered City Hall, we could go to any official's home. Did anyone ever go to Mr. Dimora's mansion to see how he lived? ... I don't think [reporters today] bother to know and I don't think they have editors who make them do it."

Doris has lived a full and exciting life and has no plans to slow down any time soon. She never did actually retire. She just stopped going to her job every day. "I loved every minute of my life."

She loves Newfoundlands and she always has at least one, currently there are two. They are registered so their full names are Erin of Bulmulit and Rory of Bulmulit (Bulmulit being her ancestral home in Ireland)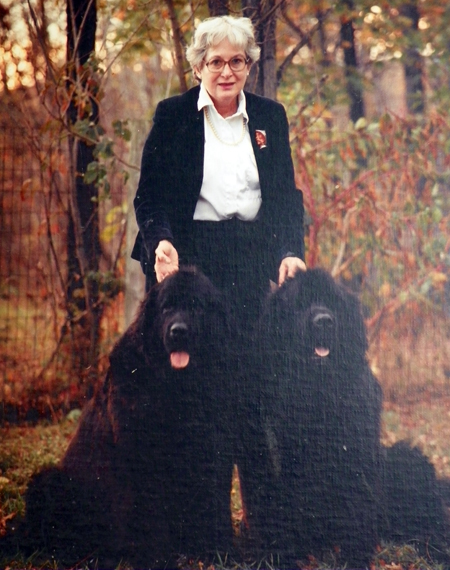 Doris O'Donnell with her Newfies



Doris has an amazing work ethic and respect for the written word. She was a very conscientious writer. Even in her book, she was careful not to write things that would hurt people "Even when the person is already dead, the family is still alive and the printed word will last forever."

She expects the highest level of accuracy and truthfulness from reporters. She, in turn, made sure she always provided the same.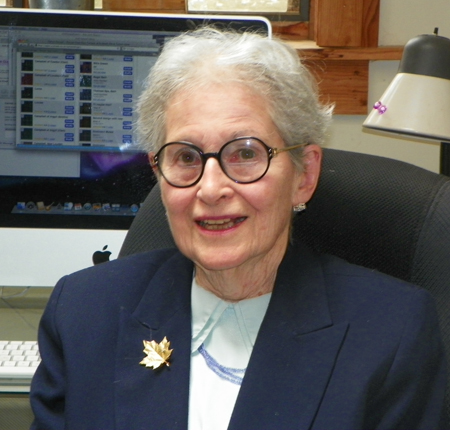 Doris O'Donnell in 2011



Voltaire challenges us to "Judge a man by his questions rather than by his answers". Doris always asks questions and her next step is driven by the responses. There is no end to her curiosity and no end to the trail she will follow to get all of the answers she needed. She has a vigorous mind - one that, to this day, she uses to great capacity.

At all times, Doris was and is a lady and a kind, considerate person. Her stories were never exposes nor were they mean-spirited. She was on a mission to report the news and she did it with class and grace.
---
Princess Elizabeth before she was Queen
To Russia with Questions
On the Trail of Sirhan Sirhan's Gun
Woman Reporter at Work - Photo Page
---
Profiled by Debbie Hanson - April 2011
---
Doris passed away Sunday September 27, 2015 at the age of 94. RIP Doris.


---
Doris O'Donnell's advice to young writers in an age of TV and Internet.


---

---
Top of Page
Back to Profiles of Cleveland Women and Girls