Sister Dorothy Kazel, OSU
1939-1980
Dorothy Kazel was born on June 30, 1939 as Dorthea Lu Kazel to Lithuanian American parents, Joseph and Malvina Kazel, in Cleveland. In 1960 she joined the Ursuline Sisters of Cleveland and took the name Sister Laurentine, in honor of an Ursuline martyred during the French Revolution.
Dorothy taught for several years and later became involved in ecumenical and interracial community programs.
She was teaching at Beaumont School while discerning her call to join the Cleveland diocesan mission team in El Salvador. She did so in 1974.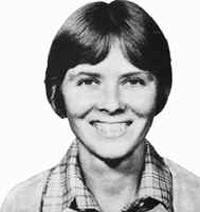 The mission team's main tasks had parishioners and preparing people for the sacraments, but that changed by the late 1970's because of increased repression and political violence. Dorothy wrote home about the corpses that were being found daily along the roadsides and described the mutilations as "sick, demonic."
While the danger of the repression was closing in on the mission team, Dorothy and the others wrestled with what they should do. On October 3, 1980, she wrote to a friend, "We talked quite a bit today about what happens IF something begins. Most of us feel we would want to stay here...We wouldn't want to just run out on the people...I thought I should say this to you because 1 don't want to say it to anyone else - because I don't think they would understand. Anyway, my beloved friend, just know how I feel and 'treasure it in your heart.' If a day comes when others will have to understand, please explain it for me."
On the evening of December 2, 1980, she and Jean Donovan got into their van and drove to the airport outside San Salvador to pick up Maryknoll Sisters Ita and Maura, returning from their regional assembly in Managua. Tragically, on the way home, soldiers raped and killed the four women.
December 2, 2010 marks the 30th anniversary of the deaths of 4 American women missionaries in El Salvador, including Cleveland Ursuline Sister Dorothy Kazel, and a Cleveland lay missionary Jean Donovan.
Please honor the memory of these faith-filled, dedicated, and courageous women and pray often for missionaries and the people they accompany.
---
---

---
Top of Page
Back to Cleveland Catholics
Back to Cleveland Women Personalities