Eliza Wing
Following Life's Path
to Happiness & Success
It wasn't a direct path that brought Eliza Wing to Cleveland. She was born in Manhattan and spent the first five years of her life living in France. From France she moved to Philadelphia. Then from ages 13-18 she lived in Oxford, Ohio.
Her father was a professor of French and as a result she grew up surrounded by very scholarly people. "There were always these highly intellectual conversations going on." The conversations made her curious and eager to always be thinking and planning and strategizing.
She married Jim Henke, who was music editor of Rolling Stone Magazine at the time. He is now the Curator of the Rock and Roll Hall of Fame. Henke is the father of her 2 children and although they are now divorced and Eliza has remarried, they remain good friends.
Eliza has two sons. One is a sophomore at Bay High School who is very creative and political, loves to write and plays guitar. Her other son is eleven years old and has turned her into a "Hockey Mom." He is also involved in the Boy Scouts.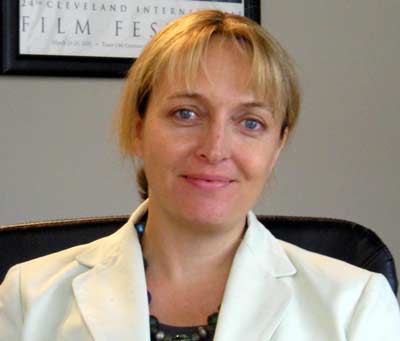 She feels lucky to have been able to experience life on both sides of the fence - a full time mother, and a working mother. She sees great advantages in both.

Having a job that keeps her local and not having to travel is essential to her.

"My work is not my life, but I am certainly passionate about it."

When Eliza was in her 20's she was doing clerical work that didn't satisfy her. She had an internal struggle that was forcing her to move on. But she learned an important lesson. "Patience really is a virtue. You can be ambitious and still do filing. For some it is the beginning of a path. For others it is the path. Either way, the filing must be done."

Eliza brought her background and philosophy into her business life. She knew she wanted to write, but not necessarily be a journalist. She never actively sought out role models as a child.

Her dream job was to write for Esquire Magazine, which, in the early 80's was highly esteemed for its literature department. But she was denied the job because she was "over qualified."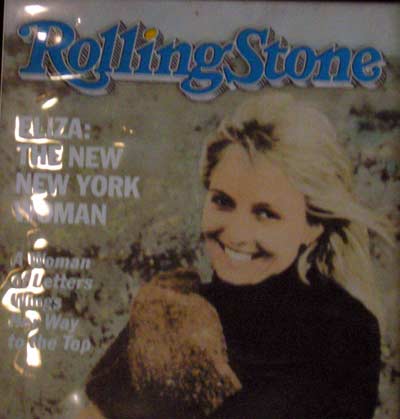 "Eliza: The New York Woman. A woman of letters wings her way to the top."



She went to work for Rolling Stone Magazine where, as a reporter, she interviewed everyone from Mary Chapin to The Horse Flies to Mary Black. She experienced Rock and Roll on a level few people have and she loved every minute of it.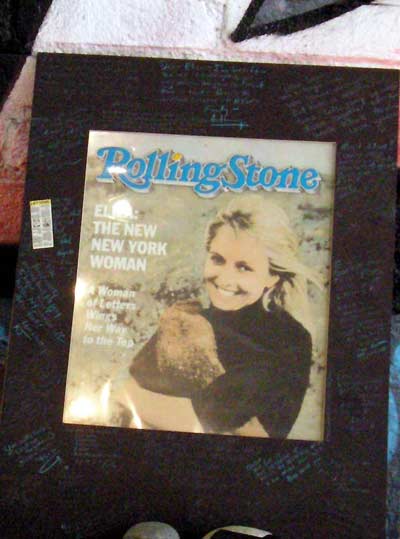 Eliza Wing - On the (not real) cover of the Rolling Stone



When it was time to move on, Eliza went to New York Woman, which was run by Betsy Carter. She found the atmosphere to be "hyper-female" that is to say very "touchy-feely." "Now we can joke about it."

She found Betsy Carter to be one of the smartest, funniest, most nurturing women she has ever known. Ms. Carter has recently published her second book, The Orange Blossom Special
.
Eliza learned a lot about leadership from Ms. Carter. "As a leader my role must be caring and personal. Betsy Carter always showed me there had to be a balance in the leader's role that includes time for goofiness." It is not an easy task to understand the charisma behind being a good leader, but Eliza seems to have mastered it.
Eliza took 6 years off after she left New York Woman to raise her child. After she had her second child she waited until he was 18 months old to return to work.
She came to Cleveland with her husband and family because Henke was offered the position at The Rock Hall. She went to work for the Plain Dealer and learned volumes from her mentor, Bob Long, Executive Vice President of the Plain Dealer. She quickly went from the Editorial Department to the person running the Plain Dealer's online service.
Eliza is now the president and CEO of Cleveland.Com the largest website in the state of Ohio. "Of course, this industry didn't exist when I was a child." As the very qualified head of this major on-line news source, Eliza is consulted, quoted and courted by people in all aspects of Cleveland business.
She has led panels, participated in seminars, moderated debates and chaired events in areas from women in business to the role of Internet news service. Running an on-line information source the magnitude of Cleveland.Com gives her a very powerful tool right at her fingertips.


Mural in the Cleveland.com office



She sees the role of Cleveland.Com as promoting Citizen Journalism, meaning that the site reflects the people in the community: their interests and their input. Under Eliza's direction the site is working more and more with local bloggers.

All of her career paths have some characteristics in common. She has an amazing work ethic and surrounds herself with people with the same values. She is always at the top of her game - and again, expects those around her to be as well.

Eliza is extremely family orientated and makes sure the workplace is as well, even if that means a great amount of flexibility in schedules. "You can not expect people to be on the top of their game in the workplace if their mind is on an issue at home."

"I don't think of myself as successful but when you love what you do and reflect it back to people around you and respect everyone you are in contact with, success will find you."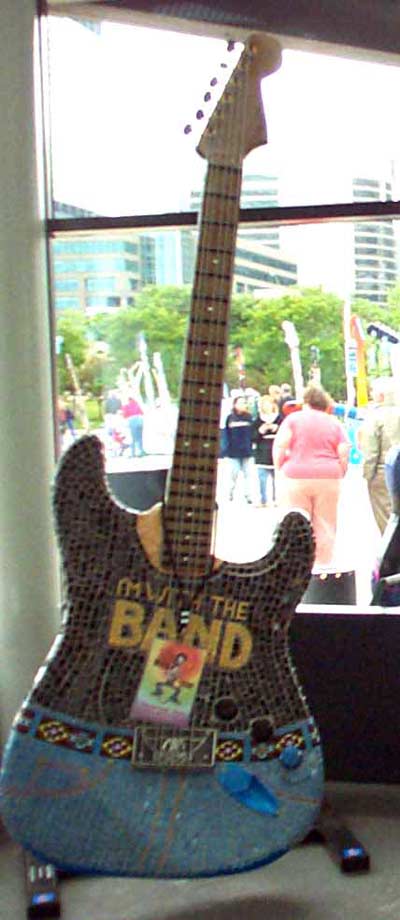 Cleveland.com guitar from Guitarmania
at the Rock and Roll Hall of Fame



Eliza feels an integral part of her work and home life attitude is change. "You must be excited about change and actually embrace it, not fear it or avoid it."

Her life is very fluid, allowing room for change and growth and never remaining stagnant.

She'd be happy to stay with Cleveland.Com until she changes her path and retires. Staying in her present business and embracing change may sound like a contradiction, but it's not. There is so much she wants to do in her present position, and so many paths her position there can take her down, that it is change in itself.

She would love to see the day that there was a computer in every home, but fears that is very far off. "There are people right now who can't have a refrigerator to keep their food cold, so a computer is not a priority. But I look forward to the day when it can be."

She has always been acutely aware of what is going on around her and has never been afraid to jump in. Like all of us, she has a comfort zone, but she spends most of it stretching beyond it.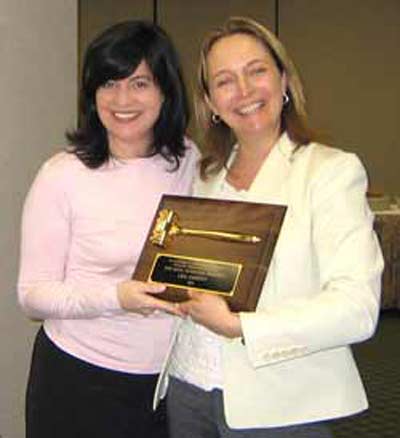 Lisa DeSisto (left), vice president and general manager of Boston.com and outgoing president of the New Media Federation, receives a commemorative plaque from incoming Federation president Eliza Wing. Photo by Melinda Gipson/Newspaper Association of America.



"I think if a person wants to succeed they must be willing to go beyond their job description."

When she first started working, the company she wanted to work for had no openings. She volunteered to work for free because she wanted to get her foot in the door. Three weeks late she was hired.

"You don't deserve anything - you must make your own way and earn anything you get."

Eliza is deeply into Buddhism, yoga and meditation. "That triumvirate has given me more focus and patience than ever before. It has helped in all aspects of my life."

A major lesson that she has learned is to be silent. "It is not always important to manage the conversation."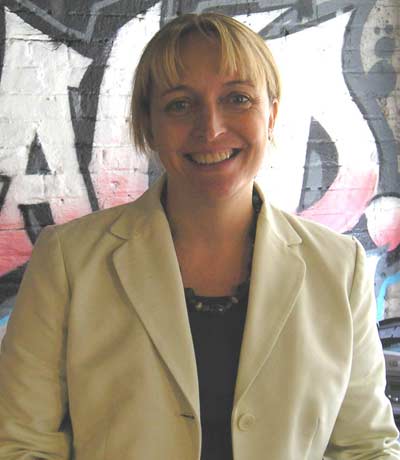 Eliza Wing



In Eliza's role as mother, wife, business leader and individual woman she must don many hats. Since each role is of utmost importance, she must also wear them well, giving each the respect and attention they are due. Eliza handles the task well - like the expert she is.




Profiled by Debbie Hanson



Do you know somebody with an interesting story to tell?
E-Mail us at:
profiles@ClevelandWomen.Com






---
Top of Page
Back to Profiles of Cleveland Women and Girls