My Grandma Sweeney
Margaret Mason Sweeney
God how I loved her.
Her's was the first death of someone close to me and I think it made one of the greatest impacts on my life I have ever experienced.
Grandma was born right here in Cleveland. Of course her birthday meant nothing to me but I will never forget October 25, 1946 - the day she physically left us to be with God. I was in my junior year in high school. She was living with us then and she and I were very, very close.
I know little about her life before I was about six or seven. I do however have some facts. She was the oldest of five children. She married John Sweeney and had seven children. Four daughters and three sons.
They all went to Catholic schools and became upstanding citizens. So therefore I have come to the conclusion that she was a wonderful mother as well as grandmother. Grandpa Sweeney died when I was in grade school and I remember very little about him.
She lived in the corner apartment upstairs of a building they owned. I was born and raised on the same street. They had several suites in the building and from time to time one of her children or a relative from Ireland would live there as well (we still own the building and work out of it everyday).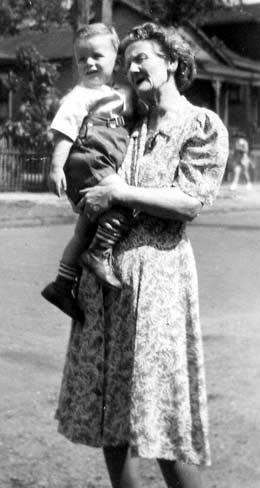 Not the best likeness, but I treasure the few photos we have



Grandma Sweeney was a cultured, poised women and far ahead of her time. Most women back then spent their time baking and sewing and doing grandmother type things.

She was an avid reader and very astute to the workings of government and politics. God, family and country. I remember her daughter Catherine who worked in the Federal Building downtown getting on the bus on her lunch hour most days with either a stack of library books or different colored yarns for Grandma's afghan.

She was very true to her political party and even when someone ran whom she couldn't stand, she felt she had to vote the straight party ticket.

I often would go upstairs to see her. She was so interesting to listen to it was easy to lose time. My mother would have to call me home for dinner.She always said we would take a trip to Ireland together. It never happened but the conversations about our plans far exceeded what the trip could have been.

She was a great storyteller. When I was in high school I'd get off the bus across the street and she'd always be there in the window rocking and reading and we'd exchange waves. I wish I had stopped more often than I did.

Like I said she was not the grandmotherly type. I'm sure she loved us all deeply but she did not fawn. For example we all stopped at Christmas and there was a present for each of us however there were no big plans made or traditions set up. This was much different from my other grandmother. I remember the Hough box of bought cookies rather than homemade trays.

I'm sure she expected us to visit but never (to my knowledge) pushed it. When you came she was always so glad to see you but she never presumed you were coming. Often when we'd go for dinner her daughters would have been there earlier preparing the meal.

However they were very social people who loved to laugh and talk. At dinnertime they might still be at the table from lunch. They'd clear away the dishes, put out clean ones and remain at the table to talk. It was such fun listening to them, and seeing how unconscious they were of time.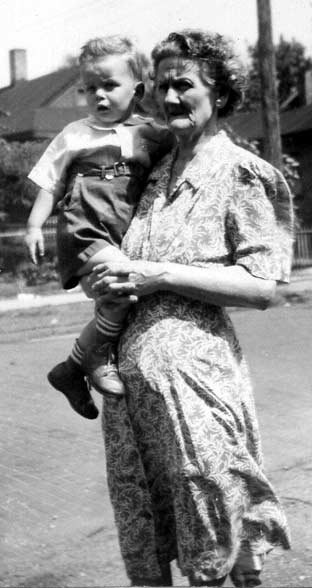 Not the best likeness, but I treasure the few photos we have



I went many times with my grandmother to lunch downtown but an aunt or someone else always seemed to be in charge. She was the Lady! She carried herself tall. She had beautiful wavy hair cut in a bob (again not like the other grandmothers).

One day she showed me how she used to do a soft shoe dance. Her daughters were amazed because she hadn't danced in years. I was so honored!

She had diabetes and when the doorbell would ring she'd make sure it wasn't her doctor, (a relative) who came when he wanted. He always seemed to catch her with jelly or something she was trying to hide under the tablecloth.

I can't remember how long she lived with us as she neared the end of her journey down here. We shared my bedroom until the last week when she was moved into my mother and dad's room. We had a deep bond. When she died she held the Rosary she gave me for my first communion. Before the casket was closed my uncle switched it for another. I carried that rosary on my wedding day and held it during the birth of all three of my children.

Her daughter Margaret had her wedding ring because she was the oldest and seeing as how I was the oldest grandaughter it was passed to me. I shall pass it on to my oldest daughter. She never finished the afghan and it was given to me to have my other grandmother finish it. What a treasure!

When my dad was dying, for several nights I would see (or imagine) her at the closet door. She would be holding his one hand and I the other. I knew she wanted him too and that if I left go he would go with her. Finally I did. After all she was his mother. How could I ever deny Grandma Sweeney? Anyway I knew he'd be safe with her

And now Grandma as I take over the reins as the oldest living Sweeney I count on you and your troops to guide us here below until we are all united in the real upstairs. I can't wait to hear your stories!

God bless you Grandma
Pattie
---
---
Top of Page
Back to Memorial Tributes by and of Cleveland Women