Mary J. Sullivan
FOREWORD from JC Sullivan: When the Hansons initially contacted me about writing a piece about my mother I was delighted to do so. After giving it some thought I decided to contact my siblings, thinking it would be more interesting if I was able to add some input from them.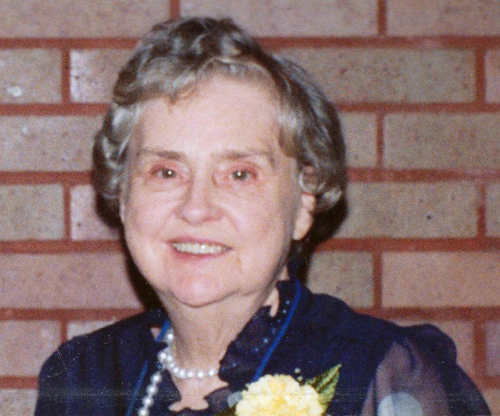 Mary J. Sullivan

The first contribution was written by my late sister Catherine, who for some reason was always called her by her middle name of Marilyn. When I contacted one of my living sisters regarding input from her she suggested this story Marilyn had written. As you will discover upon reading it, The Neat House is a powerful reflection about who Mom was.

Next is my contribution about her, 'Twas My Mother Who Taught Me How to Sing'. Being a published writer I'm afraid I intimidated my siblings who, for their own personal reasons, did not contribute anything. The final piece is from my remaining youngest sister Jean. Hers, too, is a compelling short story.

The Neat House
By C. Marilyn Sullivan

My mother's house was never known as the neatest house in the world. Nine children are not conducive to neatness.

On rainy days she let us carry the kitchen chairs to the Living Room, drape sheets over them and play in the 'tents'. She let us play 'cowboys and Indians' with the arms of the couch as our horses. One sunny day she let us paint the kitchen chairs and the vanity table in the back yard. She let us pick wild blackberries and then made dessert from the ones we didn't eat. She taught us how to make paper mache Christmas ornaments, tying up the kitchen for hours.

We collected 'clean' snow that she made into 'ice cream' for us. She and my father let us climb trees and the shale cliffs in the Rocky River Reservation. The whole time she prayed that we'd be spared any injury, or as she expressed it in later years, "with my heart in my throat." She let us borrow her gloves, lipstick and her prayerbook to play grownup. Mom fixed our dolls. She reconnected arms, legs and heads over and over again until they were no longer held together with metal hooks and rubber bands. She hung sheets or blankets from the clothesline to make our 'tents' outside. She taught us to dance. She collected autographs for us after 'Ladies Day' at Cleveland Indians baseball games. She played our games with us or asked us our spelling words. She made up silly songs as we did the dishes. She 'hypnotized' the cat to amuse us. She listened to our jokes and refereed our arguments.

During those long summer hours when each of us whined "I'm bored," she found something fun for us to do. I can't think of many things we did that didn't create a mess or consume the afternoons of her time. She welcomed our friends, husbands and wives and our babies, especially our babies. She chose her Grandmother name to rhyme with love. Muv liked to laugh and have a good time but babies were her greatest love; she really enjoyed them. She even raised several grandchildren.

I hesitated one evening to take a friend on an unannounced visit to see her and my newest nephew. I was worried that the house might not be neat. "Take her upstairs to see the baby", Mom said. "He's sleeping."

I was an adult and a little embarrassed that the bedroom was crowded with furniture, the dressers were covered with stacks of clothes not yet put away. My friend did not notice. She saw a clean baby asleep on a clean bed, a beautiful dark baby who had just been fed, bathed and rocked until he fell sleep. My friend saw a baby who was well-cared for and well-loved. What she said was "That's what God is all about."

On the drive home she continued: "Do you kids really appreciate your mother? Do you know how great she is?" "Of course we do," I answered. What we didn't know was that we had lived in the neatest house in the world.

'Twas my Mother Who Taught Me How To Sing
by JC Sullivan

That title is from Irish recording artist Paddy Reilly, who I consider to be the best Irish balladeer living today and the song inspires me to write of my mother.

Born into an Irish Catholic family (2nd paternal generation, 4th maternal) she was raised with 2 older sisters and one brother on Bank St. in the Irish enclave of Portland in Louisville, Ky. Her father died from a childhood disease while her mother was pregnant with her.

At her baptism at St. Patrick's Church my grandmother Rodgers was asked by the priest what will her baptismal name be. Mamie (my grandmother's nickname) replied that if the baby was a boy her late husband John would have the baby named after him. If it was a girl she would be baptized as Mary. The priest settled matters by baptizing her Mary John Rodgers. Thus was born Johnnie Mae, her southern-sounding family nickname.

Mom was educated at St. Patrick's Grade School and Presentation Academy. At a Catholic Social Event at Fort Knox she met a handsome Army Engineer from Cleveland After his discharge from the Army he came back to Louisville to marry her at St. Patrick's and John, my dad, brought her home to Cleveland.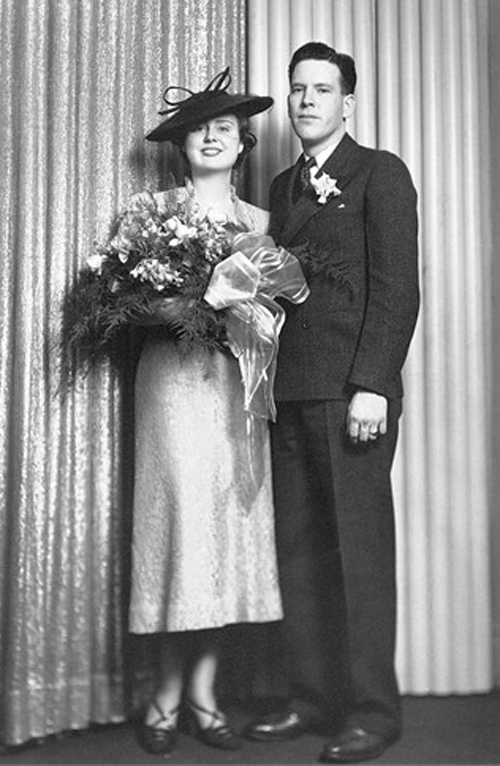 Mary J. Rodgers and John J. Sullivan wedding


My grandmother Sullivan earned some umbrage when she began to instruct Mom about what traffic lights were; apparently because her son's new bride was from Kentucky she would be from the Hill Country. Mom informed her that Louisville was an older city than Cleveland.

Mom and Dad initially lived in the Glenville area of Cleveland. I was baptized at St. Aloysius Church. She told me that when they lived on Ansel Road she loved to walk me in a stroller along what was then Liberty Blvd. My sister Marilyn attended school at St. Thomas Aquinas Grade School before we moved into government projects in Berea, Ohio during World War Two. The projects were built for the workers at the Bomber Plant (later to become the I-X Center).

In Berea, Mom, a friendly and loving woman, made friends up and down Shelly Court. At home she played the radio while she worked. She was a lover of music. I recall her beautiful voice as she sang Tennessee Waltz, Mockingbird Hill and other pop tunes of the 50s era.

Although at my current age, I don't specifically recall singing to her I must have accompanied her on the songs she loved. One day a couple visited us and she implored me to sing Mario Lanza's 'Be My Love.' I was too shy to sing in front of them but I finally relented and agreed to sing...but from down the hall, away from the direct sight of that couple.

Because of her I have had a life-long love of music and reading. When in Grade School she had directed me to our Public Library's Autobiography Section, prompted by, I believe, one of the teaching sisters of St. Joseph at St. Vince de Paul Grade School on Cleveland's west side. Reading books from the Autobiography aisle eventually led me to biographies where I further enjoyed learning about U.S. Presidents and aviation pioneers.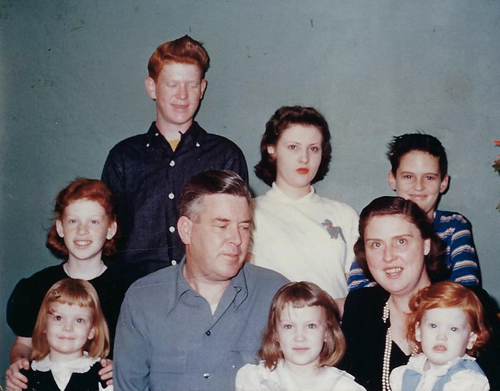 Sullivan Family in their West 127th St home



In my 7th grade we moved to the east side of Cleveland, the Buckeye Road area populated mostly by Hungarians. We obtained a gratis Piano from St. Margaret of Hungary Grade School that I attended. For younger readers, this was a Roll Piano. It had foot pedals that had a slot for a Piano Roll to be inserted. You then pumped the foot pedals. A wonderful musical concerto was heard, as if one pumping the pedals was a prodigy and virtuoso. After we obtained the piano I discovered Smerda's, a music store in the E. 55th & Broadway area of Cleveland, had a library of these piano rolls, probably the only place in Ohio that one might find them.

Mom particularly loved Irish music. At that time the only real Irish music generally heard was at the West Side Irish American Club in the old Madison Theater on the west side or in the parlors of Irish emigrants who played their fiddles, tin whistles and accordions. Elsewhere one could only hear the American Irish songs of Tin Pan Alley, which I still love.

Mom, my brother Rodger (Red) and I were early converts to the authentic folk music of Ireland sung by the Clancy Brothers and Tommy Makem. When they initially appeared at Cleveland's Music Hall Mom was with us. Afterwards we all went backstage to find them. There they still were, engaging those few fans who did what we had done. Mom found them to be delightful men, authentic as their music was. It was a thrilling cap to an evening of Irish music for all of us, but especially Mom.

The love of music that I received from Mom gave me was one of the things that later attracted me to the woman I would marry. Karen was a lover of many music genres, including Folk. She had studied voice at the Cleveland Institute of Music and had been the youngest women to ever sing with the Cleveland Orchestra Chorus under Robert Shaw.

Today, when I hear songs like Alec De Gabriel singing 'You're Just A Thought Away From Me' or anyone singing 'Tennessee Waltz', like so many other songs she gave me, I am reminded she remains close.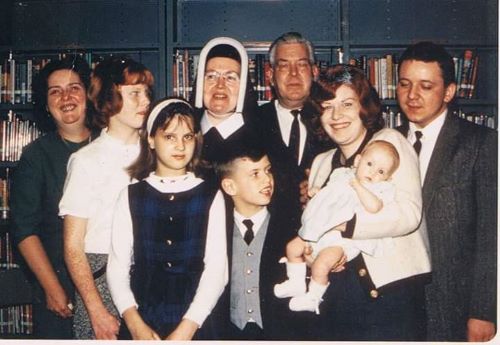 Mary on the far left with Ohio Family and John's Sister Mary Patrick, SND, visiting from Thousand Oaks, CA.





The Gifts My Mother Gave Me
by Jean Sullivan Dido

One of my teachers in a High School Class assigned us to write whether we agreed or disagreed with the statement: "Is it better to have loved and lost than never loved at all?"

In response I wrote why I agreed with that it was better to have loved as in my personal life I was having difficulty with having lost my mother. Not only had she given me life but also faith in God, a sense of humor and taught me to love and respect all people. She taught me to love reading and music.

Even though I lost her, these are gifts she gave me. But like my favorite folk singer Liam Clancy sang, "In my heart you'll live forever."

Part of the family from 6 years ago
---
Top of Page
Back to Memorial Tributes by and of Cleveland Women