Margaret Wong
Cultured Pearl of the Orient
Margaret Wong was born in the former British colony of Hong Kong July 27, 1950. Her parents had fled China to avoid the Communist takeover, which resulted from the civil war. She is the youngest of four, with two sisters and a brother. Her father died in 1999.
Margaret came to the United States in 1969 on a student visa. She came with her sister, Cecelia. The two of them had $187 to share.
She worked as a waitress to pay her college and law school tuition. Her other sister, Rose and her brother, George would follow later. Her parents first came to America about twelve years ago.
Margaret loved her homeland but was eager to come to the United States. Hong Kong had only one university at the time. Since the schools were under the British system there were two basic categories of educational choices for a major.
The first was to major in Art which included history, writing, culture and the like. The second was a major in Science including medicine and chemistry. It was Margaret's dream to become a lawyer.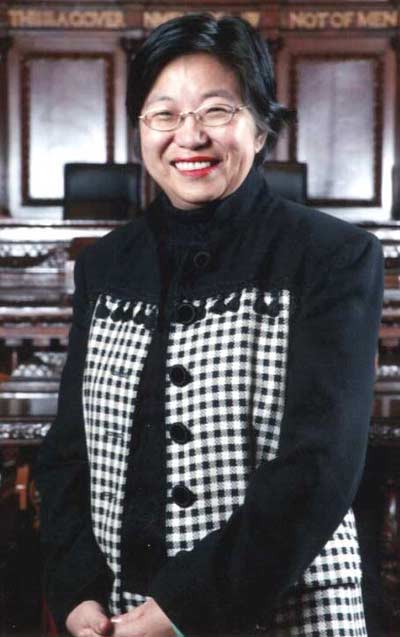 When she got to the States it was the height of the Vietnam War and she was shocked to see Americans protesting involvement in the war. "All of Asia supported the United States involvement in Vietnam."

Her first stop in the States was Iowa where she attended an Ottumwa all girls' Catholic school which was run by nuns. After she finished Jr. College she went on to Western Illinois University where she received her Bachelor's Degree in 1973.

Her sister Cecelia went to Syracuse; Margaret went to State University of New York, Buffalo and then on to law school.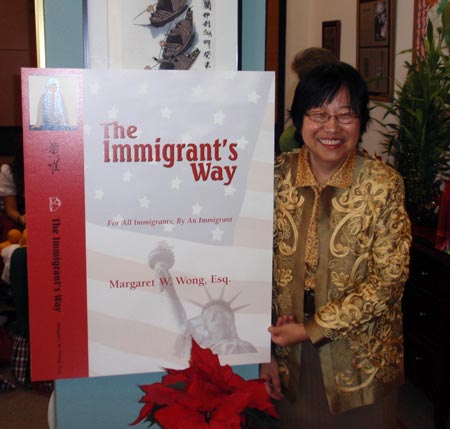 Author Margaret W. Wong with her book cover
She became one of the very first non U.S. citizens licensed to practice law both in New York and Ohio. She is now a proud U.S. citizen. She received her law degree in 1976.
Margaret has been practicing law for almost thirty years and is the principle attorney in her firm Margaret W. Wong & Associates Co., LPA. Her company now has offices in Cleveland, Columbus and Detroit. She is licensed to practice law in Washington D.C., Ohio, Michigan and New York.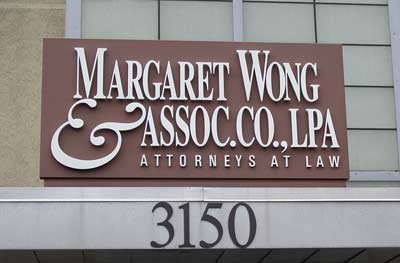 Above the front door of Margaret Wong's Office Building



Her firm currently has five attorneys and over thirty support staff, including paralegals, legal assistants and office workers.

The firm is housed in a beautiful office building Margaret owns at 30th and Chester.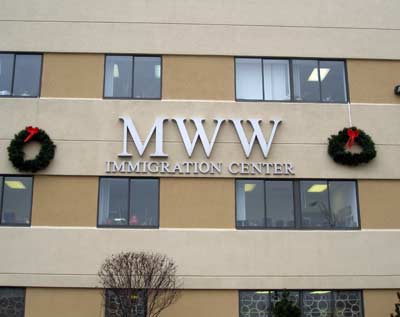 Her staff is ready to speak to clients in a number of languages including Mandarin, Cantonese, Hindi, Tagalog, Russian, Spanish, French, German and Japanese. Margaret herself speaks English and three Chinese dialects.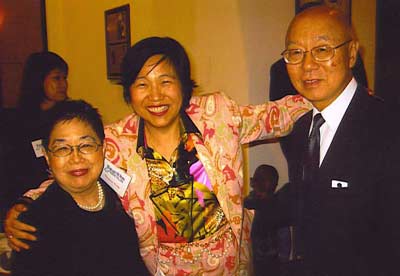 Margaret Wong with Frances and David Namkoong



In the 1970's and 80's she had virtually no competition in the field of immigration law, but that also meant no paths had been made, and there were no mentors available. She pushed forward with a combination of skill and grit.

Although she doesn't hesitate to say she would do it all again, she is not sure that she could survive on immigration law alone in today's world. She would also not hesitate to recommend a career in law to her children or any one who had inkling. "America is a land of law. It is a wonderful and honorable profession."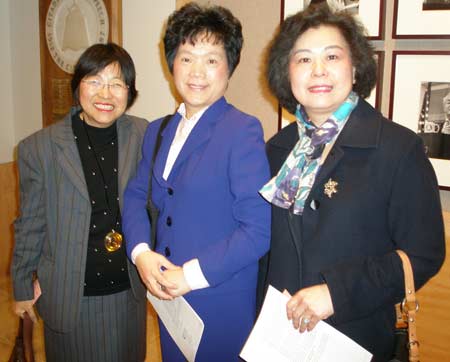 Margaret Wong, Professor Lih-Ching Chen Wang, PhD from Cleveland State University and Margaret's dear friend Ivy Yu, a reporter for the World Chinese Journal



"Immigration law", Margaret says, is "the only part of the law where the client really doesn't have to like you or want you. They need you." She also finds immigration law to be a "happy law." It is not a people vs. people situation, but rather people vs. an agency.

Margaret has practiced immigration law for so long she has earned the respect of the agencies, and they respect her as well. She places high regard on the need for mutual respect in all aspects of life.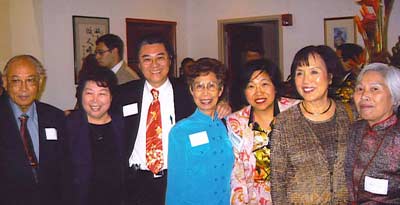 Margaret Wong with Professor Wen D. Ko, Lily Ying, George Hoang, Mrs Ko, Mrs Haw and Mrs Yan



Her knowledge of the laws pertaining to citizenship, naturalization and immigration has made her stand out throughout the world. She was named a "Leading Lawyer" in Cleveland's Inside Business Magazine and "Super Lawyer" in Cincinnati Magazine.

In the year 2000, Margaret was justifiably and deservedly inducted into the Ohio Women's Hall of Fame. Even Glamour Magazine recognized her as an "Outstanding Working Woman."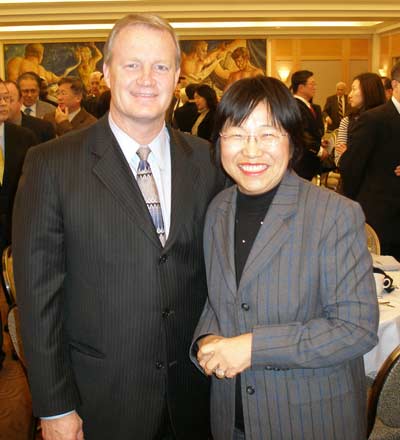 Cuyahoga County Prosecutor Bill Mason and
Margaret Wong in January 2008



Margaret lays claim to many of the most sought after and prestigious awards, but she does so with modesty and humility. Among her many accomplishments and honors is the fact that she was the first Asian-American president of the Cleveland Chapter of the Federal Bar Association.

She was appointed to the Continuing Legal Education Commission for attorneys, an appointment made by the Ohio Supreme Court. She is serving on this commission's Racial Task Force.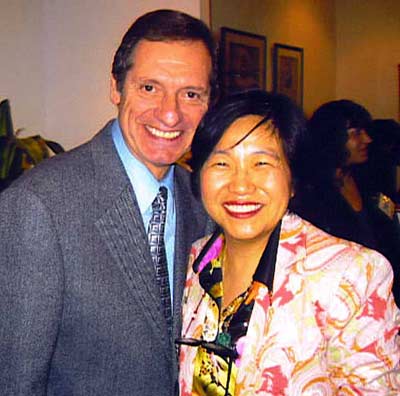 Margaret Wong with David Cerone, President of the Cleveland Institute of Music



In addition, she is the recipient of the Margaret Ireland Award from the Women's City Club and The Creative Philanthropy Award from the Women's Community Foundation. She is a "Woman of Influence", as named by Crain's Cleveland Business and one of Cleveland's Most Interesting People" as named by Cleveland Magazine.

In May, 1998 she earned the Ellis Island Medal of Honor for her "outstanding achievements and contributions to the United States". Just this year the YWCA of Cleveland acknowledged her as a "Woman of Achievement."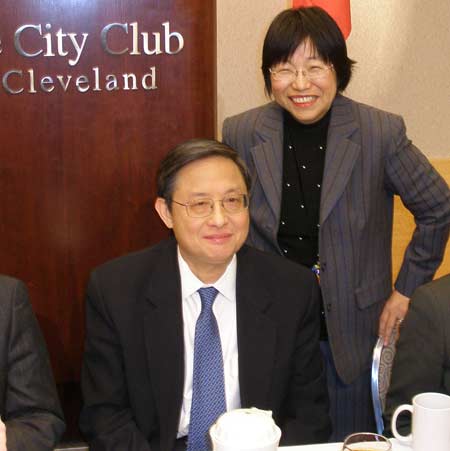 Margaret Wong with People's Republic of China Ambassador Zhou Wenzhong at the Cleveland City Club 1-18-08



She is on the Board of Directors of Cuyahoga Community College's Tri-C Foundation and has sponsored students in the Women's Club mentoring program. She also serves as a trustee on NOCHE (Northeast Ohio Council on Higher Education).

Margaret is very happily married to Kam Chan a pharmacist and they have two children. Their son, Steven Chan is in his 2nd year at Brown and daughter Allison Chan attends Miami University (Ohio).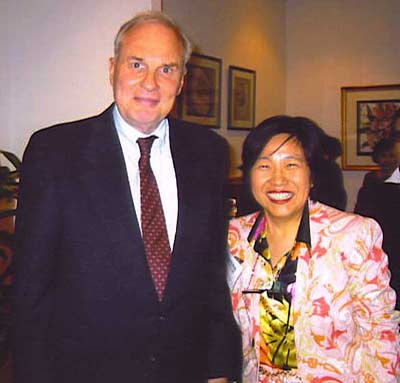 Margaret Wong with Van Folksen



One of the things Margaret noticed in her time in the United States was that there were really no good Chinese restaurants in the States. She lived in Chagrin Falls and would take the Rapid Transit from downtown to Van Aken and then the #5 to Chagrin.

She saw empty spaced when she waited at Van Aken and thought of a way to fill her craving for good Chinese food and to bring a touch of home to her new home. Margaret founded The Pearl of the Orient Restaurant, Cleveland's "first Northern and Szechwan restaurant" on Van Aken in Shaker Heights.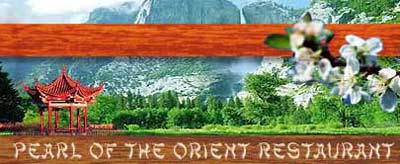 Her sister, Rose has a Masters in Fine Arts and Margaret was anxious for her to come to Cleveland. So Rose came and ran the restaurant and her brother George, now runs the Rocky River location. Both locations have won numerous culinary awards.
Margaret's life does not revolve just around her work. She does get to the office extremely early each morning; earlier than anyone else on the staff. But in addition to her work at her law firm, she still consults at both restaurants.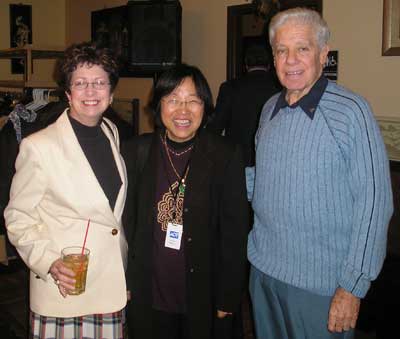 Darcy Downie, Chapter Director Prevent Blindness Ohio, Margaret W. Wong and best-selling author Les Roberts



She is also the founder and current consultant to the Apothe-Care Pharmacy Group. She is a passionate reader and works toward continuing her education every day of her life. She sees education as the "key to everything" and works hard toward promoting it.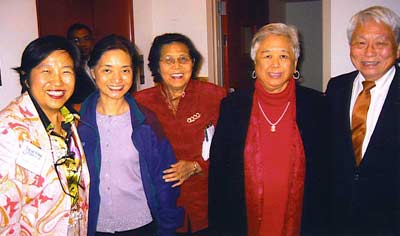 Margaret Wong with Dorina Sheen, Mrs Chao
and Mr and Mrs Charlie Wen



"There are many things I would like to do. I would like to read more, and write. I would like to be more introspective, more spiritual, and more soulful."

Margaret would like young people to learn from her life and her story. "I would tell them to keep working hard and don't play politics. You can do anything you want to if your core values are true."

Ten years from now Margaret hopes to be just reaching the height of her prowess and nearing the top of her career.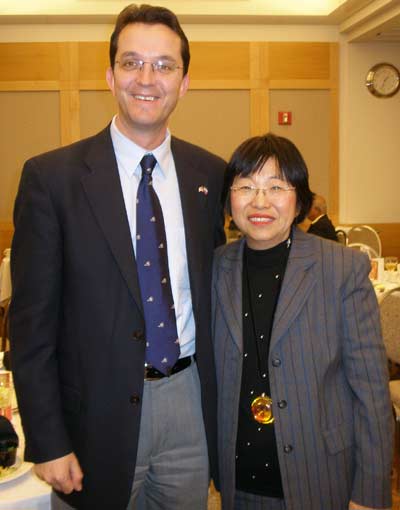 Slovenian Consul Dr. Zvone Zigon with Margaret Wong



She has looked at the problems in her life more of a blessing than a struggle "The path is there, we just need to follow it. The more disciplined and focused a person is, the more freedom they have."

"If we all do it together, we can make the world a better place. How exciting that would be!"

It is not hard to imagine why Margaret Wong has won so many prestigious awards and is such a sought after speaker. She is a humble woman, with much to be proud of.

When she speaks you find yourself hanging on to every word because she is so very wise and so willing to share her wisdom.




Her smile is sincere and contagious and she is genuinely interested in what people around her have to say.

This demure, charming woman silently dares us to keep up and sincerely hopes that we will surpass her. Few people will be able to, but all will benefit from the effort.

See some more photos from the beautiful Margaret W. Wong Building




Profiled by Debbie Hanson



Do you know somebody with an interesting story to tell?
E-Mail us at: profiles@ClevelandWomen.Com






---
Top of Page
Back to Profiles of Cleveland Women and Girls