Domestic Violence
Violence at Home Signal for Help
Isolation can increase the risk of violence at home. Use this discrete gesture during a video call to show you need help:
Hold hand up with palm facing other person.
Tuck thumb into palm.
Fold fingers down over thumb.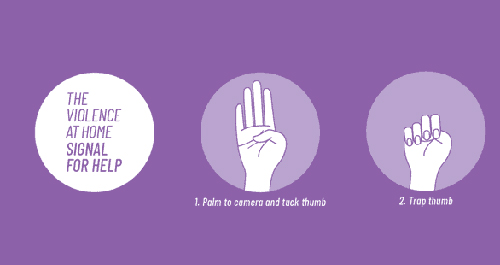 A missing teenage girl was rescued in the US after using a hand gesture that signals distress or domestic violence to capture the attention of a passing driver. The 16-year-old was spotted travelling inside a silver Toyota near London, Kentucky, about 150 miles south-east of Louisville, on November 4, 2021. A driver called police after noticing "a female passenger in the vehicle making hand gestures that are known on the social media platform TikTok to represent violence at home - I need help - domestic violence," the Laurel County Sheriff's Office said in a statement on November 6, 2021.
---
What is domestic violence?
Domestic violence is a pattern of repeated physical, sexual and emotional violence and behaviors that one person in a relationship uses to exercise power and control over the other.

Domestic violence is never a random or isolated incident and it often increases in severity and frequency over time. Abusers control family or household members with verbal insults, emotional abuse, financial control and threats. If these tactics do not work, the abuser then enforces his threats with physical and/or sexual violence. The consequence of the abuse for a victim depends on the tactics, but all abuse emotionally and psychologically hurts the victim.

Abusive behaviors always create fear in the victim, force the victim to do what s/he does not want to do, and prevents the victim from doing what s/he wishes to do.

Domestic violence occurs in all communities among people of all income levels, racial and religious backgrounds, gay, lesbian, straight, transgendered, and people with disabilities.
Why do partners abuse?
In the most simple terms, they abuse because they can and it works. Hitting, kicking, choking, threatening, name calling and more are deliberate decisions based on what the abuser has learned through observation, experience and reinforcement.

Abuse is not caused by illness, genetics, or substance use. It is not caused by "out of control anger." Victims do not make their abuser hurt them. Abusers decide when to be abusive to their partners and often choose which part of the victim's body to hit so as not to leave noticeable marks. Others choose the place and time to carry out their assaults in an effort to exert the most power and control over the victim.
Are you in an abusive relationship?
You may be a victim of abuse if:
Your abuser's failure to accept responsibility forces you to compensate for his behavior.
You often feel that you have no control over your life. Decisions about family, friends and activities are based on how the abuser will react.
You may feel guilty over the failure of your relationship. This is reinforced by the abuser who blames you for all that goes wrong. Guilt over failure may be accompanied by shame for "putting up" with the abuse.
The abuser blames you and you begin to believe it over time.
Your behavior may be reinforced by economic dependence and increasing feelings of helplessness and fear as the abuse continues.
You may fear the abuser's anger but you may also deny or minimize this fear. Denial and minimization are common coping strategies for surviving abuse.
You become isolated from friends, family or neighbors and other forms of support. This is not by choice.
Your abuser may:
Be extremely jealous and suspect you of being unfaithful without any rational reason or evidence to support such a belief.
Control your access to money, social relationships and job opportunities and may monitor all your activities by making you account for any time apart or money spent.
Be emotionally dependent on you and make constant demands for reassurance and gratification.
Have poor self-esteem and feel inadequate about his masculinity, sexuality and parenting. These feelings may be masked by an extremely "tough or macho image."
Enforce rigid gender roles or believe in the traditional male "head of household" role.
Blame you or others for their behaviors, feelings and problems.
Was abused as a child.
Have few friends and poor social skills.
Be cruel not only to you but to children and pets.
Be preoccupied with gun, knives, etc.
Respond to situations with unpredictability.
Use inappropriate displays of anger if they do not get what they want which includes physical touching without consent, threaten violence, verbal abuse and breaking objects of value to you.
If you think any of the above may be true for a relationship you have, call the numbers listed below for help.
Domestic Violence Emergency Help
Ashtabula County
Homesafe
800-952-2873

Cuyahoga County
Domestic Violence & Child Advocacy Center
216-391-HELP (4357)

or

Centralized Intake (for emergency shelter):
1736 Superior Ave.
Cleveland, OH 44114 8am-8pm, 7 days/week
216-674-6700
Call 211 after hours

Geauga County
Womansafe
888-285-5665

Lake County
Forbes House
440-357-1018

Lorain County
Genesis House
440-244-1853
National Domestic Violence Hotline - 1-800-799-SAFE (7233)
By Alexandria Ruden
posted with permission of the Legal Aid Society of Cleveland.
---
More Domestic Violence Information
Domestic Violence and Children
Domestic Violence and Immigrants
Housing Protections for Victims of Domestic Violence
Civil Protection Orders for Victims of Domestic Violence
---
Top of Page
Back to Resources for Cleveland Women and Girls