Spring Fabulous Food Show
Cleveland I-X Center
April 28 & 29, 2012

Bobby Flay, Emeril Lagasse & more!
Win Free Tickets!
Let the backyard barbeque battles begin!
The first edition of the Spring Fabulous Food Show pays homage to the masters of the flame April 28 & 29, 2012, at the I-X Center in Cleveland, Ohio.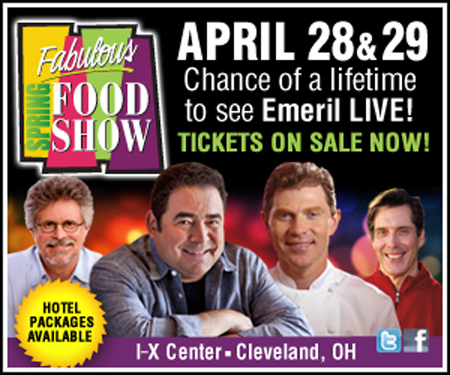 Tickets are on sale now for the best celebrity grillers in the business, from Fabulous Food Show favorite Bobby Flay to first time appearances by Emeril Lagasse, "Barbeque Bible" grilling authority Steven Raichlen, and Weber Grills' Jamie Purviance!
Tickets can be purchased online at www.fabulousfoodshow.com and include admission to one celebrity chef show in the Backyard Patio Theatre.
"Hosting the show in April allows for a whole new food show experience," said Eric German, executive show director. "While the fall show emphasizes holiday cooking and entertainment, this event will encompass the entire outdoor living experience, from designing the perfect patio to becoming a master griller. It will get people 'thinking spring' and about getting back outside!"
Helping patrons get to "grill mode" will be a powerhouse of celebrity chefs that have taken outdoor cooking to a new level. Emeril Lagasse, host of Emeril's Table on the Hallmark Channel and Cooking Channel's Fresh Food Fast, The Originals with Emeril, and Emeril Live, makes his Spring Fabulous Food Show debut on Sunday, April 29th in the Backyard Patio Theatre. A TV cooking veteran, Lagasse's unbeatable passion for cooking and teaching will surely inspire any backyard warrior to turn up the heat!
Make the next cookout the envy of neighbors. Barbeque master, lecturer and grilling authority Steven Raichlen joins the celebrity chef lineup, sharing some of his best practices and insight into the world of barbeque. Raichlen has written a multitude of cookbooks for grilling aficionados and hosts his own "Barbeque University" in Colorado Springs.
No stranger to the Fabulous Food Show, Bobby Flay returns to break out some of his favorite grilling recipes! Flay hosts the widely-popular Throwdown with Bobby Flay, Boy Meets Grill, Brunch @ Bobby's, Bobby Flay's Barbeque Addition, and Emmy-award winning Grill It! with Bobby Flay.
Grilling expert Jamie Purviance represents Weber Grills and will share his expertise in the Weber Grilling Pavilion, an outdoor feature of the show. Purviance has authored many Weber grilling cookbooks, including Weber's Real Grilling™, Weber's Charcoal Grilling™, Weber's Way to Grill™, and his latest book, Weber's Smoke™. Purviance will host live demonstrations on grilling, barbeque, and smoking techniques, and will also be joined by Weber's Grilling Expert Kevin Kolman. Kolman will offer insight and tips on the best Weber equipment to match any cooking challenge.
Create a great memory with your favorite chef and get their autograph at the Celebrity Book Signing Pavilion! A Book Store will be on-site with all celebrity chef books for sale.
Additional show features include
The Outdoor Living Stage, hosted by industry professionals presenting the latest products and ideas to help consumers create their own outdoor paradise. Learn how to perk up a backyard with new hardscaping tips, design a stress-free garden, or build a patio perfect for entertaining.

An expanded Farmers' Market will offer fresh local produce and products, while the Farmers' Market Stage will feature local chefs highlighting seasonal dishes and gardening tips.

The Ice Cream Shoppe will feature numerous frozen treat vendors offering dozens of delightful confections for sampling, from yogurt to ice cream to gelato. It's the perfect place to relax and "chill" during the show!

Escape to the "outdoors" in the Tasting Gardens, hosted by the American Wine School. More than 300 wines, spirits and specialty beers will be available to sip, swirl, and savor.

Seminars in the Cadillac Tasting Theatre will help select the perfect beverage for outdoor gatherings, and the conveniently located Wine Cellar will allow patrons to purchase their favorite finds onsite.
---
Spring Fabulous Food Show Tickets on Sale Now
Ticket prices:
One-day Admission ticket: $25 (advanced) online at www.fabulousfoodshow.com or $30.00 onsite and online April 28-29, 2012, at the I-X Center.
Each ticket includes admission to exhibits and seating to see one of your favorite celebrity chefs, and also allows patrons to see other celebrity chefs on the day of the visit -- on a firstcome, first-served basis. See website for standby and ticket upgrade procedures.
Special Limited Time Offer: Discount ticket offers.


---
Event Hours:
Saturday, April 28 — 10:00 AM - 8:00 PM
Sunday, April 29 — 10:00 AM - 6:00 PM
The Spring Fabulous Food Show is held at the I-X Center at One I-X Center Drive in Cleveland, Ohio on Route 237, adjacent to Cleveland Hopkins Airport. It is easily accessible from I-480, I-71 and the Ohio Turnpike.
For more information call 216.265.COOK or visit us online at www.fabulousfoodshow.com
---
To enter a contest to win free tickets to the Spring Fabulous Food Show, courtesy of ClevelandWomen.Com, fill out the form below. (Your address will only be used to mail you tickets if you are a lucky winner.)
---
Win Fabulous Food Show Tickets!
---