Iron Chef Michael Symon teams up with Cleveland Cavaliers
Cleveland's own award-winning chef and Food Network star Michael Symon is taking his culinary talent to a whole new arena. The Cleveland Cavaliers and ARAMARK­ a world-class leader in professional services and the Cavs' exclusive food and beverage provider­have teamed up with Symon to bring his signature cuisine to Quicken Loans Arena.
The partnership with Symon, winner of the James Beard Foundation's award for the 2009 "Best Chef in the Great Lakes Region," is one of many new food and service enhancements to be introduced this season at Quicken Loans Arena.
"Our goal is to give fans attending events a total entertainment experience, and that includes providing quality dining choices and a variety of food options," said Cavaliers and Quicken Loans Arena President Len Komoroski. "We applaud ARAMARK for their innovation in food service and welcome the highly acclaimed culinary talent of Michael Symon, who will set a new standard for dining in a sports and entertainment venue."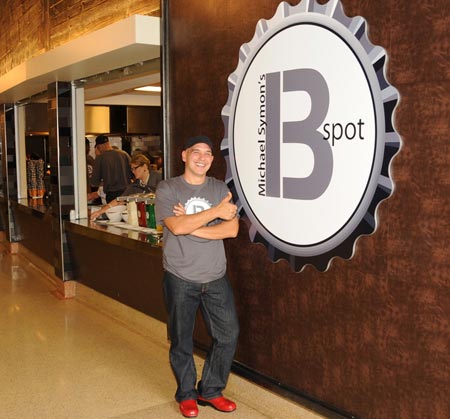 Michael Symon at his B-Spot at Quicken Loans Arena.
Photo credit: Tony Morrison.



As part of the partnership, two Symon-branded dining destinations at The Q will be open for all Cavaliers games and for most arena events. Additionally, customized catering packages, featuring Symon's signature menu, will be designed exclusively for arena suite-holders.

The B Spot… burgers, beers and brats, named after Symon's soon-to-be opened restaurant at Eton in Woodmere, Ohio, will be located off the Quicken Loans Arena main concourse near the Cavaliers Team Shop. The menu will feature his signature burgers, brats and craft beers.
Plain Jane – simply a burger
Plain Jane with Cheese – you get the drift!
Bacon Burger – crunchy, smoked bacon and American cheese
"Symon Says" – burger with fried bologna, American cheese, coleslaw and whip sauce
Cleveland Bratwurst - beer bratwurst with coleslaw and hot sauce
Lola fries – with rosemary
Bar Symon at The Q, located on the arena's Huntington Bank Club Level (level four), is named after his recently opened establishment in Avon Lake, Ohio. It will share an abbreviated menu from the restaurant. Featured menu items will include:

Signature Plates
Pork Pastrami – sandwich with coleslaw, stadium mustard and Swiss cheese on rye bread
Mac & Cheese – made with rosemary, goat cheese and roasted tomatoes
Symon Fried Chicken – tossed with parsley and spicy honey
Cleveland Bratwurst – beer bratwurst with coleslaw and hot sauce
Chips & Dip
House made chips with bleu cheese fondue
House made chips with rosemary and parmesan fondue
Uptown Popcorn
Popcorn with chili flakes, feta and oregano
Popcorn with smoked paprika and white cheddar
There will also be menu options for Arena Suite-holders.

"Having grown up in Cleveland, I'm excited to partner with the Cavaliers and ARAMARK to help create the ultimate dining experience at The Q for the NBA's best fans," said Michael Symon. "Food is an integral part of the arena entertainment experience and I'm looking forward to working with ARAMARK to introduce menu offerings that reflect the great tastes and flavors of this city."

"Our partnership with Michael brings together the best of Cleveland's sports and culinary worlds under one roof to create a dining environment that complements the first-rate entertainment experience the team has created for its guests at Quicken Loans Arena," said Kevin Kearney, District Manager, ARAMARK Sports, Entertainment & Conventions. "We look forward to working with Michael to provide guests with new, award-winning and innovative concepts that will bring a unique Cleveland flair to the menu offerings."

Menu and Service Enhancements

Fans attending games this season will also notice significant changes and enhancements that bring the fun and energy of Cavaliers, Monsters and Quicken Loans Arena events to dining locations throughout The Q. An added emphasis has been put on offering a menu with more variety, quality and freshness.

Don't miss Michael Symon's first cookbook: Michael Symon's Live to Cook: Recipes and Techniques to Rock Your Kitchen
---
---

---
Top of Page
Back to Sports for Cleveland Women
Back to Out & About for Cleveland Women