11th Annual Cleveland Powwow
June 17-19, 2005
I attended my first Powwow at Edgewater Park the weekend of June 17th and am very glad that I did. Going in, I didn't really know what to expect.
A typical Powwow (though each one is unique) is an American Indian social gathering or fair that includes competitive dancing, costumes, music, crafts, camaraderie and food.
When I pulled into the Edgewater parking lot I was amazed to see a huge circle of people and booths - even a large teepee.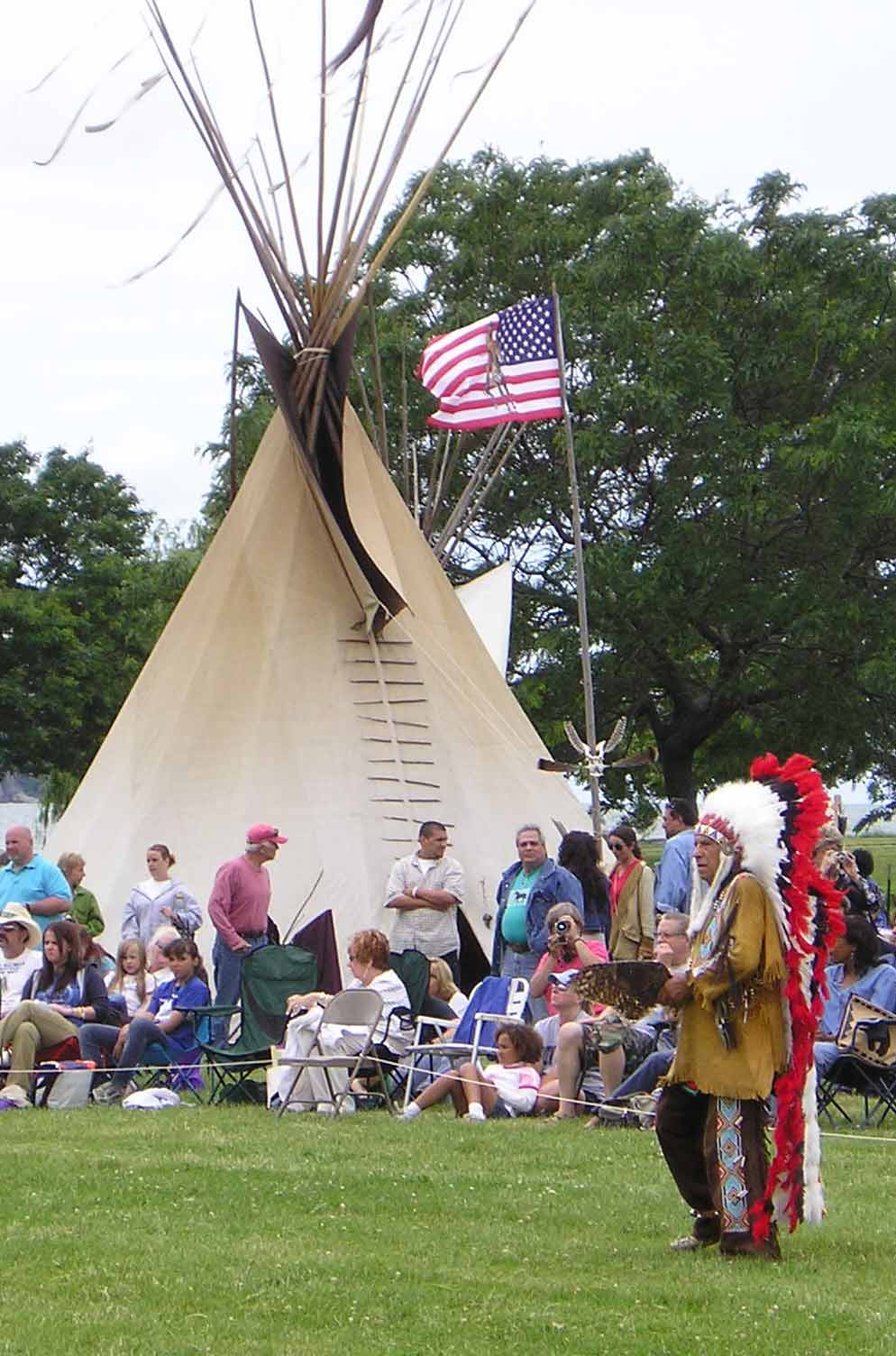 In the middle of the circle was an area where singers, drummers and other musicians performed and the master of ceremonies made announcements.

The numerous booths ringing the circle offered a variety of products such as jewelry, drums and other instruments, animal pelts and horns, clothing, artwork and, of course, fun t-shirts, caps and posters.

I got a kick out of a poster that features Geronimo and three other Apaches, all holding rifles, with the tagline, "Homeland Security - Fighting Terrorism since 1492." It's now in my office.

If I had to sum up the Powwow in one word it would be "respectful." The organizers, the vendors, the dancers, the musicians and the crowd were the most respectful I have ever seen at a festival of this size.

Respect for the country, nature, the traditions, the people, the music and the symbols was very evident.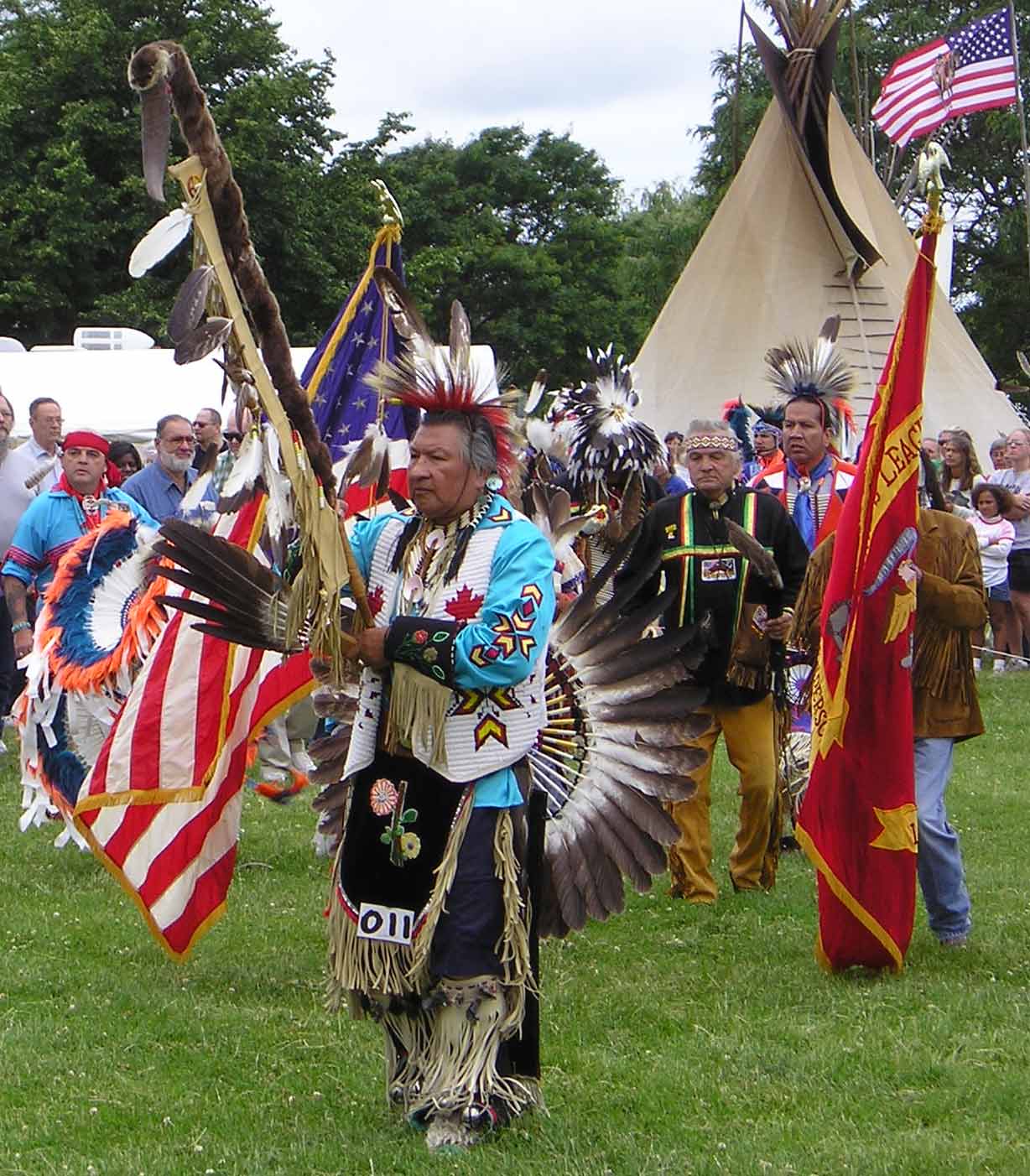 The Head Veteran holding the Eagle Staff


A Powwow begins with a Grand Entry. The Head Veteran, someone who has been distinguished in combat, holds the sacred Eagle Staff. Then the Flag Carriers, Head Dancers and Princesses from different communities line up followed by other dancers - all in amazing costumes.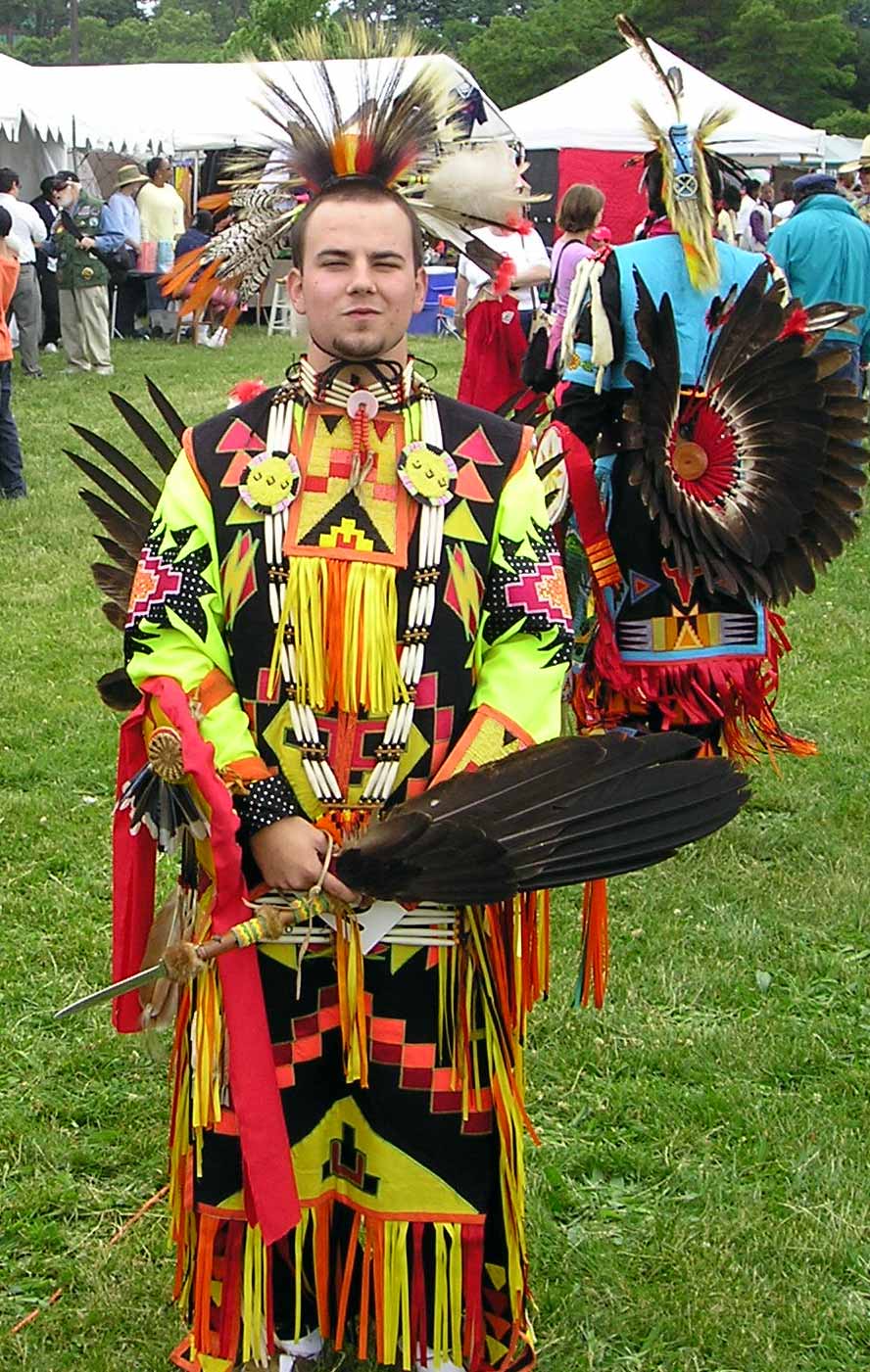 Trey Oxendine of the Lumbee Tribe
from Pembrook, NC



They enter from a hole in the circle from the East dancing in their own style as the drums beat. It is an amazing event to witness.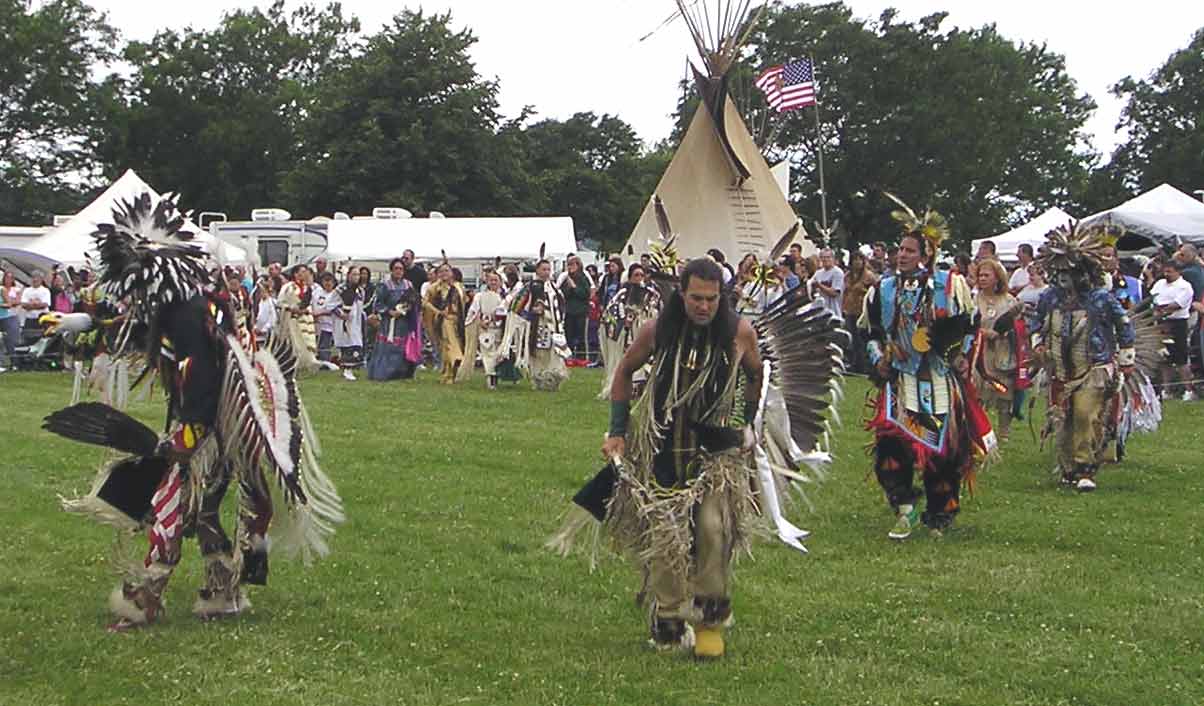 I was also very impressed at the extreme patriotism displayed by the gathering. Not only was the US flag prominently displayed and carried but also flags of the Marine Corps and other branches of the US service.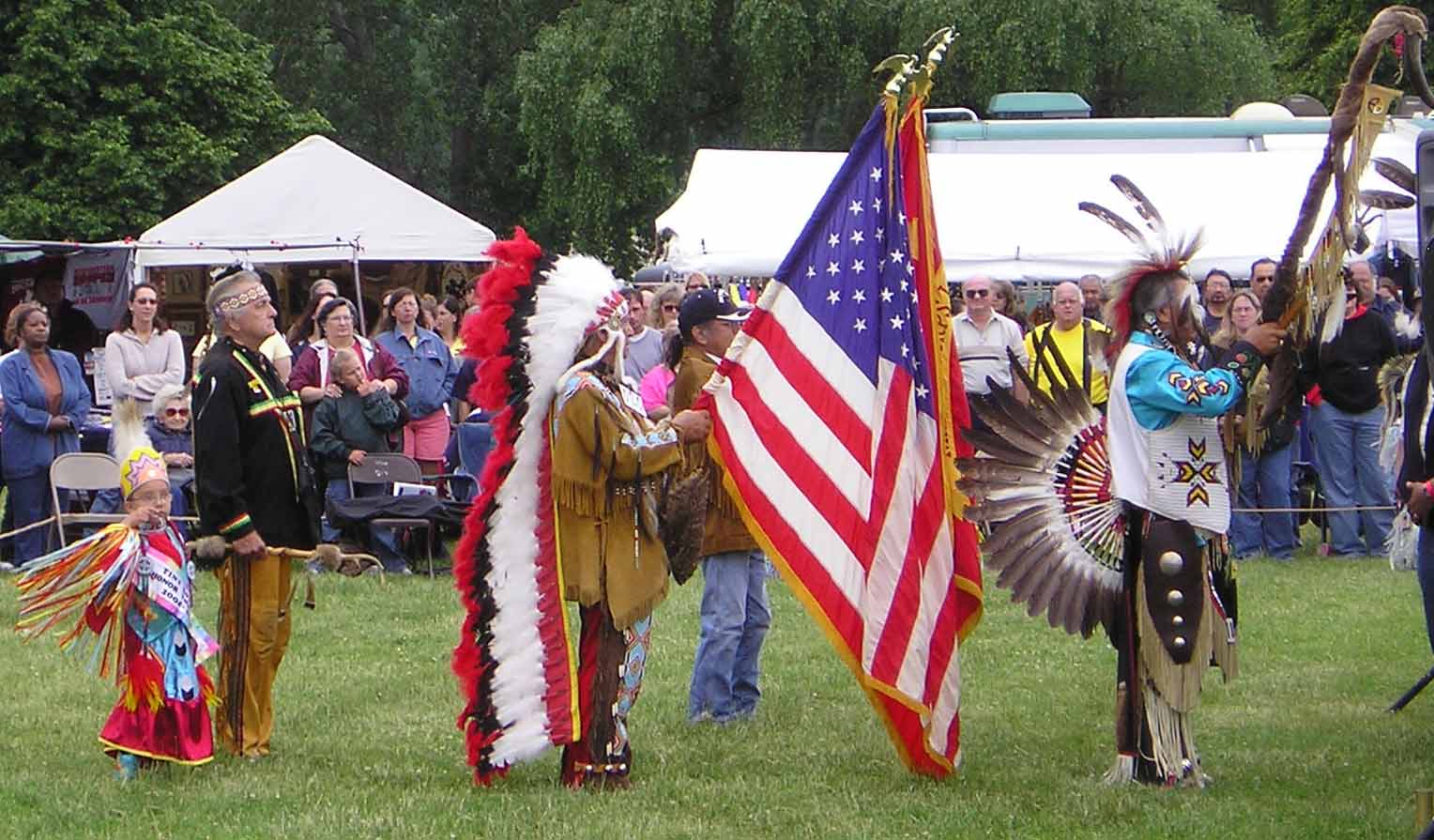 At one point the MC called for all veterans, Indian or not, to line up in the circle and parade around as the crowd cheered for the sacrifice they had made. It was an incredible and moving scene.

I had a great time watching and speaking with fascinating people from North Carolina, Wisconsin, Minnesota, New York City and Ontario Canada.

The American Indian Education Center deserves a lot of credit for putting on this amazing event - the largest in Ohio - for 11 years. I can't wait till the 2006 Cleveland Powwow.

Click for more pictures from the Cleveland Powwow

Learn more about the Native American Community in Cleveland

---

---
Top of Page
Back to Travel for Cleveland Women and Girls