Makeup Bag Essentials
for Spring
by Wendy Fitos
Spring makeup is so fun this year because there are so many looks to choose from.
While MAC Cosmetics chose to use Barbie and her pink lips and pastel eyes for inspiration, Clinique used liquid and powder bronzers to enhance all over beauty.
During a recent photo shoot, I had a model who could wear every color I put on her looking more beautiful with each change. While I sighed in awe because of my options with my pale, pasty skin, I created a plan of attack on what is needed in every beauty bag this spring and summer.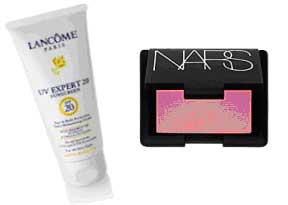 Jergens Natural Face Glow Daily Moisturizer SPF 20 in 3 shades give skin a pretty tint while moisturizing and protecting. Using foundation over this product gives a healthy glow to the face.
PINK is the word. NARS cosmetics blush in Angelika is a good universal color for any skin tone. Their Funny Face lip pencil with a clear gloss can be used on the lips to give color to a fair skin while acting as an essential companion to the Miami tan.

Lancome UV Expert 20 Sunscreen is one of the first in the United States to use the FDA recently approved ingredient MEXORYL which provides a broad spectrum protection from both UVA Rays (They AGE the skin.) and UVB Rays (They BURN the skin.)






Kevyn Aucoin's Pastel Pencils have a wide array of colors that can be used in the corners of the eyes to enhance any eye color without bringing back haunting memories of the rainbow stripe eye of the 80's.
Cover FX's Mineral Fx foundation and its 21 shades of mineral powder foundation give the skin a sheer glow with very finely milled minerals that won't give the skin an oily look. Their practical sponge stoppers, right inside the product, make it spill proof and easy to use.
A black mascara and a sheer pink or peach eyeshadow will open up any eye and make it look softer. To accent the crease, Christian Dior's 1 Coleur eyeshadow in Silver Dust is a must.
As Sheryl Crow says, "I'm gonna soak up the sun!" I just may have to use a bottle!
---
Wendy Fitos is a licensed Makeup Artist and Esthetician. She can be reached at Renuvo Salon, 20006 Detroit Road, Suite 203, Rocky River, Ohio 44116 or by calling 440-333-1965. Wendy looks forward to answering any questions via email at wendy@clevelandwomen.com.
---
Top of Page
Back to Your Look