Organize your Makeup
by Wendy Fitos

Organizing your makeup can be a daunting task. If you are like me, you will have issues parting with that rose color lipstick that looks terrible on you but may be the "IT" color for next season.
I spent almost three hours yesterday going through my makeup deciding what to toss, what to give away and what actually can be saved and I have to admit that I feel like I lost ten pounds. Oh, if only that was all it took to lose ten pounds!
Finding places to store your makeup isn't easy either. You may be able to fit it in a bag or you may wish you had access to an extra room just for your lipsticks.
I have found some solutions that may not be as luxurious, but work like a charm and make you feel like you are a master organizer, or monkey controller, as Kristen would say.
Purge, purge and purge what you can before you start to organize. Making a pile of must toss, must keep and a maybe pile is a great way to take an inventory of what you have.
When you are finished, throw the toss pile away so you will feel an immediate sense of relief as you have less to organize. You may find that toss pile gets easier to create each time.
If you are the person who can put their makeup in a bag, the Hefty seal bags are great to use because you can see your products instead of digging into the endless sea called the purse to look for your mascara.
The person who needs a little more than a bag can go to Marc's, Office Max or Target where you can find the three drawer organizers that are made to sit on the desk for paperclips and rubber bands. Three drawers work well because you can use one for eye products, one for blush and concealer and one for lip products.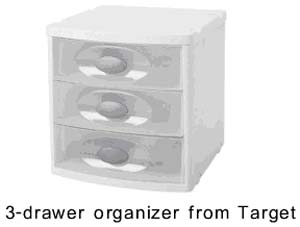 Ah, the heavy duty person like me will also find solace at Office Max or Sears. Office Max offers the six drawer cart with a faux wood top that rolls on wheels for a mere $29.99. When I saw this little gem, I almost did a dance around the store because not only is it great for storage, the little faux top can be great for arranging the products you use daily into a pretty presentation.
Sears offers tool boxes with multiple drawers and compartments for the super organized. A tip I can offer; DON'T buy the metal tool box unless you plan to keep it stationery in the house.
In my younger and dumber days, I used to try to haul one around when I was making house calls and any male in the house would need to come to my rescue before I fell over.
Hey, maybe I wasn't such a dumb youth after all!
---
Wendy Fitos is a licensed Makeup Artist and Esthetician. She can be reached at Renuvo Salon, 20006 Detroit Road, Suite 203, Rocky River, Ohio 44116 or by calling 440-333-1965.
Wendy looks forward to answering any questions via email at wendy@clevelandwomen.com.
---
---
Top of Page
Back to Your Look