Beauty Booty
by Wendy Fitos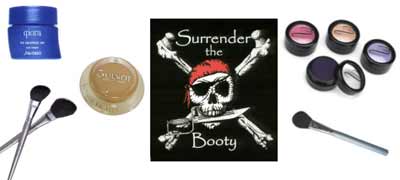 Buried in Cleveland are some great places to find trendy, unique and often inexpensive beauty treasures.
For some reason when I find these great little places, I feel like Captain Jack Sparrow re-taking the Black Pearl in Pirates of the Caribbean. I apologize as I have Johnny Depp on the brain since the release of the final Pirates movie is a mere 3 months away.
Studio Shine Skincare and Cosmetics
3030 Superior Avenue
216-574-2288

Studio Shine carries Shiseido products from Japan not found in the department stores as well as Qiora Skincare, Guinot Skincare and other great accessories for the makeup pro.
Euro Food Mart
5363 Ridge Road
Parma, Ohio 44129
440-842-0117
This is the paradise of German cosmetics ensconced within a food store. My beloved Nivea Soft Cream is sold here along with many other Nivea products that are the German formulations which are different from those sold in the United States. I advise checking out the website first as the beauty products are kept in the back of the store. Products can also be shipped.
Jinxed! Costumes Magic & Novelty
4666 Ridge Road
Brooklyn, Ohio 44144
216-749-3866
This is a mere block from my home and a color paradise. Jinxed carries theatrical makeup lines that are inexpensive and have brilliantly pigmented eyeshadows, blushes and lipsticks as well as unique false eyelashes.
Not So Secret But Still Great Places for Cool Finds
Sally's Beauty Supply
Michael's or Pat Catans (sequins selections are fabulous)
Marc's
Sephora
---
Wendy Fitos is a licensed Makeup Artist and Esthetician. She can be reached at Renuvo Salon, 20006 Detroit Road, Suite 203, Rocky River, Ohio 44116 or by calling 440-333-1965. Wendy looks forward to answering any questions via email at wendy@clevelandwomen.com.
---
Top of Page
Back to Your Look