Fashion Design for Young, Professional Women
By Carrie Koman,
Virginia Marti College of Art and Design Student

My concept for this collection was to create a line that gave young, professional females more freedom in their choice of dress. This line of clothing opens up opportunity for women to easily move from their work to their leisure life, particularly in the After 5 environment.
The concept developed as I created a mood board filled with images of agony and entrapment. Dogs snarling as they are chained and restricted demonstrate a sense of mystery, as I translated in the collection through the form of hoods on garments.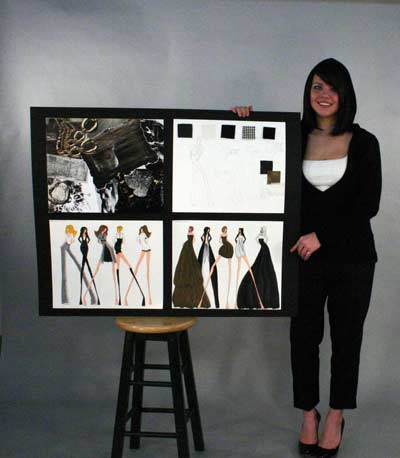 Carrie Koman,
Virginia Marti student designer with her mood board



Also, when looking at the confined woman in the mirror, one could note that garments such as the leather corset and leather and gold metallic belt also demonstrate a sort of restriction.

When looking for common factors in my collection they are quite numerous, as I was very inspired by textures, colors, and moods. The various textures in the mood board give a sense of depth and layering. This is what led me to use such a wide variety of textiles. Cashmere, wool, silks, and leather are just a few to name.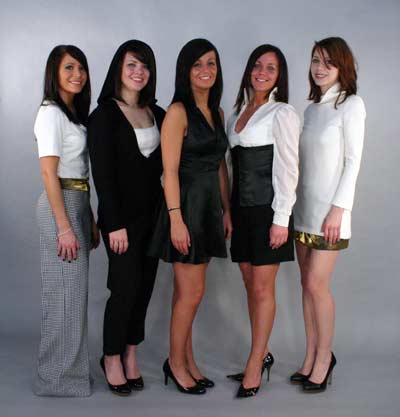 Carrie Koman's designs for young professional women



Personally, my favorite garment to work on was the corset because, although leather is known to be a challenging textile to work with, I found it very rewarding when I was finished with the piece. Leather has a finished look that shows its class.

The market that I am targeting with this collection is professional women in their mid-twenties up to those in their early to mid forties, depending on their confidence and personal lifestyle.

A typical day in her life, would consist of hitting the gym early, grabbing Starbucks, then throwing on her heels as she heads to the office for a day full of meetings with vendors, then off she goes for a night out with the girls.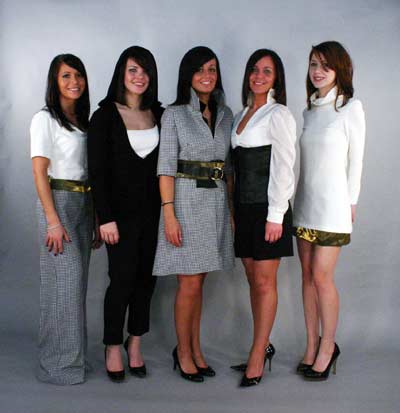 More of Carrie Koman's designs for the woman "who wants her personality to shine through her clothes"



This woman is career oriented and knows what she wants. A business suit is clearly not for this woman. She is urban chic, a head turner, and an independent woman who wants her personality to shine through her clothes.

Money is not an issue for this woman: she loves the custom fit and feels her money is well spent on high end clothing.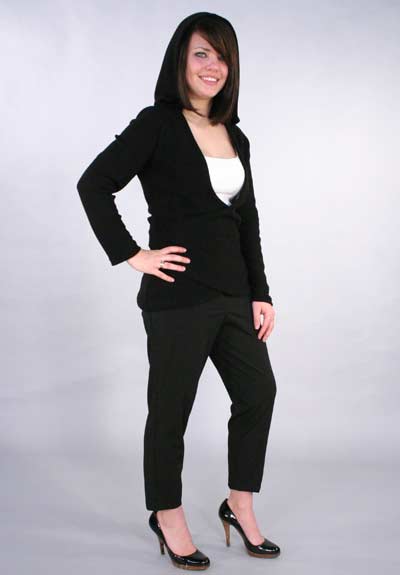 ---
Top of Page
Back to Fashion