Brink's Home Security
What is it about a house, street or neighborhood that attracts a criminal element? Can anyone put their finger on it? No. Crime can happen anywhere, at any time and for any reason.
You can't avoid the potential for trouble, but you can give trouble a reason to avoid you.
Whether a potential intruder is scoping a house or randomly looking to wreak havoc, the Brink's Home Security shield in your window or on your lawn says the same thing- breaking in here is a bad idea.
Over 1,000,000 customers in the United States and Canada chose Brink's Home Security® as their trusted home security company to provide reliable home security systems.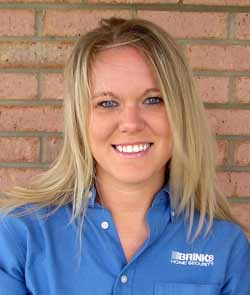 Kim Midkiff, Brink's Security Consultant
Call Kim at 216-973-1840 for a
FREE Home Security analysis



Kim has been in home security for over ten years and is anxious to answer any questions you may have about protecting your home and loved ones.

E-mail your questions to brinks@ClevelandWomen.com

People You Can Trust
Brink's® has been a trusted name in the security industry since 1859
24-hour professional monitoring by extensively trained personnel
Brink's Home Security® is the only full-service national security provider to achieve Installation Quality (I.Q.) Certification
Easy to Use and Affordable
Easy-to-operate system - even for children
Affordable system monitoring
Quick link to police, fire and medical personnel
Advanced Technology
State-of-the-art, Underwriters Laboratories-listed monitoring center
Dedicated to rapid response and peace of mind 24 hours a day
Emergency back-up facilities in place
To schedule a FREE security system needs analysis or more information, contact Kim Midkiff at Brink's Home Security® at 216-973-1840
---
Top of Page
Back to Home Safety