Nancy Drew Valentine
for Tweens 8-14
Are you a fan of Nancy Drew, America's long-time Sweetheart Sleuth?
If so you'll love the free Nancy Drew American Anime style electronic card from Papercutz, publishers of the acclaimed Nancy Drew graphic novel series featured in USA TODAY, LA TIMES and more.
For the newest generation of Nancy Drew fans, Papercutz Valentine card features a techno-savvy Nancy Drew complete with cell phone and web-pad for solving 21st Century mysteries.
Terry Nantier, publisher, Papercutz says that Nancy Drew's update and new American manga-style look is perfect for Tweens 8-14 who love reading the adventures of the All American heroine who now uses the same gizmos and gadgets that today's girl owns to solve her mysteries.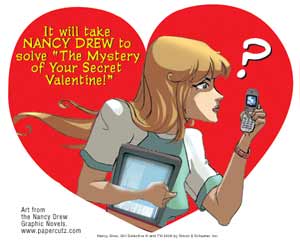 The free image card (see above) can be downloaded by Tween fans ages 8-14 and sent to the Valentines of their choice via email or the card can be printed out with a color printer and slipped into a school locker or left on the desk of a Secret Pal by you, the Secret Admirer.

Just click here to go to the image and copy or print it out.
---
Top of Page
Back to Valentine's Day
Back to Pre-teen Girls