The Littlest Heroes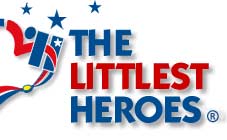 The Littlest Heroes is a 501(c)(3) nonprofit organization serving children with cancer and their families in Northeast Ohio communities.
Services are provided to families and health care facilities free of charge. Our operational services will unite with over 15 planned services to bring families of a child with cancer and unprecedented, continual line of support from the moment of diagnoses throughout follow-up.
We focus on addressing the spiritual, emotional and physical aspects of cancer through education and services that work to empower children and individual family members.
Our program is designed to help enable children and family members to:
connect with their faith as a source of strength and encouragement
regain feelings of control
express feelings constructively
improve self-image and self-esteem
provide pain management techniques
diminish the stresses of serious illness
network with others facing the same challenges
---
The Littlest Heroes
8228 Mayfield Road, Suite 3B
Chesterland, Ohio 44026
Phone: 440-729-5200
fax: 440-729-4014
info@thelittlestheroes.org
Website: www.thelittlestheroes.com
---
Top of Page
Back to Volunteer Opportunities