Cleveland Volunteer Opportunities
Share your expertise, learn some new skills, meet some new people and help out in the community.
---
Joseph's Home
The Sisters of Charity realized the unmet needs of homeless men being released from area hospitals with nowhere to go and no resources and decided to do something about it. An unused convent at 2412 Community College Blvd. was converted to Joseph's Home.
---
Hospice of the Western Reserve
Volunteer Opportunities for all interests and abilities

Hospice of the Western Reserve volunteers are people of all ages, interests and talents with an extraordinary love and a common bond of concern for others.

"I get so much more out of it than I give."

"This is the most important thing I have done in my life."
---
Stop Sex Trafficking
Globally it is estimated that 2.4 million people throughout the world are lured into forced labor as a result of human trafficking at any given time. Women and girls account for about 80% of the detected victims and Child trafficking accounts for about 15-20% of the victims.
Cleveland woman Suchithira Subramanian is participating in the "Global Seva challenge 2012 of "Off the mat into world" to help stop trafficking.
Read more about Global Sex Trafficking and how you can help Suchithira with her work.
---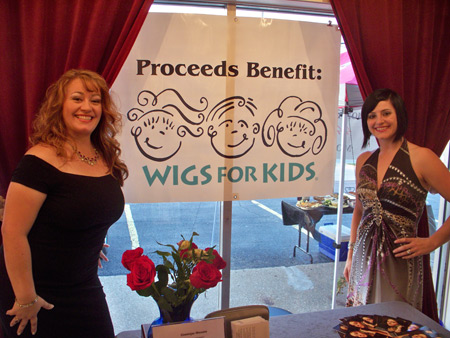 Mona Lisa and Olympic Gold Medalist Dominique Moceanu at Mona Lisa Salon and Spa Grand Opening benefit
for Wigs for Kids


More on the Mona Lisa Salon and Spa benefit for Wigs for Kids

Diversity Center of Northeast Ohio
Walk, Rock & Run event on May 1, 2010

Flashes of Hope and The Cleveland Cavaliers Better Halves
Fashion Show at the Q 10-8-09

Cleveland Breast Cancer 3-Day
Volunteers needed July 31-August 2

The Gift of Donor Breast Milk
Help save lives at home and abroad

Say Thanks to a US Soldier serving Overseas
Free Postcards from Xerox

Hurricane Katrina
Relief Effort

The Tragedy of the Brookpark Marines
What you can do to help

Organizing library shelves at Senior Center
Expert advice from a Librarian


---

Computers Assisting People (CAP) Inc.

CAP is a 501c3 non-profit that is made up of volunteers who like to work with computers. They take in computers that individuals and companies donate and refurbish them. Then they are given away to worthy non-profit organizations in the Cleveland area.

More information on CAP volunteer opportunities
---
Cleveland Reads

Cleveland Reads is the umbrella organization for all literacy programs in Cuyahoga County. Our mission is to build a community of literacy as the central resource and advocate for learners, tutors, and literacy providers.
My role as the Volunteer Coordinator is to recruit, train, and place new volunteer tutors. We focus primarily on Cuyahoga County but work with member organizations in bordering counties as well. I refer volunteers to work with our member programs for youth and adults. We offer a free training for all volunteers to teach skills and techniques necessary for tutoring.
Volunteer Literacy tutors are needed to help children and adults throughout the year. Interested volunteers can contact Volunteer Coordinator Jennifer Frigolette at 216-436-2116 or jfrigolette@uws.org to register for a free training or get more information.
More information on Cleveland Reads
---

Womankind

Womankind Maternal and Prenatal Care Center provides free prenatal care and support services to pregnant women in need. They need both non-medical and medical volunteers.

Call Dianna at Womankind at 216-662-5700 or visit womankindcleveland.com for more information
---

Providence House

Providence House, Ohio's first licensed crisis nursery, offers emergency shelter to children newborn through five years old actively living in crisis. Since 1981, Providence House has provided quality, center-based, family focused residential care to over 5,000 infants and children in crisis.

Providence House was created for the sole purpose of caring for innocent children in crisis with a goal of providing high-quality, responsive and compassionate services to infants, toddlers, preschoolers and their families.

We care for at risk babies and children while working closely with referral agencies to address the needs of the parent or caregiver and attempt to resolve the crisis in the family that is placing these vulnerable young children at risk. Our goal is to place a healthy, thriving child into a healthy, healed family.
---
Natalie Leek-Nelson, President and CEO explains Providence House and how they connected with the Cleveland Indians wives.
---
More information on Providence House
---

Karamu House Inc.

Karamu House is a not-for-profit organization that strives to bring cultural arts and education to the Cleveland area. We are in need of caring individuals who are interested in giving back to the community to volunteer in our cultural arts programs.

More information on Karamu House volunteer opportunities
---

The Littlest Heroes

The Littlest Heroes is a 501(c)(3) nonprofit organization serving children with cancer and their families in Northeast Ohio communities. Services are provided to families and health care facilities free of charge.

More information on The Littlest Heroes volunteer opportunities
---

South Pointe Hospital

South Pointe Hospital in Warrensville Heights is a 223 bed, not-for-profit hospital within the Cleveland Clinic Health System. There are numerous volunteer opportunities for seniors within our hospital system

More information on South Pointe volunteer opportunities
---

West Side Catholic Center

The West Side Catholic Center, a faith-based nondenominational human service agency has served thousands of those in need since the doors opened in 1977. We have helped protect the health and well being of those in need by providing food, clothing, and shelter. Through our Women and Children's Shelter, we help families rebuild their lives and recover from homelessness and domestic violence.

More information on West Side Catholic volunteer opportunities

---

Charity Bands for Juvenile Diabetes

Charity Bands and Rally Bands are two growing organizations dedicated to assisting the Juvenile Diabetes Research Foundation (JDRF) in its global fight for a cure for juvenile diabetes, also known as Type 1 diabetes. Members of our board personally know what many are experiencing who live with this disease and are dedicated to finding a cure!

More information on Charity Bands for Juvenile Diabetes
---

West Side Ecumenical Ministry (WSEM)/El Barrio

For any individual or family unit, gainful employment is an integral part of achieving stability. To help adults achieve self-sustaining jobs, WSEM has developed a Workforce Partnership Program focused on employee recruitment and preparation. This program will help adults in the community to enter training and/or educational programs that will result in steady jobs and career-building positions. El Barrio now offers career pathways through vocational training in Commercial Driving, Construction, and Customer Service.

We are a social service agency on Cleveland's near west side looking for volunteers to teach English as a Second Language to adults. The ideal candidate would have some ESL teaching experience, possibly in the Peace Corps or something like that, or a pretty good feel for English grammar. Excellent oral and written communication skills are a must. While we do provide support and assistance, we do not provide any sort of formal training.

Most of our students speak Spanish as their first language, so some knowledge of Spanish may be helpful, but not necessary. These particular students are at an intermediate to advanced level of English, so they are quite fluent, but working on details of grammar.

Contact Jeanne Petrus-Rivera, MAEd

El Barrio, A Program of WSEM
5209 Detroit Ave.
Cleveland, OH 44102
(216) 651-2037 ext. 356



---

New Avenues to Independence

New Avenues owns and operates Group Homes for individuals with mental retardation and/or developmental disabilities.

In addition to our homes, we also provide support services, respite, mainstream housing and a day service program.

More information on New Avenues to Independence volunteer opportunities
---

Cleveland Indians Wives Association

The Indians Wives Association works with the Community Relations department and Cleveland Indians Charities to support and coordinate outreach initiatives throughout the greater Cleveland community. For more information on the Wives Association and how you can help support its initiatives, please call 216-420-HITS.

Watch Jayne Churchmack - Executive Director, Cleveland Indians Community Outreach (below)

More information on the Cleveland Indians Wives Association
---

Let us know about other local volunteer oportunities via E-Mail at:
volocal@ClevelandWomen.Com

---

---
Top of Page
Back to Resources & Opportunities