Paradigm Launch Party
Kicking off the Holiday Season
in Cleveland
By Andria Trivisonno
---
People have a lot of things to say about Cleveland; especially when it comes to the weather. I, myself, do not like the frigid temperatures and the blizzards I may have to drive through, but there's something great about winter time in Cleveland.
When you visit downtown, you'll get to witness a city that comes together to celebrate the holiday season. Public Square is among my favorite places to visit, with lights illuminating the sidewalks and streets.
I think one of my friends who lives in southern Ohio said it best when he last came to Cleveland, "There's just a warmness in the air."
On Friday, December 1, I attended my first holiday party, which in this case was for the launch of Cleveland's new technology magazine, Paradigm.
It was held at the beautifully designed Pinnacle Condos on Lakeside Avenue in the Warehouse District. The view from the penthouse condo was breathtaking as I made my way in from the elevators. I saw friendly, familiar faces and stopped to catch up with people I hadn't seen for awhile.
The party was full of technology powerhouses as well as the "future generation" of technology leaders. No matter what the age, everyone there had, in some way, helped to shape the technology field for Cleveland and Northeast Ohio.
I can remember just a year ago when I first began my networking quest at the Technology Holiday Party in the Foundation Room at the House of Blues. My business partner and I were just launching our new startup company and needed to meet people who could help guide us through the next phases of our business.
Little did I know that the night would introduce me to a tight knit community that has a passion for helping Cleveland grow as a whole, in and outside of technology. After attending numerous events over this past year, I continued to meet new and interesting people. I can honestly say that I wouldn't be where I am today without the support of the people in Cleveland.
And yes, despite the cold temperatures, and the yet-to-win a championship sports teams, Cleveland is a great place to be, even during the winter.
Faces in the Crowd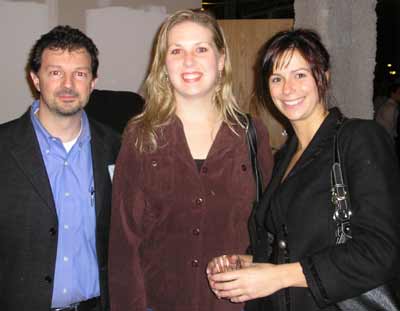 Steve Roesing of ASMGi with "design queen" Jennifer Dugan and Paradigm Magazine Editor Amber Matheson


---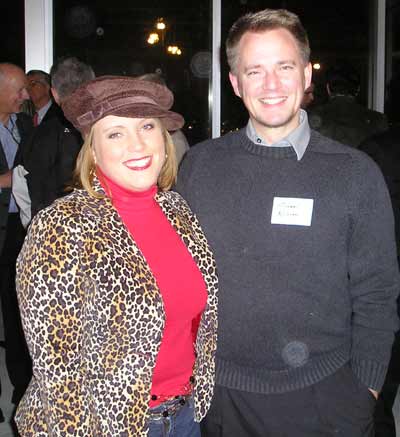 Fashionista Kristen Kaleal with Mike Nilsson
---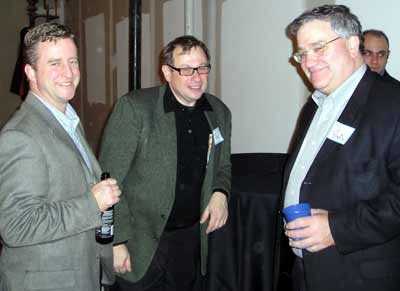 Brad Nellis of Neosa, Len Steinbach of the Cleveland Museum of Art and Bill Bradfield of PerceptIS
---
Top of Page


Back to Early Career
Back to Out & About