Girl Scouts Women of Distinction
September 28, 2013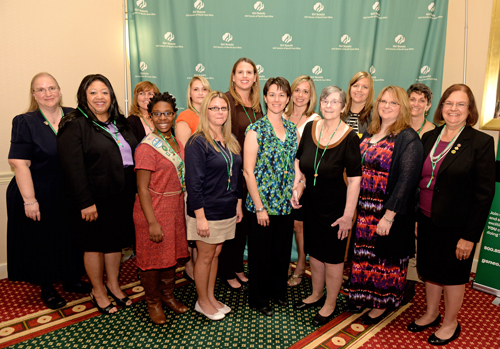 Girl Scouts Women of Distinction

Girl Scouts of North East Ohio (GSNEO) kicked off its National Volunteer Recruitment campaign, observed September 29 through October 5, 2013, by celebrating women who inspire, mentor and empower others.

Girl Scouts of North East Ohio is the premier organization for leadership development for girls. GSNEO serves 40,000 girls and 14,000 adult volunteer members throughout an 18-county region including Medina, Portage, and Summit counties; Cuyahoga, Geauga, and Lake counties; Carroll, Stark and Tuscarawas counties; Ashtabula, Columbiana, Mahoning and Trumbull counties; Erie, Huron, Lorain, Sandusky and Seneca counties.

The 15 nominees selected for his year's Women of Distinction award were honored at a ceremony held Saturday, September 28, 2013 at the DoubleTree by Hilton Beachwood. Standing in for Congresswoman Marcia L. Fudge, Beverly Charles, a Senior Staffer and Senior Citizen Liaison, delivered the keynote speech. Sarah Lowry a northeast Ohio representative from State Senator Sherrod Brown's office also presented each honoree with a letter of congratulations and a certificate.

"The women selected for this honor embody all that we promise to live by as Girl Scouts: to be honest and fair, considerate and caring, courageous and strong, and committed to making the world a better place," said Erine Bodo, a Girl Scout troop leader, 2012 Women of Distinction recipient, and Chairperson for the 2013 Women of Distinction event. "Their passions, commitments, and accomplishments make them positive role models who inspire girls to achieve their own goals and dreams."

The Women of Distinction event is held annually in September with the purpose of recognizing women in northeast Ohio who have made a difference in the lives of others. These women represent a diversity of professional fields, personal characteristics, and life experiences. Their talents are broad and their impact far-reaching, whether they work directly with girls or support the Girl Scout Mission in other meaningful ways.

Barbara Carlstrom (University Heights)

When Barbara Carlstrom worked in the Information Technology area for the legacy council, Girl Scouts of Lake Erie, Girl Scouts became a big part of her life. After she retired as a staff member, she volunteered with her local Service Unit in a variety of positions until she became a Service Unit Director. In fact, she took on two Service Units at the same time! Over the years, she has mentored troop leaders to make sure that our girls have a "girl-led" experience. Even though she has "retired" from her Service Unit Director duties, she is still an active Girl Scout volunteer.

(Jenn Cox – not pictured – Canton)

Like many of our troop leaders, Jenn Cox is a wife and a busy mother of five who volunteers at her children's school, her church and for Girl Scouts. Jenn grew up in Girl Scouts, so it's no surprise that as soon as her oldest daughter started Kindergarten, Jenn volunteered to be her troop leader. Now, with three daughters – Jenn is the troop leader of three troops! In addition to Girl Scouts, Jenn is the children's director at her church. She teaches preschool aged children on Sunday mornings and facilitates the youth program on Wednesday evenings. Jenn is a positive role model for girls because she not only helps girls reach their full potential through Girl Scouting; she is also working to fulfill her own career goal in nursing school.

K. Coleen Davis (East Liverpool)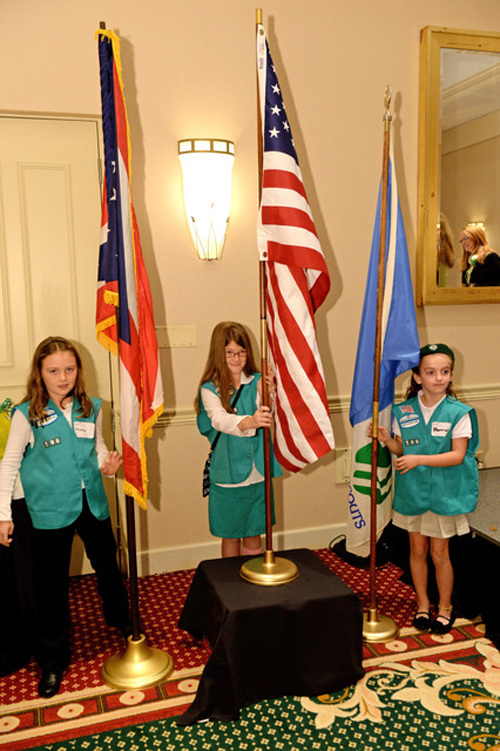 Coleen Davis has served Girl Scouting in many ways over the past six years, including Product Sales Chair, Delegate, Service Unit Director, Co-leader and Troop Leader. She is one of the troop leaders for a multi-age level troop that consists of Daisies through Senior Girl Scouts. Plus, she has recruited over 50 girls to the program. Each year, Coleen's troop takes part in the Girl Scout "Year of Service," planning and completing a different community service project each month. As the girls progress in Girl Scouting, Coleen believes they should become more involved in making decisions and accepting more responsibility. She also encourages them to earn the highest awards in Girl Scouting.

Heather Day (Akron *Deceased)

Our lifetime members are a cherished part of our family, and just last month we lost a Sister Girl Scout to a 6-year, courageous battle with cancer. Heather Day was an inspiration to so many girls and leaders. She always had a smile, always a helping hand. Heather mentored countless Girl Scout volunteers who have gone on to inspire a new generation of girls. She, herself, was a girl member of the Western Reserve Council and influenced countless girls while on staff at Camp Ledgewood. From there, her career flourished, and in 2007, GSNEO benefited from her experience in Girl Scouting by hiring her as a staff member. Heather charged forward with the Adult Learning Experience, resulting in a strong and popular program for volunteers. She took the Key Women's Leadership Academy from a theory on paper and transformed it into an interactive, stimulating, and inspiring program for women.

One of her passions in life was making the world a better place by being a role model and friend. When challenges seemed insurmountable, she rolled up her sleeves and worked side-by-side with others. Though she performed many tasks without seeking praise or recognition, her actions did not go unnoticed. Heather received her award among friends, co-workers and family at an intimate ceremony this summer. Heather was a woman who exemplified every value of the Girl Scout Law in how she cared for and respected girls, leaders, parents – and all who knew her.

Those in attendance joined in a moment of silence to reflect on Heather's life and all that she stood for.

Bridget DeMonica (Westlake)

Sometimes the love we have for Girl Scouts as young girls is all it takes to want to share that experience with our own daughters. Bridget DeMonica knew she wanted to be a Girl Scout Leader the moment she knew she was having a baby girl. Her troop is now in 5th grade. They have had many exciting and educational experiences, including a trip to Columbus to visit COSI and the State Capital, many field trips, and service projects. Bridget has always had a love for volunteering and giving back to the community. She has been active in her children's PTA and school, Early Childhood PTA and Big Brothers Big Sisters.

Suzie Dills (Avon Lake)

Suzie Dills began as a Girl Scout in the Lake to River Council. Her first camping experience was at Camp Sugarbush. Because scouting made such an impression on her, she became a troop leader for both of her daughters. Following her 12 years as a troop leader, Suzie was hired by GSNEO as a STEM Program Specialist. In that position, she established the Astronomy Program and the Observatories at Camps Timberlane and Ledgewood. Suzie also revitalized the Observatory at Camp Sugarbush. Suzie developed the robotics program and provided opportunities for girls throughout Northeast Ohio to compete in the FIRST Lego League. These STEM and leadership programs have engaged hundreds of girls.In her career today, Suzie continues to engage and inspire young women in STEM careers. And as a volunteer for GSNEO, she is still involved in the astronomy and robotics programs.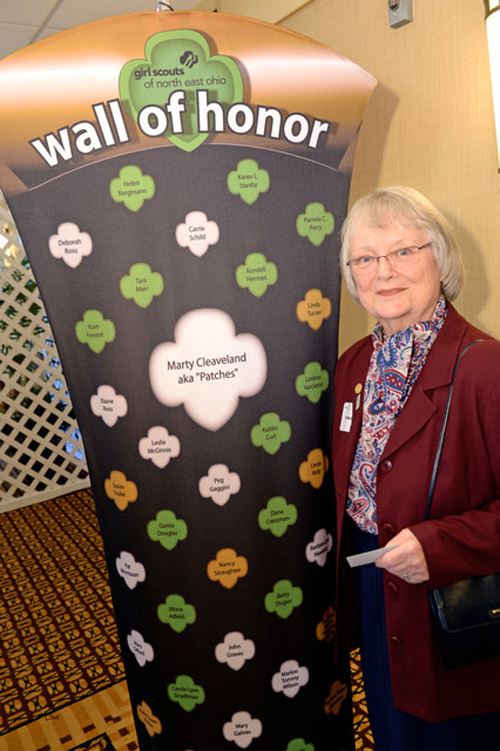 Kate Holian (North Ridgeville)
Girl Scouting teaches many life skills and instills self-esteem and values in girls from a very young age. Helping others is something Kate Holian learned to do as a Girl Scout, but discovered that it is also her passion. This talented young woman has been involved with many community service projects throughout her 13 years in Girl Scouts. She taught her troop to knit and crochet winter scarves for the local family center; she served meals at the homeless shelter, she acted as a Program Aide for Girl Scout events; Kate taught horseback riding to children with developmental disabilities, and she led a diversity program for younger scouts called Zinc the Zebra. In addition to Girl Scouts, Kate volunteered for the Cleveland Metroparks Zoo, where she taught best practices for conservation and sustainability.
Kate recently bridged from Girl Scout Ambassador to an adult member. The leadership experiences available through Girl Scouts have prepared Kate to begin her higher education pursuits at Bowling Green State University, seeking a degree in Early Childhood Education.
Michelle Mader (Cleveland)
At various times over the past 11 years, Michelle Mader has served Girl Scouts as a troop leader, co-leader, camp first aider, troop cookie mom, and service unit cookie manager. During that time, she became a lifetime member of Girl Scouts and received the Outstanding Leader Award from the Fairview Park Service Unit. Michelle works full-time as a contract specialist at NASA. As a member of the Women's Advisory Group at NASA's Glenn Research Center, she helped facilitate a partnership between Girl Scouts and the Glenn Research Center. Although she left that group in 2000, the collaboration continues today. This year, NASA chose her to be among those featured on the Women at NASA website, which is designed to inspire girls and young women to pursue careers in math, science and technology.
Dr. Kendra Preer (Copley)
Many professional women credit their success to their early beginnings in Girl Scouts. Dr. Kendra Preer believes Girl Scouts had a positive impact on her life. Experiences such as camping, trips to COSI, and cookie sales helped her to become more outgoing and taught her professionalism, follow-through, entrepreneurial skills and responsibility – skills she is dedicated to passing on to girls and young women growing in their professionalism. One of the programs Kendra developed in partnership with GSNEO was the Full STEM Ahead conference. Girls from several Stark County troops attended the one-day conference, participating in workshops and listening to various presenters.
Professionally, Kendra is the Director of the Stark State College Upward Bound Math-Science Academy. She also serves as an adjunct communications instructor and is active in several professional and community organizations.
Kerri Kutz Salvino (Massillon)
Kerri Kutz Salvino is a Girl Scout alumna and a leader for her daughter's troop. As a young girl, Kerri never thought of community service as work. Instead, it's always been a passion of hers to give back. Her values, skills and determination in life have been an inspiration to many. In addition to Girl Scouts, Kerri is devoted to a number of other organizations where she volunteers her time. Her work with the David YMCA and the Domestic Violence Project, in particular, allow her to serve girls with limited opportunities due to situations beyond their control. Kerri has also distinguished herself professionally. She is a graduate of Leadership Stark County and is a Senior HR Partner at Diebold.
Carole Lynn Stradtman (Bay Village)
Promoting positive values in girls is important to Carole Lynn Stradtman. She's been a troop leader for 16 years, serving five troops along the way. She has mentored several girls working on their Gold Award project. Her three daughters are also actively involved in Girl Scouts. Carole has held the volunteer position of Service Unit Cookie Manager for 12 years, and she is currently Service Unit Director for Bay Village as well as Service Unit Registrar. Her career as Education Program Coordinator at Lake Erie Nature & Science Center allows her to provide programming to the scouting community. She also mentors Girl Scout leaders from all areas of the council. Service to the community is an important part of Carole's life. She has delivered Meals on Wheels for 18 years, she is Vice President of the Bay Music Boosters, and she is on the Normandy School Literacy Committee.
Anna Tyrrell (Mentor)
Anna Tyrrell is a licensed professional counselor, social worker and mediator. Her career focuses on promoting personal safety and emotional strength through awareness and intervention programs. For 15 years, she worked as a volunteer consultant with the Contemporary Issues Task Force with Girl Scouts of Lake Erie legacy council. In this role, she helped develop a number of patch programs and workshops for girls addressing issues such as peer pressure and bullying, date abuse, depression and suicide prevention, teen pregnancy, and family crisis. In addition to her work with Girl Scouts, she has extended her mission by volunteering as a counselor, trainer, consultant and board member of a variety of agencies and organizations.
Paula Warren (Award accepted by Paula's daughter Arshawna Warren) (Twinsburg)
Paula Warren began her Girl Scout adventures when her daughter, Arshawna, came home from kindergarten and declared she wanted to be a Girl Scout. She signed up to be a Daisy co-leader during a scout recruitment day and has not looked back since. As a parent and leader, she has been committed to helping young ladies explore the community and the world, striving to help them see all the possibilities around them. Paula has encouraged members of the troop to attend Girl Scout assembly meetings; run for Delegate positions; serve as volunteers for Girl Scout activities, and to earn their Bronze, Silver and Gold Awards. Paula admits the Girl Scout journey with her daughter has been remarkable. By showing the girls how to see beyond their walls, Paul has been able to step out of her comfort zone, too. Horseback riding, snow mobile riding, and dog sledding …Sing-a-longs in DC for the 90th and 100th anniversaries… Cooking in restaurants in Savannah (the birthplace of Girl Scout Founder Juliette Gordon Low) … Roller coaster rides at Disney World, Hula dancing with Polynesian Dancers at a Hawaiian Resort, boat rides across the English Chanel and touring the alleys of Paris --- all occurred because her girls wanted the adventure. For Paula, this award celebrates the distinct journey that a mother and daughter have made as Girl Scouts.
Melinda Weirich (Concord)
Sometimes a girl's passion for Girl Scouting begins "before" she is even old enough to join, especially if the entire family is involved. Melinda Weirich attended meetings with her mother, a Girl Scout leader and camp site manager, and her sister who was a Brownie. Her father was employed as the Property Manager of Girl Scout Camp Hawthorne Ridge in Pennsylvania. Melinda was eager to join as soon as she was able, and she continued throughout high school. Over the years, she was fortunate to participate in many Girl Scout opportunities, including troop camping, day camp, archery, trips to Gettysburg, Canada and New York City. It was through Girl Scouting that Melinda first became a volunteer as a ranger aide at Camp Hawthorne Ridge. She is especially skilled at fire building and open fire cooking. However, her most important developments through Girl Scouting are the life long skills and lessons of interacting with people, working hard, and giving and teaching whenever possible.
Tricia Wineland (Warren)
Girl Scout volunteers serve as both a partner and a role model to girls. Tricia Wineland is a co-leader who teaches by example and works alongside the girls. She connects them to a variety of community service experiences including collecting donations for Someplace Safe and animal shelters; cleaning and painting community playgrounds; doing yard work at the historical house of Harriet Taylor Upton and the local church; and building bat houses at the state park. Tricia is also working with the girls to explore their faith by completing the God and Me religious award and the Girl Scout Gold Award. In addition to her troop, Tricia has served as the Magazine and Snack Chair as well as the Cookie Chair for the service unit and her troop. She is a Service Unit Co-director, too.
Event Sponsors
The 2013 Girl Scouts of North East Ohio Women of Distinction is sponsored by FirstEnergy, Nestlé USA, Huntington National Bank, Creekside Financial Advisors, LLC, and Weiss Movers and Storage.
---
Top of Page
Back to Cleveland Women Out and About