Olympic Gold Medal Swimmer
Diana Munz
London Olympics 2012
2004 Olympic Gold Medalist Diana Munz is eager for the London games to begin. "I know what they [the swimmers] are going through. It is exciting and scary at the same time. You just want to get in the water and compete."
She has no doubt (and lots of hope) that the U.S. will dominate again this year, as expected. She none-the-less feels the importance of competition within our own teams (Phelps vs. Lochte for example) and even more so with the other countries. Swimming competitions so often come down to an Australia/United States battle, but Diana says to watch for the French long distance swimmer to have an impact as well as the Chinese breast stroke swimmer.
As an athlete and competitor Diana says she always feels the urge "to jump in the water" when she sees the competitions and would love to be part of it - but has no plans to actually compete at that level again. Unlike Dara Torres, five time Olympic swimmer, who at over 40 years old attempted to qualify one more time.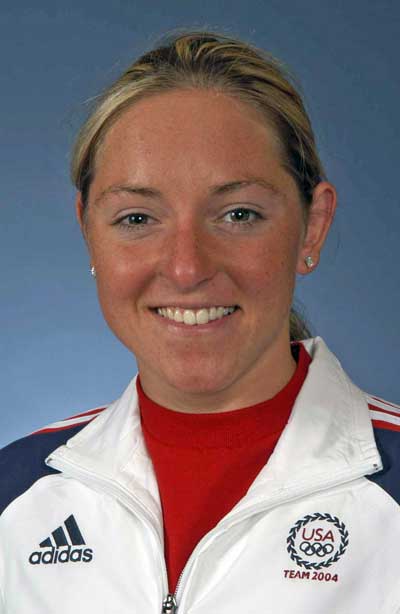 Diana Munz in 2004 Athens Olympics
US Swim Team uniform



Janet Evans is another comeback story. "I think she had to do it for herself, which I think is great. Her records were just recently broken and she didn't want to go through life saying "What If." At least that's my feeling and I think it's wonderful."

One of the 2012 must-watch competitors is swimmer, Missy Franklin. At only 17 she has qualified for seven events - a first for women. Munz calls her the "Poster child for swimming, the new Natalie Coughlin. Natalie was America's sweetheart - everyone loved her. I think it is the same with Missy. She has the talent, the personality and the drive. She is the women's version of Michael Phelps and all eyes will be on her."

She also says Franklin has a swimmer's body, which she says is long with broad shoulders and a lean core. She jokes about swimmer's feet - many have little or no arch which results in almost a flipper quality. "When someone is very good in a sport you can usually pick them out on the street because of the way they are built."

Diana is now married with two children, (a three year old and a 2 month old). She will definitely make sure her kids know how to swim and would love to see them compete. But in the end "that's up to them. I want them to be active and hopefully have a competitive spirit, but in the end I want them to be healthy and happy above all else."

Watch Diana Munz co-hosting the coverage of the Olympic swimming competition on NBC starting Saturday July 28th.

Final words from this Gold Medalist? "GO USA!!!!!"
---

---
Top of Page
Read the ClevelandWomen.com profile of Diana Munz.
Diana Munz wedding
Back to Sports for Cleveland Women