Gloria Karpinski Battisti
A Soulful Woman finding
solutions in a troubling world
Gloria is the first born of the Karpinski children.
She is a highly educated woman with a BA from Notre Dame College of Ohio and a MSW from Loyola University. She has been certificated by the Academy of Certified Social Workers and is licensed by the State of Ohio Counselor and Social Worker Board to work as an independent social worker.
That being said, there is so much more to Gloria than credentials and degrees could ever articulate. Her entire adult life, both professional and as a volunteer, has been focused on the justice system, the behavioral, social and emotional problems of others, and the cause and correction of the same.
She began working as a Supervisor of Casework for Catholic Youth Service Board and stayed there for six years until she went on to the Cleveland House of Corrections. Here she developed a program for men and women who had committed misdemeanors who, as she says, "Still had a chance, maybe just needed a little direction and understanding."
From there Gloria moved on to the Ohio Pardon and Parole Commission. Governor Michael V. DiSalle appointed her to the Commission as vice-chair where she, along with four other members, deemed which men and women were (and were not) candidates for parole. It was also their job to decide whether to revoke the parole of violators and advise the Governor on matters of clemency.
It was during this time that she met, and married, Frank Battisti, a U.S. District Judge. Judge Battisti was often the focus of not-always-pleasant newspaper headlines and news reports as a result of his landmark decisions concerning desegregation and bussing.
Gloria was never discouraged by what she read, but of course felt her husband's anguish right along with him. "Frank" she'd say, "they just don't know." And the two of them together would face whatever adversity and verbal attacks came their way.
Frank had always been an outdoorsman - he was an especially avid fly fisherman. Faced with the thought of sending her husband off to Montana to fish with the boys was never really an option for Gloria. She asked him to teach her, and he did.
For the first time in her life she went out West and saw the magnificence of the great outdoors. She loved being with her husband; she loved the West and she loved fishing!!
Together they would travel to tiny out of the way towns that most people would never be able to find. They'd shop for handmade items and visit with the locals, most of whom Frank had gotten to know over the many years he had been traveling there.
Among so many other things she saw Indian reservations, an assortment of animals and old-time log cabins. Probably most impressive to Gloria, the one thing that still sticks with her today, would be the beautiful blue skies and the cloud formations unlike she had seen before or since in the city.
Looking at the sky as we speak you can feel her mentally traveling to Montana with her beloved husband and you know she is happy with those memories. She has even refrained from putting draperies on the windows of her home to allow the outdoors a way to come in and to enhance the magnificent view she enjoys so much.
There were many societal problems during this time. It was the 60's and people of all ages were attempting to "find themselves" or determine what was really important to them. Gloria counseled those she could and learned right along with them. It was always important to her to help people in whatever way she could.
There are many problems today, as well, but she feels the problems are different. For example, although she is not blind to the problem of drinking when she was actively working as a Social Worker, she believes the problem is much stronger now and starts much earlier. She believes young people turn to alcohol so early because they can't always find a person to turn to. In her perfect world, Gloria would be there for them all.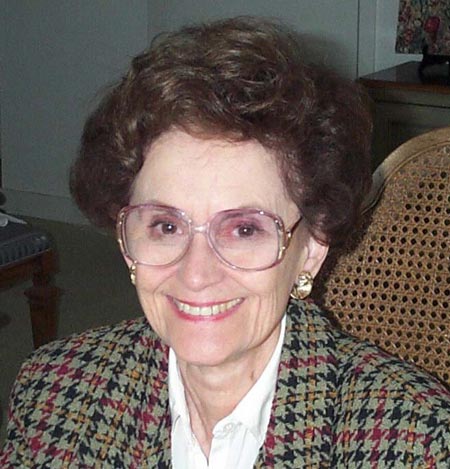 From 1969 to 1977 Gloria was an Assistant Professor and Chair of the Sociology Department at Notre Dame College. As such, she was able to develop class and course studies for Notre Dame and Ursuline Colleges in the areas of Social Service and Corrections.

Governor John Gilligan appointed her to the Cleveland State University Board of Trustees, which she subsequently chaired. The Cuyahoga County Commissioners later appointed her to the Northeast Ohio Regional Sewer District Board.

This still does not come close to scratching the surface of the committees and Boards Gloria has been part of, and in most cases, chaired. She was the very first woman elected to office in the Catholic Charities Corporation. She served as Treasurer, Secretary, Vice Chair and most recently completed two years as Chair!

She is still a member of the Catholic Charities Board of Trustees, a position she has held since 1977. Not without cause, the Catholic Charities Board Room has been named for her.

She is concerned today because contributions are not coming into Catholic Charities in the amounts they used too - the amounts they need to continue their charitable works. It is not hard to tell as you listen to her that this problem is bothering her, but also that she is planning a solution.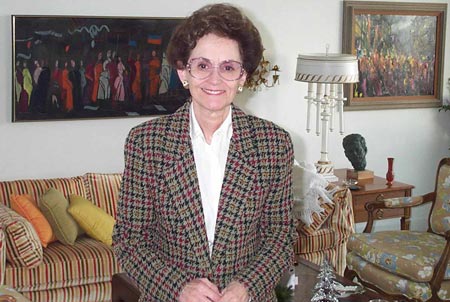 Gloria Karpinski Battisti at home



From 1982 to date Gloria has been a member of the Board of Directors of the Women's City Club. It was in this capacity that she was able to have the splendid artwork in the County Court House restored to its original luster and radiance. It was a mammoth undertaking that few other than Gloria would have even considered tackling.

Many organizations have honored her with titles and/or certificates of appreciation. Among them are The Greater Cleveland Knights of Columbus; The Neighborhood Centers Association; The Women's City Club Margaret Ireland Award; Outstanding Educator Award; Notre Dame Alumnae Woman of the Year Award and the Equestrian Order of the Holy Sepulcher of Jerusalem, an award she received with the approval of the Vatican at a ceremony conducted by Cardinal Majda.

Gloria finds today's world a little sad. She misses the simpler times when she lived in St. Thomas Aquinas parish. She remembers things like the Canadian Soldiers insects that came every year, and riding her bike down the huge hill by Ansel Road.

She supervised a children's baseball team that they affectionately named The Karps after her. She doesn't know if today's children would find pleasure in such small things, but she hopes they do. She is angry at the world situation - appalled at the arrogance and hate that allowed our country to be attacked.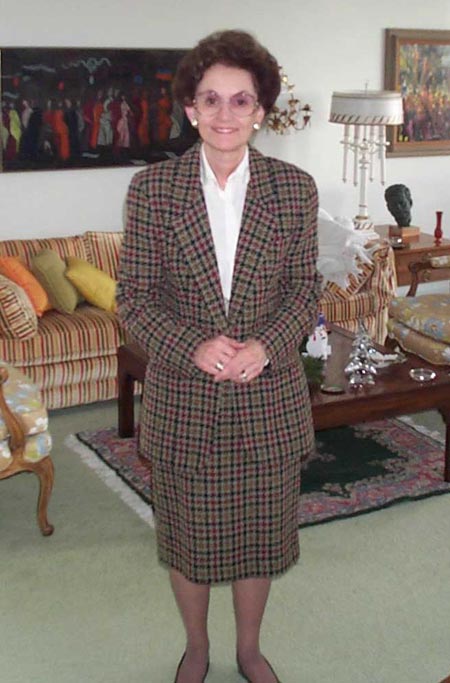 At the same time, she is so very happy to be an American woman, and counts her blessings as she simultaneously says her prayers for the women of Afghanistan. She thrives on knowledge, listening to every bit of news that she can and tries to assimilate the stories.

But in most cases, she finds her heart rejecting the atrocities she hears about and becomes angry at the mere thought of them. Once again, you get the feeling she is working out a solution.

Gloria has always been looking for something and has always found a way to find it. She believes that "everyone reaches for something." It has always been her desire to be on the other side to take their hand when they reach out.

It is yet another task few people would even consider undertaking. But Gloria has not only accepted the challenge, but she has succeeded in so many, many ways.

Profiled by Debbie Hanson


Don't miss the profiles of Helen Karpinski and her 3 daughters:

Gloria Joy Battisti, M.S.W.,

Mercedes Spotts, Esq.,

Judge Diane Karpinski,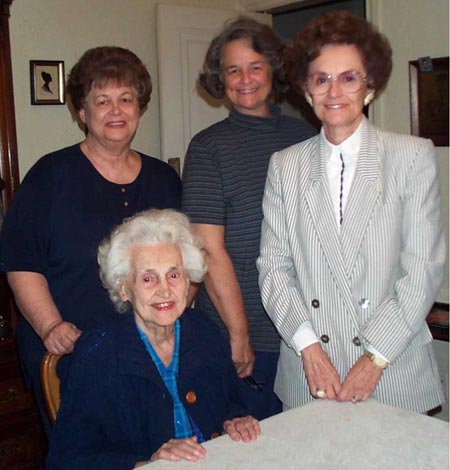 The Karpinksi Women
Helen with daughters Mercedes, Diane and Gloria
---
Do you know somebody with an interesting story to tell?
E-Mail us at:
profiles@ClevelandSeniors.Com






---
Top of Page
Back to Profiles of Cleveland Women and Girls
Back to the Polish in Cleveland - Cleveland Poles