Diana Munz
Gold Medalist in and out of the pool
She enters a room with a huge smile and an air of confidence - both well deserved for this young, gold medal-winning swimmer.
Diana is one of four children who grew up in Chagrin Falls, Ohio raised by competitive skating parents. Her father Robert skated at the Olympic Exhibition level and her mother Carol at the Pan American games.
She is the youngest of the four children and aunt to four as well. Her sister Camie (Miller) has three children; her brother Robert has one child and there is sister Ryan (Burnes). Her whole family enjoys sports but she is the only one to have taken it to the Olympic level.
Her family has long belonged to Mentor Yacht Club and Diana has always loved the water. But she was also interested in other sports and played on Volleyball and Softball teams.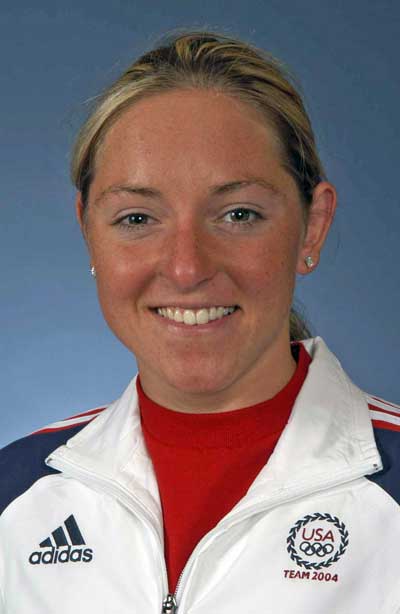 Diana Munz in 2004 Athens Olympics
US Swim Team uniform



Once when she was swimming at the Yacht Club a friend of her father's suggested she try The Lake Erie Silver Dolphins. This is a local group of competitive swimmers of all ages.

She decided she would try it and has never regretted it. "I really loved the competition and when I started winning it was wonderful. And I made so many friends!"

It was also here with the Lake Erie Silver Dolphins that Diana met the same coach she has to this day, Gerry Holtrey. "I'm the only swimmer my age who has gone to the Olympic level and stayed with the same coach. We have the same kind of love/hate relationship you have with anyone you really admire and respect. He has been wonderful!"

The most difficult part of competitive swimming is the schedule and trying to make your friends understand why it so important to you.

She went to her first Olympic trials in 8th grade and at that age very few of her friends understood her level of commitment. Many people thought she was competing to be the best "in her age bracket" but, in fact, she was competing against all ages to be the best in the world.

Now, her friends all have jobs and commitments of their own and understand the obligations she had.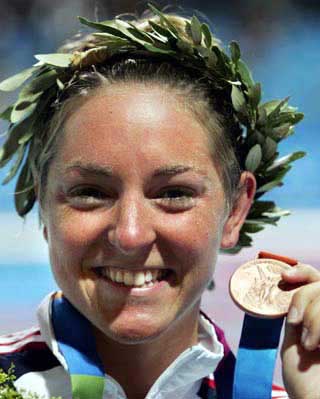 Diana Munz - A Golden Smile


Diana graduated from Chagrin Falls High School (Class of 2000) and loved it there. "They really helped me with my swimming. They knew how committed I was and would help me with my schedule and classes so I could get everything in."

In her freshman year Diana started on a national team. The school shared the same attitude as Diana and her family. They all wanted her to be the very best she could be.

Her senior year was especially hard for her. Diana broke her back and leg in a car accident the summer before her senior year began. In order to be ready for competition she needed to focus 100% of her time on her training. It was also the year she met the man who is now her fiancé Palmer DePetro.

"When I was in the accident I remember being in the car and everyone telling me to get out because they were afraid the car was going to explode. But I couldn't move my legs. I was scared for the future then. But after that I was inspired by everyone telling me I would never be ready in only 11 months. I had trained for this and wanted this all my life. I knew I would do whatever it took to make it."

Part of her focus meant giving up dances and spending time with friends and really enjoying her senior year. She gave herself a 10:00 curfew and remembers crying on the phone with her friends while she was home in bed and they were at a party or dance. Diana was committed and she was going to make it.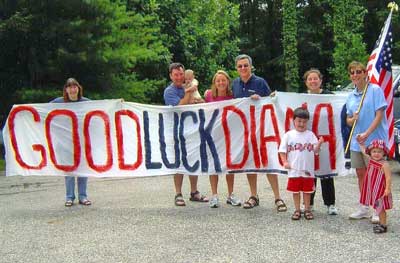 Diana's Family holding a sign
that follows Diana Munz around the world



And make it she did. She spent 2 weeks in California, then 2 weeks in Brisbane, Australia and then it was the 2000 Olympics and young Diana Munz was there and ready to represent her country.

Australia was a wonderful adventure for Diana. Since swimming is a major sport there, all of the swimmers received a lot of attention from the locals and the media. "Everybody knew all about me. They were all so interested. Of course they wanted their own country to win, but they loved the sport, too and really appreciated the competition."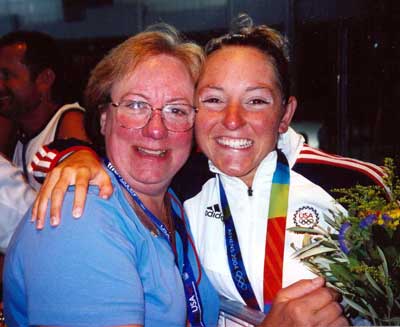 Diana Munz's proud mother Carol helps celebrate another Olympic medal



The Olympic experience was fantastic for Diana. She and her roommate Kaitlin Sandeno took journals and wrote in it faithfully. She didn't really expect to use it because she said, "I'm not really a journal person" but she's so glad now she did.

"There are too many memories to keep track of them all. The journal is a wonderful reminder." She and Kaitlin are very close friends and call and email often. Once a year or so she goes to Los Angeles or Kaitlin comes here and of course, they see each other at meets.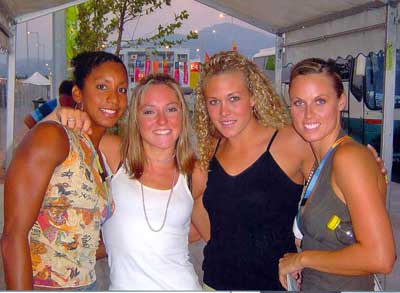 In Sydney with fellow swimmers including roommate Kaitlin Sandeno and Amanda Beard



In Sydney, Diana earned a gold medal in the relay and a silver medal in the 400-meter freestyle. Four years later, Diana went to Athens and received a bronze in the 800-meter freestyle.

Diana took 7 months out of the water after Athens, which for a competitive swimmer is huge. "I was not satisfied with my performance in Athens. I had a horrible meet in the Olympic Trials."

But Diana finally realized that she was "not ready to be done." There was so much more she wanted to do in the sport and she wanted to end on a high note. More than anything, she did not want to look back in 10 years and wonder how she would have done. So her plans now are to go to Beijing in 2008.

She's back in the water and planning on going to the Nationals in August.

The discipline of a competitive swimmer is awe-inspiring. She is in the pool 2 ˝ hours twice a day. Add travel and prep time to that and she has a full 8-hour day.

But Diana is also a student at John Carroll University where she will enter her senior year in September. "I have to keep moving or I feel like I'm missing something!"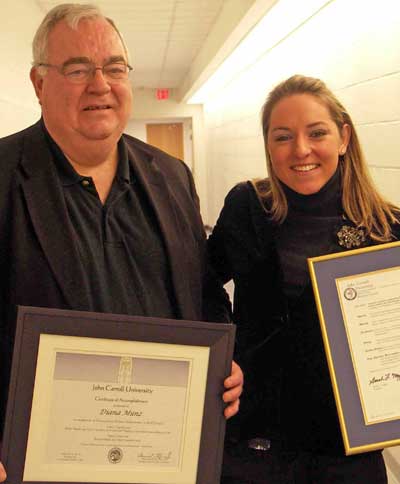 JCU President Edward Glynn presented an award to Olympic champ and JCU student Diana Munz
in February 2005



Diana is majoring in Communications. She would like to stay in swimming in some capacity maybe as a commentator, or possibly in broadcasting.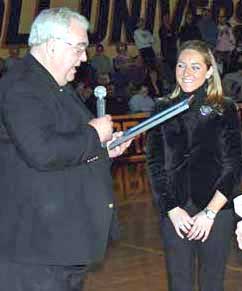 JCU President Father Glynn reads from the award
Read more and see more
pics from the JCU ceremony



Diana gives 100% to whatever she's doing - be that swimming or school or her other favorite activities. "I love to shop and sit in the sun or be on a boat, and I really love to just relax and sleep!"

Diana also loves spending time with her family. Since her schedule is so hectic she does not have the luxury of as much family time as others and she cherishes the time she does have with them. "I have never felt obligated to spend time with my family, I really, really enjoy it."

Of course Diana also enjoys spending time with her fiancé, Palmer. They are planning an August 26, 2006 wedding. (See photos from the wedding) Palmer and her family were able to join her for some of the Olympic Games "Which makes it even more special."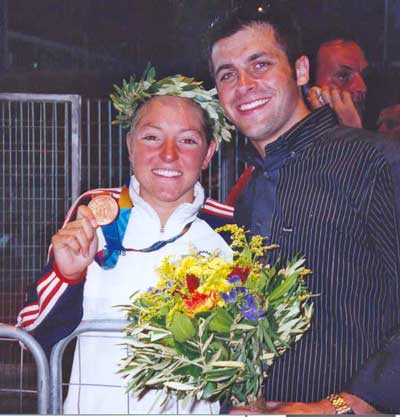 Diana Munz with fiance Palmer DePetro


Palmer is not a swimmer, and this well may be the first thing that attracted her to him. Diana enjoys swimming but does not want it to be all consuming in her life. "Even before I was old enough to drive and my mom would pick me up from a meet, she would ask me about it in the car on the way home and then it was over. There's so much more to life than swimming."

Diana describes herself as "a girly-girl". She is not just a jock in a swim cap and goggles - she's very feminine and loves to dress up.

"My favorite color is even pink!" She'd like people to know that there is more to her than swimming - she's fun and exciting and loves to do all kinds of things, and yes, she's a swimmer too.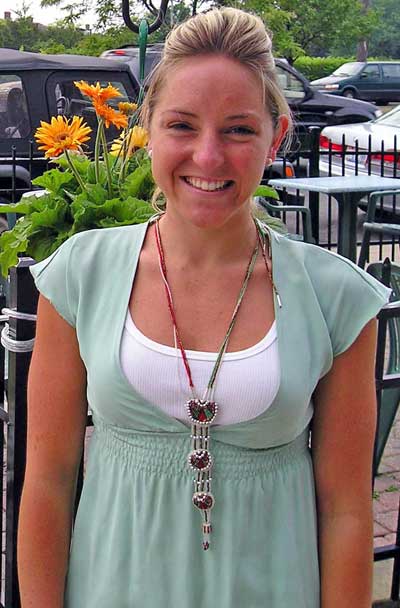 Diana Munz after class at JCU (July 2005)



Diana would not hesitate to recommend swimming at this level to anyone with the desire and skill. "There are not many people in the world who can go to the Olympics. If you're part of this elite group, you should take it all the way."

As Diana was making a name for herself in the swimming world, Janet Evans was her role model. They were both distance swimmers and shared the same goals.

Now that Diana is a gold medal winner herself, she is a role model to other young girls and it is a title she takes seriously and enjoys all at the same time.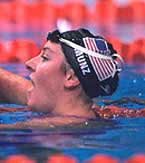 She donated a swimming lesson to a charity raffle. She remembers how excited the young girl who won was. "It really touched me."
Diana gave the girl her bathing cap and autographed it for her.
"It scares me a little. I'm very determined and I don't want any little kids to see me and see anything negative. I want them to see how great the sport can be and I want to inspire them."
It was especially poignant to Diana when she stood on the podium and heard the National Anthem being sung for her and her team. "It was really emotional - they were all standing for us and singing the Anthem, but with all that was going on I don't think I really grasped it all until I got home and watched the video tape. It was amazing! A real high."
She remembers thinking that it was hard to believe it was her standing up there and knowing that her country, back home, was so proud of her.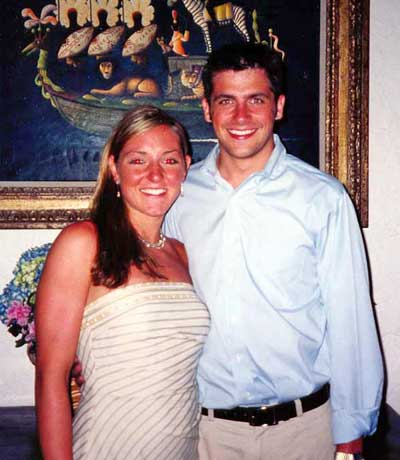 Diana Munz with fiancé Palmer DePetro



When Diana signs an autograph she always signs it the same way- "Always Believe."

She wants young people to follow whatever they're interested in, no matter what it is. "If you believe in yourself, you'll make it. Make goals. Believe them. Then do it. Then you can achieve anything."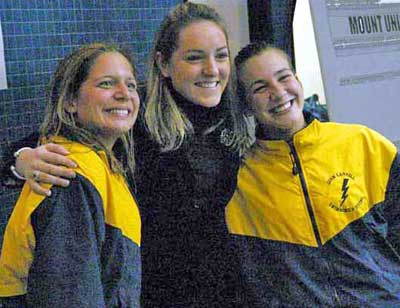 Diana Munz with JCU swimmers
Ann Skerkoski (l) and Ali Kern




We so often hear about athletes being "overpaid" or having problems with the law or drugs. Many of us remember the days when athletes really were heroes and deserved to be looked up to. Diana Munz is that type of athlete.

She holds family and friends in high regard and has an amazing work ethic. She knows the importance of education and being multi-faceted.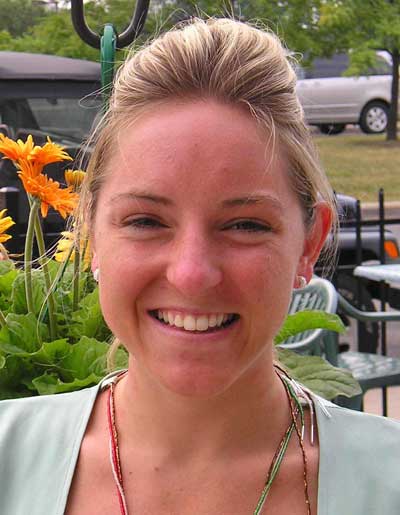 If a child looks at Diana and decides he or she wants to be "just like her" when they grow up, a parent can sit back and relax. Their child has chosen a role model worthy of the title.




Profiled by Debbie Hanson



Update: Read what Diana has been doing since this profile and see photos from her wedding.

Diana Munz discusses the 2008 Olympics
Diana dishes on Michael Phelps, Mark Spitz, Amanda Beard, Natalie Coughlin, Katie Hoff, Dara Torres & more

Dominique Moceanu and Diana Munz speak to student athletes at the 2010 World Student Games.
See photos and videos.

Diana Munz discusses the 2012 London Olympics
Diana dishes on Missy Franklin, Janet Evans, Michael Phelps, Dara Torres & more







---
Top of Page
Back to Profiles of Cleveland Women and Girls