Billie Jean King
Girls & Women Rock
Celebrating 35 Years of Sport and Title IX
March 30,2007
Who was the most important athlete of the 20th Century? According to Bob Kain, former IMG CEO and current Vice-Chairman of the Cleveland Browns, it was Billie Jean King.
In his introduction of Ms King at the Wolstein Center March 30, 2007 for a City Club forum event, Mr. Kain, who had been Ms King's manager, said Billie Jean King created the first professional women's sport league in the world with her Virginia Slims Tour. "Without Billie Jean King," he said, "the (NCAA Women's) Final Four wouldn't be selling out every year. To me she is the most important athlete of the 20th century - she opened up sports to 50% of the population."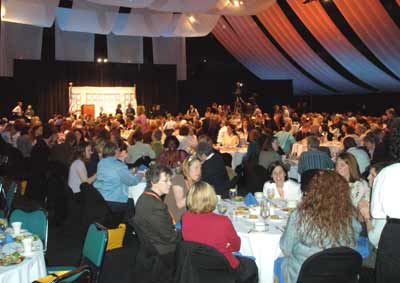 Over 500 came to see Billie Jean King at the
Wolstein Center City Club event



The typical City Club format was amended to allow for a Q&A with Billie Jean King and USA Today columnist Christine Brennan in front of the 500+ attendees. Ms Brennan said that in 1973 she was a 15 year old sophomore (in a high school just outside Toledo) and she hid her letter jacket in the closet.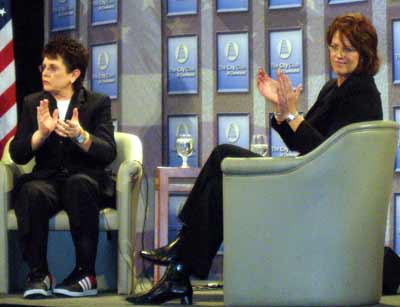 Sports Pioneer Billie Jean King and
USA Today columnist Christine Brennan



Bobby Riggs had been a championship tennis player in the 1940's and declared that a male athlete could beat a female athlete no matter what the age. He then defeated women's champion Margaret Court in a nationally televised match in May of 1973. He then challenged Billie Jean King who defeated him handily in straight sets later in the year.

After Billie Jean King defeated Bobby Riggs in the "Battle of the Sexes" in September 1973, Christine Brennan told fellow students "We won!" and it became "the most empowering moment in my life."

Brennan asked, "Were you nervous?" King, now 63, replied, "I couldn't even breathe for 2 months. As each day went by I got calmer and calmer and I let go about 20 minutes before the match."

When did you know you had him? "When I shook hands." King said, "For me. It felt like it was life or death."

King said that men who witnessed the match when they were about 10 years old now come up to her and thank her and say "I have a daughter now."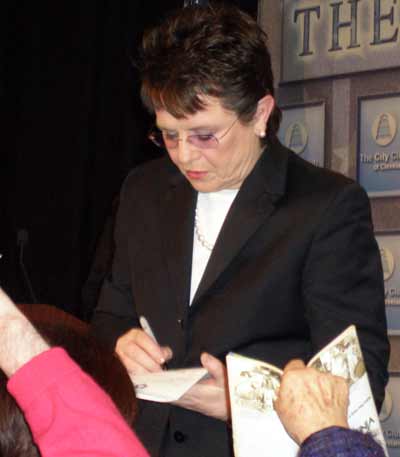 Billie Jean King signing autographs



King said, "If my brother had been underserved, I would have tried to help boys - but we were so underserved."

She laments the fact that only 1 out of 3 US girls do physical activity. From ages 8-18, girls drop out of physical activities twice as fast as boys. She worries about Hispanic children, boys and girls, pointing out that 1 out of every 2 Hispanic kids born after 2000 will be diabetic.

Only 1 state, Illinois, requires physical education in school. She is trying to counter this with her GoGirlGo program, now in 5 cities in the US. King told how she and her friends used to practice for the President's Council on Physical Fitness tests.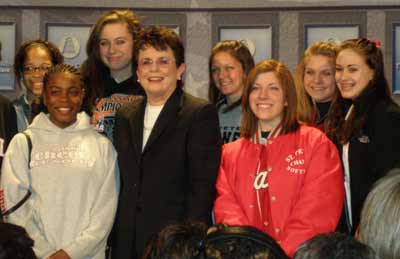 Billie Jean King, a "Shero" to
these students and many others



When asked why women play best of 3 matches and men play best of 5 she pointed to the late 1800's Wimbledon matches where women wore corsets and long dresses. "We have more body fat than guys - we can play best of 5." But she thinks all matches should be best of 3 and reminded the audience that entertainers ("and that's what we are") don't get paid by how long they perform.

When asked about the Master's Golf Tournament played at Augusta where women can't play she replied, "The CEOs that belong to that club, shame on them"

The "Battle of the Sexes" match between Bobby Riggs and Billie Jean King was the 2nd major advancement for women's sports in that era. On June 23, 1972 Title IX passed and was signed in to law by President Richard Nixon.

Senator Birch Bayh (D-IN 1963-1981) played a major role in the passage of Title IX and attended the conference in Cleveland. (Listen to a brief interview with Senator Bayh about his work on Title IX)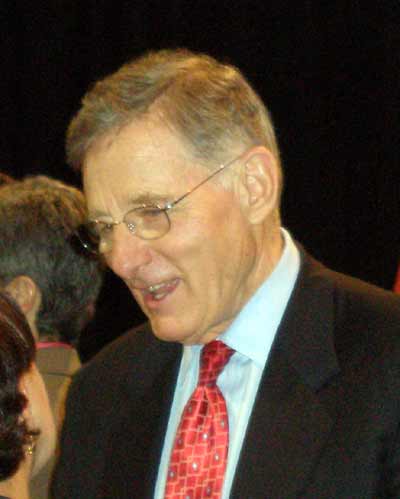 Senator Birch Bayh at the Billie Jean King event



With the national spotlight on Cleveland for the Women's NCAA Division 1 Basketball Championships, a 4 day seminar was held to discuss and celebrate women's athletics. The conference is called Girls and Women Rock: Celebrating 35 Years of Sports and Title IX and features legal experts, policy makers and scholars from around the world.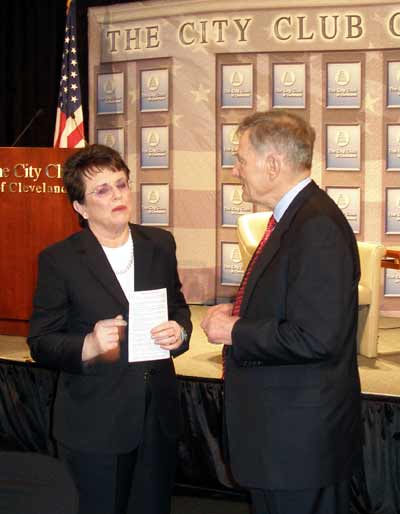 Billie Jean King and Senator Birch Bayh



Title IX of the Education Amendment of 1972 begins: "No person in the United States shall, on the basis of sex, be excluded from participation in, be denied the benefits of, or be subjected to discrimination under any education program or activity receiving Federal financial assistance."

This remains a controversial topic. For example, Title IX says schools can't give teams more money just because they generate more revenue, receive more donations from alumni or booster groups or have more community support.

When asked about men's football bringing in revenue for the schools, Billie Jean King points out that 85% of Division 1 Football schools lose money. "Their average squad is 115 - They don't need 115!"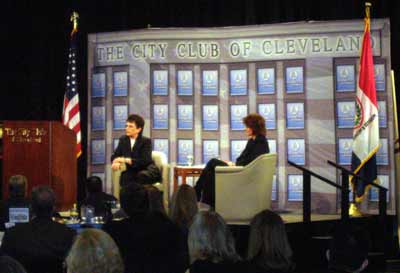 Billie Jean King and Christine Brennan
at the City Club of Cleveland



The Women's Sports Foundation, founded by Billie Jean King, publishes information to clarify Title IX issues such as "Our high school girls play at 4PM on Fridays and the boys play at 7PM." The guide explains that this is a violation of Title IX because "later games are more valued because parents, friends and spectators can attend."

King said that "Women coaches are afraid to bring up Title IX because the get fired if they do."

She also laments that "women's sports only get 8% of the media attention. If they don't see us, they don't know us…They got to know Chris Everett because they covered her since she was 15."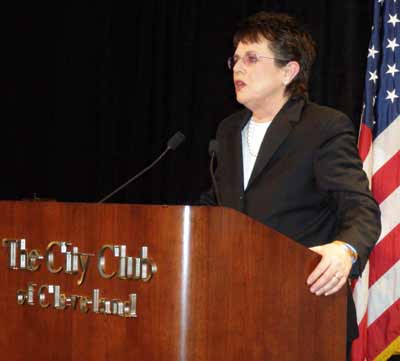 Billie Jean King at the City Club of Cleveland



The best news is that while in 1970 only 1 out of every 27 high school girls played varsity sports, in 2001 the figure was 1 out of every 2.5 - an 800% increase.

Yes, "You've come a long way baby" but Billie Jean King says we still have a long way to go.
---


Top of Page

Back to Out and About

Back to Sports

Text and photos by Dan Hanson